Almond Macaroon Butter Cookies
These easy to make Almond Macaroon Butter Cookies have a butter cookie base, an almond macaroon topping, and a chocolate drizzle on top!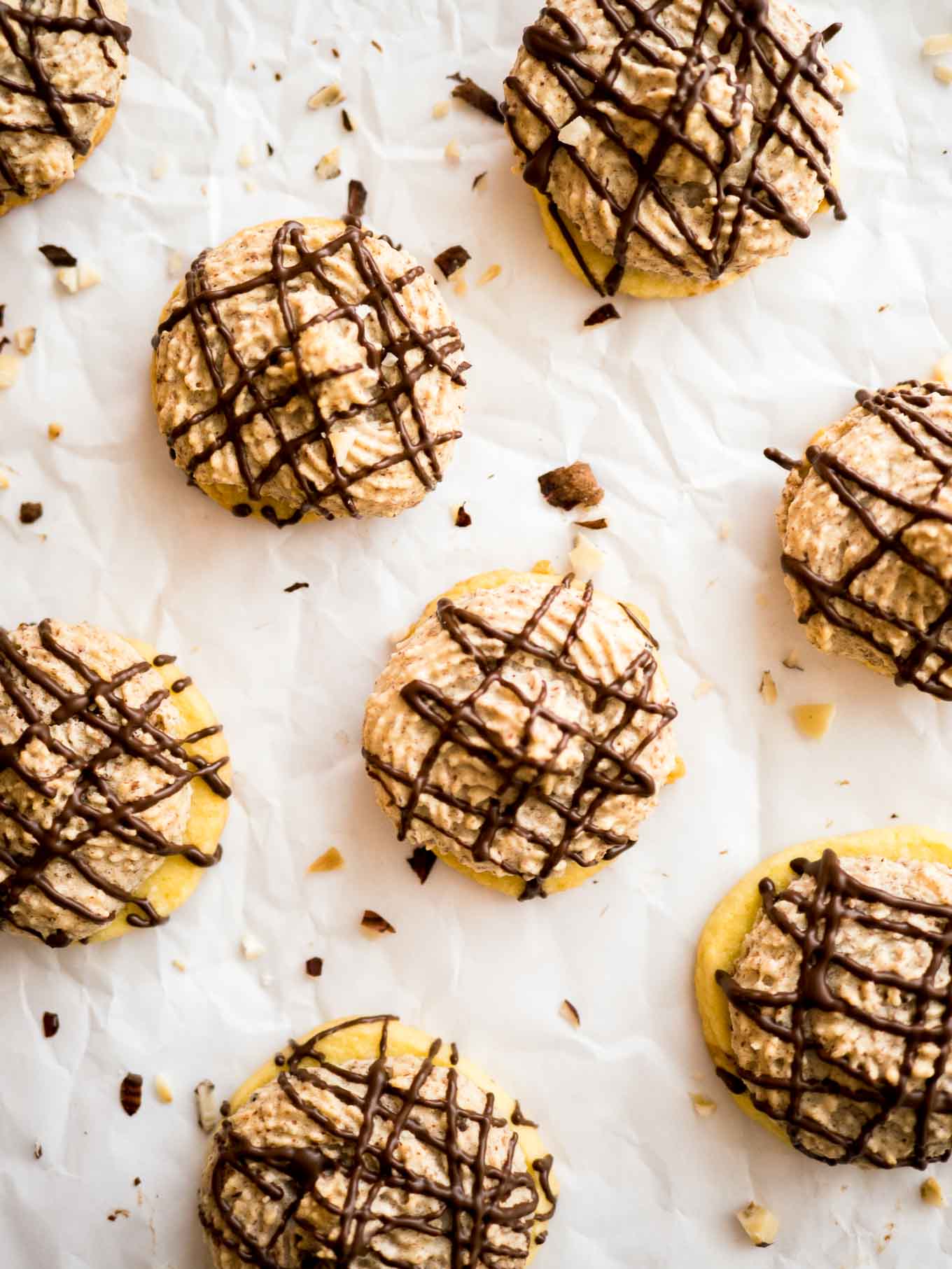 A soft centered, slightly crisp-edged butter cookie, an almond macaroon with a crisp exterior and a slightly chewy center and a dark chocolate drizzle. Who could resist them?! Not me!
These cookies are like two cookies in one and they taste so good. It's a little bit more work than my Nutella Cookies but not too difficult and definitely worth it!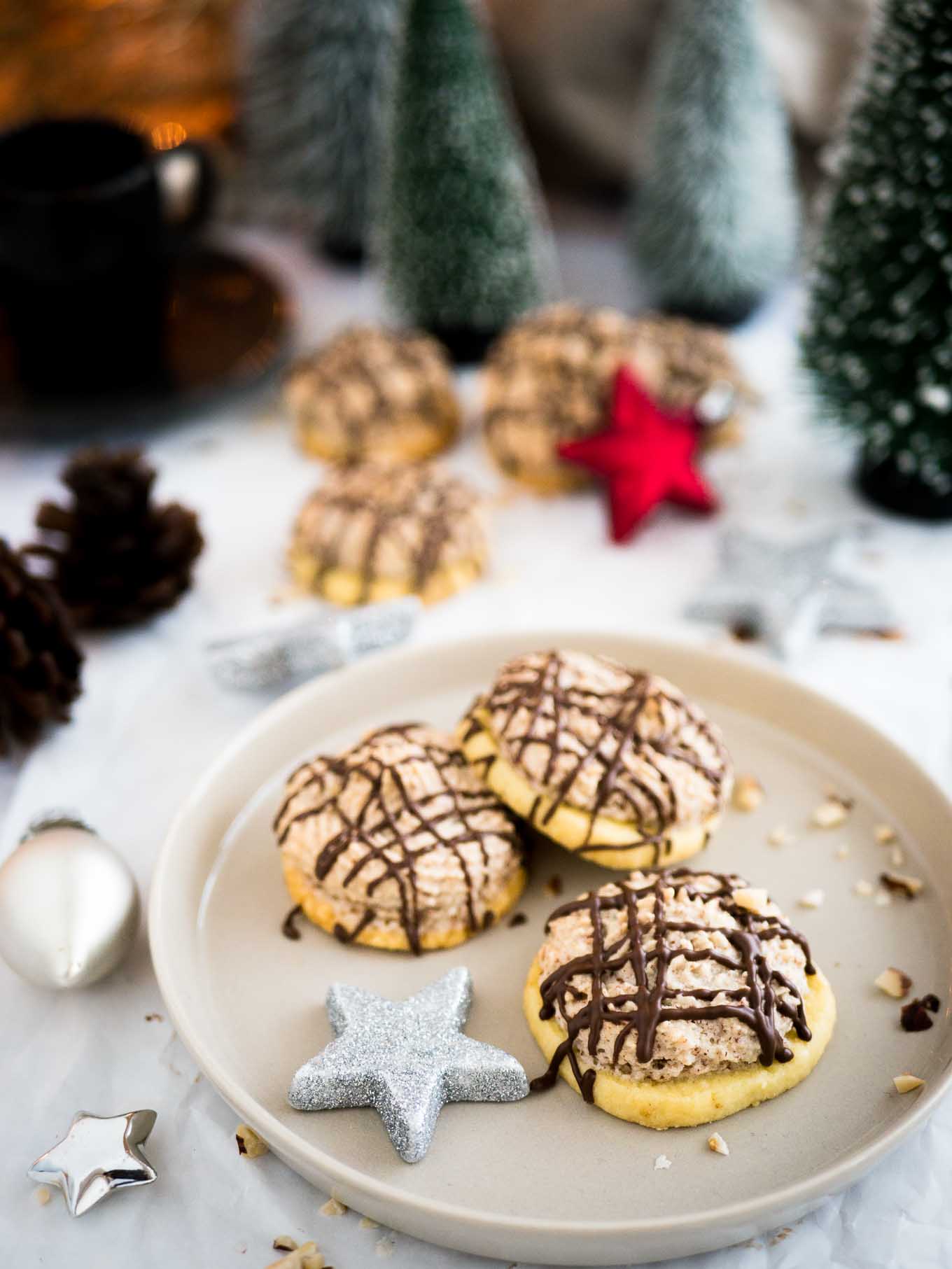 This recipe is adapted from a recipe my husband's grandmother shared with me. Last time we visited she showed me her handwritten recipe book and I took photos of all her notes. Such a great treasure!
One of her recipes I shared a few weeks ago, the Easy Nut Roll Recipe is probably her most requested recipe! She has to make it for every birthday, it's so good. Everyone loves it!
But back to this almond macaroon butter cookie recipe! She also has a whole book of Christmas cookie recipes, many only have the ingredients listed and no instructions, so I thought it would be fun to try one I've never made before.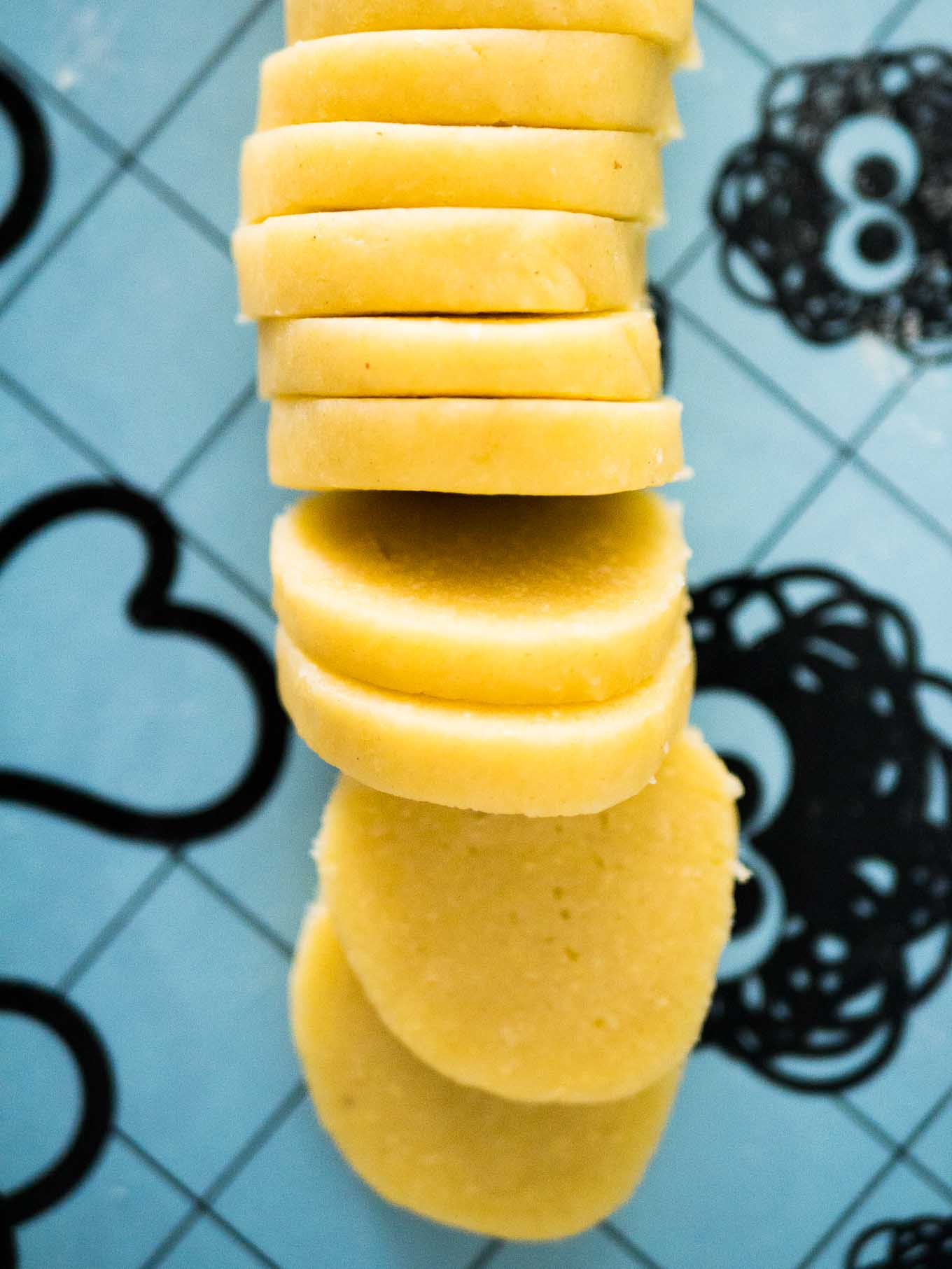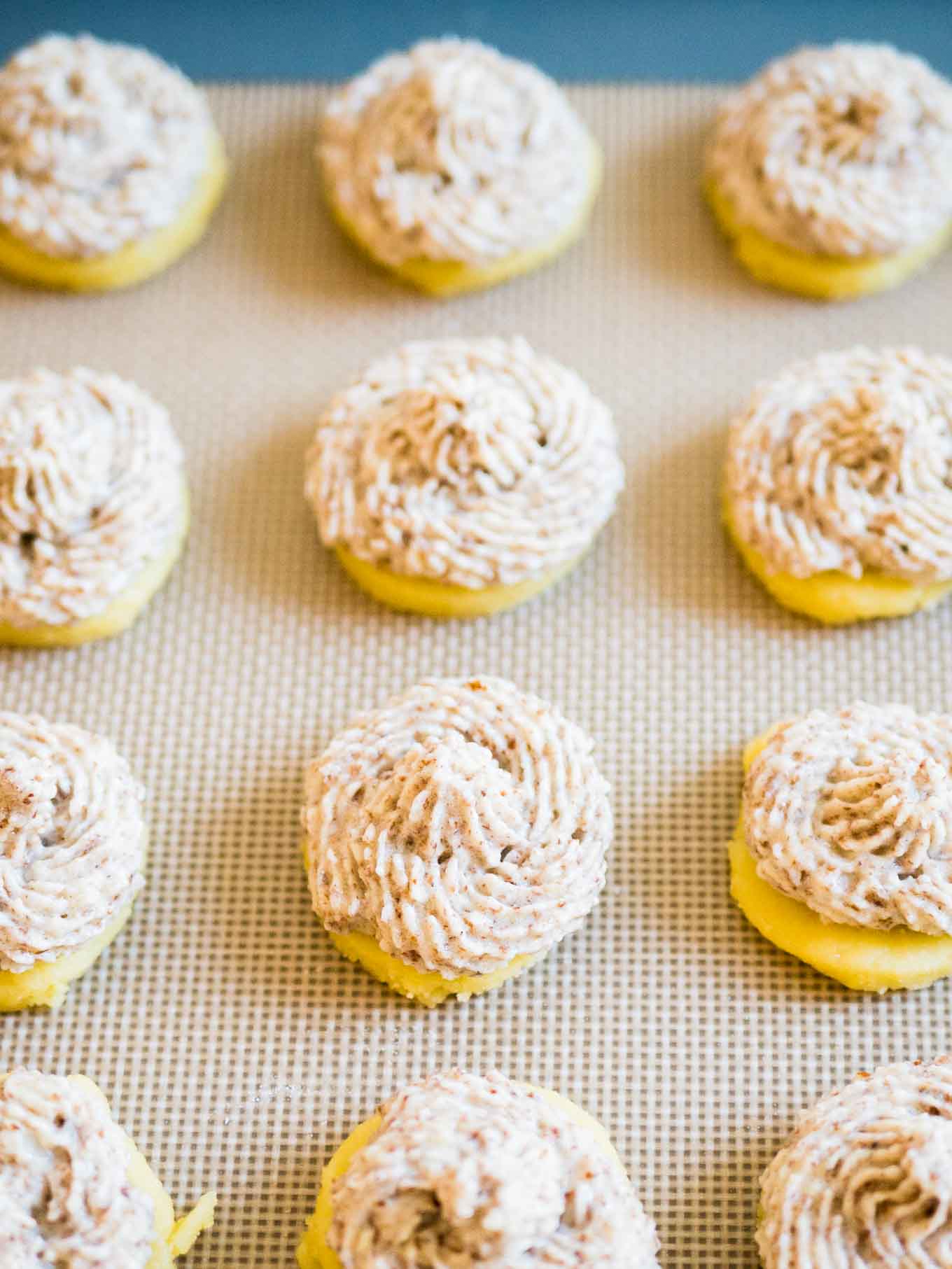 These cookies took me a while to find the right measurements and the perfect method to make them. Grandma's recipes are weighed in grams, using a kitchen scale, rather than measured in cups. Also finding the easiest method to make these cookies took some time. But here it is!
Instead of using cookie cutters, I use the easier slice and bake method. This dough is quite sticky and soft and rolling it out made it really hard to work with. So after one batch, I decided it would be so much easier rolling the dough into logs like in my Orange Almond Cookies Recipe, chilling it in the fridge and just slice the logs into cookies.
The cookies are then topped with an almond egg white mixture, baked for 20 minutes, and drizzled with dark chocolate after they are completely cooled down. I used a piping bag for the almond macaroons but you can also use a small cookie scoop (like this one
) or just a spoon.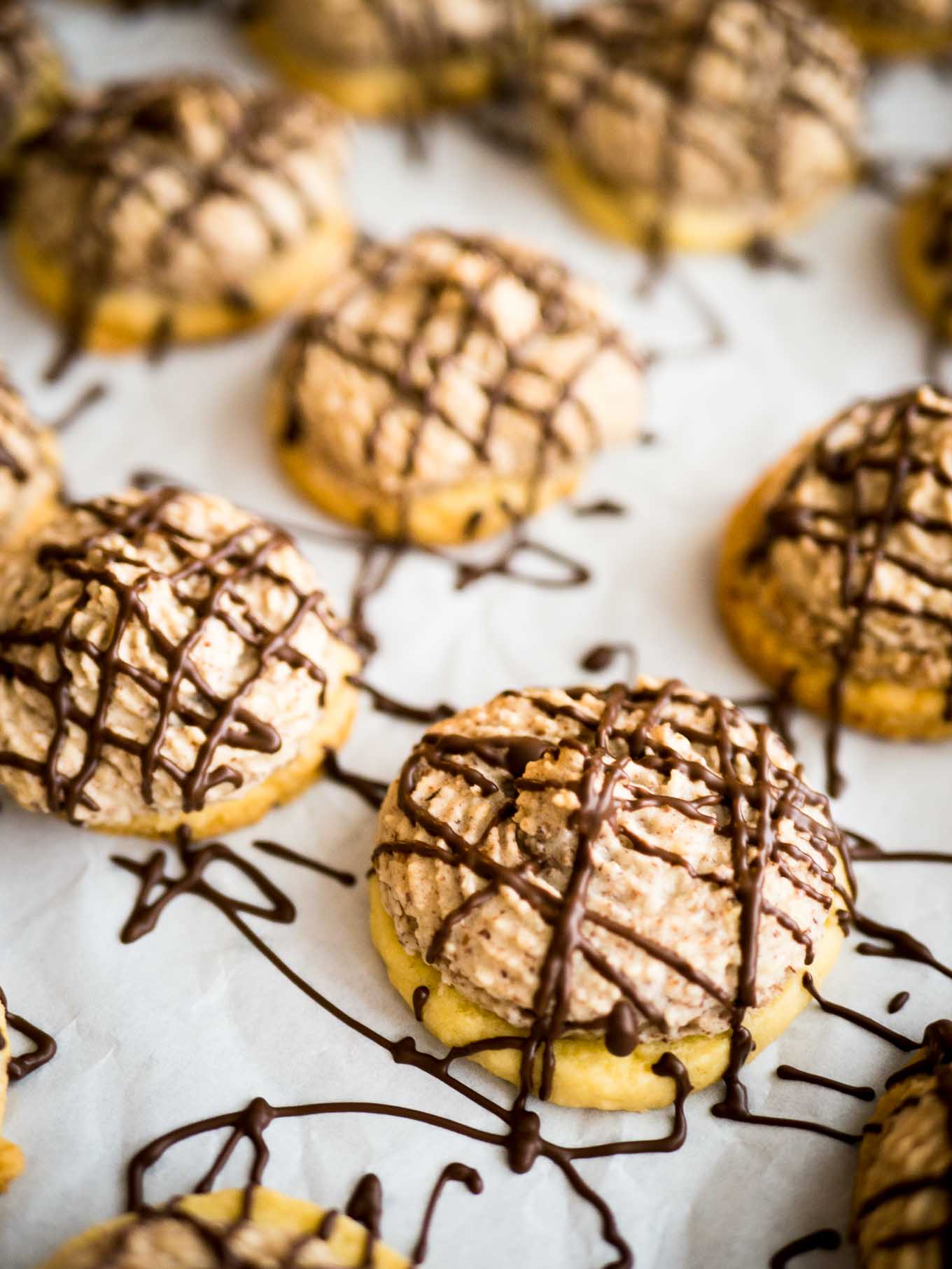 These cookies are perfect for your Christmas cookie plate but I love them all year round!
Happy Baking!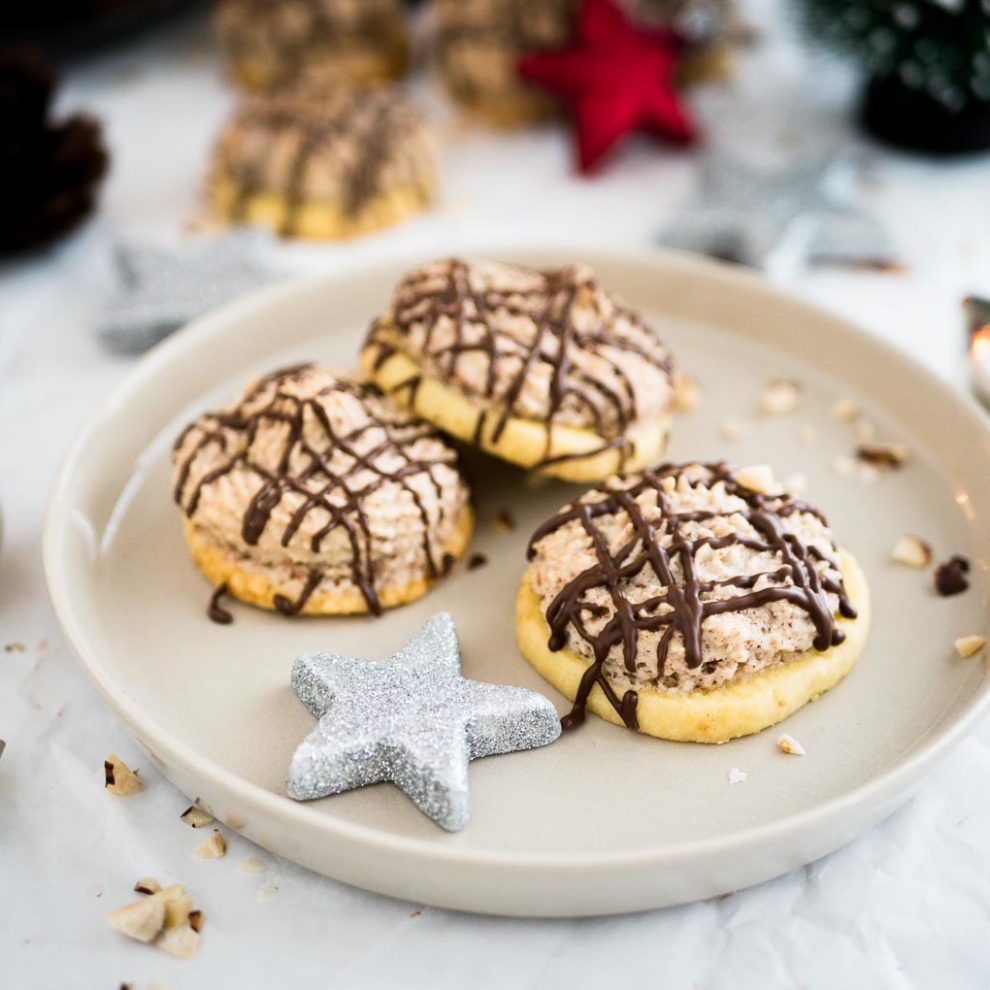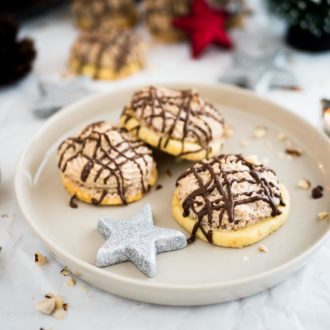 Almond Macaroon Butter Cookies
These easy to make Almond Macaroon Butter Cookies have a butter cookie base, an almond macaroon topping, and a chocolate drizzle on top!
Ingredients
For the butter cookies:
2

cups

all-purpose flour

,

240g

1/2

tsp

baking powder

1/3

cup

sugar

,

75g

1

tsp

vanilla extract

2

egg yolks

1

egg

,

large

1/2

cup

cold butter

,

115g
For the macaroons:
2

egg whites

1 1/2

cups

confectioners' sugar

,

180g

1/8

tsp

ground cinnamon

1 1/2

cups

ground almonds

,

150g

1

tsp

almond extract

4

ounces

dark chocolate

,

100g
Instructions
In the bowl of a stand mixer fitted with the paddle attachment combine flour, baking powder, and sugar. Add vanilla extract, egg yolk, egg, and cubed cold butter. Beat for 1-2 minutes until a smooth dough forms.

Turn the dough out onto a floured work surface and divide into two. Shape each half into a log, about 2 inches in diameter. Tightly wrap the logs in plastic wrap and chill in the refrigerator for at least 4 hours or overnight.

Preheat oven to 350°F (177°C). Line two large baking sheets with parchment paper or silicone baking mats. Set aside.

In the clean bowl of a stand mixer fitted with the whisk attachment beat egg whites at high speed until stiff. Add confectioners' sugar, cinnamon, and almond extract. Whisk until combined. Fold in the ground almonds using a silicone spatula, making sure the ground almonds are evenly moistened.

Remove logs from the refrigerator and slice each log into 0.2 inch thick cookies and place cookies on baking sheets.

Using a small cookie scoop, scoop 1 tbsp of the mixture and place onto each butter cookie slice. You can also use a pastry bag and pipe the mixture onto the cookies.

Bake for about 20 minutes and allow to cool completely on the baking sheets.

Melt the chopped dark chocolate in a double boiler or use the microwave. Drizzle chocolate over cooled cookies and place the baking sheet into the refrigerator to help the chocolate set.