Nutella Cupcakes with Cherries
Nutella Cupcakes with Cherries are chocolaty, fruity, and made with Nutella! They are a real hit every time I bake them.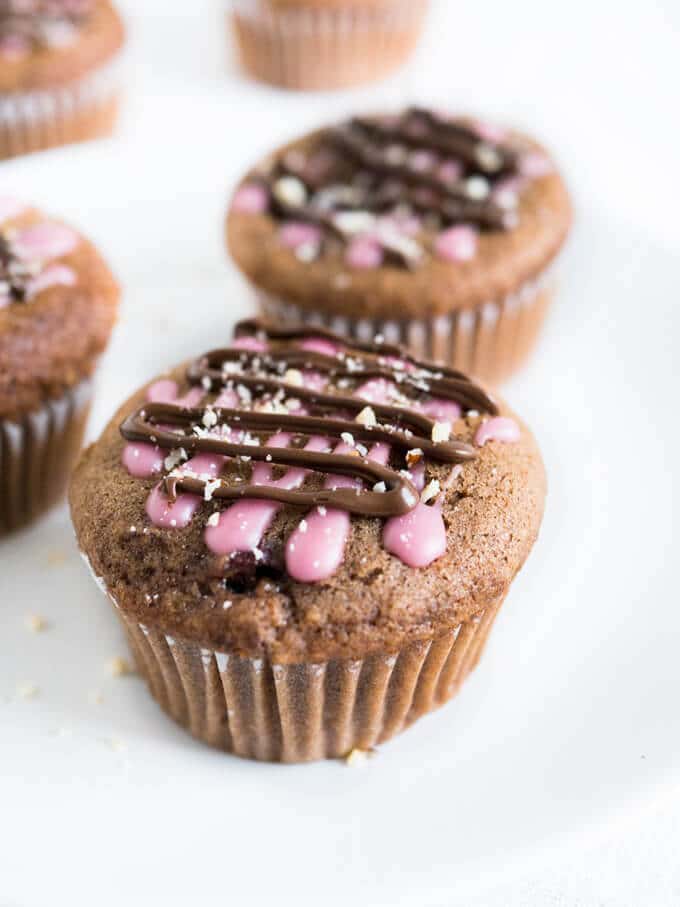 How I would love one of these Nutella Cupcakes right now! The weekend was definitely too short and a little nap would be very nice. We celebrated my father-in-law's 60th birthday on Saturday and Peter and I were in charge of the appetizers and midnight snack.
Sadly (or perhaps luckily for us) the midnight snack wasn't needed because nobody was hungry after a big dinner, dessert and cake only one hour after that. So now our fridge looks a bit like the cheese aisle at the supermarket :-)
I also wanted to make a fancy birthday cake and got myself into a bit of trouble. After making a three tier wedding cake for my husband's cousin 3 years ago, I had to live up to the expectations. I couldn't make a simple cake – but now thinking about the weekend perhaps I should have done exactly that.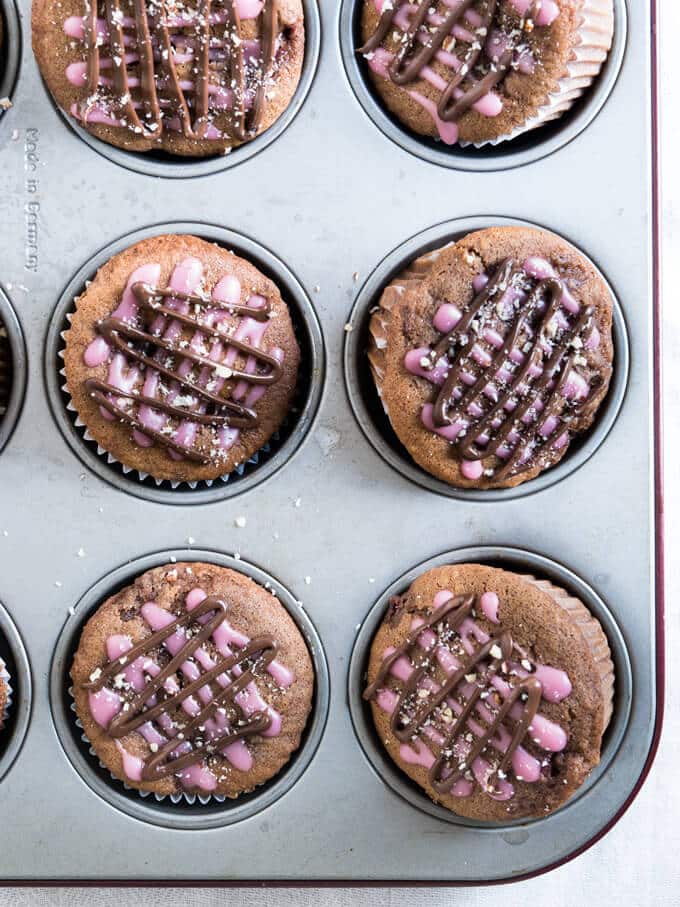 A few weeks ago I found the great blog "Liv for Cake"  written by the lovely Olivia. All her cakes look so delicious and I decided to make her Mocha Chocolate Cake. But I didn't have enough time to make a test run in my own kitchen last week and didn't really think about how much time I had. We had to prepare all the appetizers and snacks on Saturday and were a bit short of helpers.
So on Friday evening after driving two hours to my in-laws' house and running errands the whole day to buy everything for the party the next day I was standing in an unfamiliar kitchen with a new recipe. Making the cake itself was easy. I took half of my kitchen equipment with me so I was prepared but I didn't think about how hard to clean my Thermomix is. So after making the cake, I cleaned it as best as I could by hand but obviously not good enough. At home, I would just put it in the dishwasher but on Friday time was really short.
So there I was, it was already 8 pm and I was starting the meringue buttercream. But it wouldn't get stiff. At first, I thought it was still too warm to get stiff, but it didn't get better after 30 mins in the fridge. So I started a new batch after cleaning the Thermomix thoroughly but no luck. I was devastated, it was already after 9 pm and I still had to decorate the cake.
I was angry with myself for my bad time management and my mother-in-law's small kitchen got messier and messier. I wanted to give up, I had sticky un-stiff meringue in my hair and the kitchen was also sprinkled. So my mother-in-law took over and we made a new batch with a hand mixer and a clean bowl.
And it worked! The meringue buttercream was smooth, silky and tasted delicious. I was tired, sprinkled with buttercream, the kitchen looked like a mess – but finally, I could start to frost my cake at 11 pm.
The cake tasted great and was a big hit at the party! Definitely worth the stress but perhaps I should have made my life easier and just baked a batch of these Cherry Nutella muffins. Not so pretty like the cake but ready in 30 minutes.
These Nutella Cupcakes are the exact opposite of meringue buttercream. You can't do much wrong, just don't overmix and they will be fine. The best way to make cupcakes is to use two bowls. One for the wet ingredients and one for the dry ingredients. After you mixed the ingredients together in each bowl, add the dry mixture to the wet mixture and stir just until all the dry ingredients are wet. Done.
Glazed Cupcakes are much higher on my favorite foods list than frosted cupcakes because they're not as sweet. Don't get me wrong I like frosting but often cupcakes consist mostly of frosting and I find that glazed cupcakes are much easier to store. My Orange Creamsicle Cupcakes, for example, can be glazed or frosted.
But if you are a big frosting fan, you could easily decorate these Cherry Nutella Cupcakes with frosting (like this one from Sally's Baking Addiction).
I drizzled mine with Nutella and made a mixture of powdered sugar and a little bit cherry juice to add a bit of color.
These cupcakes keep fresh in a sealed bag in the fridge for a few days, but most of the times they are eaten much faster :-)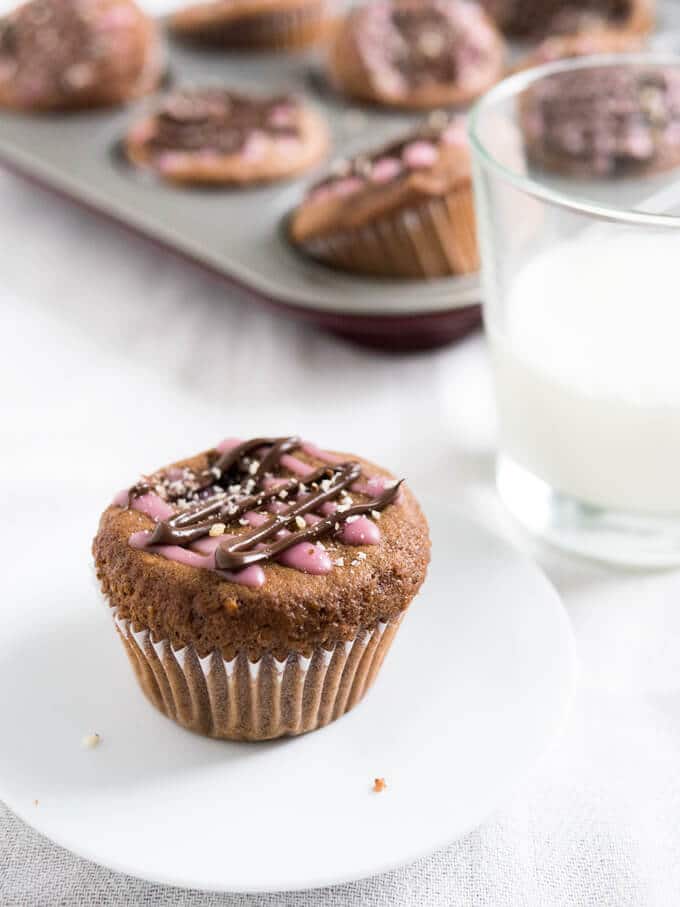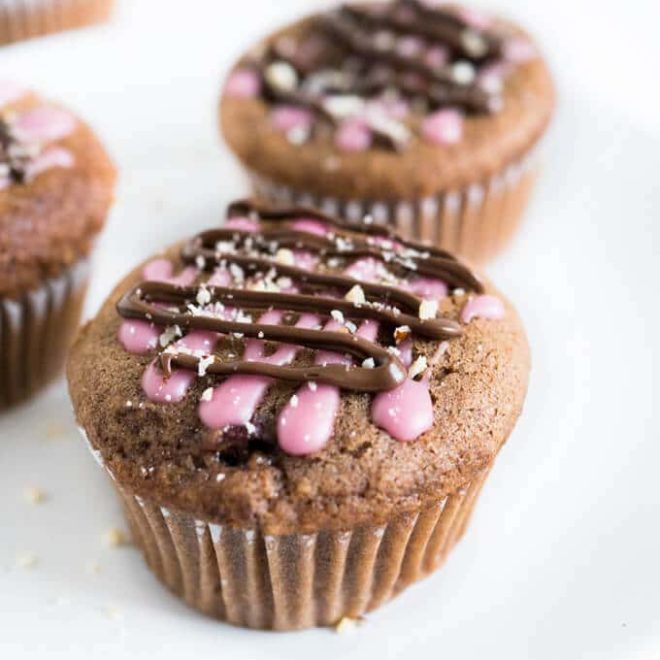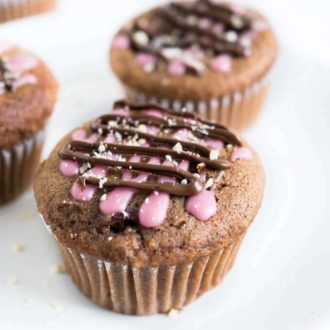 Nutella Cupcakes with Cherries
Nutella Cupcakes with Cherries are chocolaty, fruity, and made with Nutella!
Ingredients
1 1/4

cup

sour cherries

1.5

cups

all-purpose flour

2

tsp

baking powder

1/2

cup

chopped hazelnuts

1

medium egg

1/2

cup

sugar

1/3

cup

vegetable oil

1/2

cup

milk

1/3

cup

Nutella
Instructions
Preheat oven to 360F (180C). Line muffin pan with muffin cases and set aside.

If you're using fresh cherries wash, stem, and pit the cherries or if you're using jarred cherries, drain them.

In a bowl mix together all-purpose flour, baking powder, and chopped hazelnuts. Set aside.

In a large bowl of an electric or stand mixer, whisk the egg, then add sugar, the egg, vegetable oil, milk, and Nutella. Mix until combined.

Gently stir in flour mixture but don't overmix - stir until just combined otherwise your muffins will be dry.

Add the cherries to the mixture and use a spatula to stir them in.

Evenly distribute the batter between the muffin cases and bake for 20 to 25 minutes until batter is set. Use a skewer to test if the muffins are done.

Allow cupcakes to cool for about 5 minutes, then transfer to a cooling rack.

I decorated my cupcakes with Nutella and a mixture of cherry juice and powdered sugar.
Try my Maple Glazed Walnut Muffins next!