Nutella Swirl Pumpkin Bread
Nutella Swirl Pumpkin Bread is special enough for a holiday brunch but also perfect for any chilly fall morning. Swirls of chocolate hazelnut spread and a pumpkin enriched yeast dough make this loaf a delicious and decadent treat!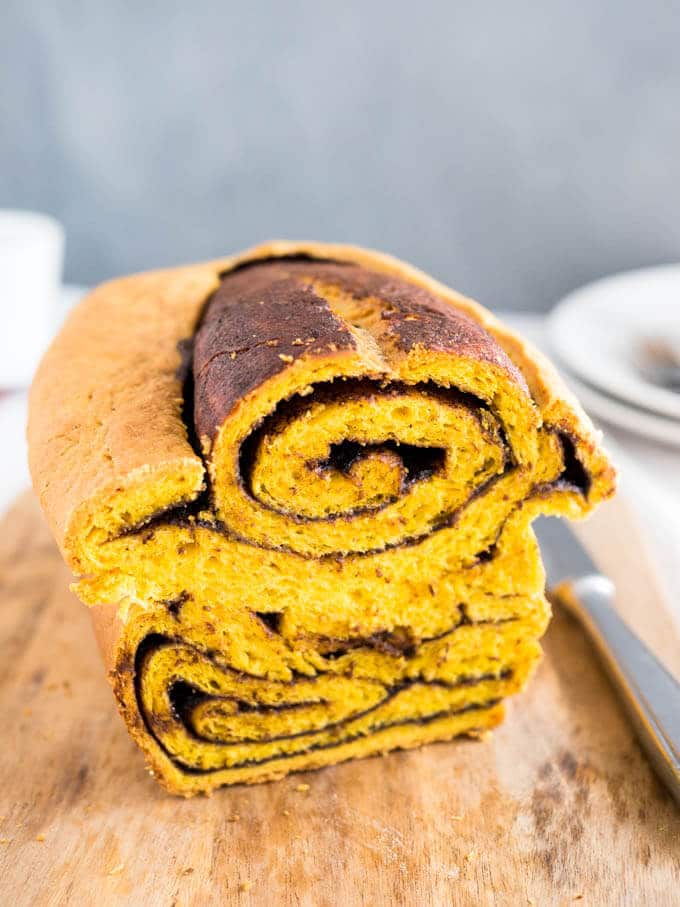 When September rolls around, I have the sudden itch to make bread. Fluffy, moist bread! And especially bread that's filled with the best ingredient ever invented: Nutella! I used Nutella in my Nutella Cupcakes with Cherries, my No Bake Nutella Cheesecake Cherry Parfaits, and my Salted Caramel Pretzel Brownies with Nutella.
Now it's time to use it in a fluffy loaf! In the summer my Lemon Pull Apart Coffee Cake is on of my favorite breakfast treats but on a chilly fall morning, I often crave something heartier like this swirled bread which goes perfectly with a hot cup of PSL.
My Pumpkin bread is swirled with Nutella and packed with pumpkin spice, orange zest, and tons of pumpkin flavor! It's like the festive cousin of Cinnamon Swirl Bread. And it tastes equally great toasted and buttered with a hot cup of coffee on a chilly morning!
This soft and tender orange loaf is a family favorite and easier to make than you think!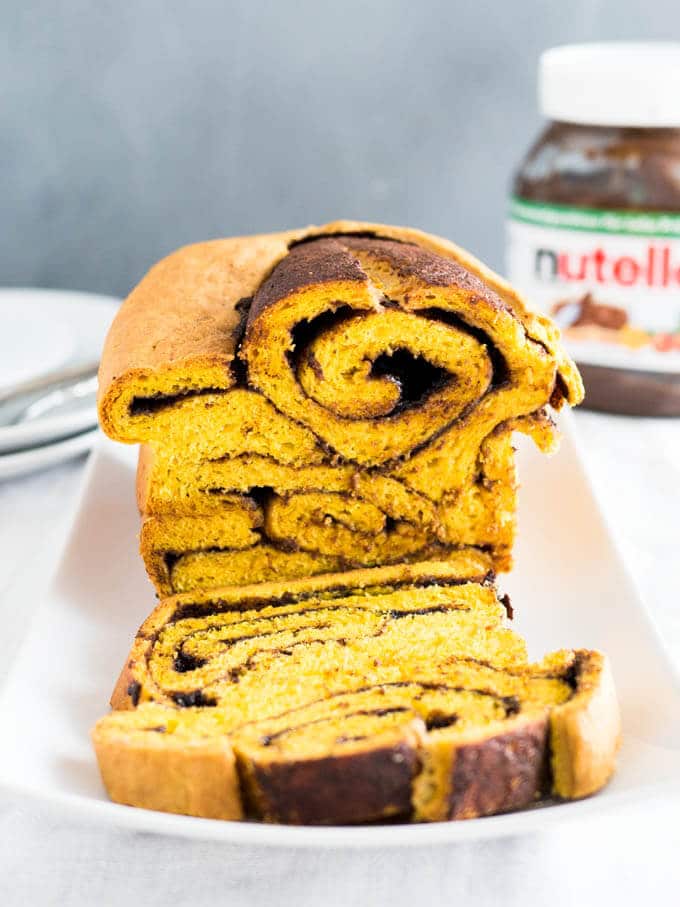 Start with the yeast. You need some good yeast that is active. By adding only the yeast and a bit of sugar to the lukewarm milk and letting it stand to proof for a few minutes until it gets frothy you can make sure that your yeast is active. If it doesn't get frothy you should start over with new yeast.
For this recipe, you'll also need bread flour, brown sugar, pumpkin puree, eggs, butter, salt, and vanilla extract.
Complementing the pumpkin flavor are orange zest (freshly grated or store bought) and my favorite spices for fall. Don't worry this bread will not taste like oranges. The orange zest just gives it a little fruity undertone which goes perfectly with the Nutella and pumpkin flavor.
This dough will rise twice! After the first rise, punch it down, and roll it out into a 12-by-18-inch rectangle. Spread the Nutella on top. Yum! You can warm up the Nutella in the Microwave for a few seconds so it's easier to handle but normally if you store it at room temperature it should be easily spreadable.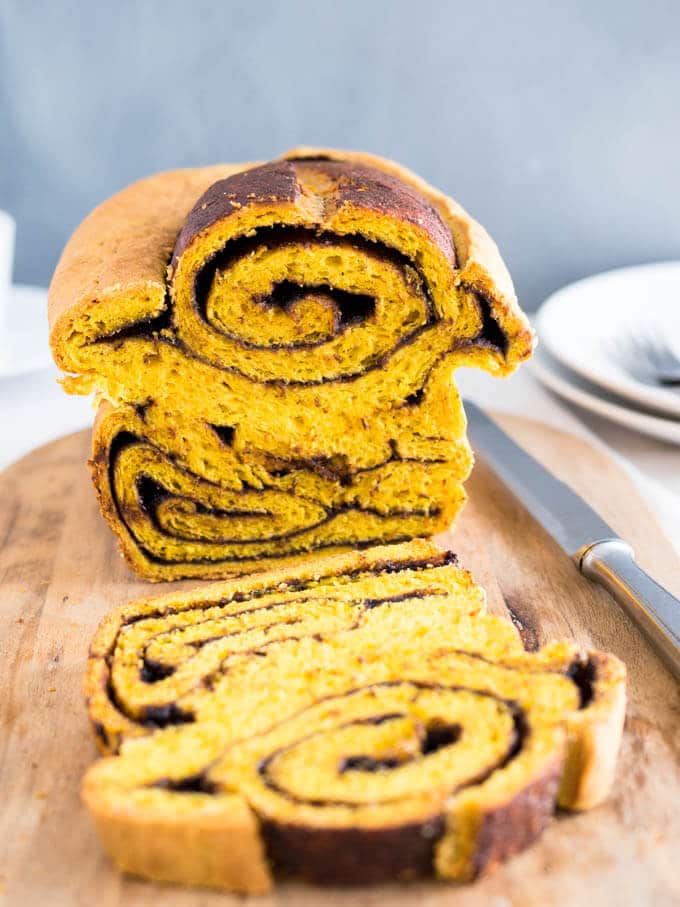 The most important thing after proofing the yeast is rolling the dough up very tightly. If it's too loose you end up with a hole in the center because the layers will separate. It will taste as great but won't be as attractive.
After you rolled the dough into a log, fold the ends in. This will give you a double swirl! Because we all know: Two beavers swirls are better than one, they're twice the fun!
Tuck the bread into your buttered loaf pan and let it rest for another 30 minutes while you preheat the oven.
And voila after baking for about 1 hour you're rewarded with this beautiful Nutella Swirl Pumpkin Bread!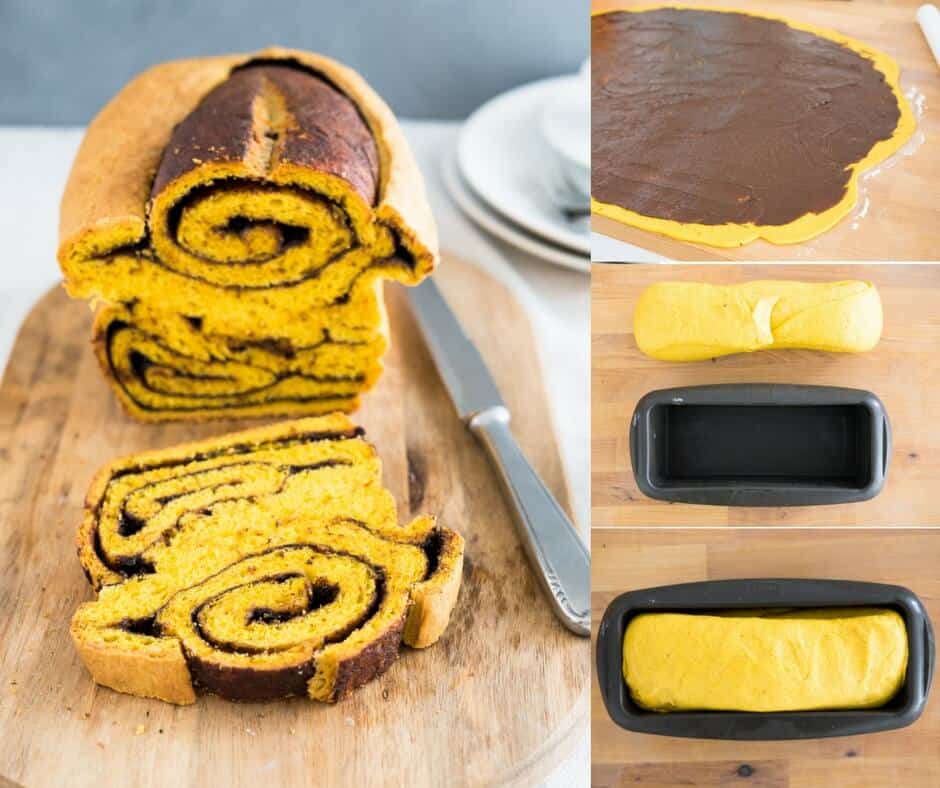 Pin this Nutella Swirl Pumpkin Bread for later!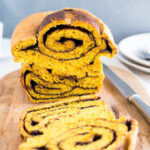 Nutella Swirl Pumpkin Bread
Nutella Swirl Pumpkin Bread is special enough for a holiday brunch but also perfect for any chilly fall morning. Swirls of chocolate hazelnut spread and a pumpkin enriched yeast dough make this loaf a delicious and decadent treat!
Prep Time
2
hours
30
minutes
Total Time
3
hours
30
minutes
Ingredients
1/2

cup

whole milk

lukewarm, 120ml

1/2

tsp

granulated sugar

1 1/2

tbsp

instant dry yeast

2 packets

6

tbsp

unsalted butter

softened, 85g

1/4

cup

dark brown sugar

50g

1 1/2

tsp

kosher salt

1

tsp

Pumpkin spice

1

tsp

finely grated orange zest

1

large egg

1

tsp

vanilla extract

1

cup

pure pumpkin puree

225g

4

cups

bread flour

plus more for dusting, 500g

1/2

cup

Nutella

140g

2

tbsp

unsalted butter

melted, 30g
Instructions
Grease a large bowl with butter or spray with nonstick spray. Set aside.

In a small bowl combine lukewarm (not hot!) whole milk, granulated sugar, and yeast. Let stand for 5 minutes until slightly frothy.

Meanwhile, in the bowl of stand mixer fitted with the paddle attachment, cream 6 tbsp of butter with brown sugar, salt, pumpkin spice, and orange zest at medium-high speed for about 2 minutes until light in color.

Add vanilla extract, egg, and pumpkin puree, beat for 1 more minute until incorporated. Then add the yeast mixture, beat at low speed until fully incorporated.

Switch to the hook attachment. Add 4 cups of bread flour and knead at low speed until incorporated. Then knead the dough with the mixer on medium-low speed for 5 minutes until the dough is smooth. It will be very soft, but should not be sticky.

On a lightly floured surface smooth the dough into a ball and place it into the prepared greased bowl. Cover with plastic wrap and place in a warm spot to rise until doubled in size - around 1.5 hours.

Grease a 10 by 5-inch

Loaf Pan

with butter.

Punch down the dough and turn out onto a lightly floured work surface. Flour your rolling pin and roll the dough into a 12-by-18-inch rectangle. It should be about 1/8-inch thick.

Spread the Nutella over the dough, leaving a 1-inch border around the sides. Roll the dough up very tightly into a log, starting along the longer side. Pinch the edges to seal the seams and fold the ends in.

Tuck the bread into the greased loaf pan with the seam side down. Cover loosely and let rise in a warm environment again until the dough rises to the top of the pan, about 30 minutes.

Preheat oven to 350°F (180°C).Brush the top of the bread with melted butter and slash down the middle.

Bake in the center of the oven for about 1 hour until the top is deep golden brown and top of the loaf sounds hollow when tapped. Transfer to a wire rack and allow to cool in the pan for 10 minutes. Then use a spatula or knife to loosen the bread from the pan and allow to cool completely on the wire rack before slicing.
#BreadBakers is a group of bread loving bakers who get together once a month to bake bread with a common ingredient or theme. Follow our Pinterest board right here. Links are also updated each month on this home page.
We take turns hosting each month and choosing the theme/ingredient. This month it is Kylee of Kylee Cooks – thanks for hosting, Kylee!
If you are a food blogger and would like to join us, just send Stacy an email with your blog URL to foodlustpeoplelove@gmail.com.
Breads with Pumpkin/Pumpkin Spice: