German Cherry Cheesecake recipe without crust
German Cherry Cheesecake has no crust and is made with quark and cherries.
Today I have a Cherry Cheesecake recipe for you which is made without a crust! In Germany Cheesecake is made with curd instead of cream cheese which makes it lower in fat and a little bit healthier.
When I was a child, my grandparents had a big cherry tree in their garden. My grandma still lives in the same house, but the cherry tree had to go a few years ago because it was too much work for her alone after my grandpa died.
But I still remember how beautiful the tree looked in spring and helping my grandpa was one of my favorite summer activities.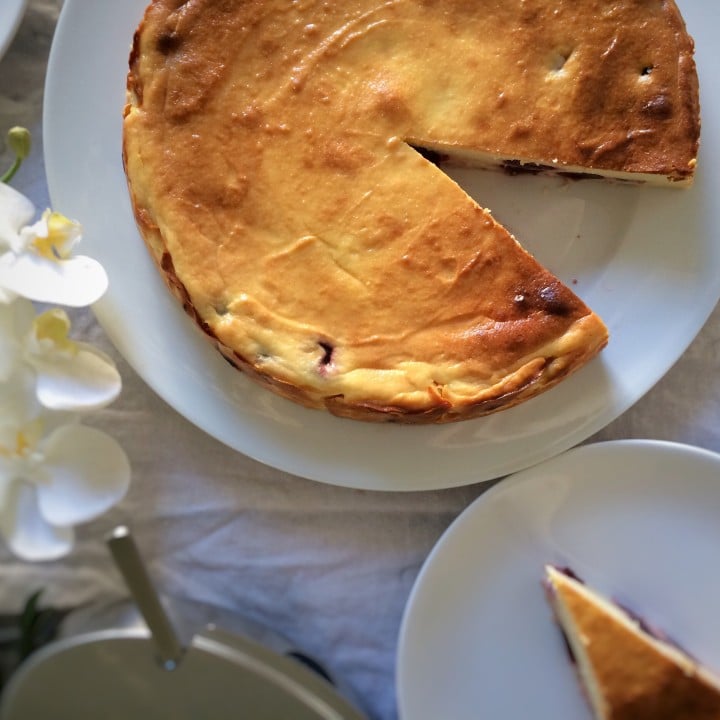 It was a really big tree, as big as the whole garden, there also were red currants and black currants, a greenhouse with tomatoes and big buckets full of parsley (which I hated as a child). My grandpa loved his garden, he really had a green thumb as you say in German (When he was younger he grew gorgeous geraniums in his office at work).  So every summer I helped him pick the cherries from the tree.
There were so many cherries, too many to use fresh so they had to be preserved in jars. So my grandparents and I had to pit every single cherry and you know what a mess cherries make, but it was fun and the reward were cherries all year around. The cellar at my grandparents' house was full of cherry jars some of them years old because there were so many cherries every year.
So in honor of my cherry-loving "Opa" I baked a Cherry Cheesecake for you. For this recipe, I used fresh cherries but you can also use a good old jar (let drip off any excess juice).  Personally, I like my cheesecake cold, so I keep it in the fridge.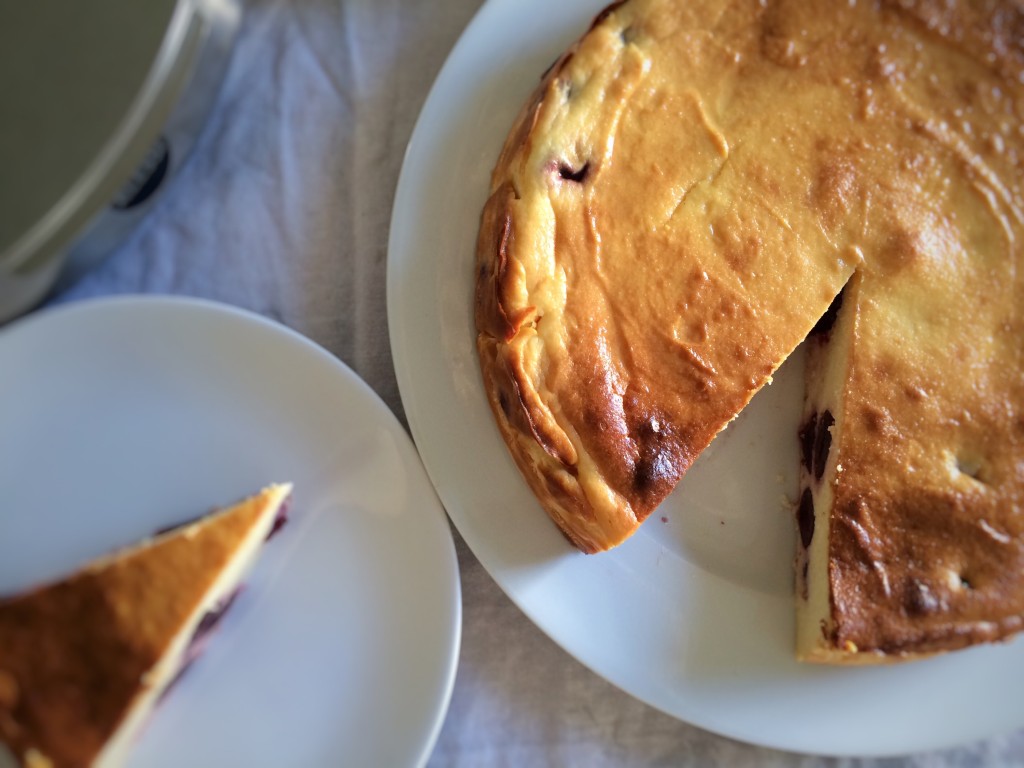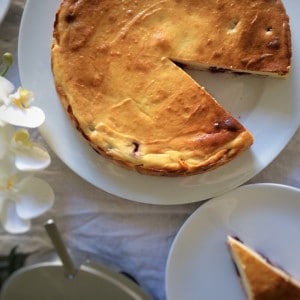 German Cherry Cheesecake recipe without crust
German Cherry Cheesecake has no crust and is made with quark and cherries.
Ingredients
370

g

fresh sweet cherries

,

14 ounces, pitted and halved

150

g

butter

,

2/3 cup, soft

200

g

sugar

,

1 cup

1

tbsp

lemon juice

4

tbsp

hard wheat semolina

1

kg

low-fat quark

,

35 ounces

40

g

corn starch

,

1/3 cup

Pinch of vanilla extract

4

eggs
Instructions
Heat up your oven to 180 C (360 F) and grease your baking pan (26 cm/ 10 inches diameter).

Beat butter together with sugar, lemon juice, and semolina until very creamy. Stir in the quark, corn starch, and vanilla extract. Gradually add eggs to the quark cream. Finally, carefully fold in the cherries.

Pour the mixture into the pan and bake the cake for about 60 min. Don't open your oven during the baking time or it will eventually collapse. When the time is up, let the cake cool down in the switched off oven for about an hour to be on the safe side.

Let the cake completely cool off, then remove it from the pan.