Savoury Pancakes with pear and blue cheese
Savory Pancakes with pear and blue cheese are topped with mache lettuce, bacon, & walnuts and drizzled with a cranberry balsamic vinegar dressing. Perfect for brunch, as a main dish or as a course in a full course dinner!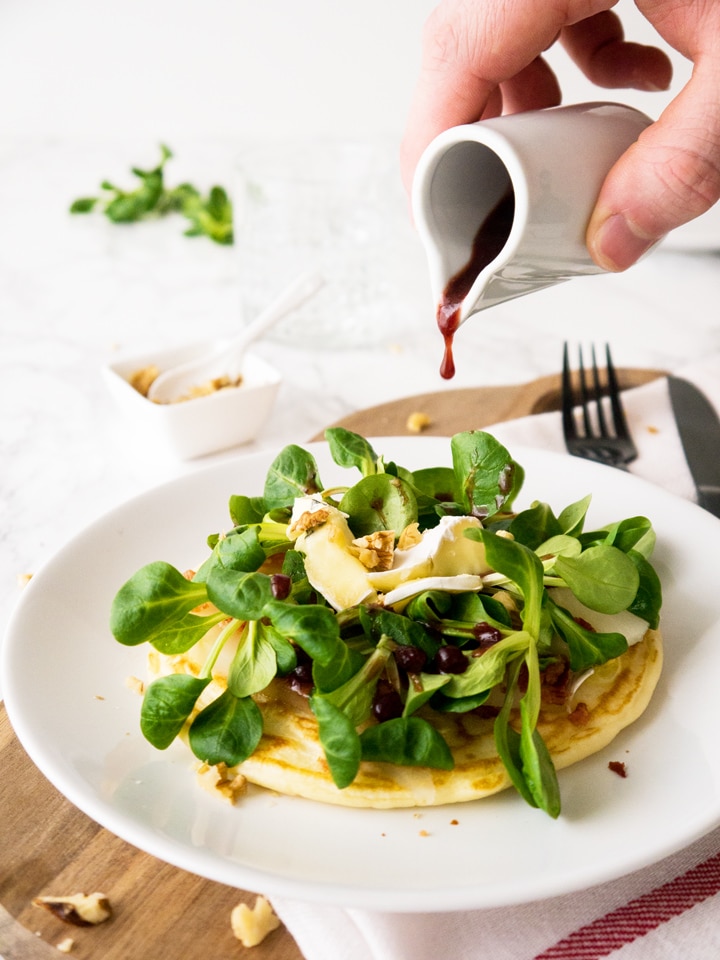 You have to try these Savoury Pancakes! I love the combination of foods which you would normally eat with sweet stuff and really savory items like blue cheese. In Germany, pancakes are served with cinnamon and sugar or apple sauce. I know many Americans love pancakes with bacon and that is a combination which my taste buds really enjoy!
My first experience of this kind of sweet and savory combination was at a great street food place in Austin called Gourdough's. Such a cool place, they serve doughnuts out of an airstream trailer and these doughnuts are not normal doughnuts.
My favorite was the Flying Pig – a doughnut topped with bacon and maple syrup icing. From this day on I was addicted! (When we told our friends and family at home about our culinary adventure everyone thought we had a lapse of taste – such philistines 🙂 )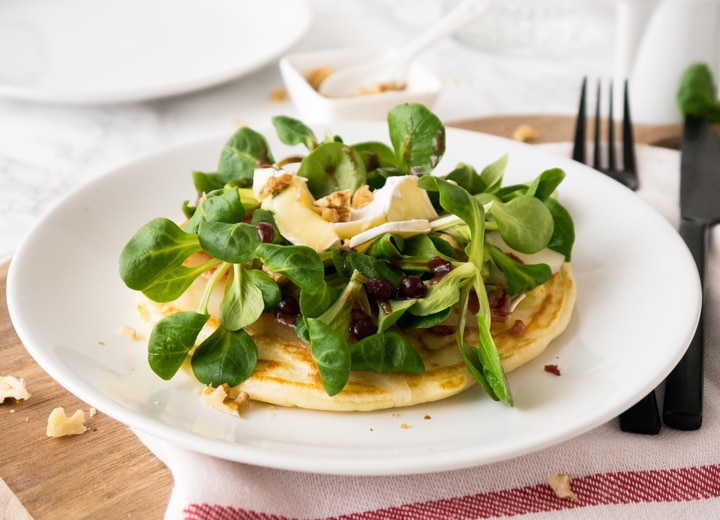 My second taste bud explosion happened on our honeymoon in Florida.
It was really early and we were driving to the Keys, we hadn't had breakfast so we stopped at McDonald's (don't hit me please). They were out of everything from the breakfast menu, the only thing left was a Bacon, Egg & Cheese McGriddle (in Germany we only have McGriddles without anything at McDonald's).
I didn't really know what I had ordered because I couldn't understand everything the lady said, so after the first bite, I was confused, after the second I wanted 10 more of these.
Because of the lack of such great treats in Germany, I had to make my own and these Savoury Pear and Blue Cheese Pancakes were the result. It's a healthier and fancier version of the treats I wrote about above but tastes as delicious. These Pancakes are great as a main dish, we had them for lunch on the weekend, but they would also make a great course in a full course dinner.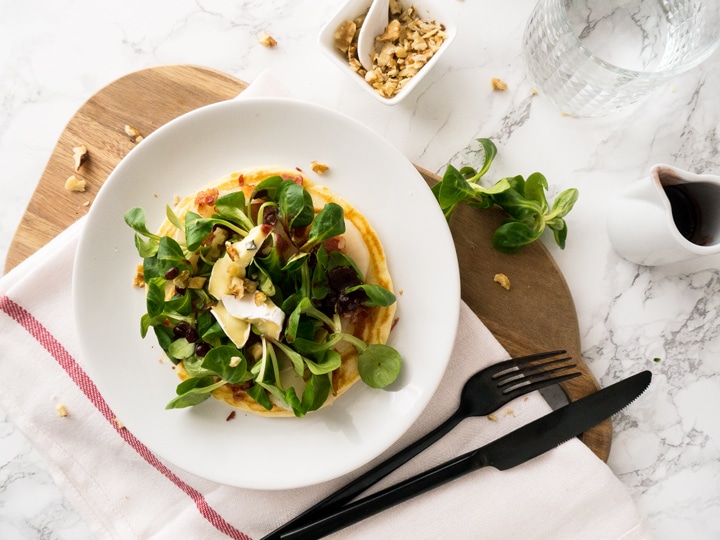 The pears are poached in white wine and the dressing, made from cranberry sauce and balsamic vinegar, complements the blue cheese and the mache. Mache is also known as Lamb's lettuce and can be found at Whole Foods and Trader Joe's. It has a great nutritional value and provides more iron and vitamin c than other salad greens. I love the flavor and texture of mache!
If you like these Pancakes try my Pear & Gorgonzola Mini-Tartlets which are also made with tasty blue cheese and pears!
– Julia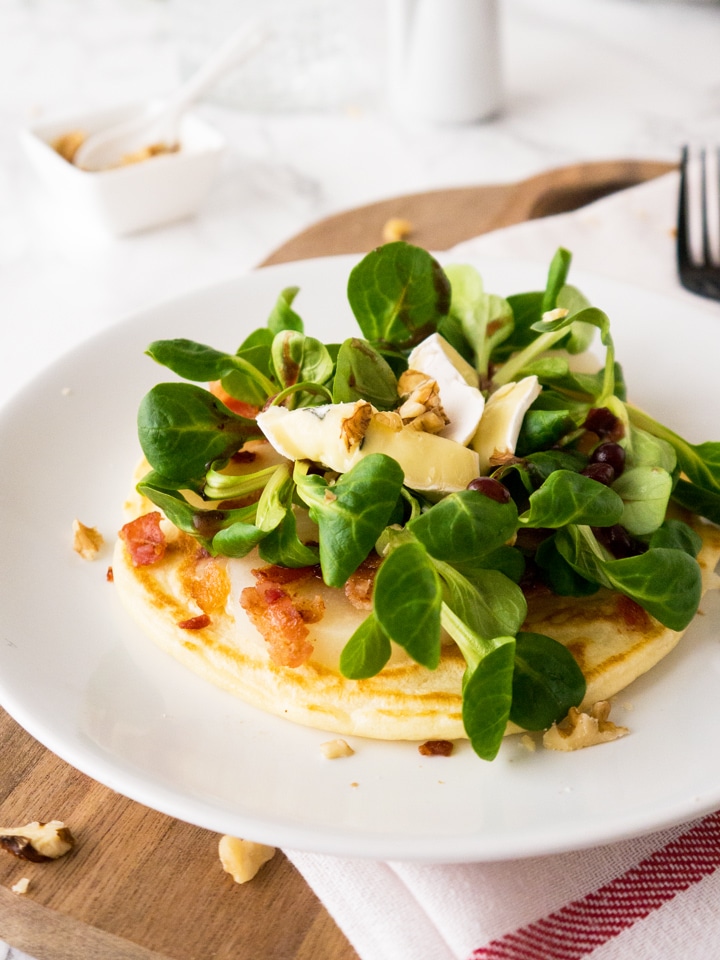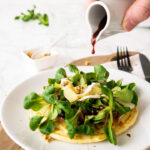 Savoury Pear and Blue Cheese Pancakes
These Savoury Pear and Blue Cheese Pancakes are topped with mache lettuce, bacon, & walnuts and drizzled with a cranberry balsamic vinegar dressing.
Ingredients
Pancakes
1

cup

all-purpose flour

2

tsp

baking powder

1

egg

1

cup

milk

1

pinch of salt

1

tbsp

butter
Poached Pears
1

pear

1

cup

white wine

1

cup

water

1

bay leaf

1

tbsp

honey
Dressing
3

tbsp

cranberry sauce

1

tbsp

olive oil

2

tbsp

balsamic vinegar

Salt

Pepper
Other stuff
4

slices

bacon

4

oz

mache

lamb's lettuce

4

oz

creamy blue cheese

1/4

cup

walnuts

chopped
Instructions
Peel, core and cut the pear into thin slices. Bring the white wine, water, honey, and bay leaf to simmer in a small pot. Add the pear slices and let them cook for about 8 minutes.

In the meantime mix the dressing: Cranberry sauce, olive oil, and balsamic vinegar. Season with salt and pepper to taste. I like to use a glass with a lid which I can shake without making a mess.

Cook the bacon on the stove or in the oven until crisp.

In a big bowl mix the flour and baking powder together. Add the egg, milk, and salt and stir until the batter is smooth. Bring a pan to medium heat, melt half the butter and add 1/4 of the pancake batter. Bake each side for 1-2 minutes until golden brown and cooked trough. Continue until all the batter is used. Keep pancakes warm e.g. in the oven at a low temperature or covered with aluminium foil.

Assemble the pancakes: Top each pancake with sliced cheese and a few slices of the poached pears. Divide the mache lettuce between the pancakes. Crumble the bacon on top and sprinkle with chopped walnuts. Drizzle the dressing on the mache and serve. Enjoy!