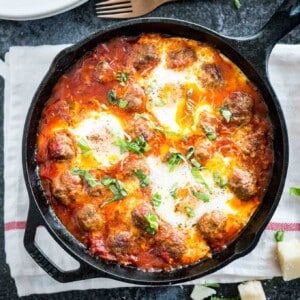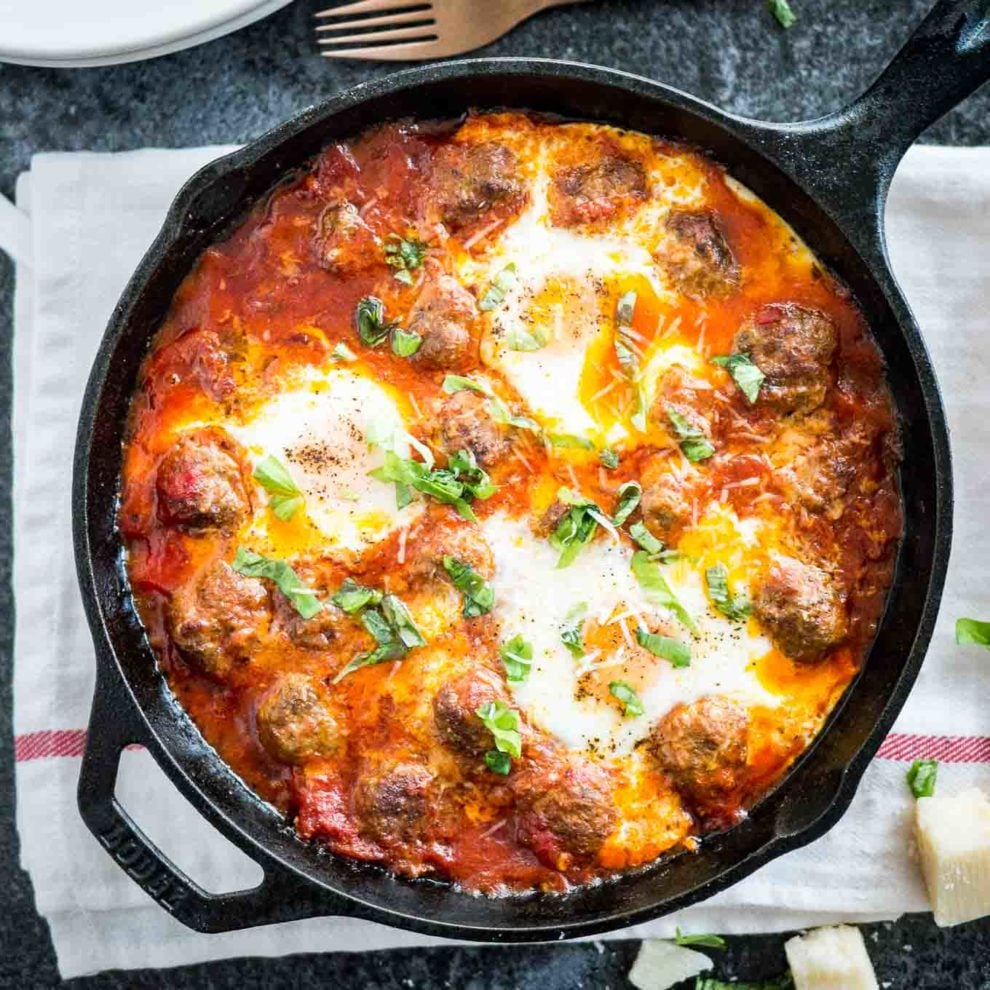 Print Recipe
Italian Baked Eggs and Meatballs
These Italian Baked Eggs and Meatballs are the BEST comfort food! A delicious, easy brunch dish that makes a great satisfying dinner, too.

To make the Italian Baked Eggs and Meatballs:
1 1/2

tbsp

olive oil

1 14

oz

jar marinara sauce

400ml, homemade or store bought

1/2

cup

water

120ml

1/2

cup

freshly grated parmesan cheese

50g (plus more for garnishing)

3-4

eggs

room temperature

basil

roughly chopped
Preheat oven to 400°F (200°C).

Prepare the meatballs: Combine the ground beef, breadcrumbs, egg, dijon mustard, oregano, salt and pepper in a medium bowl. Use your fingers to work the meatball mixture together. Work only until all the ingredients are evenly combined.

To shape the meatballs, pinch off a few tablespoons of meatball mixture and shape into balls with your hands.

Heat olive oil in a cast iron pan over medium-high heat. Saute meatballs for about 5 minutes until nicely browned. The meatballs don't need to be cooked through, they will get cooked completely in the oven.

Add marinara sauce and water to the meatballs and simmer for 2 minutes.

Sprinkle parmesan on top and make 3-4 dents into the marinara sauce.

Crack eggs into dents. Season eggs with salt and pepper.

Transfer cast iron pan to hot oven and bake for about 15 minutes or until eggs have desired consistency.

Garnish with basil, parmesan cheese and serve with bread.