HI, NICE TO MEET YOU!
I'm Julia and I have a big obsession with food! I love haute cuisine but I also love burgers and especially all things sweet :-)
My blog reflects all the thing I crave: sometimes healthy, sometimes not-so-healthy but definitely delicious!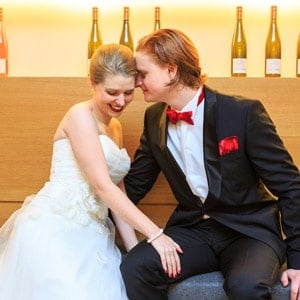 I started this blog together with my husband Peter. He is a great cook and introduced me to many of my most loved foods like avocados and coriander. In my opinion, he's the better cook in our home (I might be the better baker :-) ) but we make a good team and share the same philosophy in the kitchen!
Weeknight dinners have to be quick and easy but always tasty for us. But on the weekend, we love to make a feast and cook extravagantly. Because you know: Calories don't count on the weekend!
Most people at our age will go out to party on the weekend, we love to spend our time in the kitchen. The big advantage is that we can invest the money we save in food and kitchen appliances :-)
We started this blog to share our love for food!