Authentic German Potato Salad is made with vinegar, broth, and oil and can be served warm or cold. A perfect side dish for any occasion, from summer BBQs to potlucks!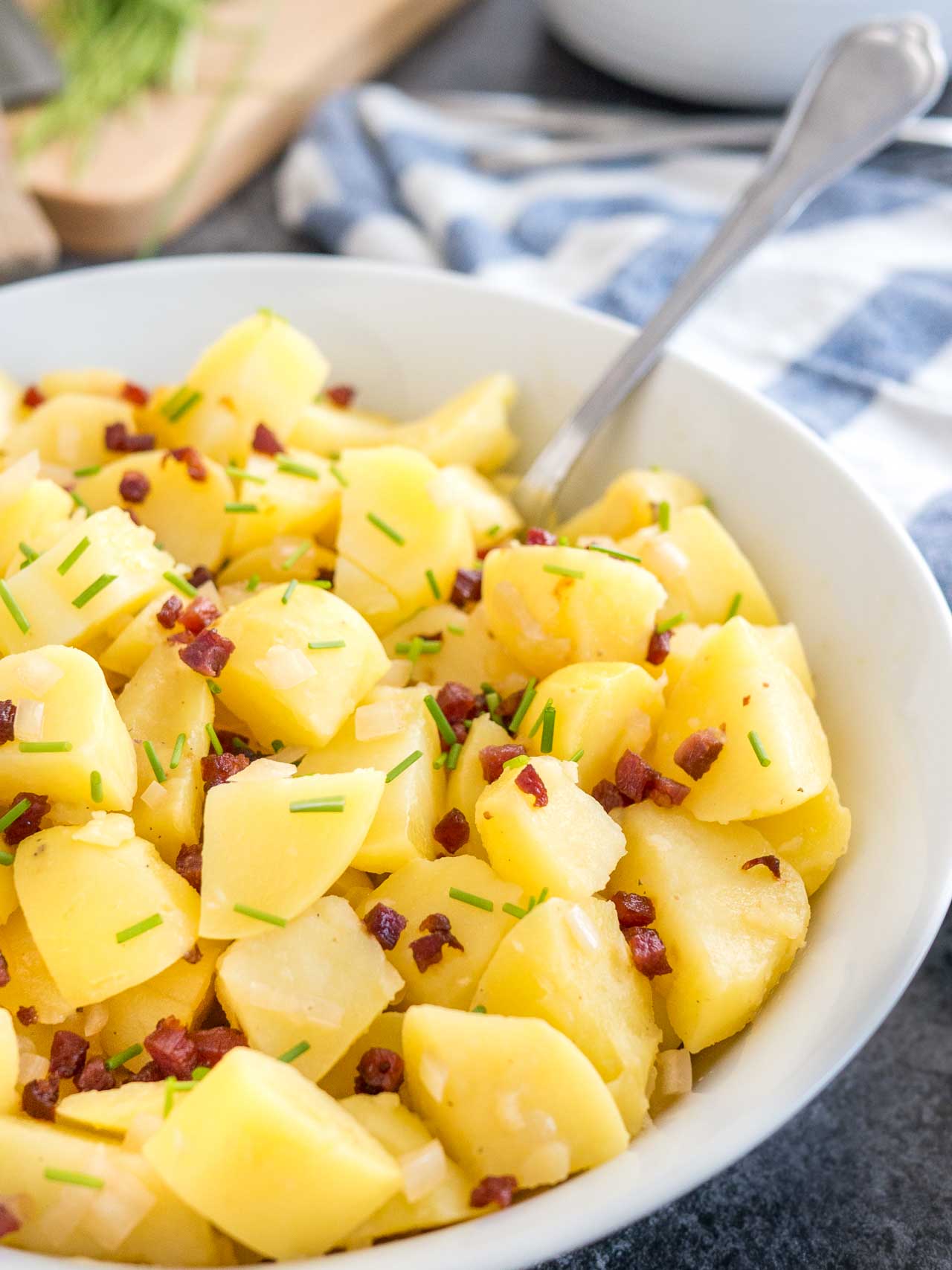 Authentic German Potato Salad is one of my favorite easy German side dishes! It's tangy, a little bit sweet, and loaded with bacon and onions. This easy potato salad recipe that's made without mayonnaise is popular in the south of Germany, every region has their own little twist but they're all made with vinegar, oil, and hot broth.
My family comes originally from the northern part of Bavaria and this potato salad is served at every holiday, BBQ, or potluck. It's an easy-to-make side dish that's perfect for the summer grilling season because you can serve it at room temperature and it tastes great with grilled meat or fish.
You only need a few simple ingredients to make this flavorful salad! The hot potatoes soak up the flavor of the delicious dressing and the added bacon makes this simple recipe so finger-licking-good. Sprinkle the salad with chopped chives and voila: German potato salad perfection!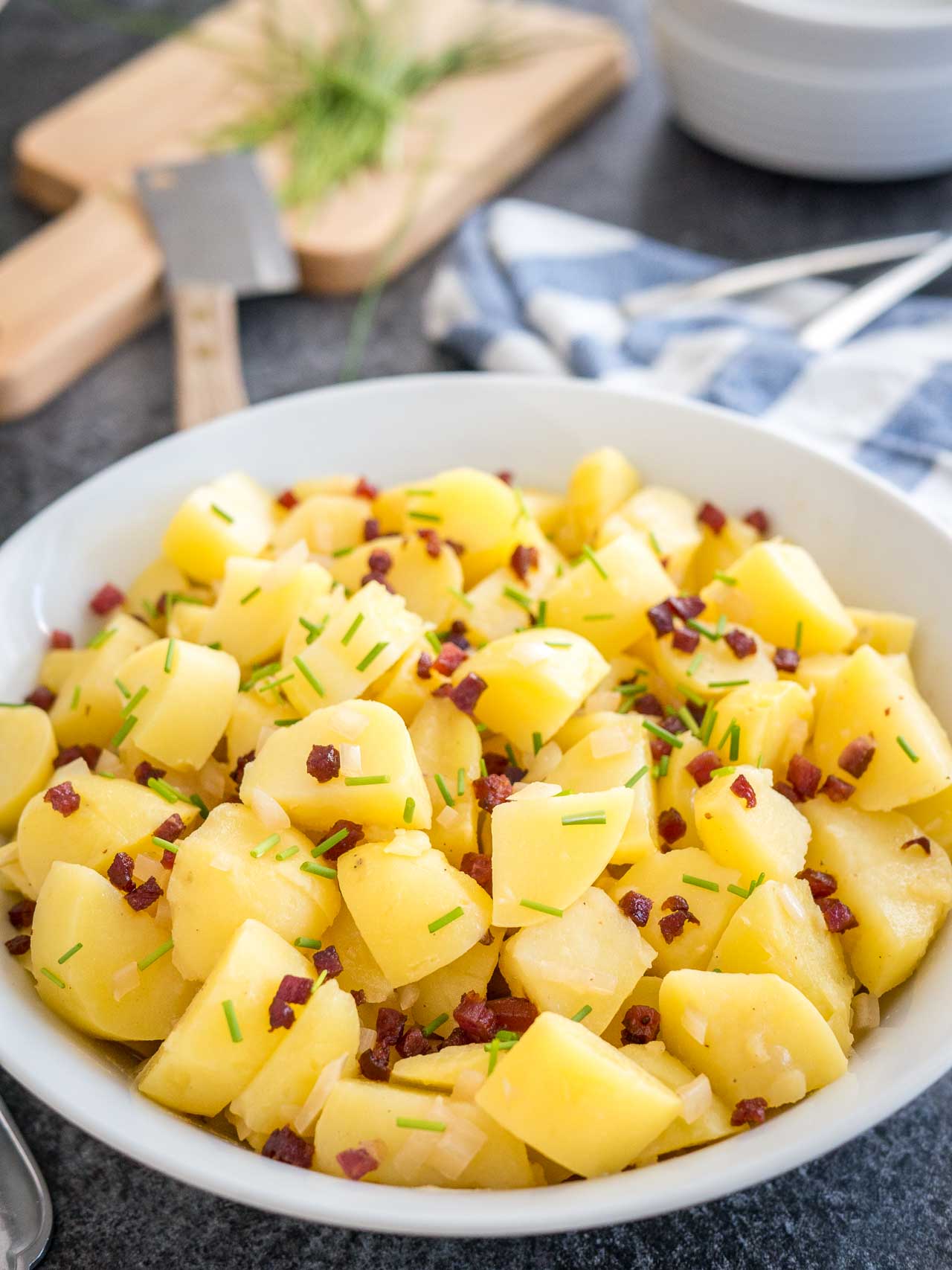 A few tips and tricks for making an authentic German Potato Salad:
The potatoes you can get in Germany are different than the ones you can buy in the US. For the most authentic potato salad, I recommend using Yukon Gold potatoes because of their waxy flesh and firm texture. This variety most closely replicates the potatoes used in Germany for this salad.
The potatoes are cooked unpeeled and are peeled while they're still hot because this way the potatoes will better soak up the salad dressing. This is really important to get that authentic flavor!
In Germany, Potato Salad is often served as a side dish with Schnitzel, pork chops, fish, or Wieners. It's also a popular dish to bring to a BBQ, it tastes great with grilled meat and can be served at room temperature! Fun fact: Many Germans eat potato salad on Christmas Eve.
Use quality beef broth that's darker and more concentrated or homemade beef broth for this recipe. This recipe is dependent on the broth for flavor.
I always make my potato salad with chives, that's the way, my grandmother makes it but you could also use parsley. I also add bacon to mine because I love bacon but traditionally it is made without bacon.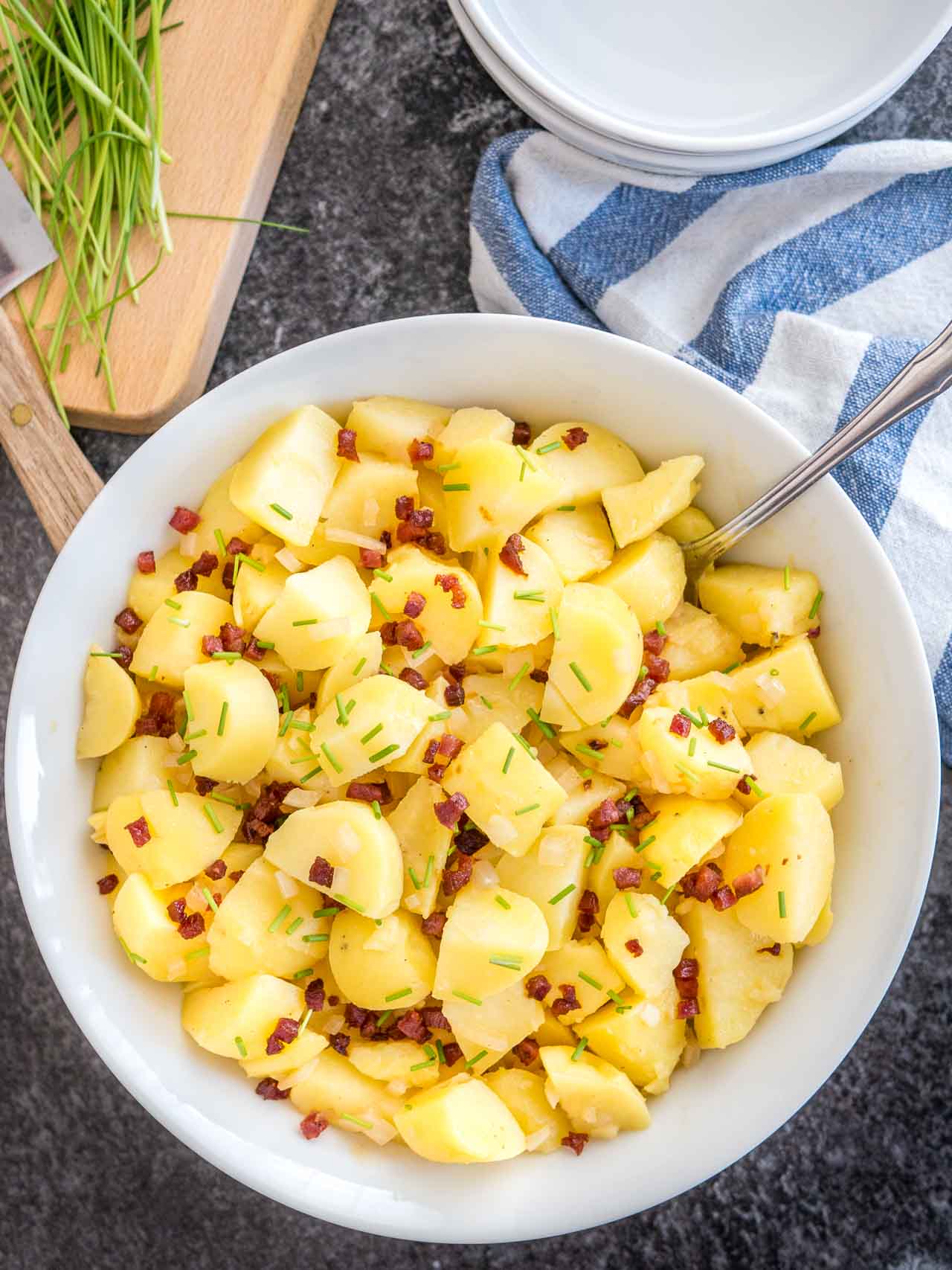 Looking for more German Recipes?
If you want to try more food from Germany I highly recommend taking a look at my other German Recipes! I have lots of German desserts, German side dishes, and some German Christmas favorites on my site and I'm always adding new recipes (please leave me a comment if you're looking for a specific German recipe!).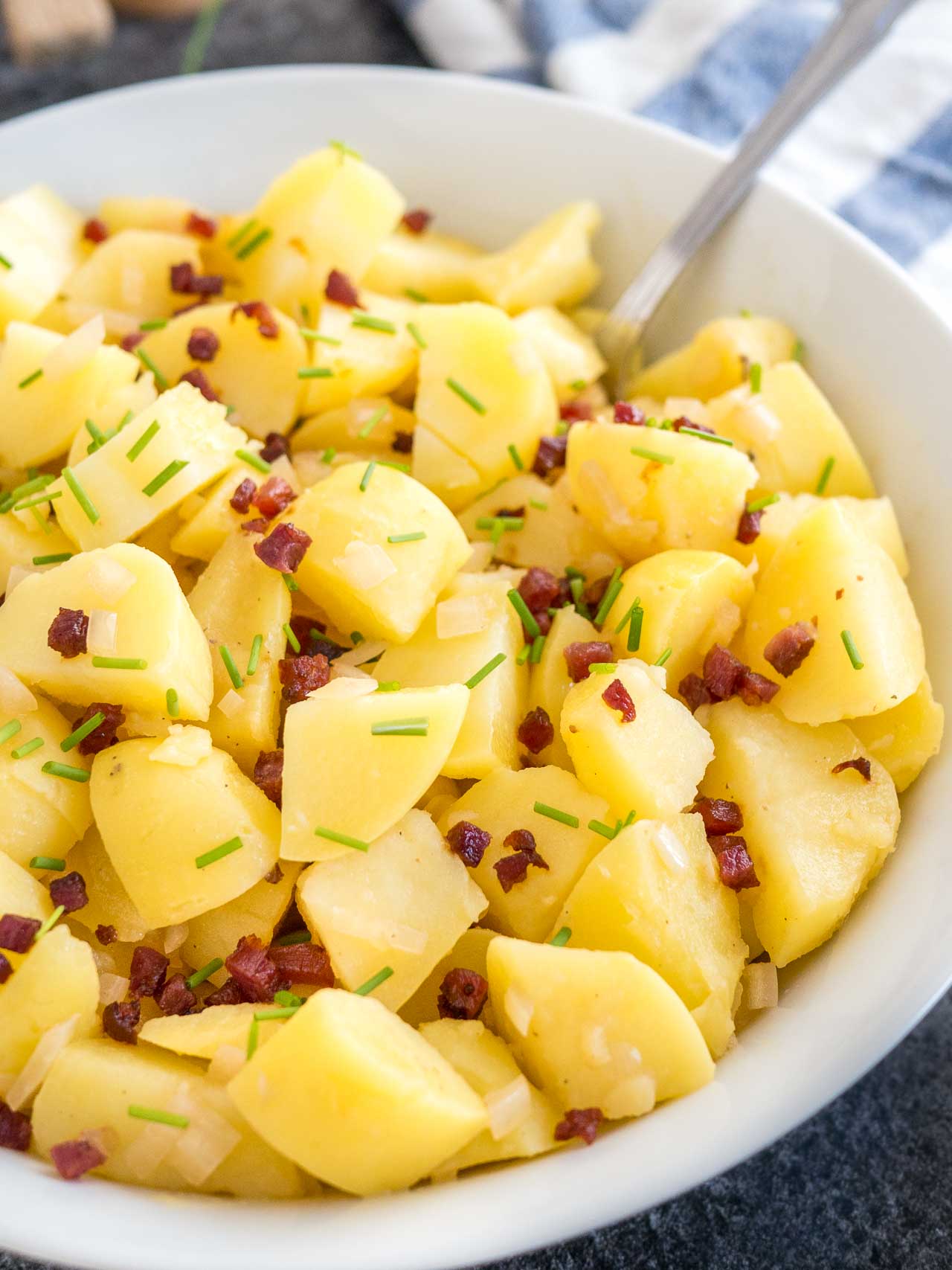 Tools I used for making this Authentic German Potato Salad:
Instant Pot:
 I love this kitchen gadget! It has replaced my Slow Cooker and is so easy to use. I can cook potatoes in less than 20 minutes and it makes the most delicious fall-off-the-bone ribs, the easiest to peel eggs, and is super easy to clean.
Beef Broth:
 You need quality beef broth with lots of flavor for this recipe. In Germany, granulated beef bouillon
is the most used beef broth, it makes it easier to make a more concentrated beef broth because you can just add a little more granulated bouillon to the same amount of water. I always have granulated beef bouillon at home!
Potato Fork:
 This tool makes it easy to hold the hot potatoes while peeling them with a little knife
 (I love this one!). You can find this nifty little potato fork in every German kitchen!
Vinegar:
 I like to use this German seasoned vinegar for salads but you can also use distilled white vinegar, white wine vinegar or apple cider vinegar. But do NOT use balsamic vinegar!
[social_warfare buttons="Pinterest, Facebook"]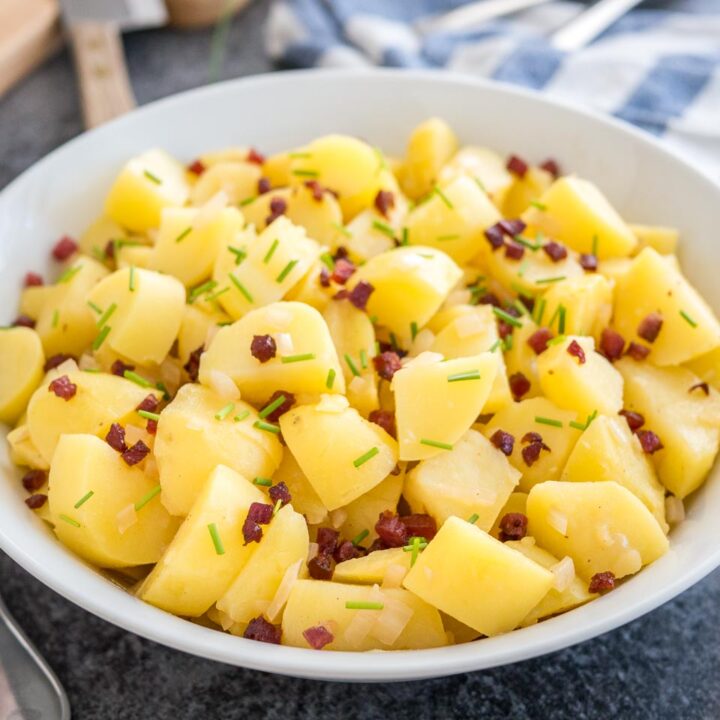 Authentic German Potato Salad
Authentic German Potato Salad is made with vinegar, broth, and oil and can be served warm or cold. A perfect side dish for any occasion from summer BBQs to potlucks!
Ingredients
2

pounds

small Yukon gold potatoes

8

slices

bacon

,

finely diced

1/2

cup

finely chopped yellow onion

1/2

cup

quality beef broth

5

tbsp

white wine vinegar

,

see tips above

1

tsp

dijon mustard

2

tbsp

vegetable oil

,

sunflower or canola

1

tsp

sugar

1/2

tsp

salt

freshly ground black pepper

1/4

cup

finely diced chives
Instructions
Scrub the potatoes but don't peel them. Boil them in a large pot covered with an inch of water over high heat until tender, about 20 minutes depending on the size of the potatoes. Or use an Instant Pot: Place a trivet in the pot, add one cup of cold water, and place the potatoes on top of the trivet. Close the lid and cook at high pressure for 9-12 minutes depending on the size of the potatoes. Quick release the pressure.

While the potatoes are cooking, make the dressing. Cook the bacon in a medium skillet, stirring occasionally, until crispy. Take out the bacon and add the chopped onion to the pan. Cook onion until translucent but not browned. Add beef broth and bring to a simmer. Then turn down the heat and add vinegar, dijon mustard, oil, sugar, salt, and pepper.

Let the potatoes cool slightly so you can handle them.

Use a fork and a small knife and peel all the potatoes. Cut the potatoes into 1/4-inch slices or cubes and put them in a large bowl.

Pour the hot dressing over the potatoes. Mix the salad gently, fold in the bacon pieces and chopped chives. Let the salad rest for at least 20 minutes at room temperature before serving so that the potatoes can absorb the flavor of the dressing.

Serve warm or at room temperature! This salad keeps fresh for about 2 days in the fridge, let it come to room temperature for about 30 minutes before serving. The salad should not sit at room temperature for more than 2 hours.