Pork Medallions with Blue Cheese Sauce make a delicious one-pan weeknight dinner that's on the table in 30 minutes! Fancy enough for a date night or entertaining guests but so easy to make even if you aren't totally kitchen confident.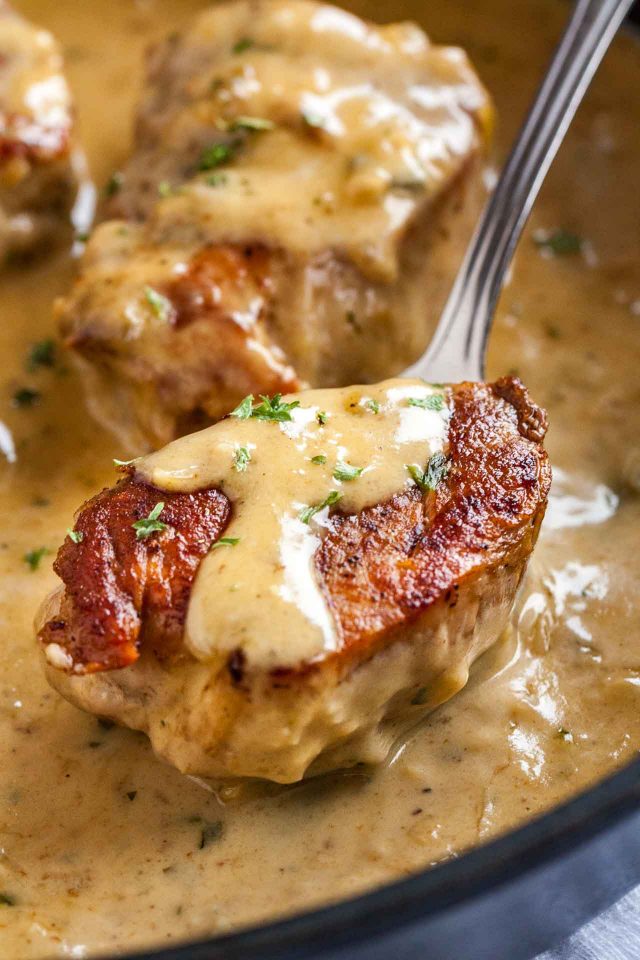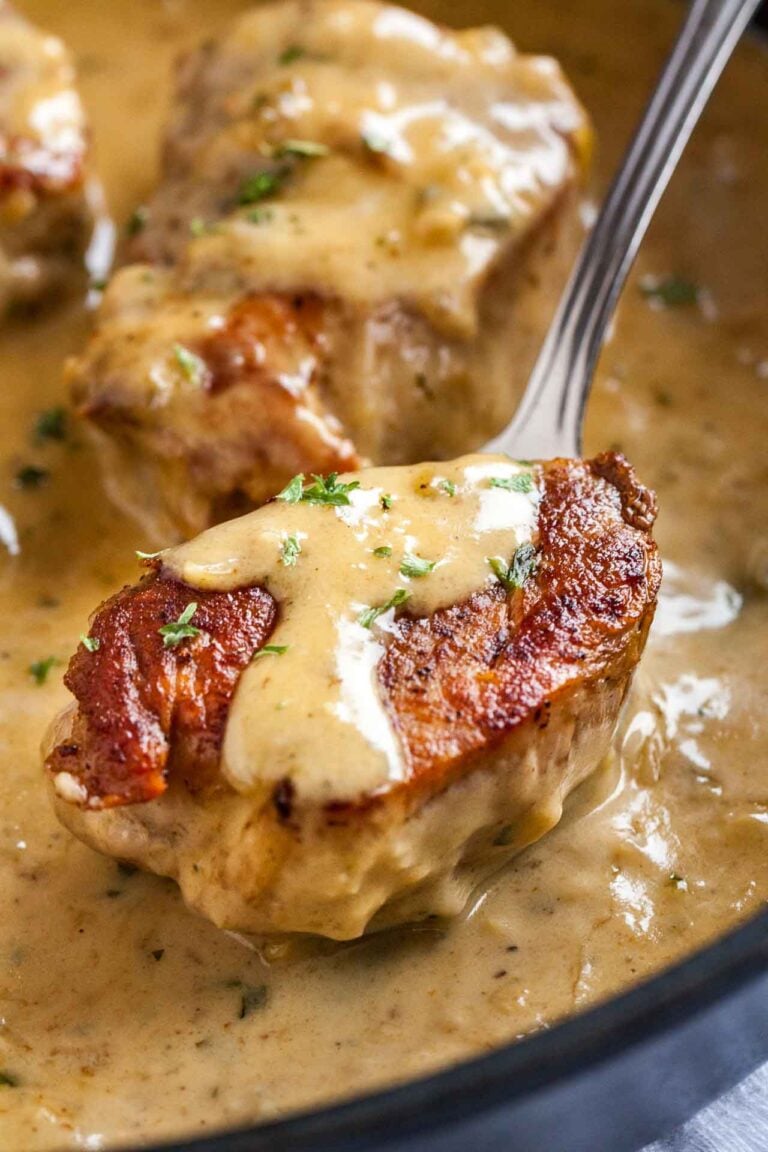 These tender and juicy pork medallions are smothered in a delicious, savory blue cheese sauce that's infused with the flavor of the caramelized pork and white wine. This easy but so delicious quick dinner is one of my favorite things to make when I'm short on time but want something a little bit more special during the week.
I could eat the gorgonzola sauce with a spoon, it's so tasty! Serve this easy one-pan dish with some pasta or gnocchi and dinner will be ready in less than 30 minutes.My family loves pork tenderloin when cooked low and slow but cutting the pork tenderloin into medallions saves time and helps to develop the flavor quicker. Searing the meat in a really hot skillet caramelizes the outside while making sure that the meat stays juicy and tender.
These pan-seared pork tenderloin medallions go from stovetop to dinner table in just minutes and the flavorful blue cheese sauce goes a long way toward making this simple weeknight meal feel extra special!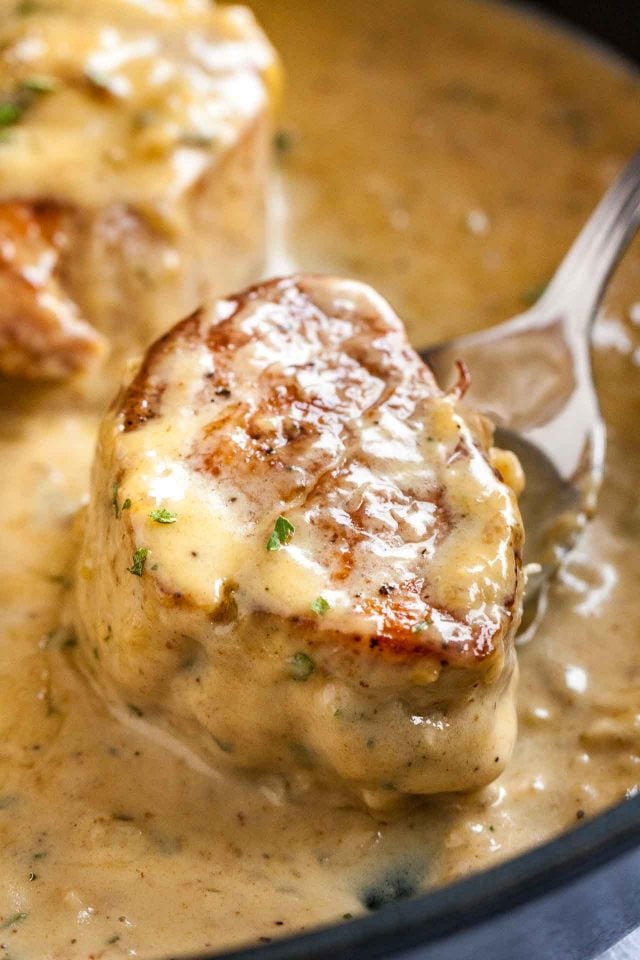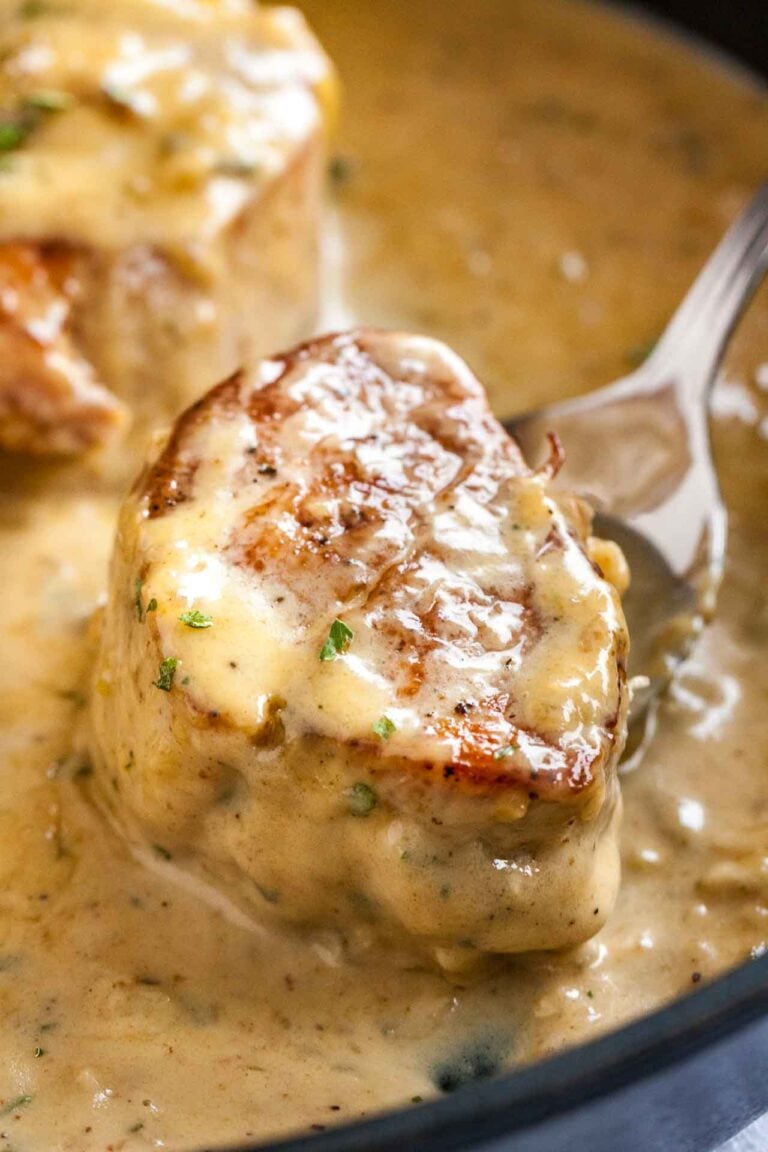 Perfect for a weeknight meal, but this pork medallions recipe is also great for entertaining!
Tips & Tricks for cooking pork medallions
For the most tender results remove the silver skin (instructions below) and cut the tenderloin into evenly thick slices.
Sear the medallions until nicely browned, this develops a deep, savory caramelized flavor that will later make the blue cheese sauce so delicious. You want the pan to be really hot so that the meat remains juicy on the inside and gets slightly crispy and caramelized on the outside.
If you can't consume wine use the same amount of chicken stock.
You can use your favorite blue cheese for this recipe. A mild Gorgonzola is my favorite!
Check the temperature of the pork medallions with a thermometer before serving. You want them to be slightly pink in the middle to ensure that they are juicy and tender. The internal temperature should be between 145°F (63°C) and 155°F (68°C).
How to trim silverskin from a pork tenderloin
Glide the tip of a sharp paring knife between the silver skin and the flesh. Carefully slide the knife along the meat, pulling the silver skin away at the same time. Try to remove the silver skin without taking off any meat, this will be difficult the first time you do it but it will get easier. If you don't feel comfortable doing it yourself you can ask your butcher to remove the silver skin.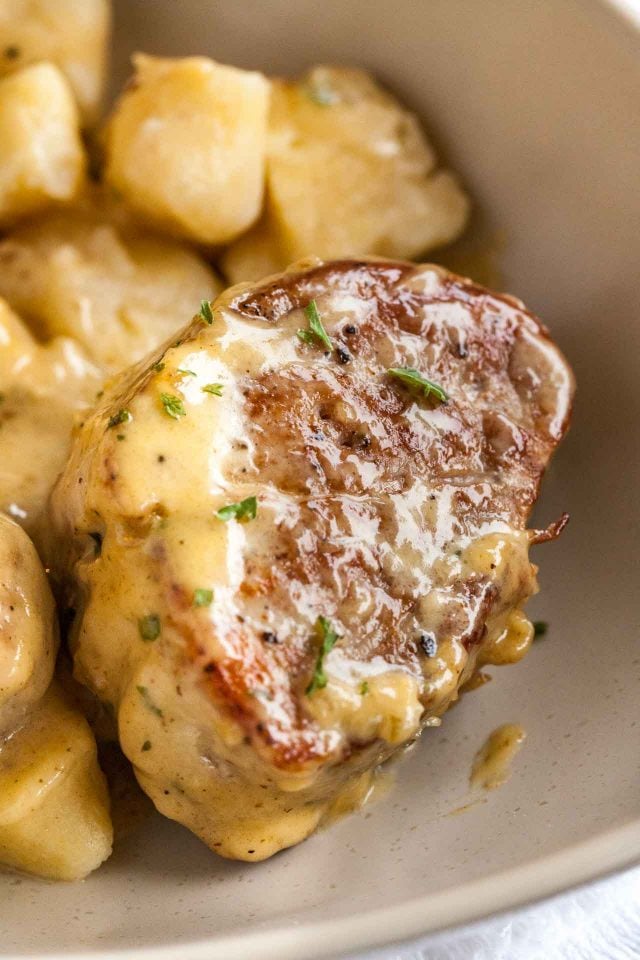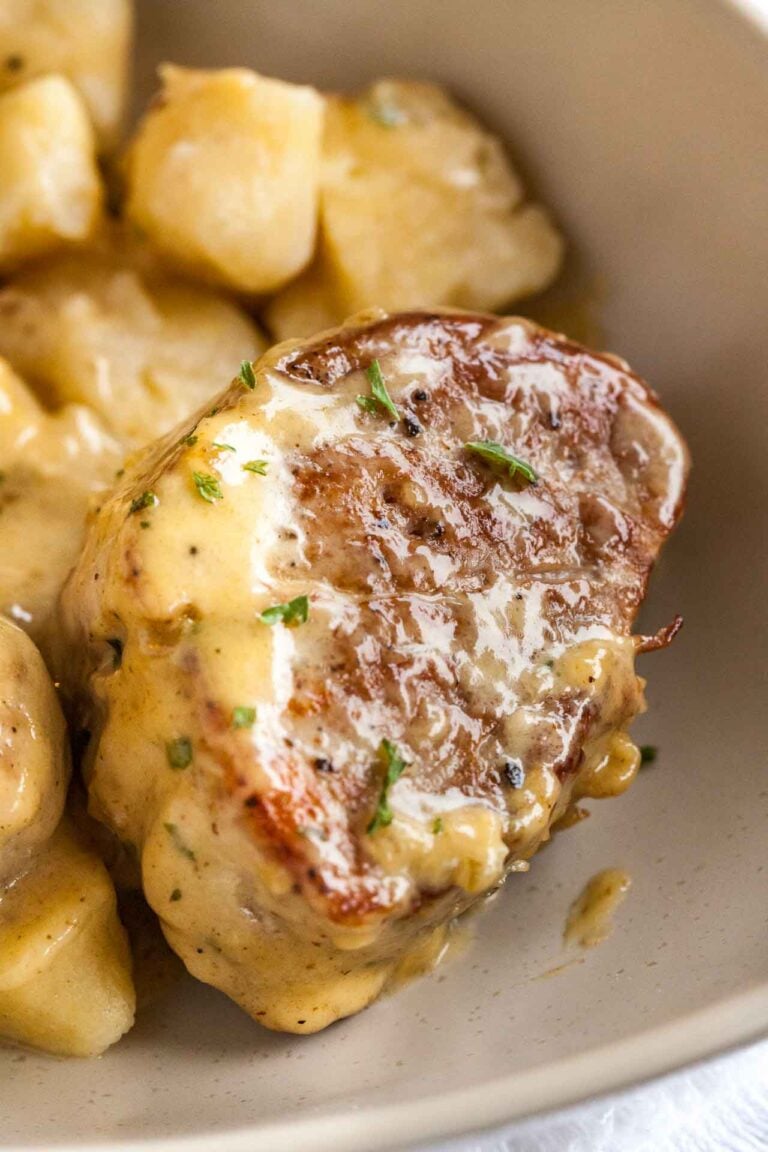 Looking for more quick Weeknight meals?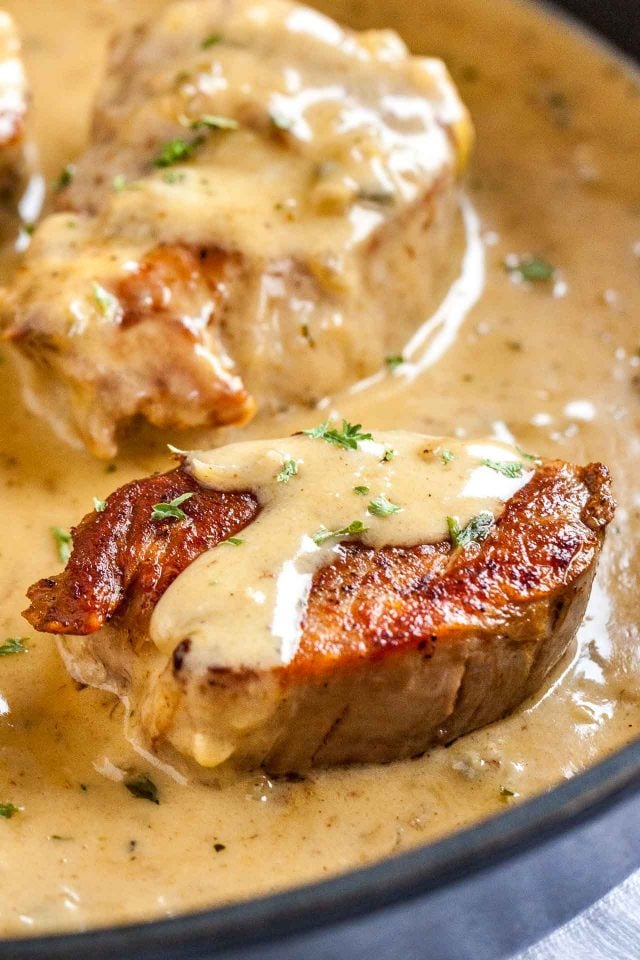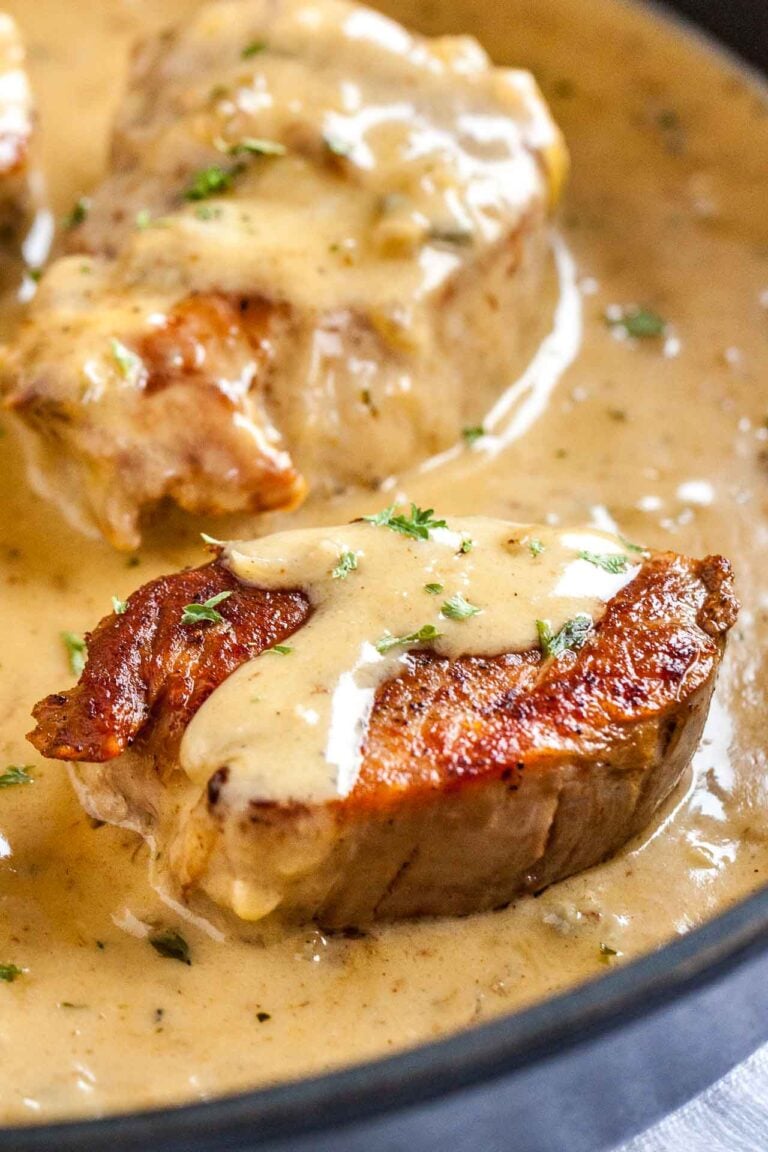 Tools used for Making this Recipe
Cast-Iron Skillet: I love this skillet! It's probably my most used one, it's oven-safe, super affordable and lasts forever.
Thermometer: I love this Instant-Read thermometer! It's cheap and perfect to check the temperature of things like a roast, turkey, chocolate or creme brulee. Everyone should have one of these in their kitchen!
Chef's Knife: I love this knife. My husband bought it for my birthday a few years ago and it's still sharp and cuts everything. This knife has a great size and will make slicing, dicing, and chopping so easy and effortless.
[social_warfare buttons="Pinterest, Facebook"]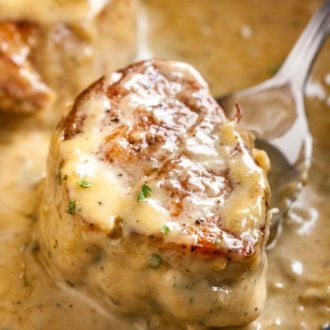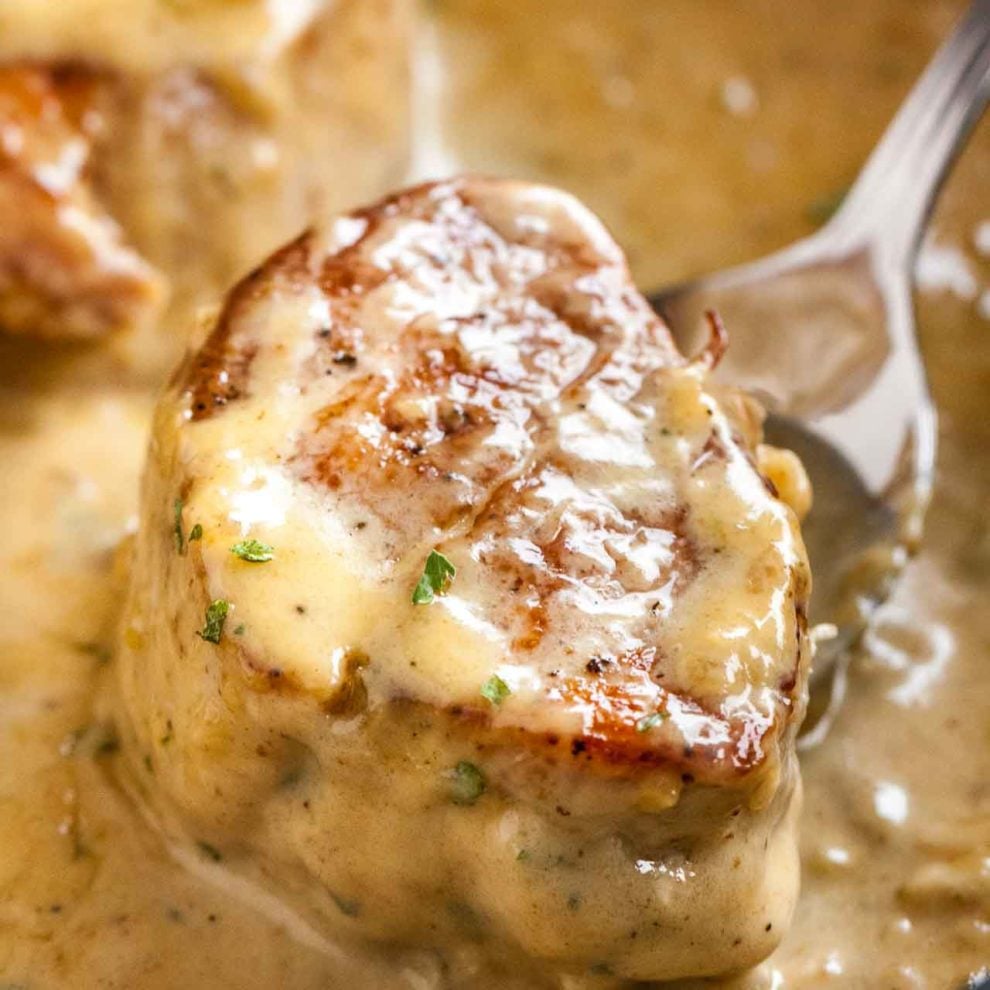 Pork Medallions with Blue Cheese Sauce
Pork Medallions with Blue Cheese Sauce make a delicious one-pan weeknight dinner that's on the table in 30 minutes! Fancy enough for a date night but so easy to make even if you aren't totally kitchen confident.
Ingredients
2

lbs

pork tenderloin

,

(800g)

2

Tbsp

olive oil

2

Tbsp

butter

,

divided

2

shallots

,

finely chopped

¼

cup

white wine

,

(60ml)

5

oz

blue cheese

,

cubed (140g)

¾

cup

heavy cream

,

(180ml)

Salt

Freshly ground black pepper

1

tsp

chopped fresh parsley
Instructions
Trim the tenderloin of the silverskin and any excess fat. Cut the tenderloin into eight 2-inch-thick medallions. Flip each medallion onto a cut side and press down with the palm of your hand to flatten slightly. Season with salt and black pepper.

Heat the olive oil and 1 Tbsp butter in a large sauté pan over high heat. When the butter is melted and foaming, add half of the meat and sear until nicely browned, 2 to 3 min. Flip and cook the other side until the meat is well browned and slightly firm to the touch, about another 2 min. Transfer to a plate and repeat with the remaining pork.

Melt the remaining tablespoon butter in the pan. Add the shallots and a pinch of salt and sauté for about 30 seconds, using a wooden spoon to scrape up any browned bits from the bottom of the pan.

Deglaze the pan with the white wine. Once the wine has almost completely evaporated add the cream and blue cheese cubes. Simmer over medium heat for about 3 minutes until sauce is smooth and thick.

Return the pork and any accumulated juices to the pan, and cook, flipping the pork once, until it's firm to the touch and still a little pink in the middle (cut into a piece to check), 2 to 4 min. Season to taste with salt and pepper and serve garnished with parsley.
Nutrition Information
Calories:
685
kcal
|
Carbohydrates:
4
g
|
Protein:
55
g
|
Fat:
47
g
|
Saturated Fat:
24
g
|
Cholesterol:
250
mg
|
Sodium:
682
mg
|
Potassium:
1067
mg
|
Sugar:
1
g
|
Vitamin A:
1105
IU
|
Vitamin C:
1.2
mg
|
Calcium:
234
mg
|
Iron:
2.5
mg