Saffron Shrimp Risotto is really easy to make, super creamy, and ready in only 30 minutes! A variation of the famous Risotto Milanese made with garlic shrimp that is quick enough to prepare for weeknight dinners but special enough for date night.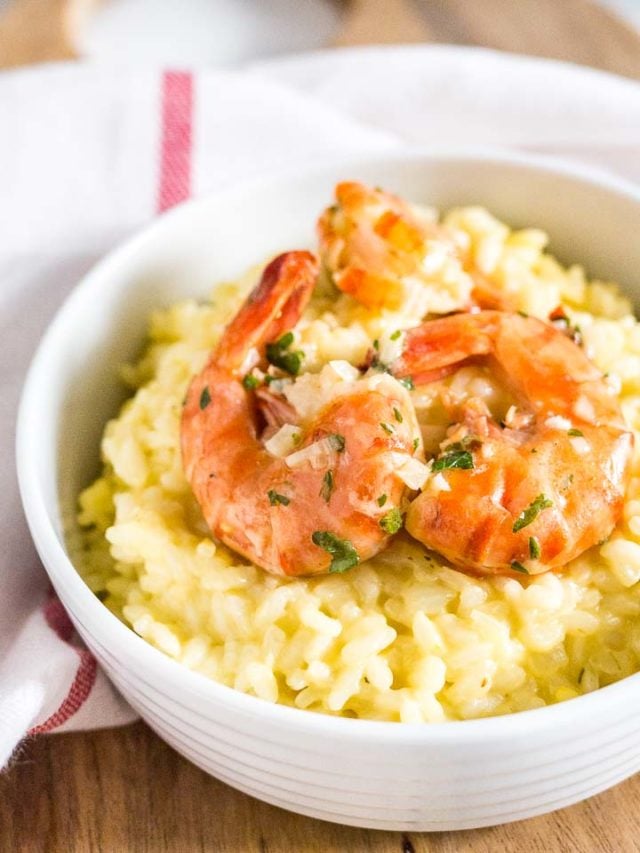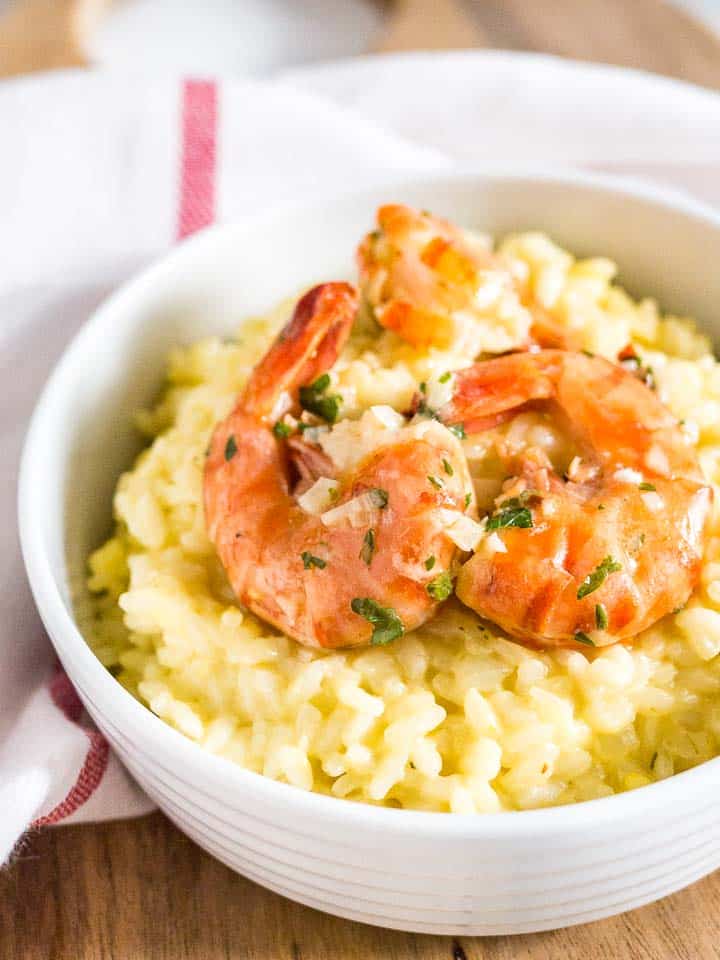 This Shrimp Risotto with Saffron is perfect for weeknights but also makes a great date night dinner that only takes 30 minutes from start to finish. The garlic shrimps and this Risotto Milanese (that's the Italian term for Saffron Risotto) are a perfect team! I love different flavors in my meals, I get bored really quickly when the whole plate tastes the same. Adding shrimps to this simple risotto makes a great weekday gourmet dish out of it!
Risotto is definitely one of my favorite dishes: it's really easy to make, comforting and tastes so delicious! If you've mastered cooking one kind of risotto you can cook all kinds of variations because they all follow the same principle: Saute the rice, add liquid one spoonful at a time and at the end mix in parmesan and butter. 
I don't know when we started to cook risotto but we have cooked so many in the last years. This Saffron Risotto is one of the easiest to make and we cook it quite regularly.

Tips and Tricks for making Shrimp Risotto with Saffron
Never rinse risotto rice before cooking! The rice starch is important when making risotto and rinsing with water would be very counterproductive.
You can use shelled or peeled shrimps for this recipe. When you use shelled shrimps the sauce will get more flavorful but I often make this risotto with peeled shrimp because it's easier to eat and it tastes great, too.
Keep the stock at a simmer while cooking the risotto! Adding cold chicken stock to the hot pan will cool everything down and slow down the cooking process.
Stir the risotto often, but not continuously. It might get gluey and cool down too much if you stir without a break. But don't skimp on stirring! Stirring the risotto makes it creamy because of the starch generated when grains of rice rub against each other.

Don't add the stock all at once!

Follow the recipe and wait until the rice absorbs all the stock then add some more. You want the grains to rub against each other, this would not happen if you add to much stock at once.
Choose a pot that fits perfectly over your burner and is not too wide! The grains can't rub against each other if the pot is too wide.
Looking for more easy weeknight meals?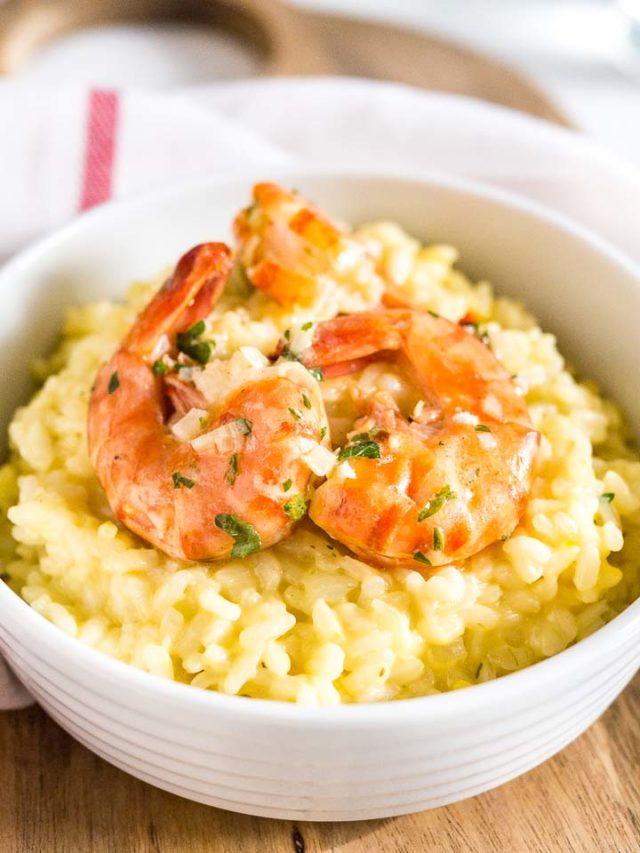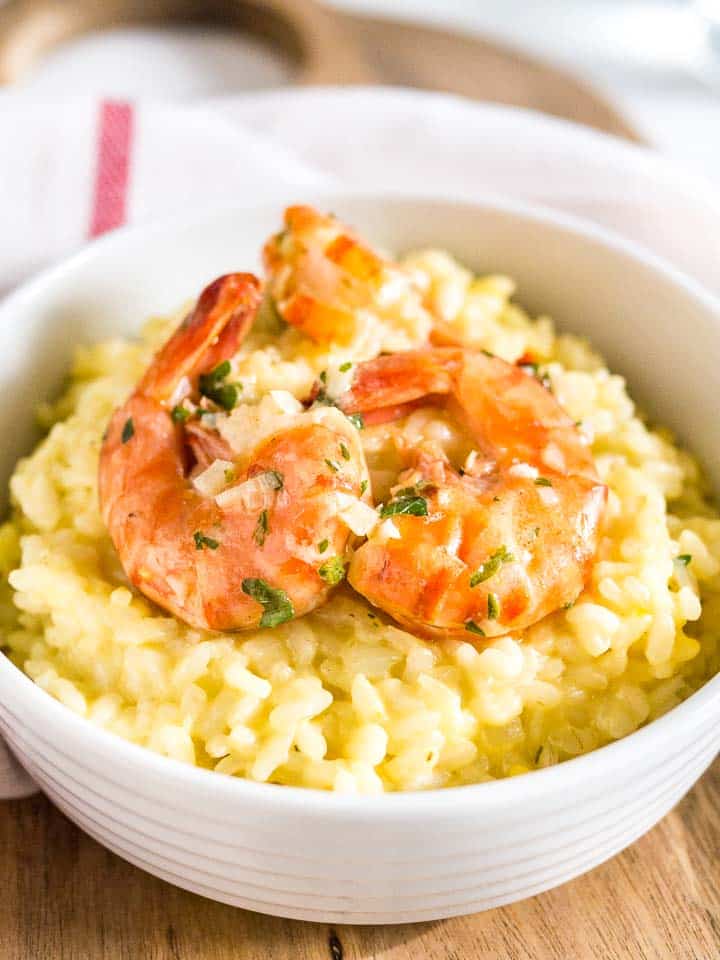 What rice to use in risotto?
A short- to medium-grain rice that is plump and has a high starch content is perfect for making Risotto because it holds up well to the constant stirring. Arborio is the most used rice for risotto that is available in most supermarkets. Other Italian rice varieties that are perfect for risotto are Carnaroli, Vialone, Nano, and Baldo.
Can you use regular rice to make risotto?
The varieties above are perfect for making authentic risotto but you could use any type of medium- or short-grain rice to make a tasty risotto. It might not give you the same results in texture or creaminess but will work. What you should avoid using is long-grain rice like Basmati or Jasmine rice because these varieties don't contain enough starch.
How do you know when your risotto is done?
Like pasta, the rice should be al dente. Al dente means just cooked, with a little bite to it. To test for doneness I just make a taste test but you can also take some rice out of the risotto and smash it with your finger against a cutting board. If the rice smashes completely and no hard white piece is left, the risotto is done.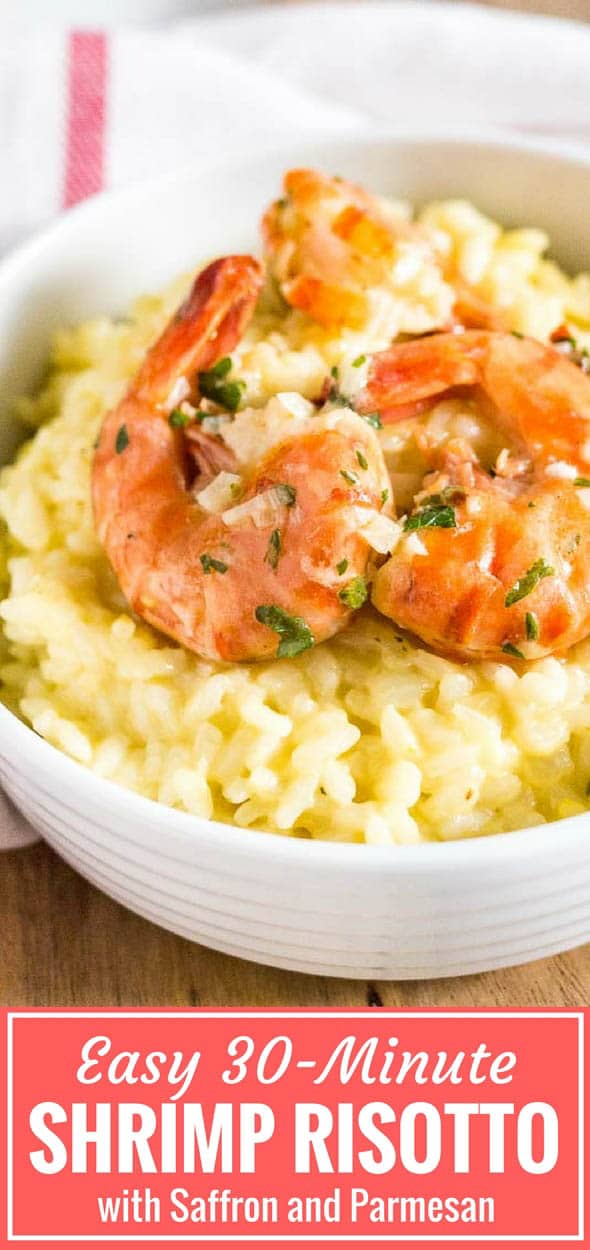 Tools and Ingredients used to make Risotto alla Milanese
Risotto Rice: This variety is the caviar of risotto rice! Chefs like to use this one for its great flavor and creaminess. It's also more forgiving to cook with.
Grater: I prefer to grate cheese myself and not buy pre-shredded cheese. Freshly grated Parmesan tastes so much better! This grater does a great job and comes with a container to catch the grated cheese.
Chicken Broth: I love the beef, chicken and vegetable version of this Better Than Bouillon! It's so convenient to have on hand.
---
Want to try this Shrimp Risotto Recipe?
PIN IT TO YOUR DINNER BOARD TO SAVE IT OR SHARE ON FACEBOOK!
Follow Plated Cravings on Pinterest for more great recipes!
[social_warfare buttons="Pinterest, Facebook"]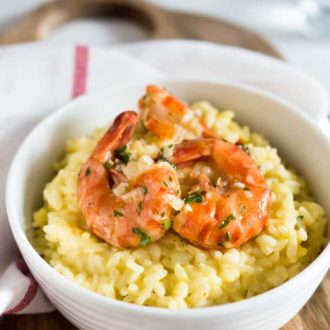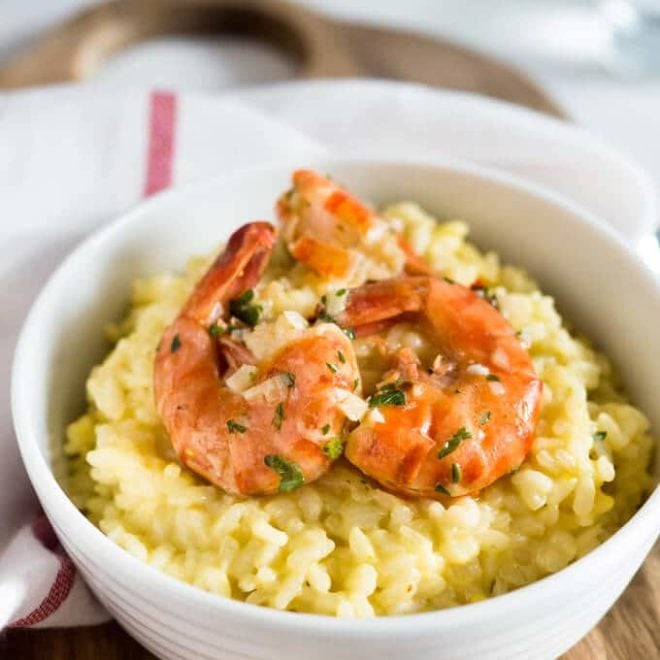 Saffron Shrimp Risotto
Saffron Shrimp Risotto is really easy to make, super creamy, and ready in only 30 minutes! A variation of the famous Risotto Milanese made with garlic shrimp that is quick enough to prepare for weeknights but special enough for date night.
Ingredients
For the risotto:
2

Tbsp

olive oil

1

medium onion

,

finely diced

1 ½

cups

Arborio rice

⅓

cup

white wine

½

tsp

saffron threads

3 ½

cups

chicken broth

⅓

cup

grated parmesan cheese

1

Tbsp

butter
For the Shrimps:
½

pound

large raw shrimp

,

deveined

1

tbsp

butter

1

tbsp

olive oil

2

cloves

garlic

,

finely chopped

¼

tsp

red pepper

¼

cup

white wine

1

Tbsp

parsley

,

finely chopped

Salt

Pepper

1

tsp

lemon juice
Instructions
Heat up 2 tbsp olive oil in a large saucepan over medium heat. Add the finely diced onions and a little bit salt and saute them until translucent, about 3-4 minutes. Increase the temperature to medium-high heat. Add the Arborio rice and cook for 3 minutes, letting the rice slightly stick to the bottom of the pan and scraping it off.

In a small pot bring the chicken stock to a simmer. Add the saffron to the stock.

Add the white wine to the risotto rice and scrape the rice off the bottom of the pot to deglaze it. Cook over a medium-high heat, stirring continuously until the rice has absorbed the wine.

Add

only as much saffron chicken stock to the pan until it covers the rice. Stir often until the rice has absorbed the stock. Repeat this step until you used all the chicken stock and the rice is tender.

Toss in the butter and grated parmesan cheese. Turn off the heat, cover the risotto and make the shrimp.

Cook the shrimps: Heat a medium pan over medium-high heat. Add the butter and olive oil. Stir in the garlic and red pepper flakes. Saute the garlic for just one minute, then add the shrimp. Add the white wine and stir to coat the shrimp. Increase the heat and let cook for 2-3 minutes.

Turn the shrimp and cook for one more minute. Remove the pan from the heat, add the parsley and lemon juice. Season with a bit salt and freshly ground black pepper.

Serve the risotto with shrimp on top and drizzled with the sauce from the shrimp pan.
Nutrition Information
Calories:
558
kcal
|
Carbohydrates:
64
g
|
Protein:
21
g
|
Fat:
20
g
|
Saturated Fat:
6
g
|
Cholesterol:
165
mg
|
Sodium:
1376
mg
|
Potassium:
342
mg
|
Fiber:
2
g
|
Sugar:
1
g
|
Vitamin A:
330
IU
|
Vitamin C:
21.4
mg
|
Calcium:
196
mg
|
Iron:
5
mg
NEVER MISS A RECIPE!
If you've tried this or any other of my recipes, don't forget to rate the recipe and to leave me a comment. I love hearing from you!