Creamy Lemon Risotto is a perfect summer dish made with parmesan, rosemary, and fresh lemons. Comfort food for sunny days or whenever you need a little bit sunshine in your life!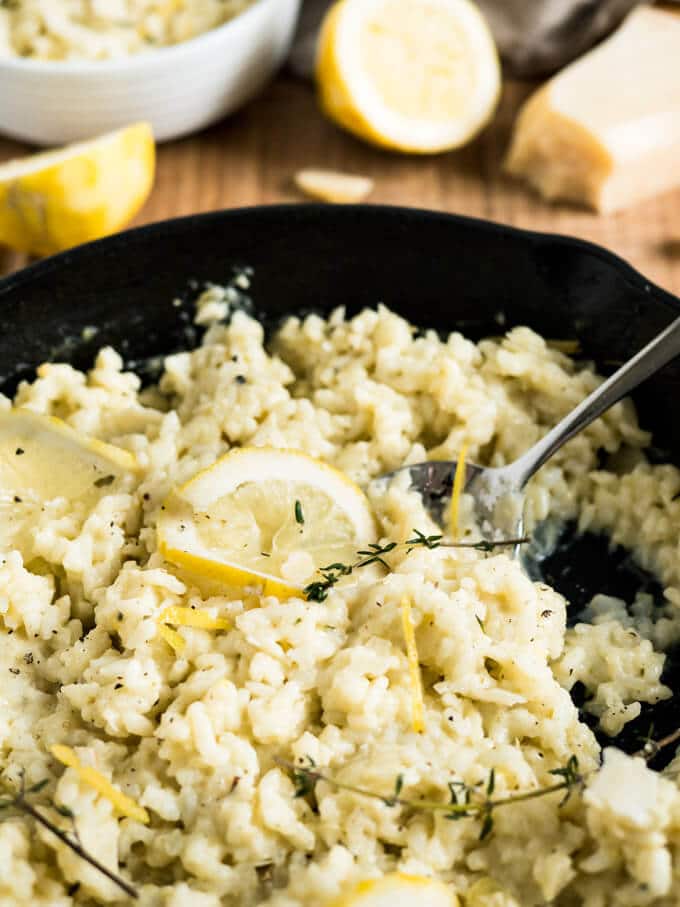 I love making risotto! Sometimes a mindless repetitive activity like stirring a risotto is exactly what I need :-) Perfect to relax for 20 minutes and you even get a reward for your hard work: a tasty risotto!
A few weeks ago I shared my Saffron Shrimp Risotto which is a variation of the famous Risotto alla Milanese with fried shrimp. My creamy Lemon Parmesan Risotto is another favorite of mine! It's creamy, a little bit tangy, and full of fresh herbs. A perfect summer dish!
Risotto is perfect to make on a weeknight, you only need 30 minutes and you have something delicious. This risotto is extra creamy because of the added egg yolk and cream. It has a yummy smooth texture but the rice also has some bite which is really important. A good risotto shouldn't be mushy after cooking. You want the rice to be al dente like you want your pasta!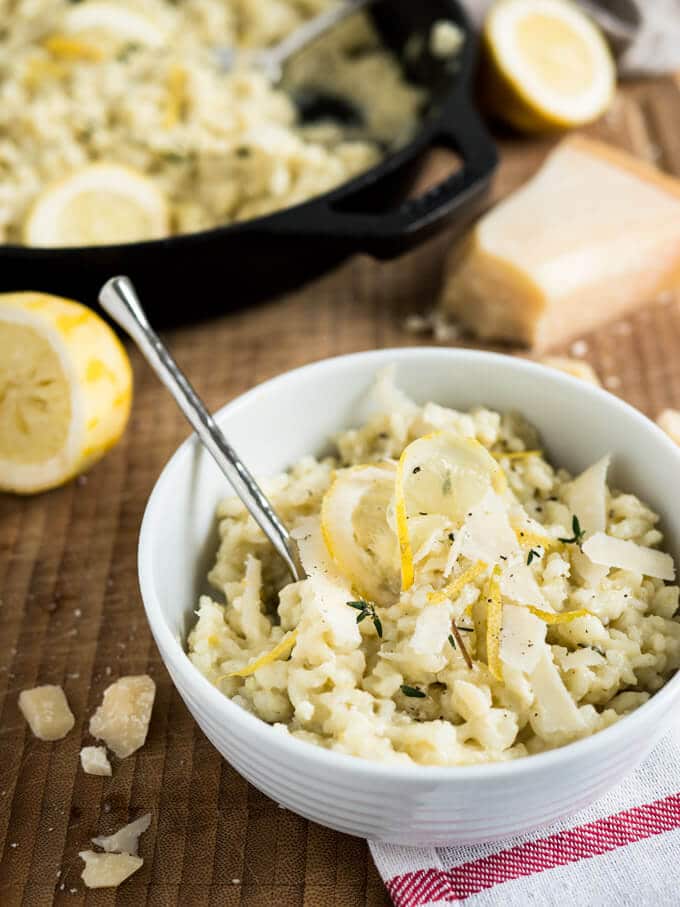 We buy our risotto rice at an Italian supermarket which has a big selection of risotto rice. The best but also the most expensive one is Vialone Nano. This rice is able to absorb more water in the kernel instead of dissolving in the surface, keeping the risotto creamier and lighter. Carnaroli  is also perfect for risotto.
Both of these are hard to find in your normal supermarket. If you can't find one of these you can also use Arborio rice which is a more common rice. It has more starch on the outside and tends to become a bit too pulpy when cooked.
But for a "normal day" risotto Arborio is fine!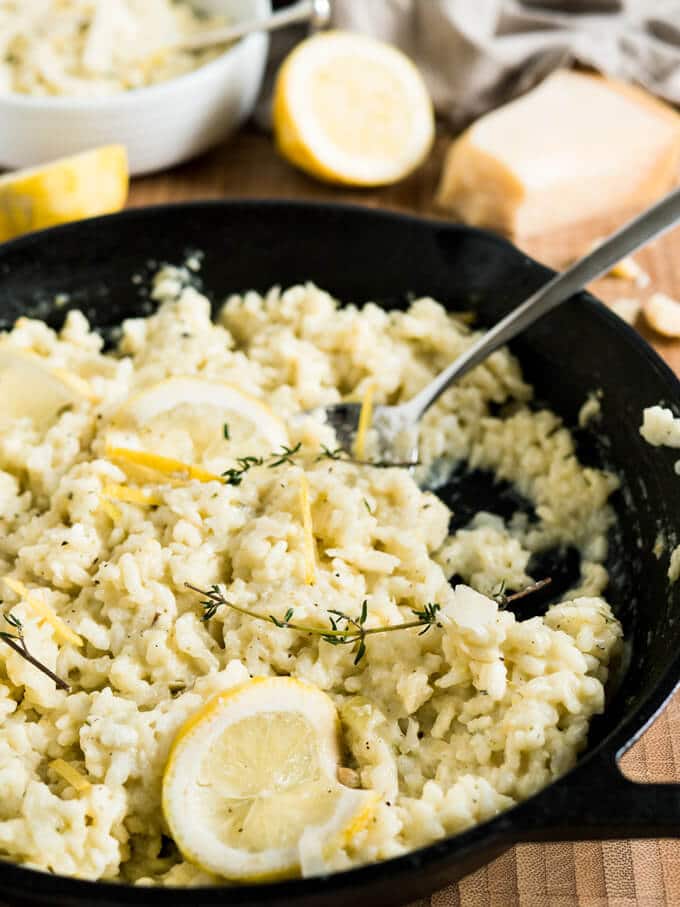 For this creamy lemon risotto, you'll need an unwaxed lemon because we need the juice and the zest. The zest contains essential oils which give a great taste and more lemony flavor to your risotto.
In my opinion, lemon flavors are really summery but I also make this risotto in the winter time when it's cold and snowy outside and I wish I would be on a sunny beach! It's a perfect dish to bring some sunshine into your life!
– Julia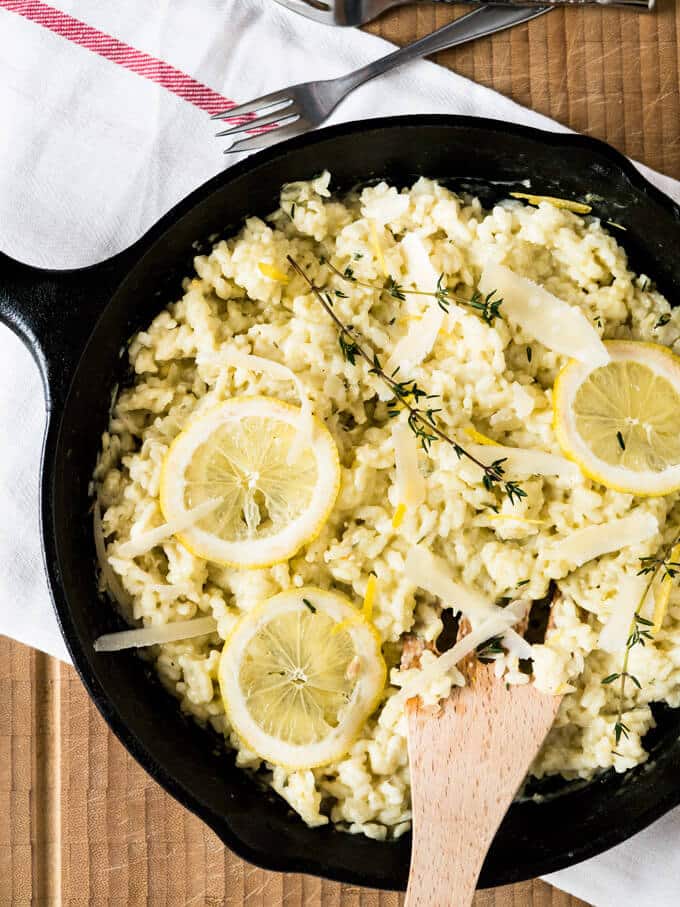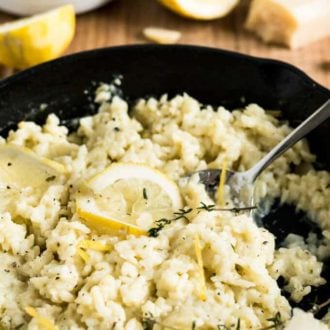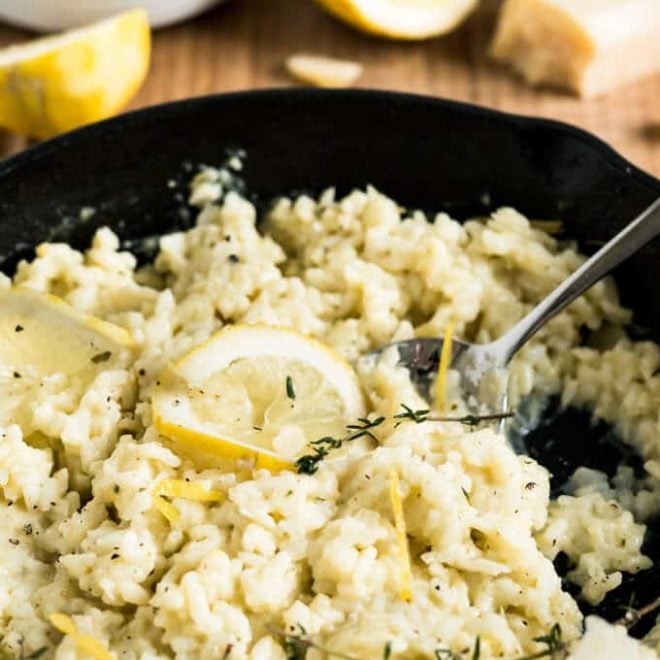 Creamy Lemon Risotto
Creamy Lemon Risotto is a perfect summer dish made with parmesan, rosemary, and fresh lemons. Comfort food for sunny days or whenever you need a little bit sunshine in your life!
Ingredients
½

cup

onion

,

finely chopped

4

Tbsp

unsalted butter

,

divided

1

Tbsp

olive oil

1 ½

cups

risotto rice

,

Vialone Nano or Arborio

½

cup

white wine

4

cups

vegetable stock

,

or chicken stock

1

lemon

,

juice and zest

1

tsp

dried rosemary

,

needles finely chopped

1

large egg yolk

¼

cup

grated parmesan cheese

¼

cup

heavy cream

salt

,

to taste

pepper
Instructions
In a saucepan bring the vegetable stock to a boil. Reduce the heat and hold at a gentle simmer.

Heat half of the butter and 1 tbsp olive oil in a large, heavy-bottomed saucepan over medium heat. Add the onion, and cook, stirring often, for 3-4 minutes until soft but not coloured. Add the rice and stir over medium heat for 1-2 minutes until the grains appear slightly translucent.

Add the wine and cook, stirring, for 2 minutes or until almost absorbed. Add a ladleful of the simmering stock and stir constantly until completely absorbed.

Continue to add the vegetable stock, a ladleful at a time, stirring constantly and allowing the liquid to be absorbed before adding the next ladleful, for 25-30 minutes until rice is no longer chalky but still has some bite and the risotto is creamy. You may not need all of the stock, or, you may need to add a bit more hot water. Take the risotto off the heat when it's ready.

In a small bowl beat the egg yolk, lemon juice, parmesan, cream and a little bit of pepper. Mix the finely chopped rosemary and the lemon zest into the risotto.

Add the egg-lemon mixture, and the remaining butter and salt to taste.

Garnish with more grated parmesan and enjoy!
Nutrition Information
Calories:
546
kcal
|
Carbohydrates:
69
g
|
Protein:
9
g
|
Fat:
24
g
|
Saturated Fat:
13
g
|
Cholesterol:
105
mg
|
Sodium:
1049
mg
|
Potassium:
156
mg
|
Fiber:
3
g
|
Sugar:
4
g
|
Vitamin A:
1188
IU
|
Vitamin C:
16
mg
|
Calcium:
106
mg
|
Iron:
4
mg
Adapted from Nigella