Kaiserschmarrn (Scrambled Pancake) is an Austrian dessert that's also very popular in Bavaria! A sweet fluffy pancake made with rum-soaked raisins is torn into bite-sized pieces, caramelized, and served sprinkled with powdered sugar, applesauce, and preserves. This easy dessert recipe also tastes great for brunch and is loved by kids and adults alike!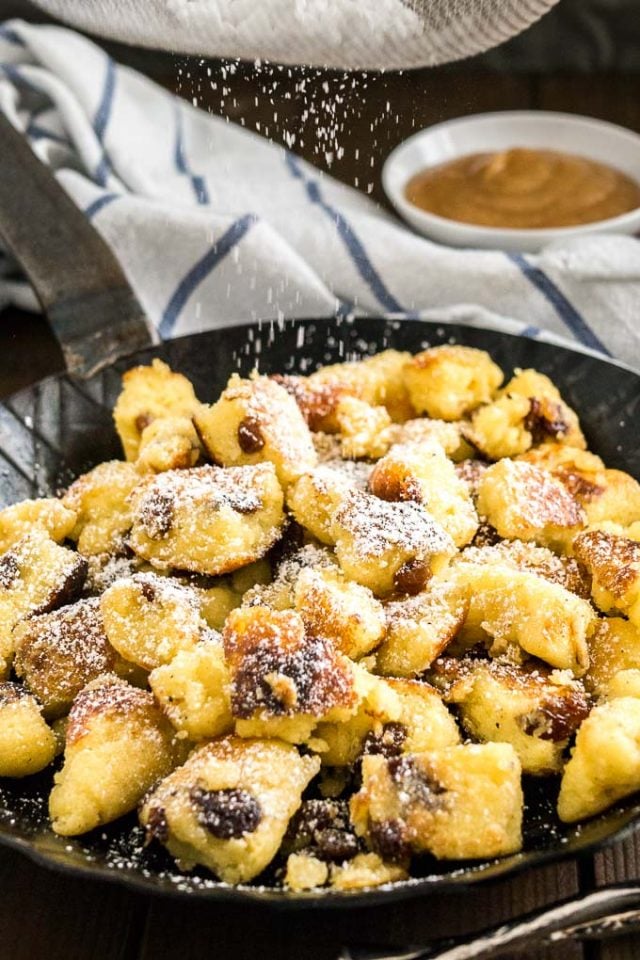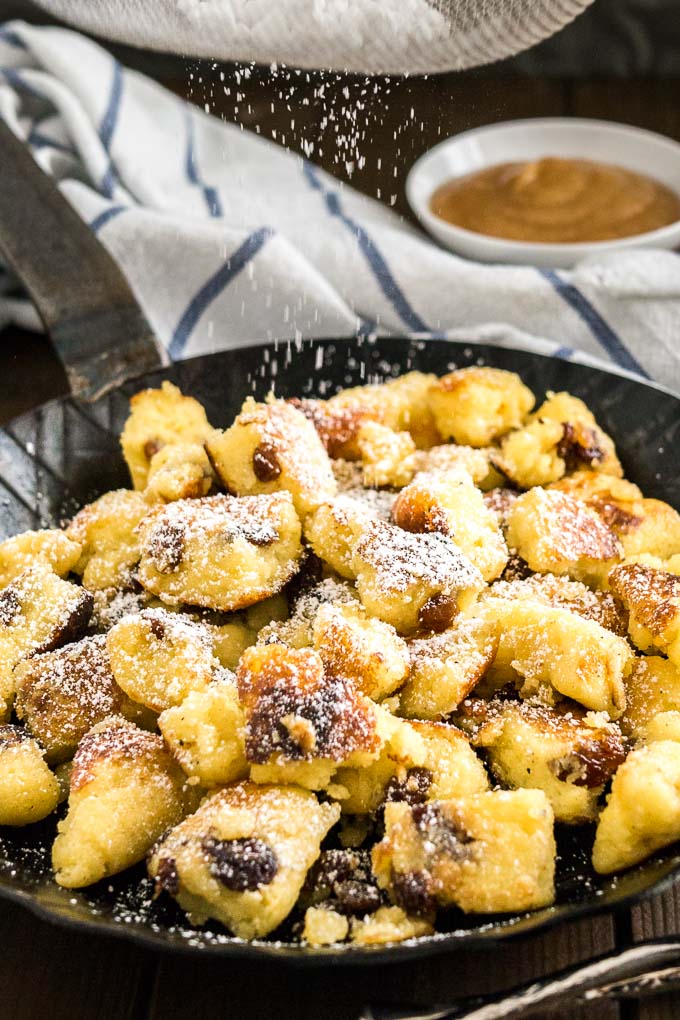 Kaiserschmarrn (or Kaiserschmarren) is also known as Emperor's Mess, scrambled pancake, shredded pancake, torn pancake or Emperor's Pancake. If you've ever been to Bavaria or Austria you've probably tried this sweet pancake dessert before! It's one of the best desserts that exist on this planet and after you've taken your first bite you will be addicted (in a good way!).
This caramelized pancake dessert is my favorite sweet comfort food! It's a great treat after a long day of skiing in the Alps. When we go to Austria this is my favorite thing to get at every ski lodge. But like many Austrian dishes, it is also very popular in Bavaria.
At the Oktoberfest (or Wiesn like it's called in Munich), it is probably the most served dessert but there's also a tent named after the famous Bavarian pancake dessert, the Café Kaiserschmarrn. But you don't need to fly to Europe to try it, I'll show you how easy it is to make it at home completely from scratch!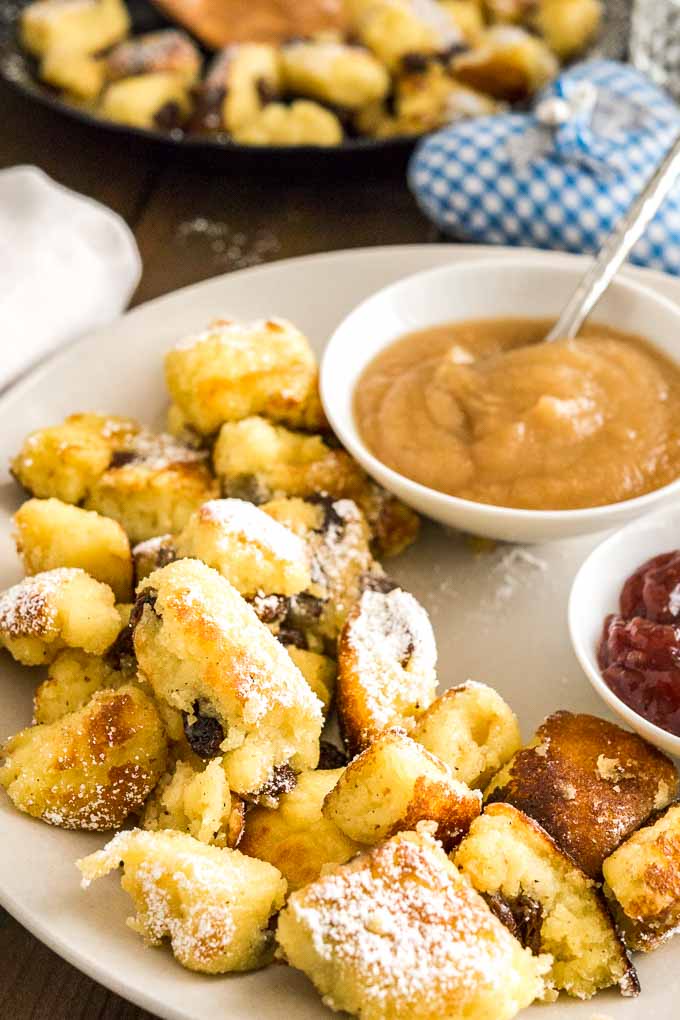 What is Kaiserschmarrn?
Kaiserschmarrn is best described as scrambled sweet pancakes. The name is a compound of the German words Kaiser which means Emporer and Schmarrn which can be translated as "a scrambled dish".
This traditional German Pancake dish that originated in Austria during the time of Emporer Franz Joseph I is mainly served for dessert in Bavaria and Austria but it can also be eaten for brunch or lunch because it is quite filling. It is traditionally accompanied by Applesauce (Apfelmuss) and Zwetschgenröster, a fruit compote made from plums.
How to make Kaiserschmarrn
The base for this recipe is a fluffy pancake which you make by dividing the eggs and adding the stiff egg whites after you combined the other ingredients. There's no baking powder in this pancake the egg whites do all the work. The batter is then baked in butter, torn into bite-sized pieces, and served with powdered sugar on top.
This easy Kaiserschmarrn recipe gets its special flavor from the eggs, the butter, the caramelized sugar but especially from the rum soaked raisins. Even my husband who isn't the biggest fan of raisins loves them in this dessert! The raisins are soaked in a few tablespoons of rum while you make the batter. When the pancake begins to cook through, you add the drained raisins before turning the pancake.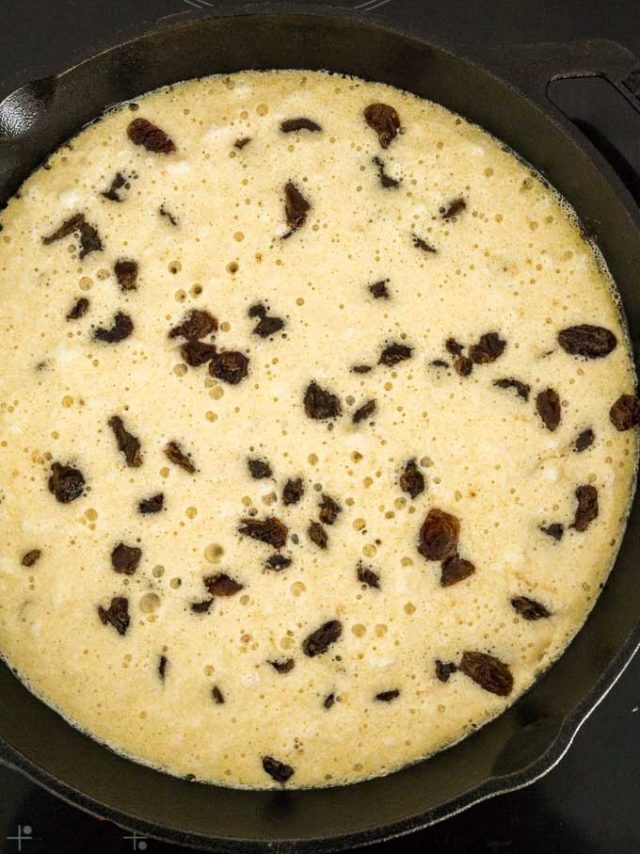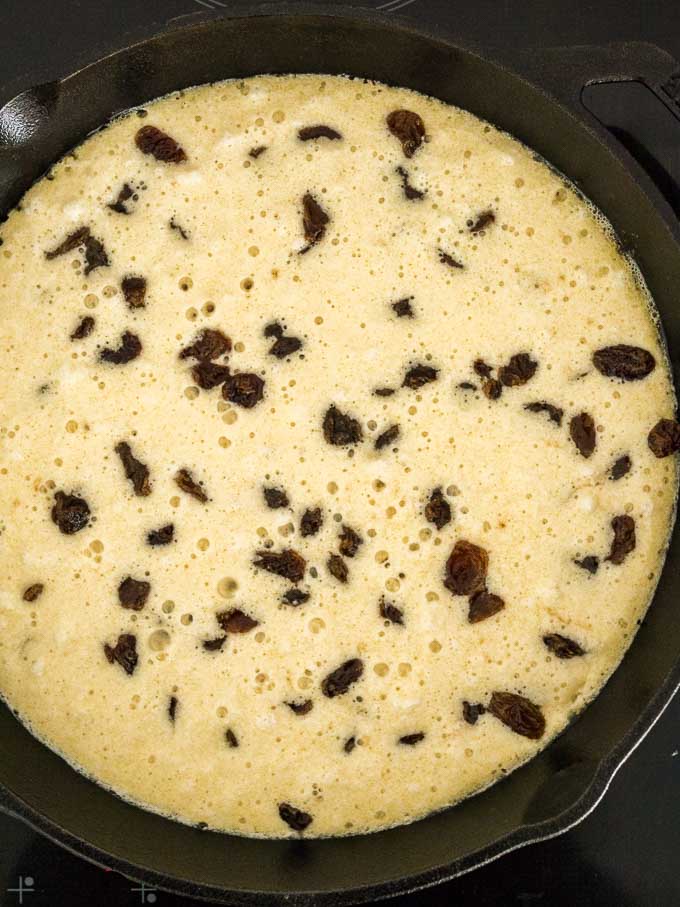 After you flipped the pancake and it's getting golden brown underneath, comes the step which makes a special dessert out of a normal pancake. Using two spatulas or forks you tear the pancake into bite-sized pieces which will then be caramelized with butter and sugar.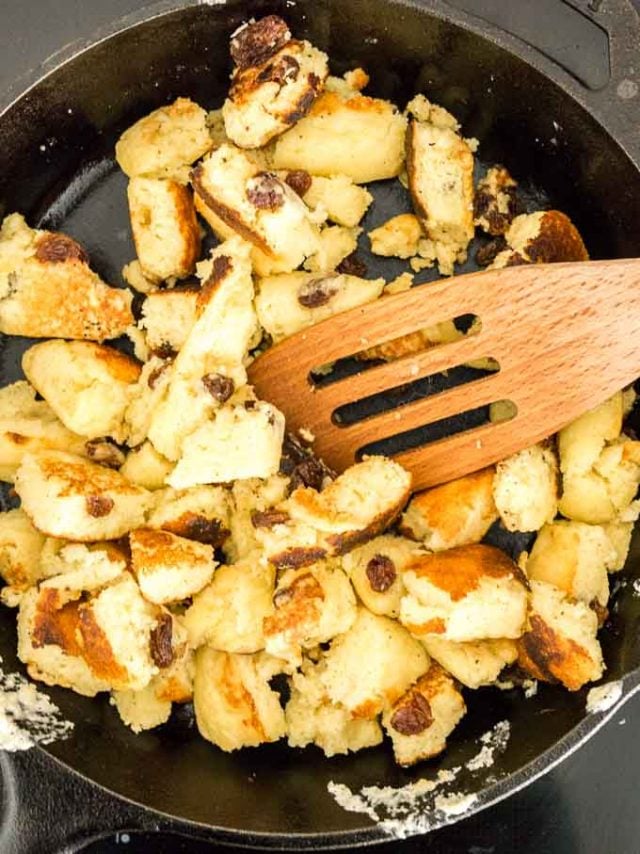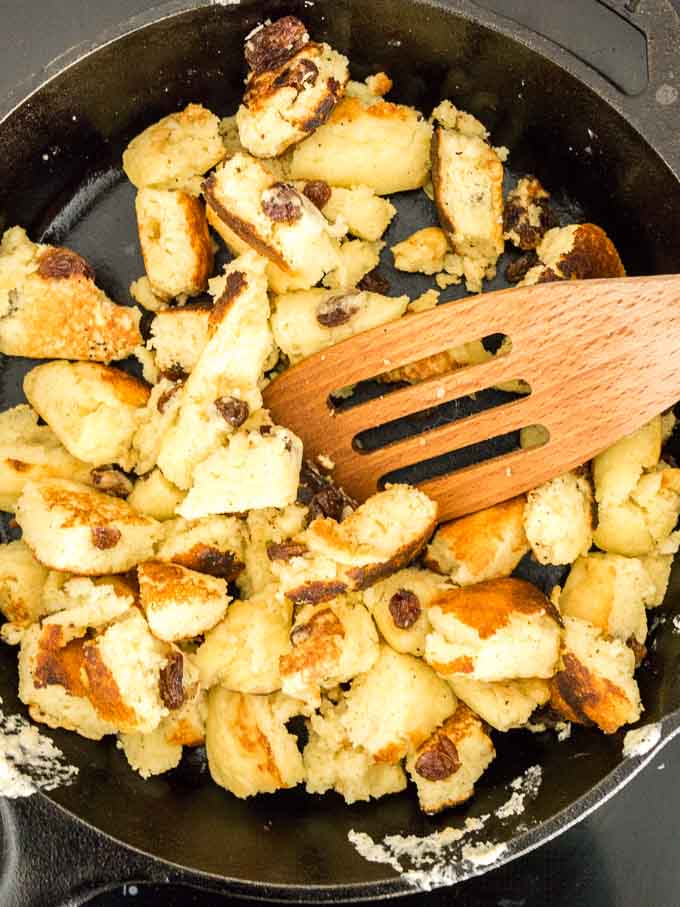 This authentic Austrian pancake recipe is definitely for days when you want to indulge! It's a special treat and one pan is enough for up to four people as a dessert served with applesauce. You can also serve it with other fruit compotes, fresh berries, and vanilla ice cream.
When you order this dessert at a Bavarian or Austrian restaurant or at the Oktoberfest it'll probably be served in a skillet with lots of Confectioners' sugar on top! I like to do the same at home. And another thing that always happens at the Oktoberfest but also at home: You're already full but there's still some room for Kaiserschmarrn in your belly (or at least you think so :-) ). Because who could resist? Definitely not me!!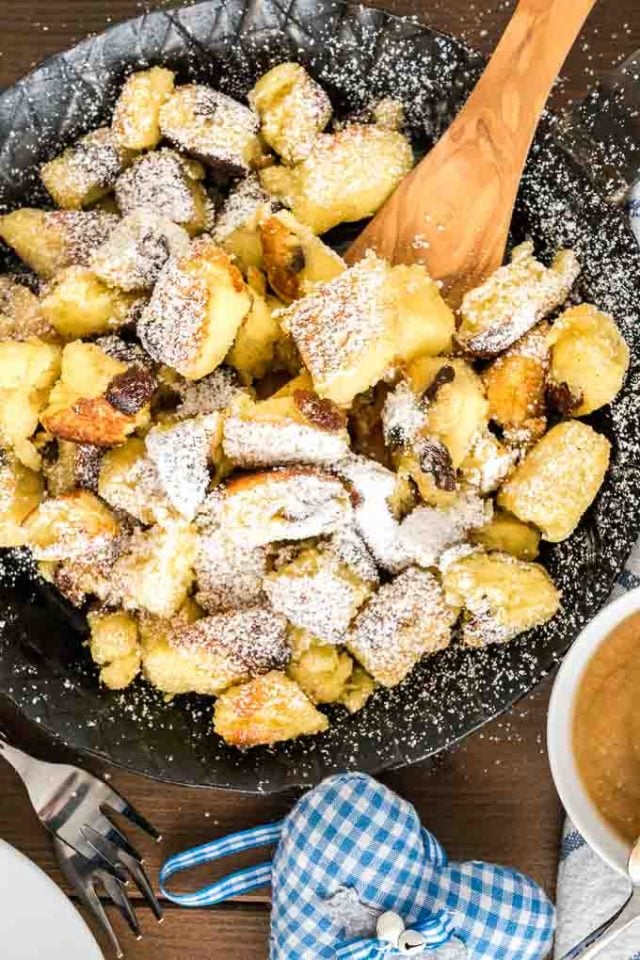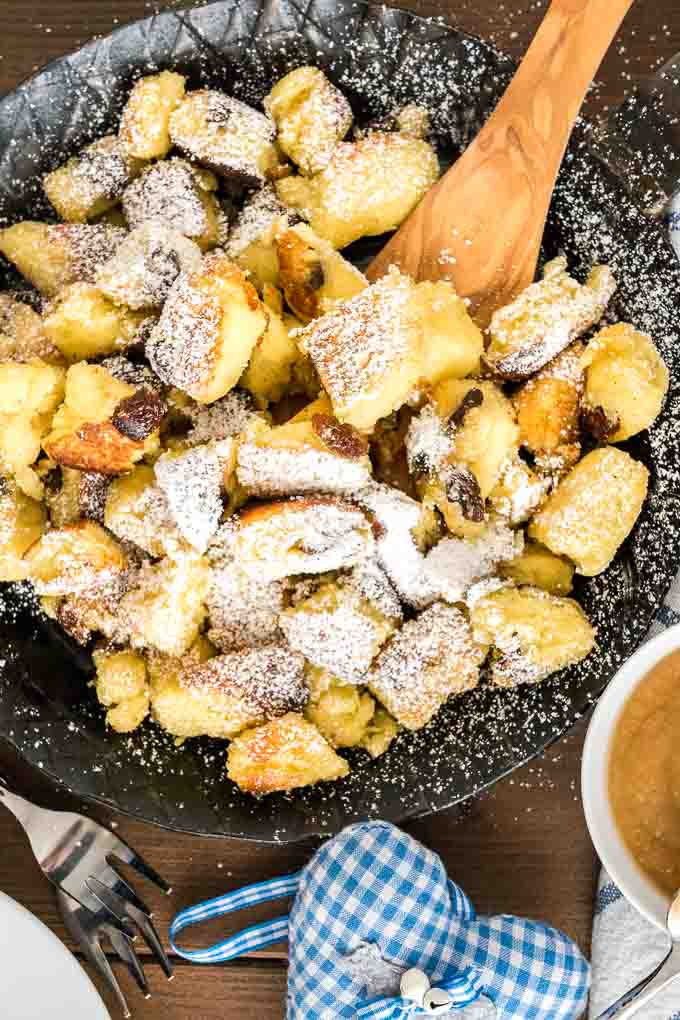 Looking for more German Recipes?
Tools used for making this recipe:
Cast-Iron Skillet: I love this skillet! It's probably my most used one, it's oven-safe, super affordable and lasts forever.
Stand Mixer: My most used kitchen appliance and it's so pretty it can sit on the counter as decoration!
---
WANT TO TRY THIS KAISERSCHMARRN?
PIN IT TO YOUR DESSERT BOARD TO SAVE IT OR SHARE ON FACEBOOK!
Follow Plated Cravings on Pinterest for more great recipes!
[social_warfare buttons="Pinterest, Facebook"]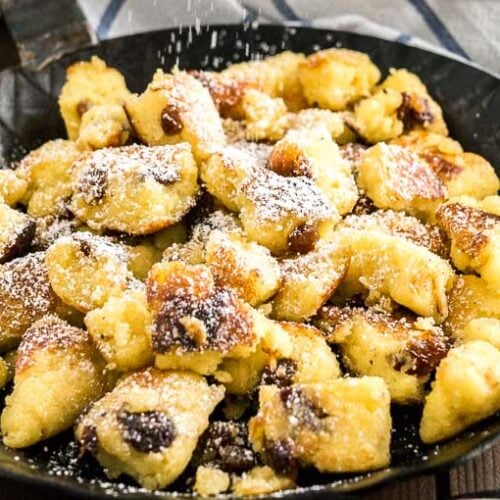 Kaiserschmarrn
Kaiserschmarrn (Scrambled Pancake) is an Austrian dessert that's also very popular in Bavaria!

Ingredients
For the rum-soaked raisins:
⅓

cup

raisins

3

Tbsp

Rum

,

or water
For the pancake:
3

large eggs

,

divided

3

Tbsp

unsalted butter

,

melted

1

tsp

vanilla extract

2

Tbsp

granulated sugar

1

pinch of salt

1

cup

all-purpose flour

1

cup

milk
To caramelize:
2

Tbsp

unsalted butter

2

Tbsp

granulated sugar
To serve:
2

Tbsp

Powdered sugar

1

cup

applesauce
Instructions
In a small bowl combine raisins and rum. If you can't use rum, soak the raisins in water but I highly encourage you to use rum because it's an essential part.

Separate the eggs and set the egg yolks aside for a moment.

In the bowl of a stand mixer fitted with the whisk attachment add the three egg whites and beat at high speed about 2.5 minutes until stiff peaks form. Don't overbeat the egg whites! Transfer to a bowl and set aside.

Add the three egg yolks, melted butter, vanilla extract, sugar, and a pinch of salt to the (now empty) bowl of your stand mixer, still fitted with the whisk attachment. Combine at medium speed about 2-3 minutes.

On low speed, alternately add flour and milk, a tablespoon of each at a time, until you used up the milk and the flour. Don't overmix. Scrape down the sides and up the bottom of the bowl as needed.

Using a metal spoon or rubber spatula, fold in the stiff egg whites until combined and no big egg white lumps remain. You need to be very gentle and light-handed.

Heat 1 tbsp butter in a 12-inch skillet over medium heat. Pour the batter into the skillet and cook for about 6-7 minutes. After 3 minutes sprinkle the drained raisins over the batter. Use a spoon to peak under the pancake to see if it's golden brown underneath.

When the pancake is golden brown underneath, sprinkle the top with a little bit of sugar. Using a spatula, divide the pancake into quarters and turn the pieces. Add a little bit of butter to the pan while turning the pancake.

Cook for 3-4 minutes until the quarters are golden brown underneath.

Using two spatulas or forks, tear the pancake into bite-sized pieces.

Add 2 tbsp butter and sprinkle 2 tbsp sugar over the pancake pieces. Turn up the heat to medium-high and gently toss the pieces with a spatula for about 3-4 minutes, until the sugar has caramelized.

Sprinkle with confectioners' sugar and serve in the pan with applesauce on the side.
Nutrition Information
Calories:
463
kcal
|
Carbohydrates:
56
g
|
Protein:
10
g
|
Fat:
20
g
|
Saturated Fat:
11
g
|
Cholesterol:
167
mg
|
Sodium:
81
mg
|
Potassium:
304
mg
|
Fiber:
2
g
|
Sugar:
21
g
|
Vitamin A:
738
IU
|
Vitamin C:
1
mg
|
Calcium:
98
mg
|
Iron:
2
mg
NEVER MISS A RECIPE!
 If you've tried this or any other of my recipes, don't forget to rate the recipe and to leave me a comment. I love hearing from you!