Kaiserschmarrn Recipe (Torn Pancakes)
This Kaiserschmarrn recipe is perfect for your Oktoberfest party but it also makes a great dessert for other special occasions! A fluffy pancake made with rum-soaked raisins is torn into bite-sized pieces, caramelized, and served hot sprinkled with Confectioners' sugar.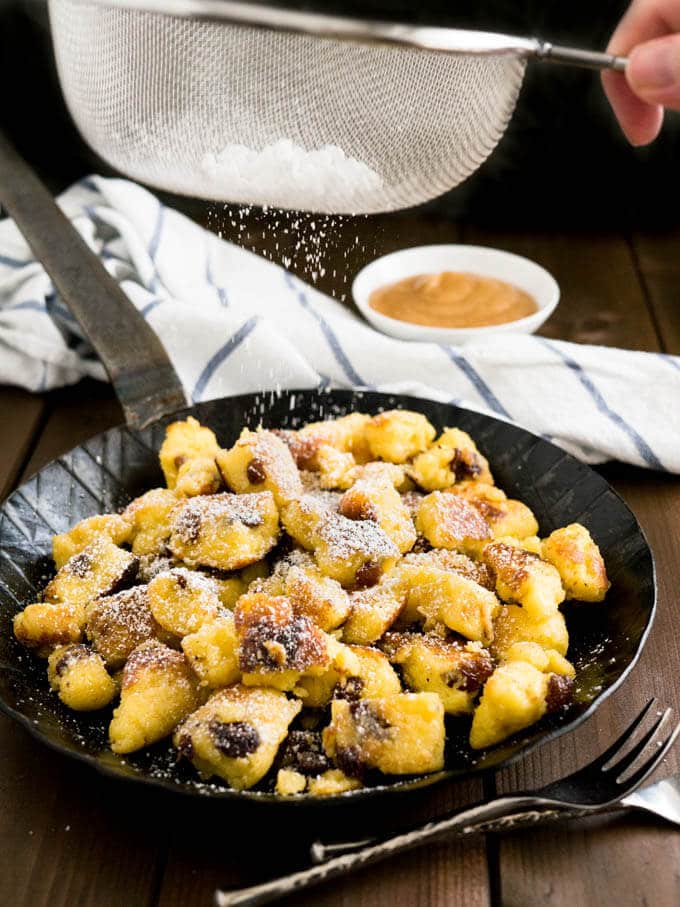 If you've ever been to Bavaria or Austria you probably have tried Kaiserschmarrn before! It's one of the best desserts that exist on this planet and after you've taken your first bite you will be addicted (in a good way!).
Kaiserschmarrn is my ultimate comfort food! It's a great treat after a long day of skiing in the Alps. When we go to Austria this is my favorite thing to get at every ski lodge. But like many Austrian dishes Kaiserschmarrn is also very popular in Bavaria.
At the Oktoberfest (or Wiesn like it's called in Munich), Kaiserschmarrn is probably the most served dessert but there's also a tent called Café Kaiserschmarrn where they serve Kaiserschmarrn. But you don't need to fly to Europe to try Kaiserschmarrn, I'll show you how to make it at home! And at the end of this post, you can also find some pictures from the Oktoberfest and many delicious Oktoberfest recipes from #SundaySupper.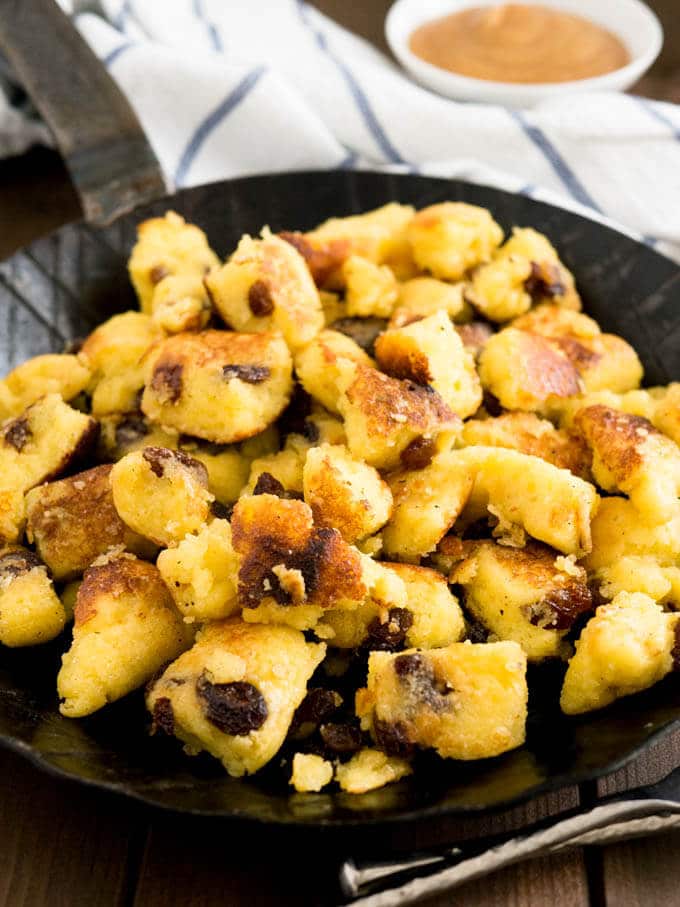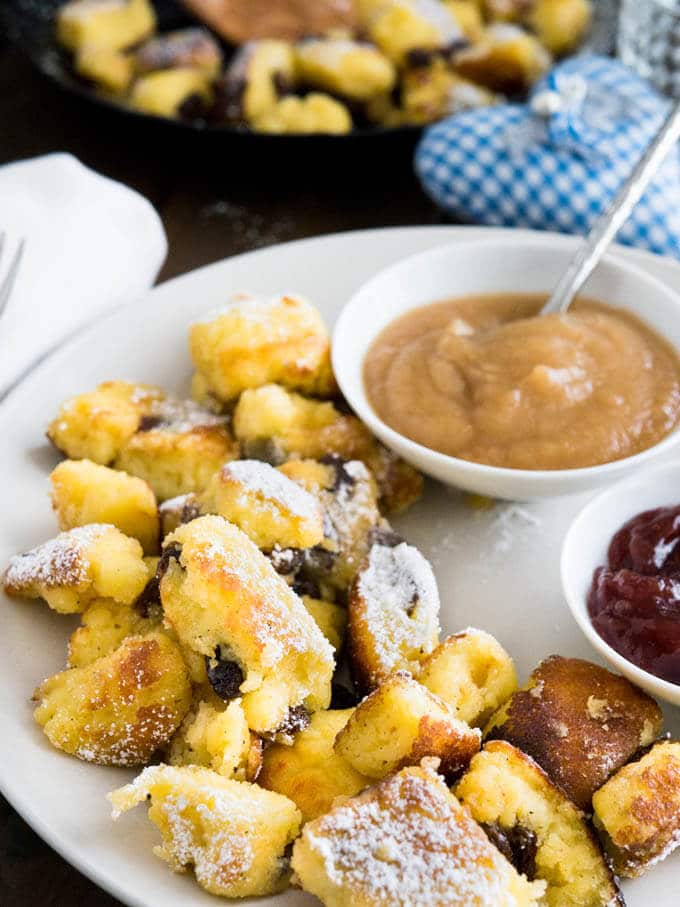 Kaiserschmarrn is best described as a scrambled pancake. The base for my recipe is a fluffy pancake which you get by dividing the eggs and adding the stiff egg whites after you combined the other ingredients. There's no baking powder in this pancake the egg whites do all the work.
This Kaiserschmarrn recipe gets its special flavor from the eggs, the butter, the caramelized sugar but especially from the rum soaked raisins. Even my husband who isn't the biggest fan of raisins loves them in this dessert! The raisins are soaked in a few tablespoons of rum while you make the batter. When the pancake begins to cook through you add the drained raisins before turning the pancake.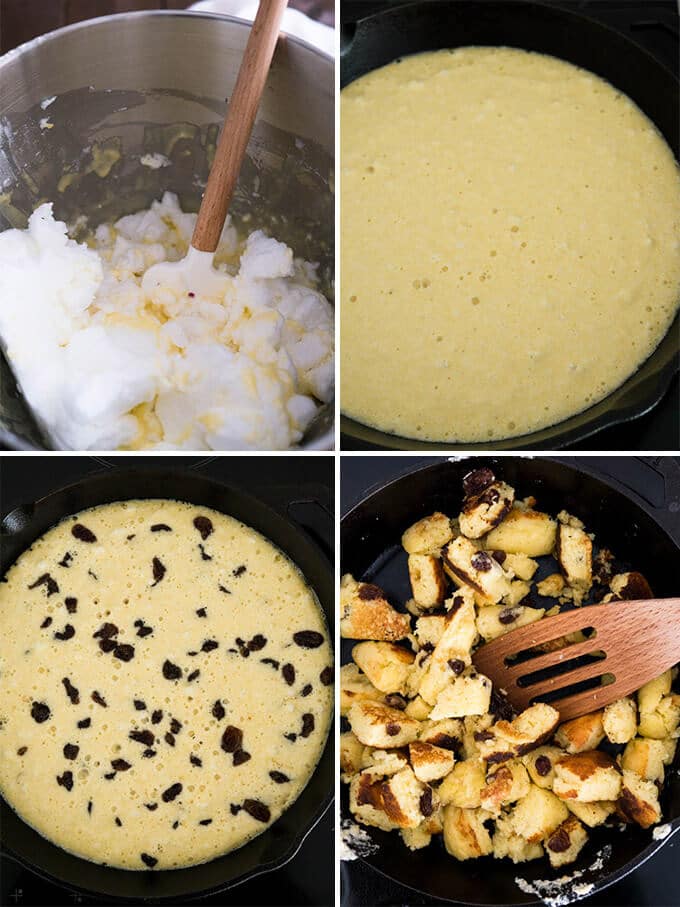 After you turned the pancake and it's getting golden brown underneath, comes the step which makes a special dessert out of a normal pancake. Using two spatulas you tear the pancake into bite-sized pieces which will then be caramelized with butter and sugar.
This recipe is definitely one for the days where you want to indulge! It's a special treat and one pan is enough for up to four people as a dessert served with apple sauce. You can also serve it with other fruit compotes or vanilla ice cream. At the Oktoberfest, the Kaiserschmarrn is often served with fresh berries, apple sauce, and plum compote. I like mine with applesauce because that's what I always have in my pantry.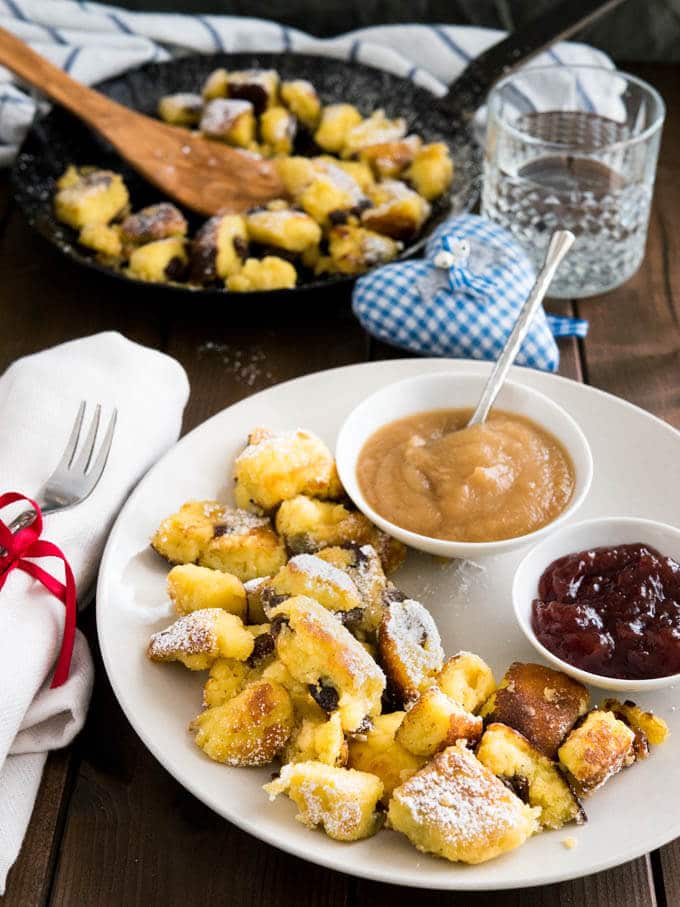 When you order Kaiserschmarrn at a restaurant or at the Oktoberfest it'll be served in a skillet with lots of Confectioners' sugar on top! I like to do the same at home. And another thing that happens at the Oktoberfest but also at home: You're already full but there's still some room for Kaiserschmarrn in your belly (or at least you think so 🙂 ). Because who could resist it? Definitely not me!!
Tomorrow is the last day of Oktoberfest 2016 so celebrate with this easy delicious recipe! Or one of the other Oktoberfest themed recipes you can find down below from my fellow Sunday Supper members.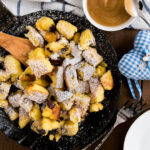 Kaiserschmarrn Recipe (Torn Pancakes)
This Kaiserschmarrn recipe is perfect for an Oktoberfest party! Caramelized pancake pieces made with rum-soaked raisins are served hot with apple sauce.
Ingredients
For the rum-soaked raisins:
1/3

cup

raisins

50 g

3

tbsp

Rum
For the pancake:
3

large eggs

divided

3

tbsp

butter

melted, 40g

1

tsp

vanilla extract

2

tbsp

sugar

30g

1

pinch of salt

1

cup

all-purpose flour

120g

1

cup

milk

240ml
To caramelize:
2

tbsp

butter

2

tsp

sugar
To serve:
1-2

tbsp

Confectioners' sugar

1

cup

apple sauce
Instructions
In a small bowl combine raisins and rum. If you can't use rum soak the raisins in water but I highly encourage you to use rum because it's an essential part.

Separate the eggs and set the egg yolks aside for a moment.

In the bowl of a stand mixer fitted with the whisk attachment add the three egg whites and beat at high speed about 2.5 minutes until stiff peaks form. Don't overbeat the egg whites! Transfer to a bowl and set aside.

Add the three egg yolks, melted butter, vanilla extract, sugar, and a pinch of salt to the (now empty) bowl of your stand mixer, still fitted with the whisk attachment. Combine at medium speed about 2-3 minutes.

On low speed, alternately add flour and milk, a tablespoon of each at a time, until you used up the milk and the flour. Don't overmix. Scrape down the sides and up the bottom of the bowl as needed.

Using a metal spoon or rubber spatula, fold in the stiff egg whites until combined and no big egg white lumps remain. You need to be very gentle and light-handed.

Heat 1 tbsp butter in a 12-inch skillet over medium heat. Pour the batter into the skillet and cook for about 6-7 minutes. After 3 minutes sprinkle the drained raisins over the batter. Use a spoon to peak under the pancake to see if it's golden brown underneath.

When the pancake is golden brown underneath, sprinkle the top with a little bit of sugar. Using a spatula, divide the pancake into quarters and turn the pieces. Add a little bit of butter to the pan while turning the pancake.

Cook for 3-4 minutes until the quarters are golden brown underneath.

Using two spatulas or forks, tear the pancake into bite-sized pieces.

Add 2 tbsp butter and sprinkle 2 tbsp sugar over the pancake pieces. Turn up the heat to medium-high and gently toss the pieces with a spatula for about 3-4 minutes, until the sugar has caramelized.

Sprinkle with confectioners' sugar and serve in the pan with applesauce on the side.
Here are some impressions from our last Oktoberfest visits!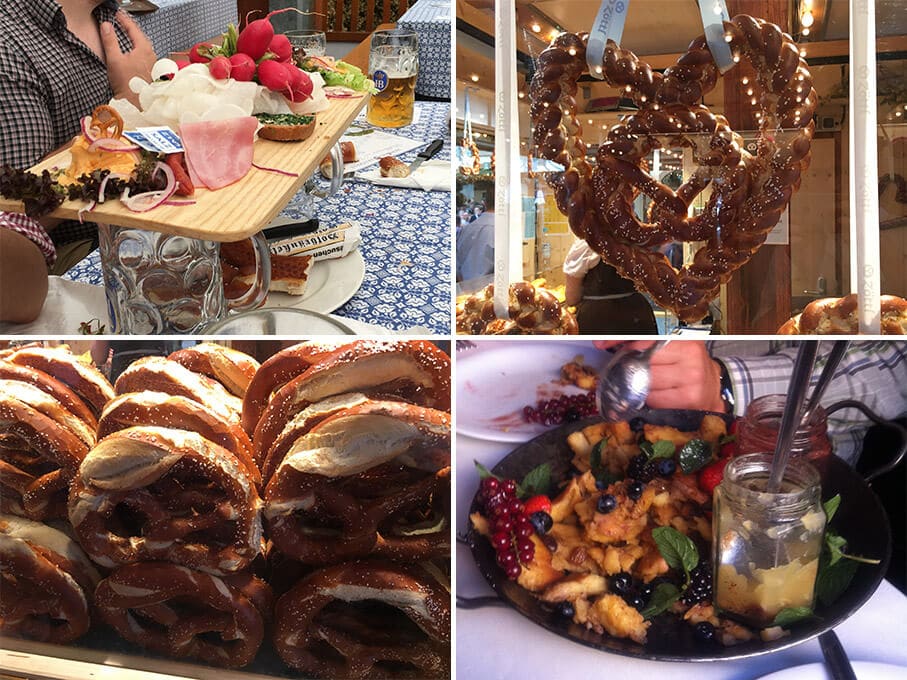 There are currently fourteen large tents and twenty small tents at the Oktoberfest and every year more than 6 million people come to visit. When you are from Munich, the 16-18 days on which the Oktoberfest is running are super busy, all the buses and trains are crowded, drunken people are everywhere and you see more people wearing traditional than normal clothes.
Above you can see some of the traditional food you can get at the Oktoberfest. Brotzeit, a traditional savory snack with pretzels, Obatzda, Raphanus, chives on buttered bread, and many more things. Really big pretzels and of course my favorite, Kaiserschmarrn.
At every tent you can reserve tables in advance, it's pricey but worth it. The first photo is from the Käfer tent which is my favorite because it's cozy and not so crowded. The others are from the Hofbräu tent. And yes, that's me in my Dirndl with a beer 🙂 Only beer that's brewed within the city limits of Munich and confirming to the Reiheitsgebot can be served at the Oktoberfest. So you won't find fancy craft beer and the normal size of a beer is 1 liter.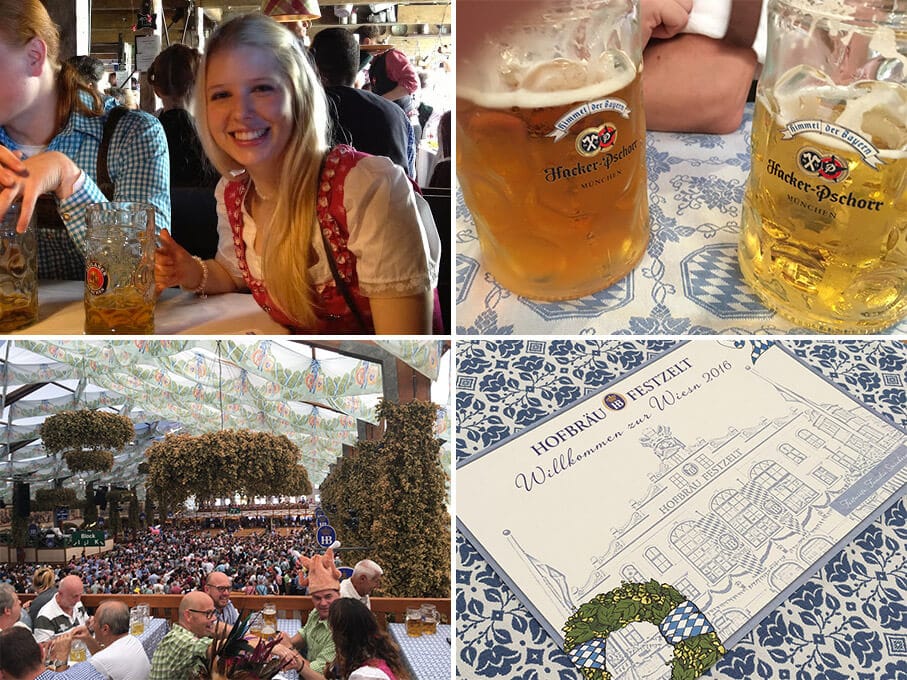 And now grab your fork and dig in to all these delicious Oktoberfest recipes below from my fellow #SundaySupper members!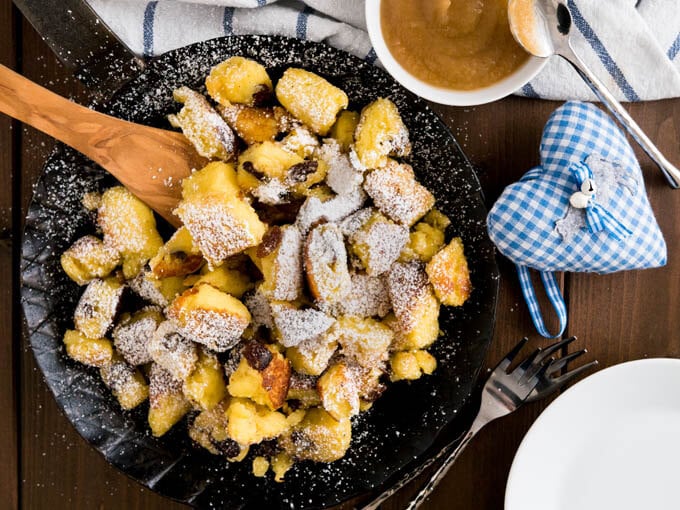 Appetizers (Vorspeisen)
Breakfast (Frühstück)
Condiments (Würze)
Dessert (Nachtisch)
Main Dish (Hauptgericht)
Side Dish (Beigabe)
Join the #SundaySupper conversation on twitter on Sunday! We tweet throughout the day and share recipes from all over the world. Our weekly chat starts at 7:00 pm ET. Follow the #SundaySupper hashtag and remember to include it in your tweets to join in the chat. To get more great Sunday Supper Recipes, visit our website or check out our Pinterest board.
Would you like to join the Sunday Supper Movement? It's easy. You can sign up by clicking here: Sunday Supper Movement.
Thanks to our host Cricket of Cricket's Confections for hosting this event!