Vanillekipferl (German Vanilla Crescent Cookies) are traditional German Christmas Cookies made with ground nuts and dusted with vanilla sugar! They are tender, nutty and melt in your mouth. A perfect cookie to make ahead that's always a hit.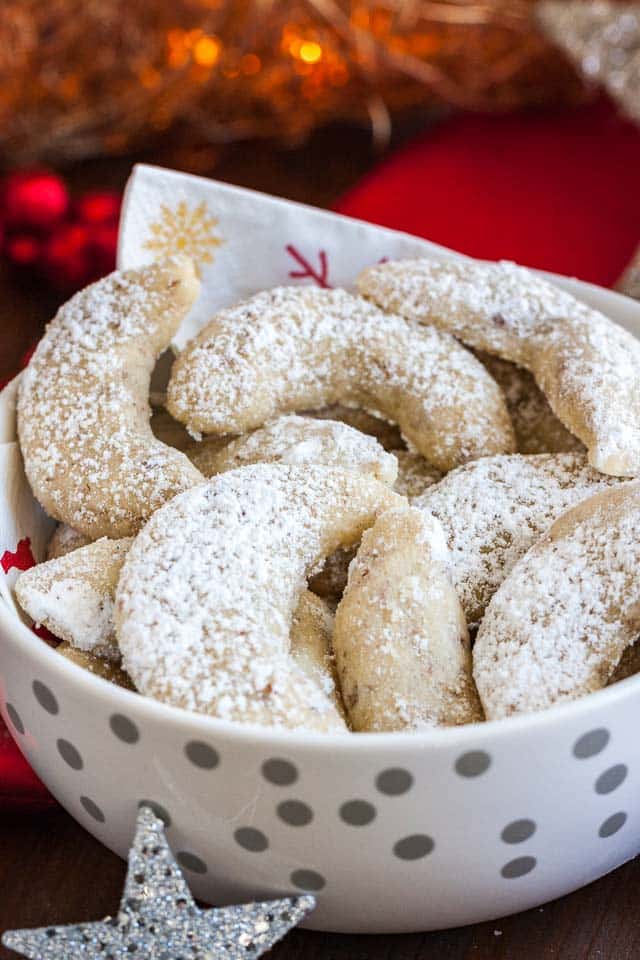 Vanillekipferl are small, crescent-shaped cookies with a heavy dusting of vanilla sugar which gives them their typical flavor. The little croissant shaped cookies are a real classic German Christmas cookie and
Probably every German grandmother makes Vanillekipferl at Christmas time. But they can also be enjoyed all year round!You only need a few ingredients to make them and they keep fresh for weeks. Like German Gingerbread and Traditional German Stollen, they get even tastier after a few days in my opinion.
One of my favorite Christmas memories is baking cookies with my Oma (that's the German word for Grandmother). I always made sure there were enough cookie dough scraps for me and my Grandfather to enjoy. Both my grandmothers always made many different cookies during Christmas time. One even made about 20 different ones, I really don't know how she accomplished that but I loved going through all the cookie tins and filling my cookie plate with all my favorite Plätzchen (German for cookies). These Vanillekipferl were one of them!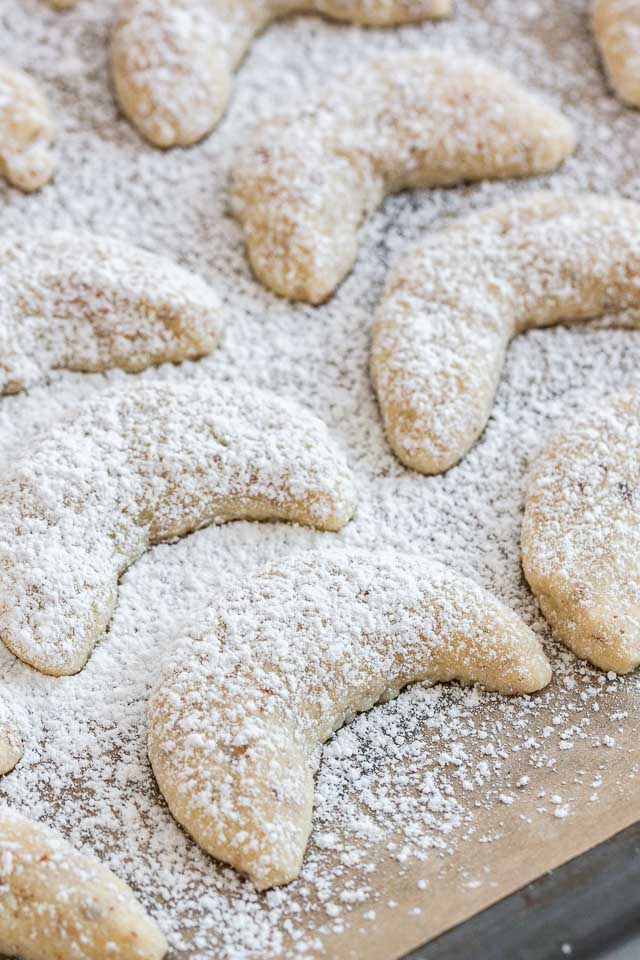 Tips and Tricks for Making this Vanillekipferl Recipe
Vanillekipferl are made WITHOUT eggs! Eggs (and baking powder) are not used in traditional recipes, you won't get the same melt-in-your-mouth texture if you are using eggs.
The dough should always stay cold while you are shaping the cookies. Take only ¼ of the dough out of the fridge so the remaining dough stays cold. Shaping the crescents might take a little bit especially if you're doing it for the first time.
Make sure your crescents are all the same size so they bake evenly.
Don't bake them too long! They should not brown, only the edges should be a little bit golden but the cookie should be pale.
In my opinion, dusting the vanilla cookies with vanilla sugar works better than dipping them. It's easier (and safer) because you don't have to touch the hot cookies and dip each one into the sugar. Sprinkle the cookies with half of the vanilla sugar immediately after you take the cookie sheet out of the oven and then repeat the process when they are cooled completely.
Store the cookies in a cookie tin. That's the way it's done in Germany. The cookies will stay fresh for weeks in a cold and dry place.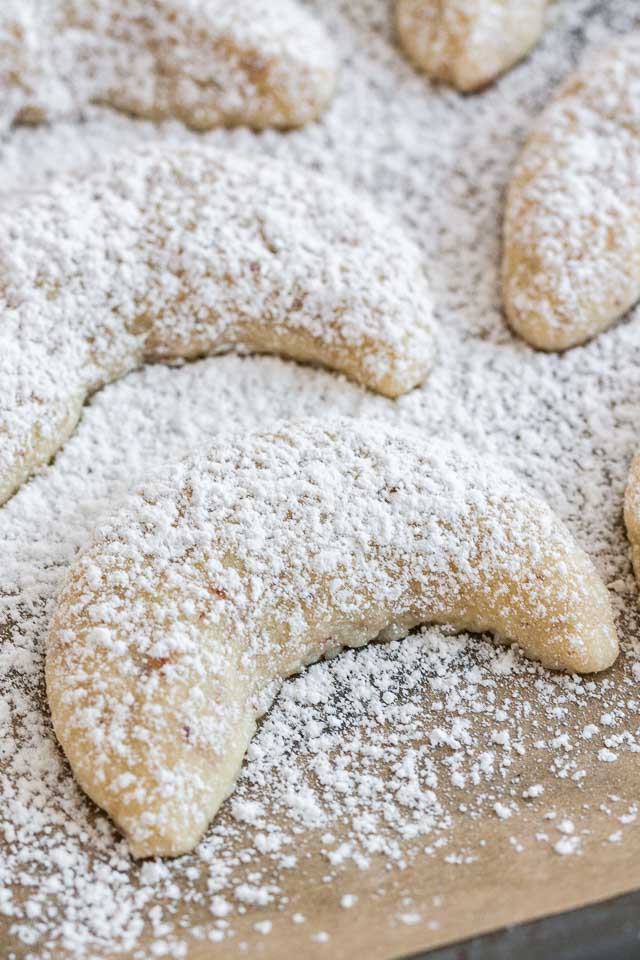 How to make Vanillekipferl
Traditional Vanillekipferl are made without eggs or baking powder. The only binding agents are the butter and the nuts. When you make them for the first time you might think this recipe won't work because when you combine all the ingredients and start mixing the mixture will look very dry and crumbly. Don't worry, the mixture will come together after about a minute or so.
You will get a dough that looks like crumbs at first, press the crumbs together with your hands to form it into a ball. Don't handle the dough too much you don't want the butter to get warm. Chill it for an hour and then form crescents.
German Vanilla Crescent Cookies are only baked for about 15 minutes until the edges are lightly golden, you don't want them too brown. Take the pan out of the oven and dust them with vanilla sugar. Many recipes say you should dip them in the sugar mixture but I find it easier to dust them because the cookies break very easily.
These cookies keep fresh in an airtight container for up to 3-4 weeks. But most of the time they're all eaten long before then!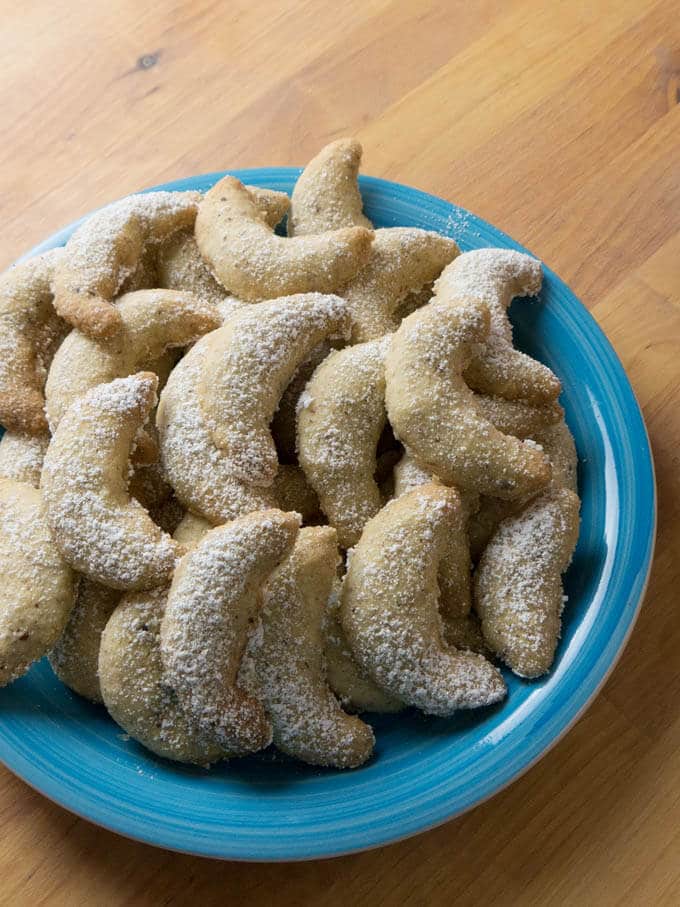 How to make Vanilla Sugar for German Vanilla Crescent Cookies
For this recipe, you need vanilla sugar (German: Vanillezucker). The Kipferl are dusted with a mixture of vanilla sugar and powdered sugar, this is a very important step to make them.
You can buy Vanilla sugar (see link above the recipe) or make your own. It's really easy and you can use it also for your coffee or other recipes that use sugar and vanilla. Vanilla sugar is used in many traditional German recipes instead of vanilla extract which is difficult to get in Germany.
To make your own vanilla sugar you need 1 cup sugar and 1 vanilla bean. Place the sugar into the bowl of a food processor. Scrape out the vanilla bean using the back of a knife and add the scraped out seeds to the bowl. Pulse the sugar and vanilla seeds until well combines and the sugar resembles powdered sugar.
Store your vanilla sugar in an airtight container or mason jar in a cold and dry place. I always add the scraped out vanilla pod to the jar this adds even more vanilla flavor.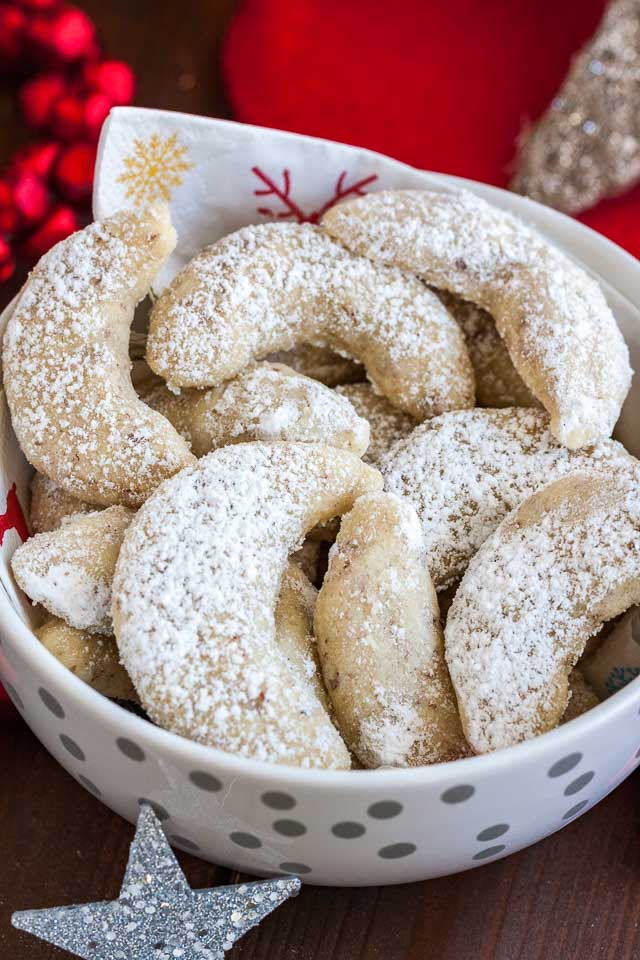 Looking for more traditional German Christmas Recipes?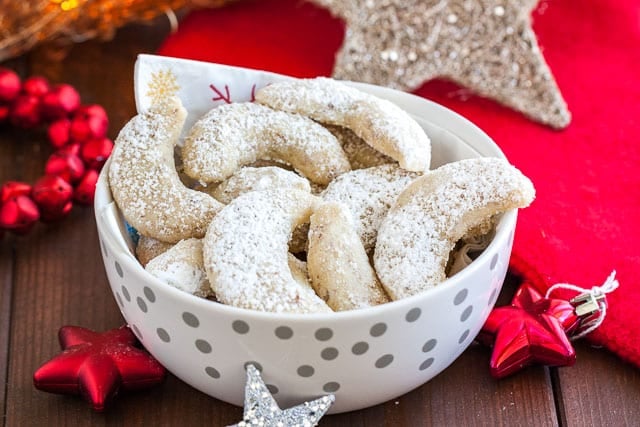 Tools and Ingredients used for making this recipe
Vanilla Sugar: This one is made with real vanilla, don't buy one with artificial vanilla! The cheapest way is to make your own.
Ground Almonds: This almond meal/flour is made from finely ground almonds and perfect for making Vanilla Crescent Cookies. You can use almond meal with or without the skins or use the same amount of ground hazelnuts or walnuts.
Cookie Tins: Storing the cookies in cookie tins like my Grandmother always did keeps them fresh for weeks.
[social_warfare buttons="Pinterest, Facebook"]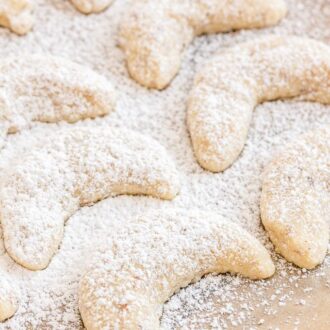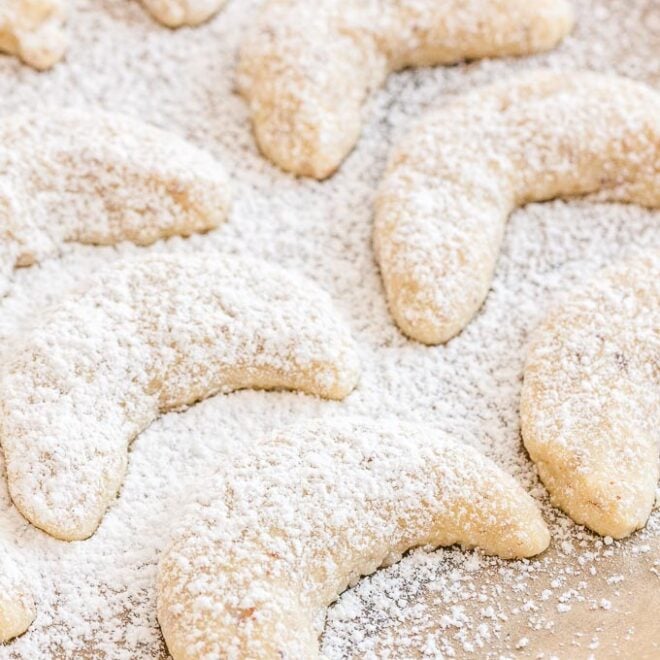 Vanillekipferl (German Vanilla Crescent Cookies)
Vanillekipferl (German Vanilla Crescent Cookies) are traditional German Christmas Cookies made with ground nuts and dusted with vanilla sugar! (Please read the post and watch the video below before making this recipe, these cookies are delicate and are a bit difficult to make but worth the effort! If you have a scale I recommend using the metric measurements (button to switch next to ingredients header)!)
Ingredients
For the cookie dough:
2

cups

all-purpose flour

,

spoon and level

1

pinch of salt

1

cup

unsalted butter

,

cold, cut into small cubes

¾

cup

powdered sugar

¾

cup

finely ground almonds

,

or hazelnuts or walnuts

½

vanilla pod

,

seeds scraped out or 2 tsp vanilla extract
For the sugar mixture:
¾

cup

powdered sugar

½

vanilla pod
Instructions
In the bowl of a stand mixer fitted with the paddle attachment combine flour, salt, cubed butter, powdered sugar, nuts, and vanilla seeds. Mix at medium speed until a crumbly dough forms, about 1-2 minutes. If the dough is too crumbly add 1-2 Tbsp milk.

Use your hands to press the dough together and wrap it in plastic wrap. Chill the dough for one hour in the fridge.

Preheat the oven to 350°F (177°C) and line one or two baking sheets with parchment paper.

Roll the chilled dough into a log approximately ½ inch thick. Cut the log into 1 ½-inch pieces, form the pieces into small cylinders and taper the ends into dull points. Bend each one into a crescent shape. Place the Vanillekipferl on the baking sheet about 1 inch apart.

Bake the Vanillekipferl one cookie sheet at a time for 12 to 15 min (depending on the size of the cookies) until the edges are golden. They should not brown.

Scrape out vanilla pod and combine with powered sugar. This works great in a small food processor. Sift the mixture over the hot Vanillekipferl. Let them cool completely then give them a second dusting.

These cookies keep fresh for about 3 weeks in an airtight container stored in a cool place.
Notes
You can switch to metric measurements by pressing the button in line with the ingredients header.
Nutrition Information
Calories:
94
kcal
|
Carbohydrates:
10
g
|
Protein:
1
g
|
Fat:
5
g
|
Saturated Fat:
2
g
|
Cholesterol:
12
mg
|
Potassium:
8
mg
|
Sugar:
4
g
|
Vitamin A:
140
IU
|
Calcium:
7
mg
|
Iron:
0.4
mg
---
Watch how to make them!
---
We posted this recipe 2 years ago. Today we've updated the photos, improved the recipe, and included a video tutorial to show you how easy these cookies are to make.