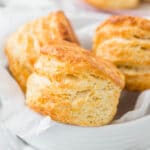 Print Recipe
Air Fryer Biscuits
These all-butter Air Fryer biscuits are so flaky, soft, and completely made from scratch. An easy, homemade recipe that is so simple to make!
2

cups

all-purpose flour

2 ½

tsp

baking powder

1

tsp

sugar

1

tsp

salt

6

Tbsp

unsalted butter

very cold plus more for brushing

¾

cup

milk

full fat or 2%, very cold
Preheat Air Fryer to 390 F.

Mix flour, baking powder, sugar, and salt together.

Grate butter using a box grater or cut butter into small cubes and cut it into the flour mixture with a pastry cutter or fork.

Pour in milk and stir gently with a fork until just combined.

Turn dough out onto a floured work surface and use your hands to press dough together into a rectangle. Fold dough over a few times and flatten it with your hands to get it into a 1-inch thick layer.

Cut 6 biscuits from it using a 2 ¾" round biscuit cutter.

Air Fry for 9-11 minutes or until the tops are golden brown. Brush biscuits with melted butter and serve.
Make sure your ingredients are very cold! This is key to flaky biscuits that bake up mile-high.
You can use full-fat or 2% milk. Buttermilk works too.
I recommend grating the butter, but you can also cut it into small cubes and use a pastry cutter or fork to incorporate the butter into the flour mixture.
Do NOT overhandle the dough! Biscuits get their flakiness and texture from reducing the amount of gluten that develops during handling the dough.
Do NOT use a food processor or stand mixer for this recipe! They make it too easy to over-mix the dough, which results in tough, dense biscuits.
You actually want to see some butter pieces in the dough, because during baking they will melt and create little pockets of flakiness. The dough will not look homogenous like cookie dough.
Don't use a rolling pin to flatten the dough! After folding the dough use your hands to flatten it.
Don't open the Air Fryer for at least half the baking time, this helps the biscuits rise.
To bake these in the oven, preheat the oven to 425 degrees F and bake biscuits for about 14 minutes or until tops are golden brown.
Remember every air fryer runs a bit differently, watch your biscuits and check on them.
Calories:
275
kcal
|
Carbohydrates:
35
g
|
Protein:
5
g
|
Fat:
13
g
|
Saturated Fat:
8
g
|
Cholesterol:
33
mg
|
Sodium:
405
mg
|
Potassium:
253
mg
|
Fiber:
1
g
|
Sugar:
2
g
|
Vitamin A:
399
IU
|
Calcium:
116
mg
|
Iron:
2
mg