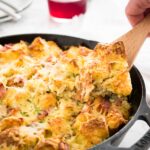 Print Recipe
Ham and Cheese Breakfast Casserole
This Ham and Cheese Breakfast Casserole is the perfect dish to use leftovers! A delicious breakfast bake or strata made with bread, cheese, and ham that will become your family's favorite.
Preheat the oven to 400°.

In a large bowl, whisk the eggs with the milk, salt, and pepper.

Stir in the bread until evenly moistened, then stir in the ham cubes, cheese cubes, and 2 tbsp chopped parsley. Let sit for 10 minutes

Butter a 10" skillet or a 10" square baking pan and pour in the mixture. Sprinkle the grated Cheddar cheese on top.

Bake for about 25 minutes, until puffed and golden. Let cool slightly, sprinkle with the remaining parsley and serve.