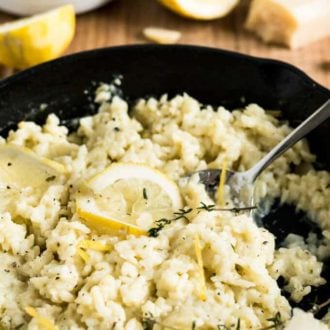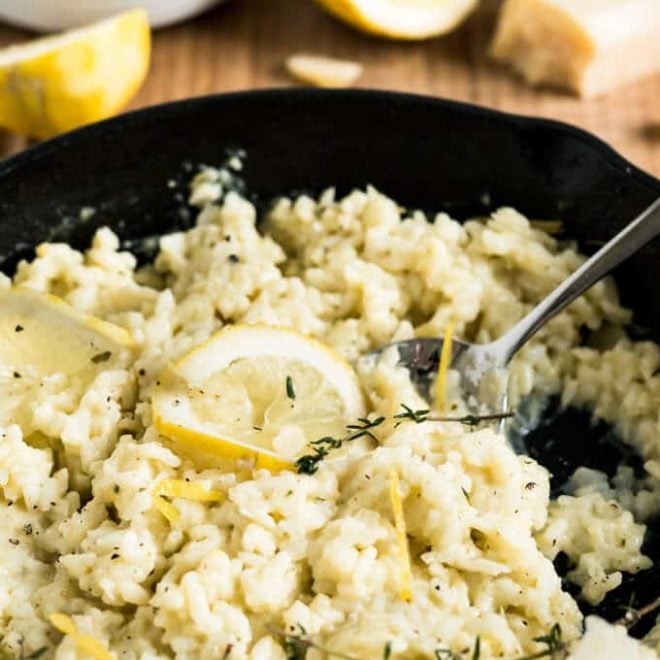 Print Recipe
Creamy Lemon Risotto
Creamy Lemon Risotto is a perfect summer dish made with parmesan, rosemary, and fresh lemons. Comfort food for sunny days or whenever you need a little bit sunshine in your life!
In a saucepan bring the vegetable stock to a boil. Reduce the heat and hold at a gentle simmer.

Heat half of the butter and 1 tbsp olive oil in a large, heavy-based saucepan over medium heat. Add the onion, and cook, stirring often, for 3-4 minutes until soft but not coloured. Add the rice and stir over medium heat for 1-2 minutes until the grains appear slightly glassy.

Add the wine and cook, stirring, for 2 minutes or until almost absorbed. Add a ladleful of the simmering stock and stir constantly with a wooden spoon until completely absorbed.

Continue to add the vegetable stock, a ladleful at a time, stirring constantly and allowing the liquid to be absorbed before adding the next ladleful, for 25-30 minutes until rice is no longer chalky but still has some bite and the risotto is creamy. You may not need all of the stock, equally, you may need to add hot water from the kettle. Take the risotto off the heat when it's ready.

In a small bowl beat the egg yolk, lemon juice, parmesan, cream and a little bit of pepper. Mix the finely chopped rosemary and the lemon zest into the risotto.

Add the egg-lemon mixture, and the remaining butter and salt to taste.

Garnish with more grated parmesan and enjoy!