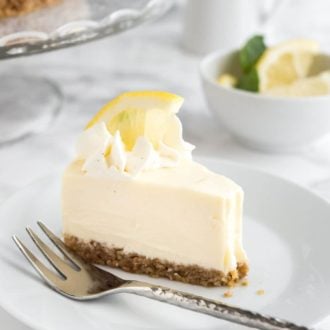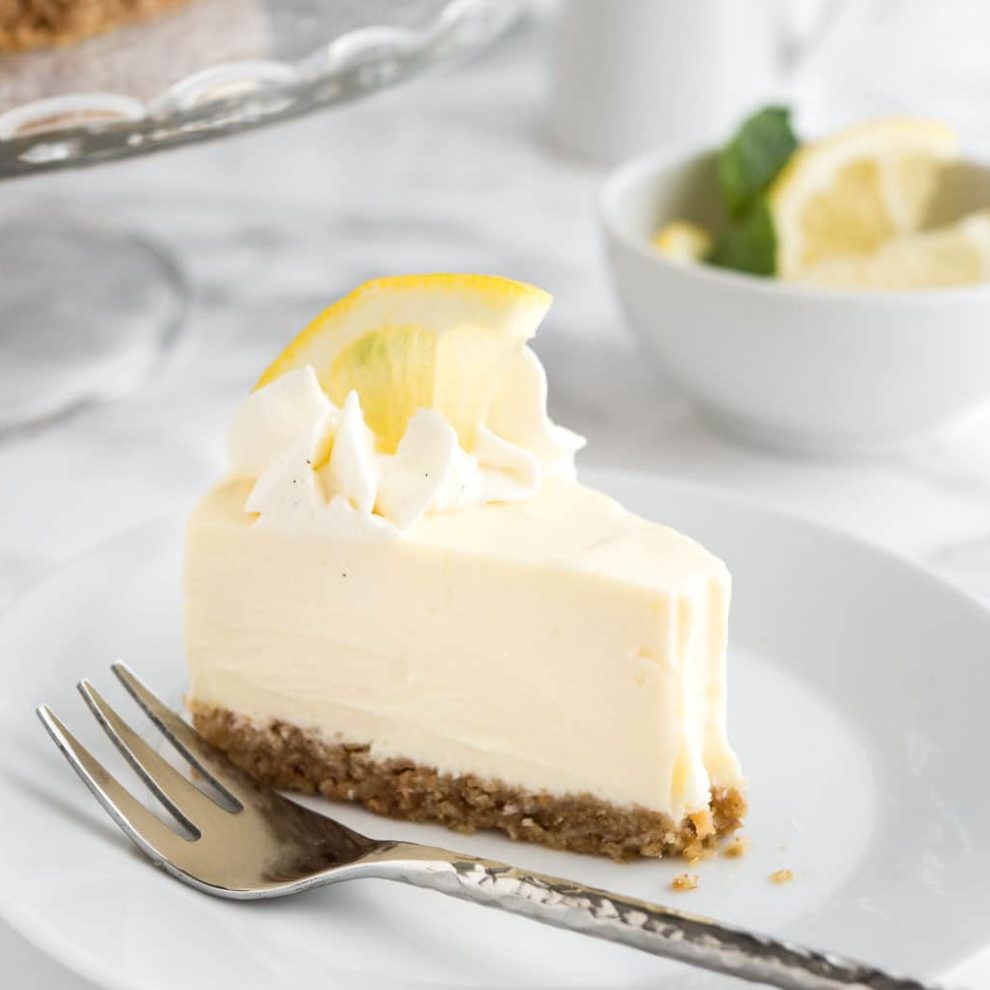 Print Recipe
Easy Lemon Cream Pie Recipe
This easy no-bake Lemon Cream Pie is full of lemon flavor and made with only a few ingredients! An easy-to-prep lemon pie recipe that comes together in minutes and is super delicious.
1/4

cup

butter

60g

1 1/4

cups

crushed graham cracker or digestive biscuits

160g

1 14

oz

can sweetened condensed milk

400g

8

oz

mascarpone cheese

225g

3/4

cup

heavy whipping cream

180ml

1/2

cup

freshly squeezed lemon juice

120ml, 2-3 large lemons
Line the bottom and the sides of a 7-inch springform pan with parchment paper or use a 9-inch pie plate.

For the crust, melt the butter in a small saucepan. Add the crumbs and stir to coat them.

In the bowl of a stand mixer fitted with the paddle attachment beat mascarpone cheese at low-medium speed until smooth, about 1 minute.

Add the sweetened condensed milk slowly and beat into mascarpone until smooth and well mixed.

Add the heavy cream and mix until combined.

Slowly add the lemon juice to the mixture while beating at low-medium speed. The mixture will start to thicken and gets creamy.

Pour into prepared pan and refrigerate for at least 6 hours or overnight until firm.
To make this recipe easier, you can use a prepared graham cracker pie crust. This recipe makes about 3 1/2 cups of filling.
In the photos, I pressed the crumbs only into the bottom of the pan, this works but I find it easier and a bit more foolproof to press the crumbs in the bottom AND up the sides if using a springform pan.
I recommend using freshly squeezed lemon juice for this recipe. Make sure to use 1/2 cup lemon juice. The lemon juice thickens the filling.
You can prepare this pie in advance and refrigerate covered overnight. Store leftovers in the fridge. The "Cook time" is the time this pie needs to rest in the refrigerator. There is no actual baking involved in this recipe.