Homemade Whipped Cream is easier to make from scratch than you think and tastes so much better than store-bought!
This two-ingredient recipe can be made in less than 5 minutes and is absolutely foolproof if you follow my tips and tricks. We love to put a big dollop on our Apple Crumble Pie or on other pies and cakes.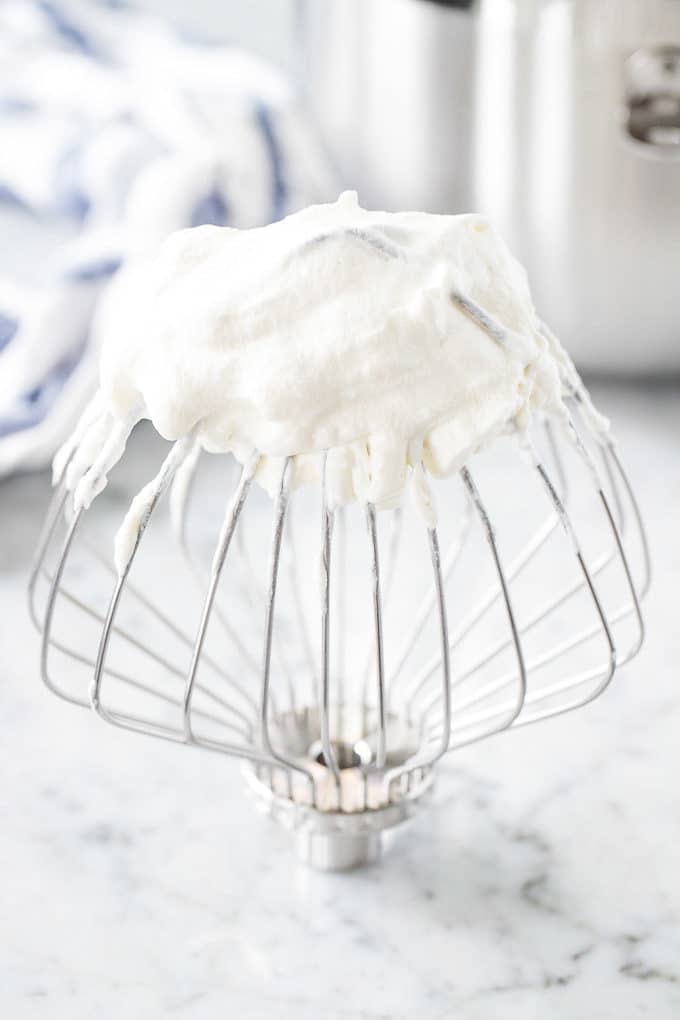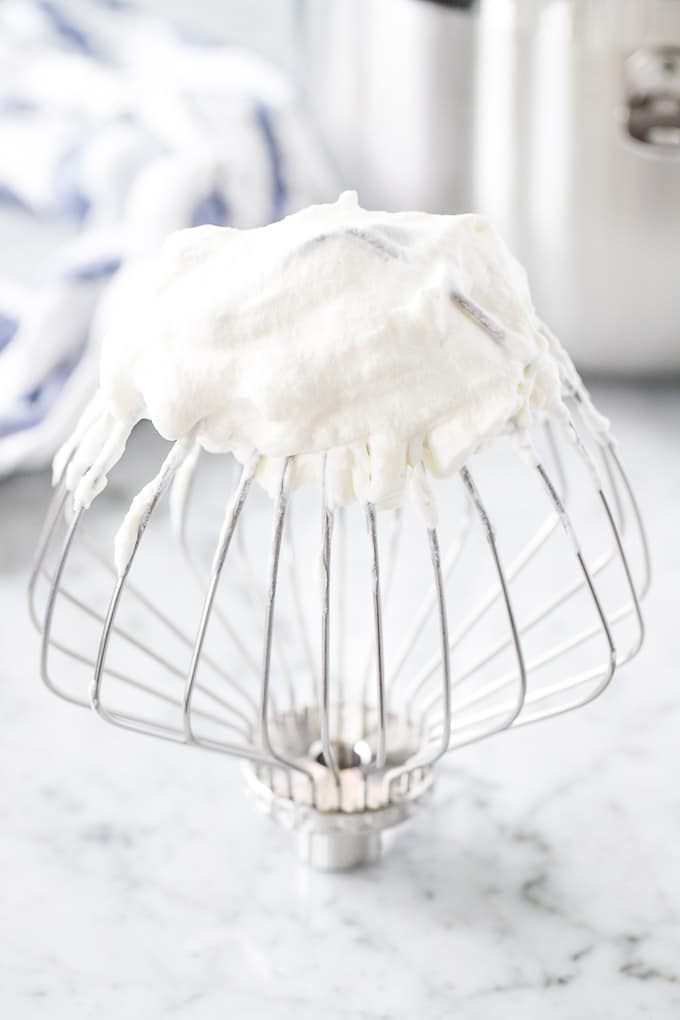 Whipped cream from scratch
Would you believe that I have never ever tried Cool Whip in my life? Growing up in Germany, we didn't have Cool Whip and my Grandmother always made it from scratch. For me, it's similar to cooking pasta or rice, I don't need a recipe to make whipped cream I just eyeball it.
But I often get comments from readers that have problems with whipping cream from scratch. So today I want to share all my tips and tricks with you because making whipped cream is super easy and takes less than 5 minutes.
What is the difference between whipped cream and Cool Whip?
Cool whip is stabilized and contains a lot more ingredients than homemade heavy cream. By making whipped cream at home you can decide how sweet you want it to be by adding more or less sugar.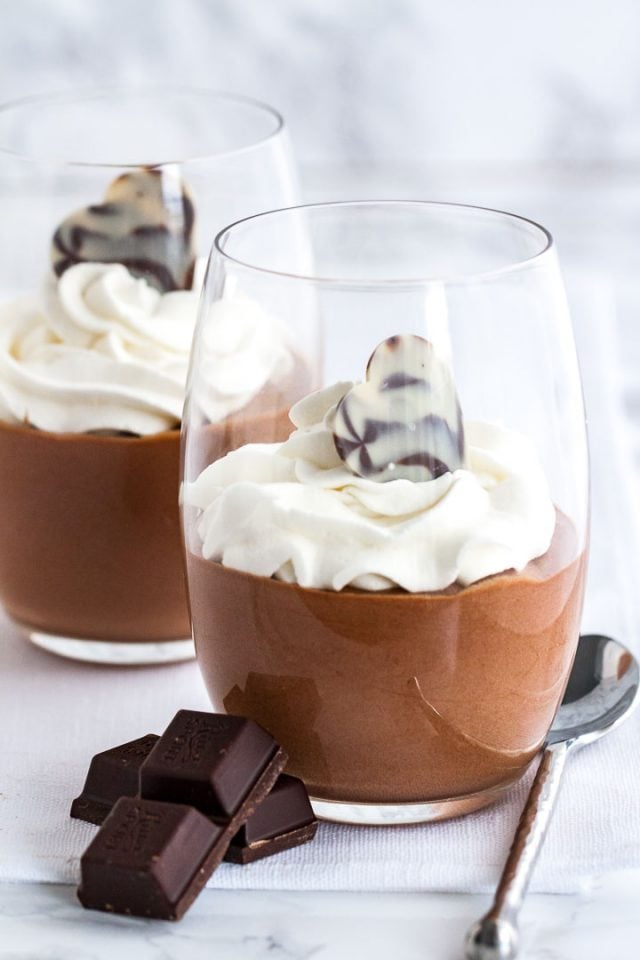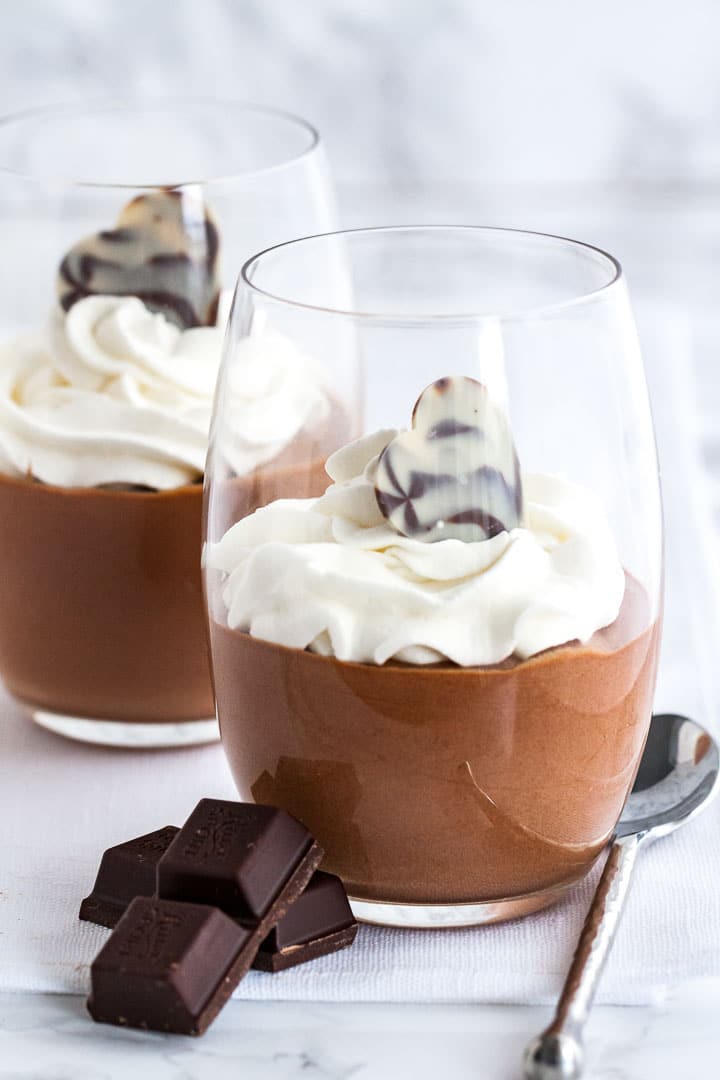 how to make whipped cream from scratch
Making whipped cream from scratch is easy, you need cold heavy cream, some powdered sugar, and a chilled metal bowl and whisk.
Is whipping cream the same as heavy cream?
Yes and no! Both can be used to make whipped cream but they have different amounts of milk fat. Heavy cream will whip better and hold its shape longer than whipping cream which results in a lighter, more pillowy texture. Heavy cream and heavy whipping cream are the same things, both must contain at least 36% or more milk fat. Whipping cream, or light whipping cream, is lighter and contains 30% to 35% milkfat (33-36% in Canada). The more milkfat the easier it is to make whipped cream.
How to make whipped cream last longer
There are different ways to stabilize it:
Gelatin: Bloom 1 tsp of unflavoured gelatin in 1 tbsp of water. Then just add this mixture to your cream when you add the sugar.
Cream of Tartar: Add 1/4 teaspoon of cream of tartar per 1 cup of whipping cream along with the powdered sugar.
Dr. Oetker – Whip it: Add according to package instructions to stabilize the cream.
How to flavor whipped cream
Try adding 1/2 to 1 tsp of your favorite extract (vanilla, coconut, almond, etc.) to the cream depending on what you serve with the cream. For example, for coconut cream pie I like to add some coconut extract to the topping.
You can also make chocolate cream by adding 1 tsp of cocoa powder to the heavy cream together with the sugar.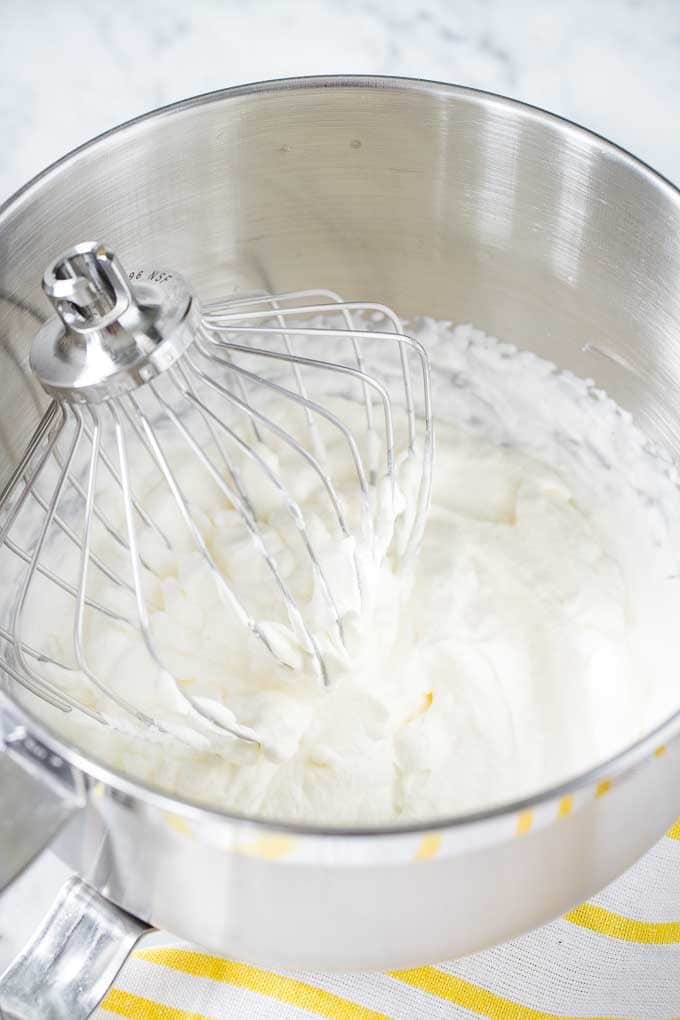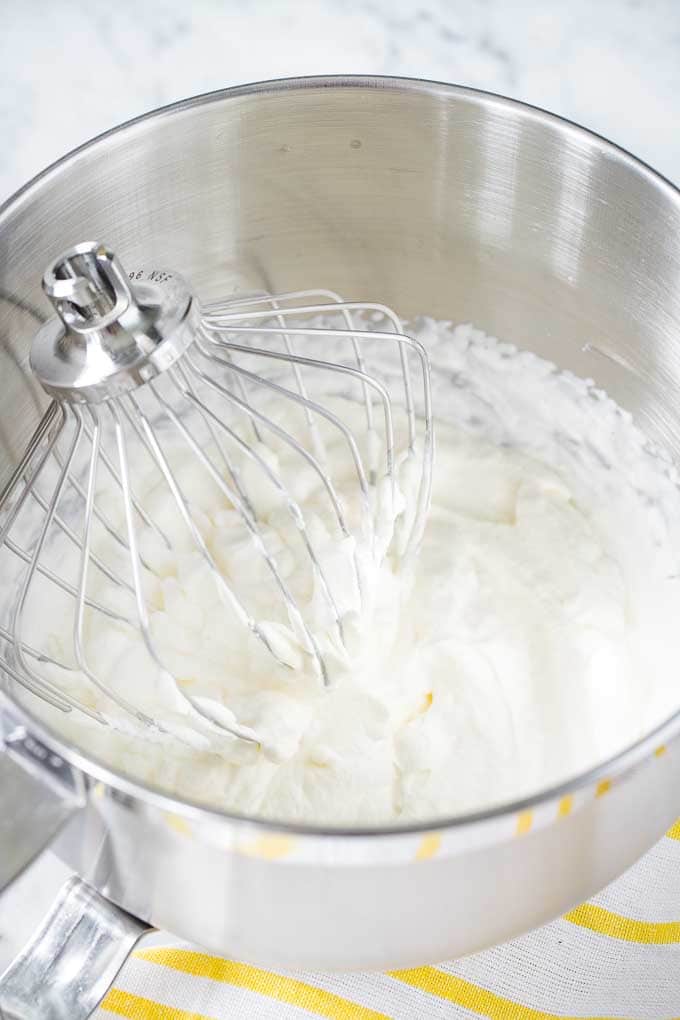 Tips and Tricks for Making Whipped Cream
I recommend using heavy cream because it has a higher milk fat content!
Chill the mixing bowl and beaters in the freezer for 10 minutes before starting
A stand mixer works best for this recipe but you could also use a hand mixer.
Mixing by hand is not recommended!
Don't add the sugar in the beginning!
Always keep an eye on the cream while beating it so you don't over-beat it.
Over-beating results in the separation of the cream into butter and liquid.
Fresh whipped cream is best served the day it is made – it's not meant to keep for longer-term storage.
Add more or less sugar depending on the dish the sweetened cream is for. Using two to four tablespoons of sugar per cup of whipping cream is a good balance for a sweet whipped cream.
Keep in mind that whipped cream will melt if you put it on a warm or hot dessert!
Can you make whipped cream with milk?
No, you can't because milk has a lot less milkfat than cream so it won't whip up like heavy cream.
how to whip cream by hand
I recommend using a stand mixer or hand mixer but if this is not an option you totally can whip cream by hand just like Grandma did years ago. Whipping by hand works best if your cream, bowl, and whisk are chilled and the room temperature is on the lower side. But it will take longer and you get an arm workout.
What do you do if whipping cream won't whip?
Make sure your bowl, whisk, and heavy cream are cold. The outside temperature and humidity can also influence how easily the cream will whip. You also want to use the right kind of cream – heavy cream works better than whipping cream in my experience because of the higher milkfat amount.
Adding sugar and flavorings too soon or adding too much sugar can also inhibit the cream from thickening.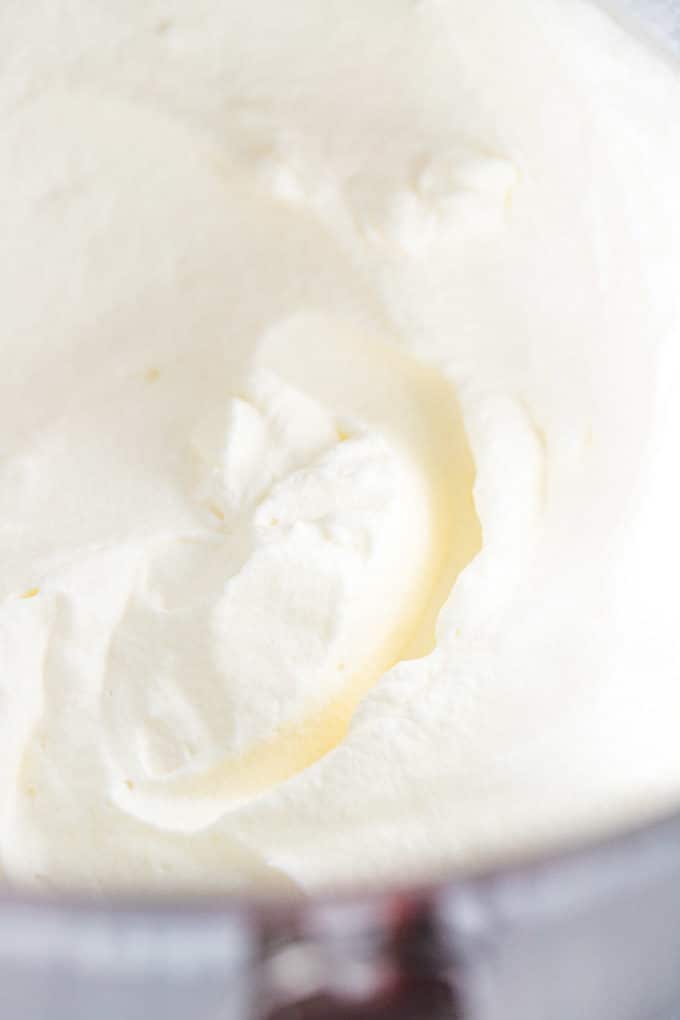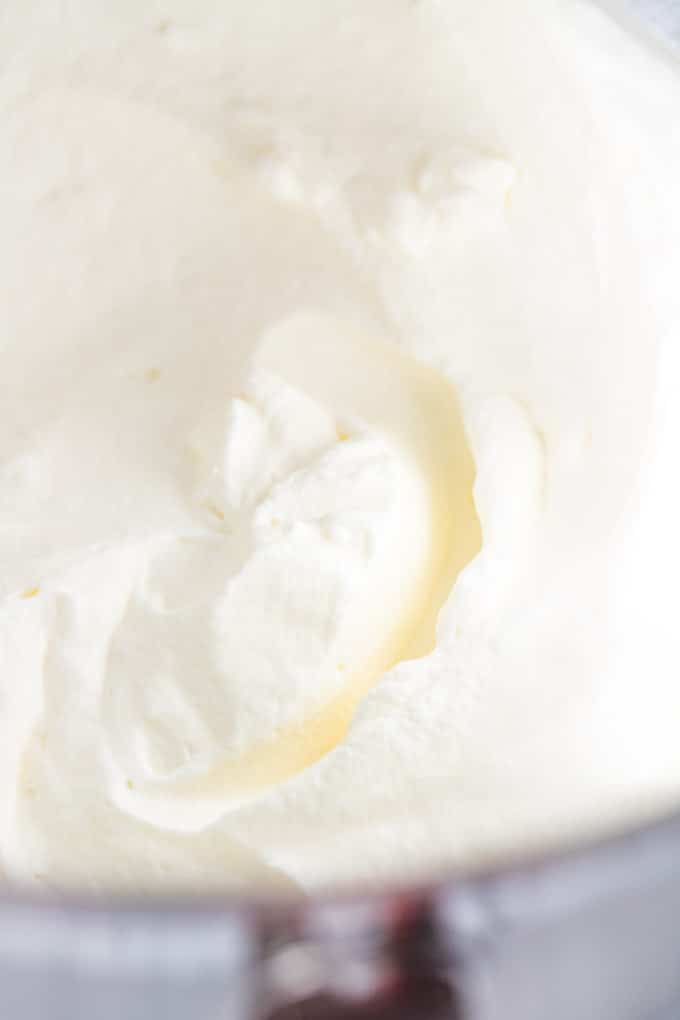 Can you over whip whipping cream?
Yes, you can! If you whip too long the cream will separate into buttermilk and lumps butter. First, it will get grainy and then it will get watery and lumps of butter will form.
How do you fix whipped cream?
If you do take it too far and your whipped cream is starting to get grainy, just add a few tablespoons of liquid heavy cream and fold it in gently with a hand whisk until it's the right consistency again.
But if the cream has already started to separate and you have little lumps of butter this technique will no longer work. If your cream has started to separate, there is no way to fix it but I recommend to just continue to mix until you have butter and buttermilk and start a new batch with fresh heavy cream.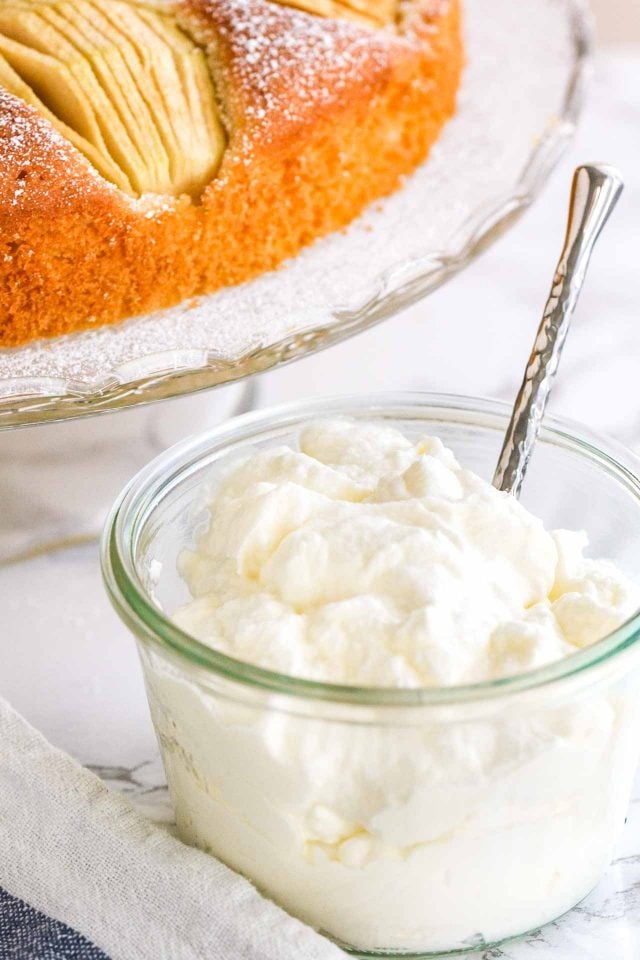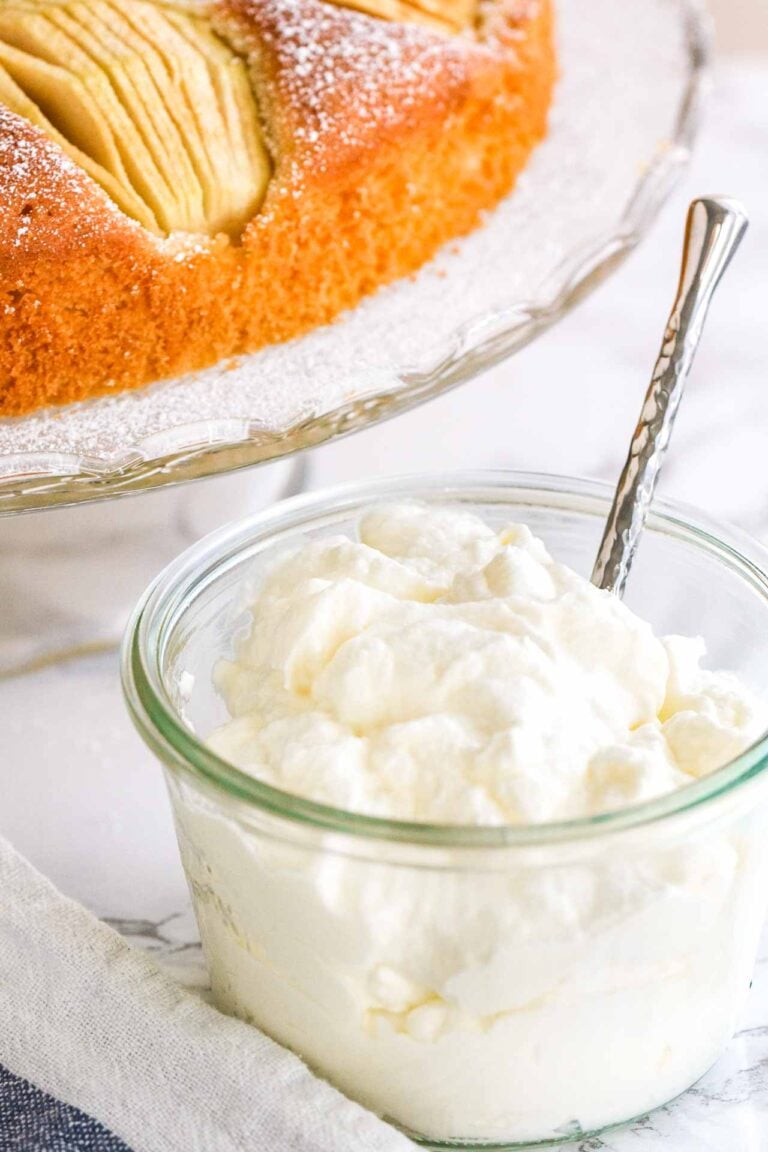 Recipes to serve with whipped cream
Whipped cream tastes heavenly with fresh fruit or waffles but it also makes a perfect side for almost any fruit cake or pie, pound cakes, and any other not-heavily frosted cake like: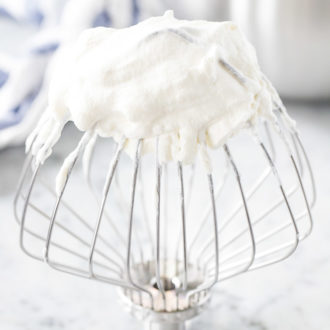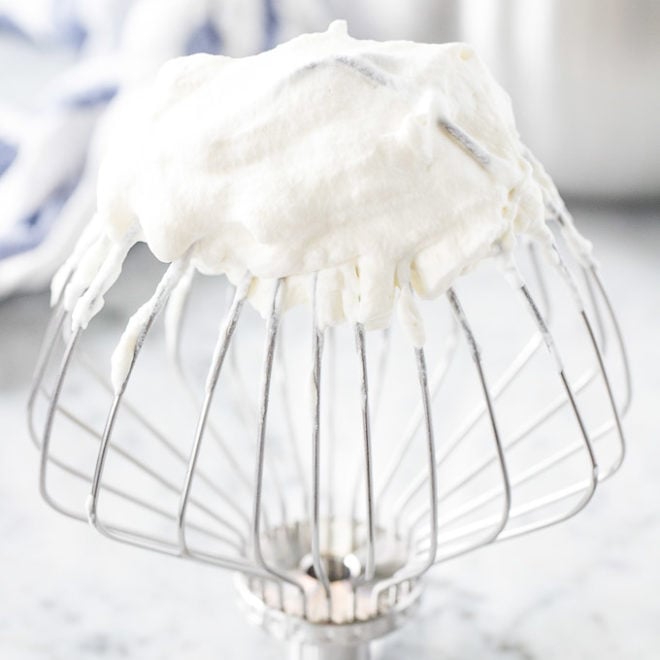 Whipped Cream
Homemade Whipped Cream is easier to make from scratch than you think and tastes so much better than store-bought!
Ingredients
1

cup

heavy cream

2

Tbsp

powdered sugar
Instructions
Place metal mixing bowl and whisk into the freezer for 10 minutes.

Add heavy cream to the bowl and start the mixer at low speed then increase speed to medium-high and beat until soft peaks form, about 1 minute.

Pause the mixer and add sugar and flavorings if using.

Start the mixer again and beat at medium-high speed for about 2-3 minutes until medium-stiff peaks form.
Nutrition Information
Calories:
221
kcal
|
Carbohydrates:
6
g
|
Protein:
1
g
|
Fat:
22
g
|
Saturated Fat:
14
g
|
Cholesterol:
82
mg
|
Sodium:
23
mg
|
Potassium:
45
mg
|
Sugar:
4
g
|
Vitamin A:
875
IU
|
Vitamin C:
1
mg
|
Calcium:
39
mg
NEVER MISS A RECIPE!
PINTEREST / FACEBOOK / INSTAGRAM / TWITTER
If you've tried this or any other of my recipes, don't forget to rate the recipe and to leave me a comment. I love hearing from you!