No Bake Strawberry Cheesecake – this fluffy mousse cake is made with fresh strawberries! A light and smooth cake that is perfect for special occasions. You can also serve it as a frozen cheesecake – great for hot summer days!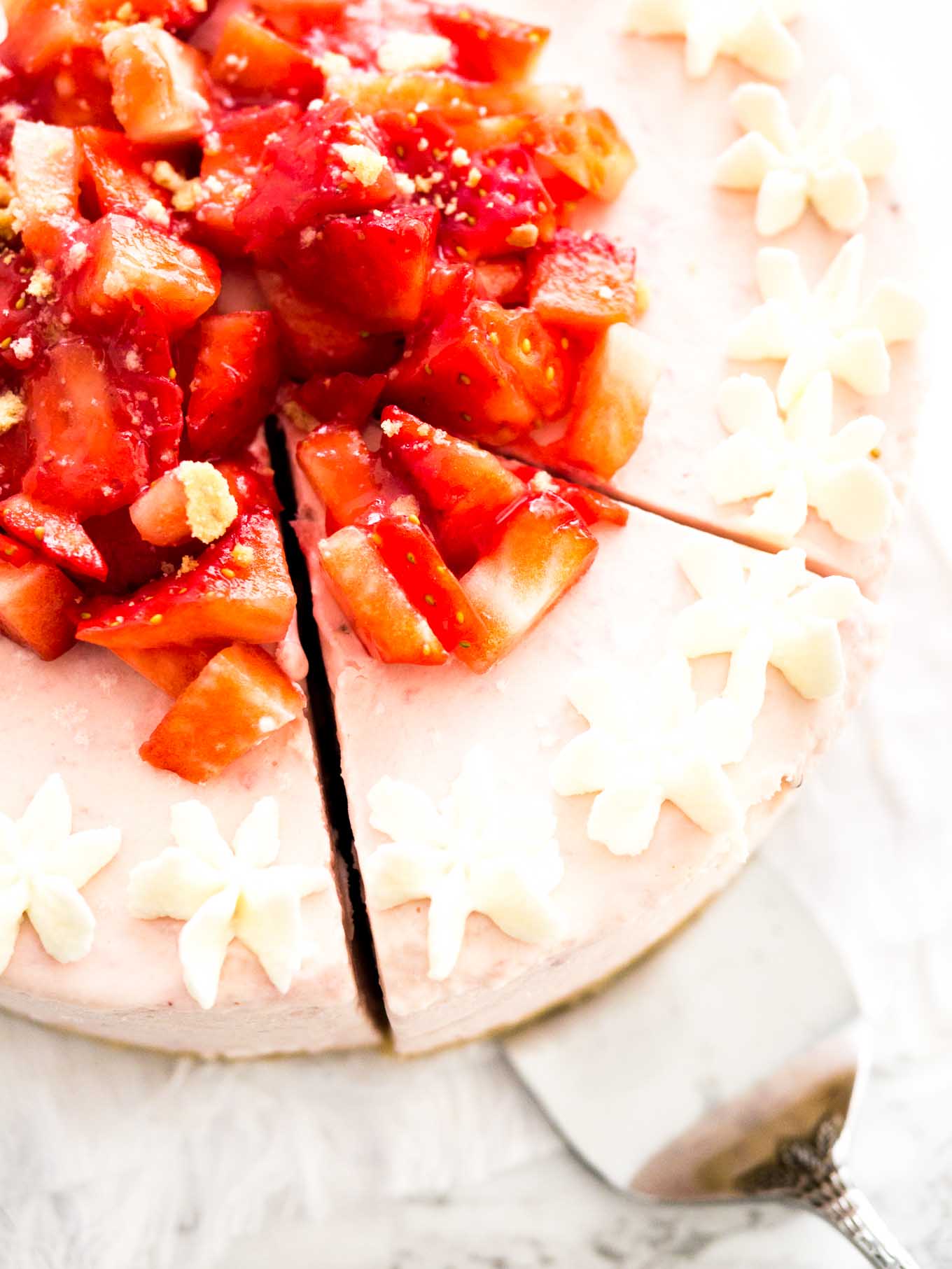 This No Bake Strawberry Cheesecake is lighter, softer and more mousse-like than a traditional, heavy cheesecake. A perfect no-bake dessert for summer parties, Mother's Day brunch or 4th of July.
There's no need for complicated water baths in the oven! Just make the no-bake crust, whip up the filling, and chill the cake overnight! This strawberry cake is much easier to make than a layered cake but looks as stunning and pretty.
It's so simple, you can make this beautiful cake in about 30 minutes and you only need a few ingredients. There's no gelatin or eggs in this cake but plenty of fresh strawberries and white chocolate! Two of my favorite things!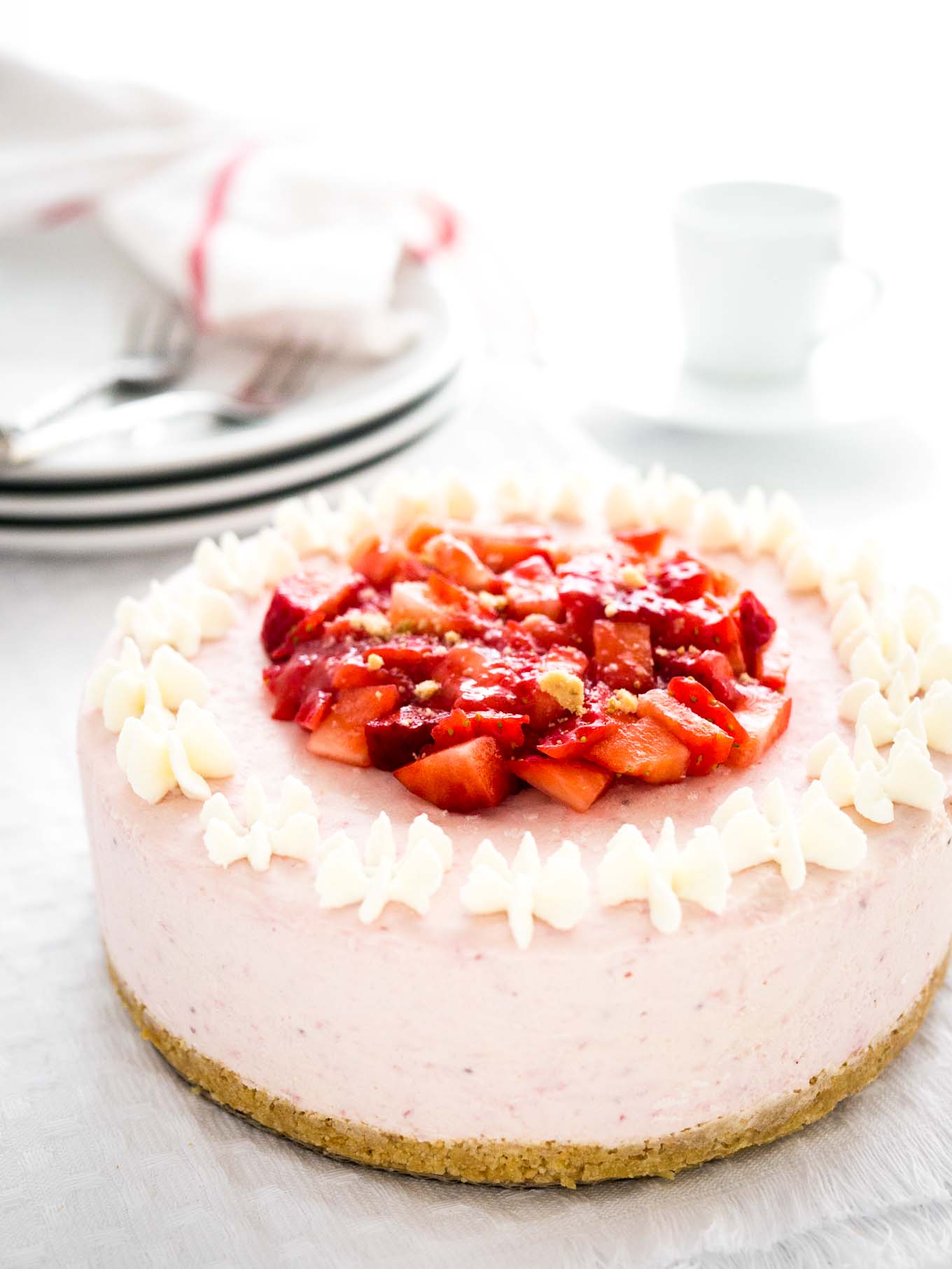 Because it doesn't contain gelatine this cake needs to chill overnight in the fridge to set and firm up. But you can also freeze it and serve it as a frozen cheesecake. That's what I do on hot summer days! It tastes like a strawberry ice cream cake. So delicious!
The texture of this cake is more mousse like than a traditional cheesecake and it will get soft when it's too hot. So don't let it sit in the sun too long or you'll end up with a strawberry milkshake instead of a cake.
Because the cheesecake needs to firm up over night it's a perfect cake to make in advance! You can freeze it in the springform pan covered with plastic wrap for a few days and thaw it in the fridge on the day you want to enjoy it.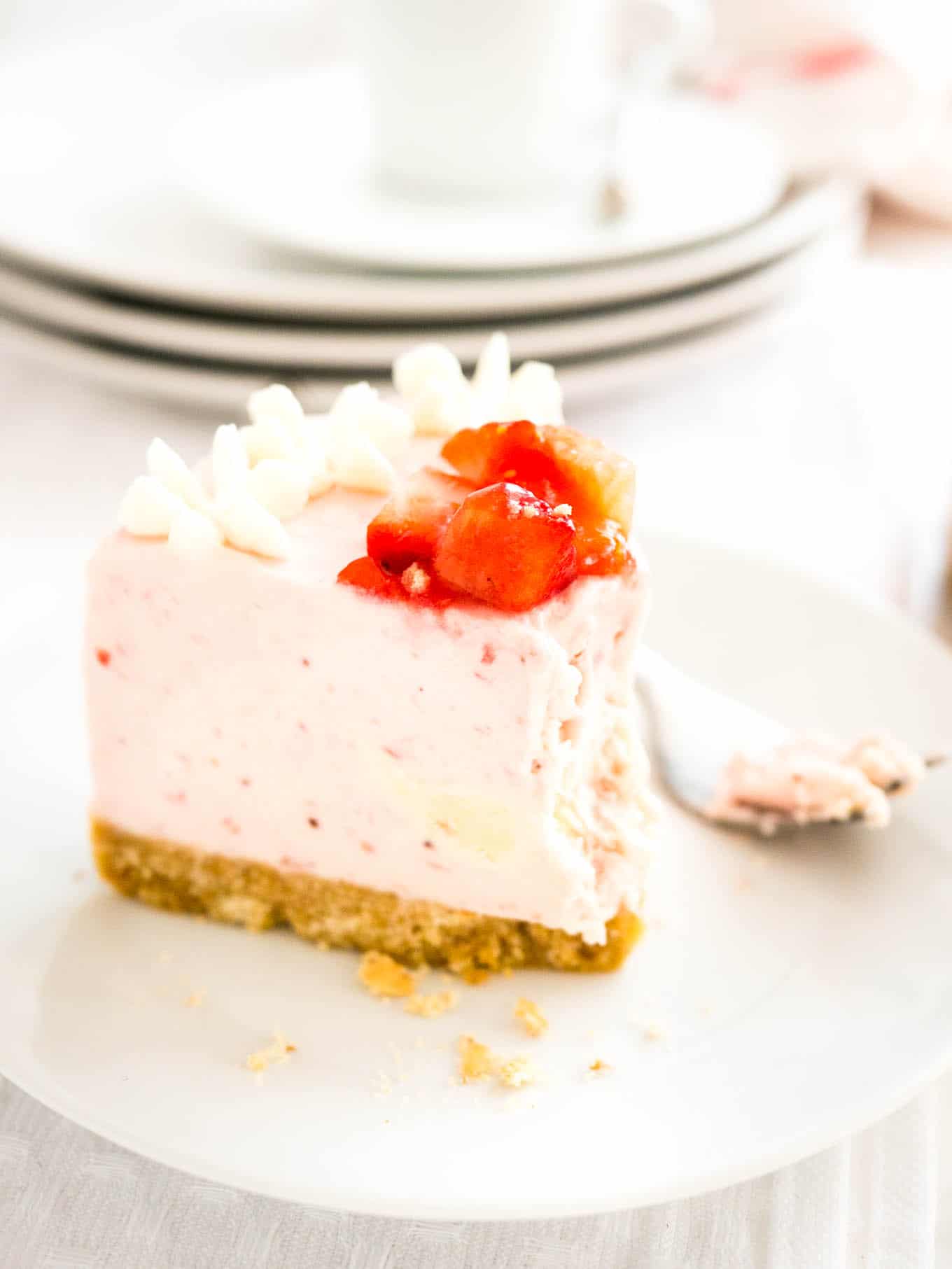 To make this cake start with making the crust. You can use any plain biscuit, like graham crackers or digestive biscuits. I put the crackers in a zip lock bag and crush them with a rolling pin, a perfect way to reduce stress :-D  but you can also use a food processor to make it easier.
While the crust is chilling in the fridge make the strawberry mousse filling. Using a stand mixer is best because you need to beat the mixture for a few minutes to get a smooth and thick filling. Then just pour the mixture on top of the crust and chill the cake overnight.
Decorate the cake with fresh strawberries and whipped cream just before serving and ENJOY!
And if you have leftover strawberries you have to try my Strawberry Tiramisu or this slightly more difficult Naked Strawberry Layer Cake!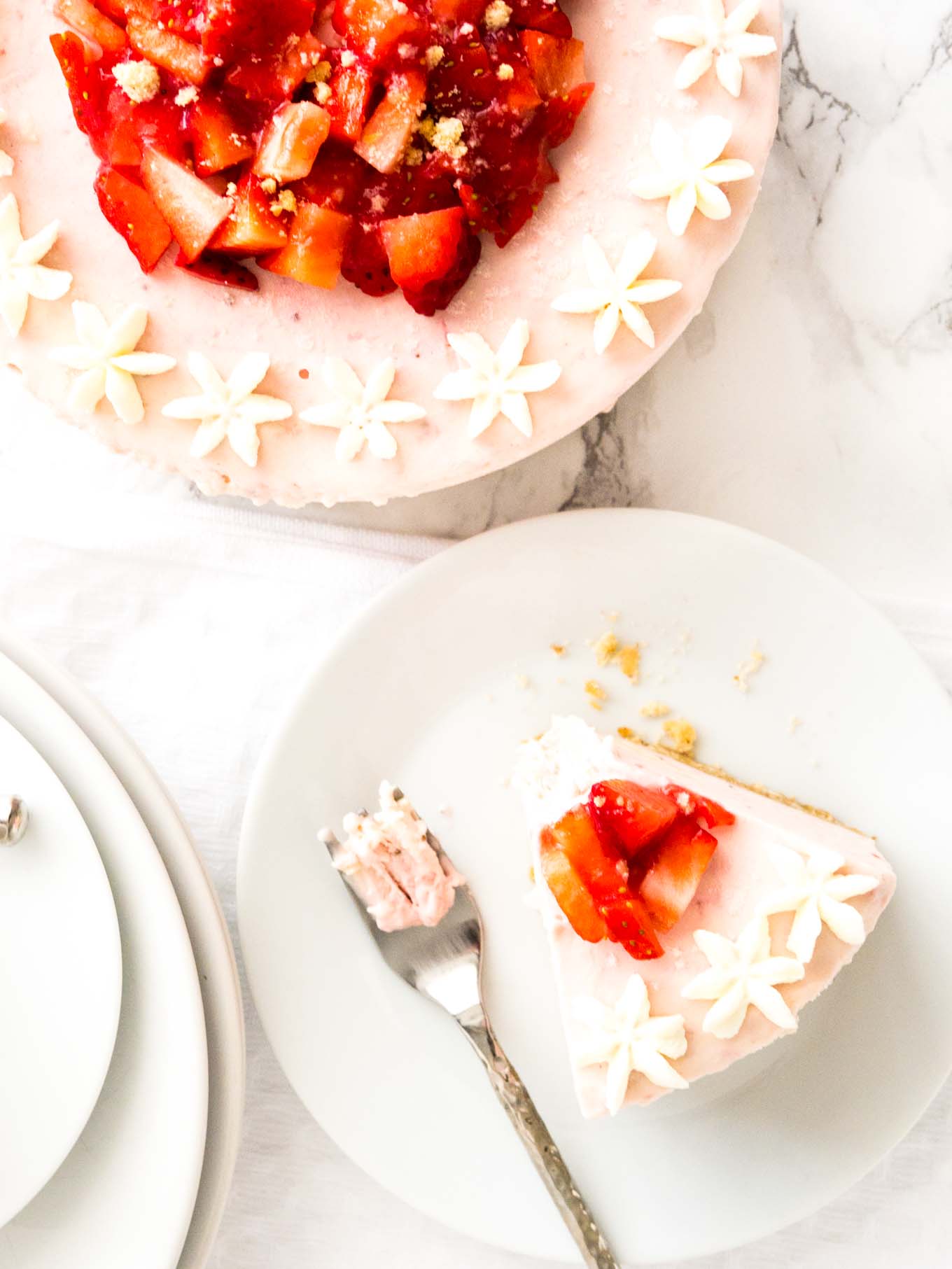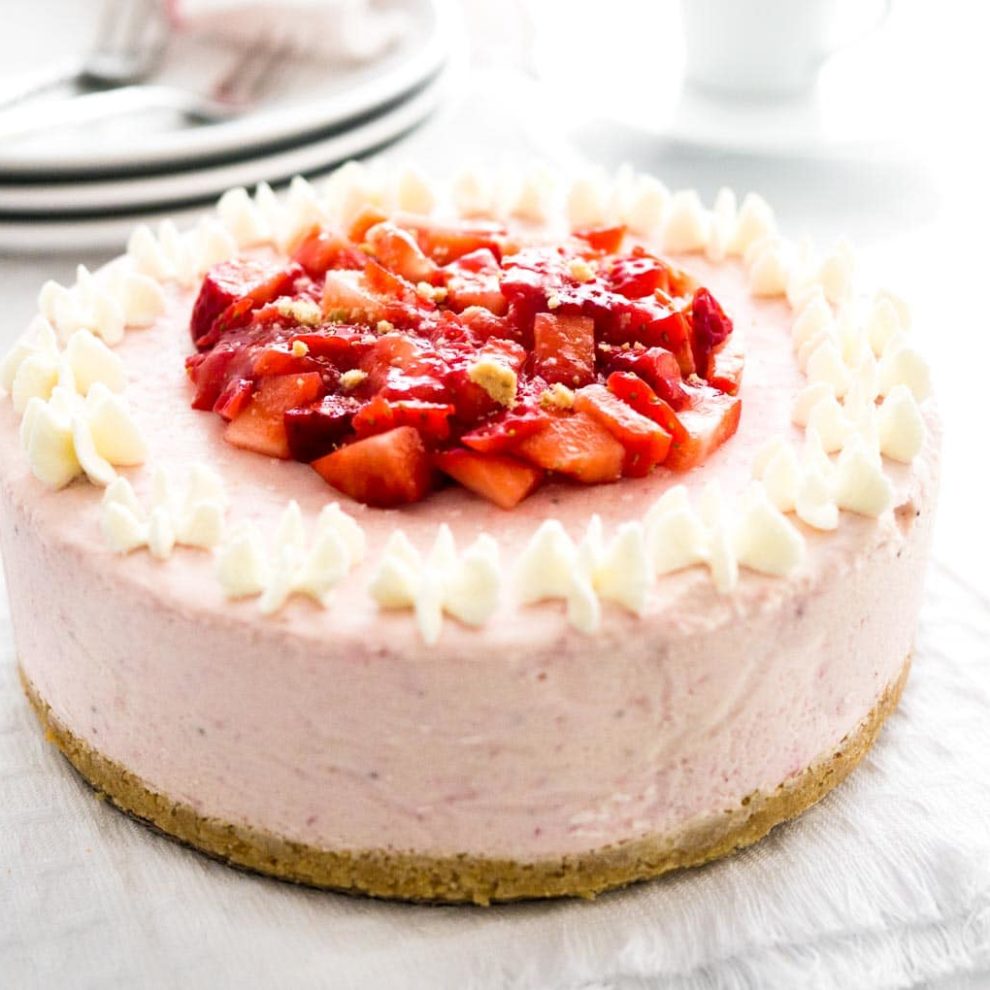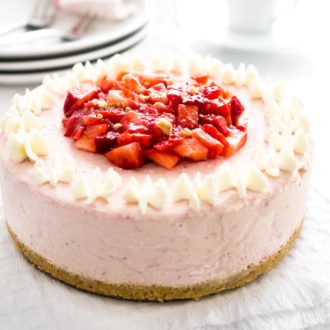 No Bake Strawberry Cheesecake
No Bake Strawberry Cheesecake - this fluffy mousse cake is made with fresh strawberries! A perfect cake for special occasions.
Ingredients
1

cup

graham cracker crumbs

,

about 7 full-sheet graham crackers (100g)

1/4

cup

unsalted butter

,

melted (60g)

10

ounces

white chocolate

,

chopped (280g)

2

cups

fresh strawberries

,

sliced (300g)

8

ounces

full-fat block cream cheese

,

224g

1/2

cup

heavy cream

,

120ml

6

strawberries for decoration
Instructions
Line an 8-inch (20cm) springform pan with parchment paper. Blend the sliced strawberries in a food processor or blender until smooth. You'll need about a cup of strawberry puree.

In a small bowl, add the melted butter and graham cracker crumbs. Mix until combined.

Pour the mixture into the springform pan and press it into the bottom of the pan. Use the bottom of a flat measuring cup to make sure it's tight and compact. Chill the crust for 30 minutes.

Melt the white chocolate in the microwave or use a double broiler. Set aside and let cool slightly.

In the bowl of a stand mixer fitted with the paddle attachment, combine 1 cup strawberry puree, cream cheese, and heavy cream at medium-high speed until smooth and thick about 3-5 minutes.

Stir in the melted white chocolate.

Pour the mixture on top of the graham cracker crust and smooth the top. Place in the fridge and chill overnight or freeze completely and serve as an ice cream cake!

Just before serving, decorate with whipped cream and strawberries.
Notes
The texture of this cheesecake is softer, lighter and more mousse-like than a traditional cheesecake, 

so make sure it's well set in the fridge before cutting. You can also freeze it over night and defrost in the fridge until you're ready to serve it.

If the cake hasn't set enough in the fridge transfer it to the freezer and let it set there for 1-2 more hours.

If you can't get block cream cheese you need to drain the cream cheese to get rid of the excess water. Put it in a sieve lined with a cheesecloth. If your cream cheese is still too smooth and spreadable you can use a little bit of gelatine to make sure it will set properly.
Don't use light cream cheese for this recipe, the cake won't set!

For hot days I recommend to freeze the cheesecake and serve it straight from the freezer as a frozen cheesecake.
Recipe adapted from BBC Good Food magazine, June 2011
Nutrition Information