Strawberry Rhubarb Crisp is the perfect summer dessert! Easier to make than pie and prepped in just minutes. A delicious dessert made with juicy fruit and topped with a crunchy oatmeal streusel that is perfect for BBQ parties and get-togethers!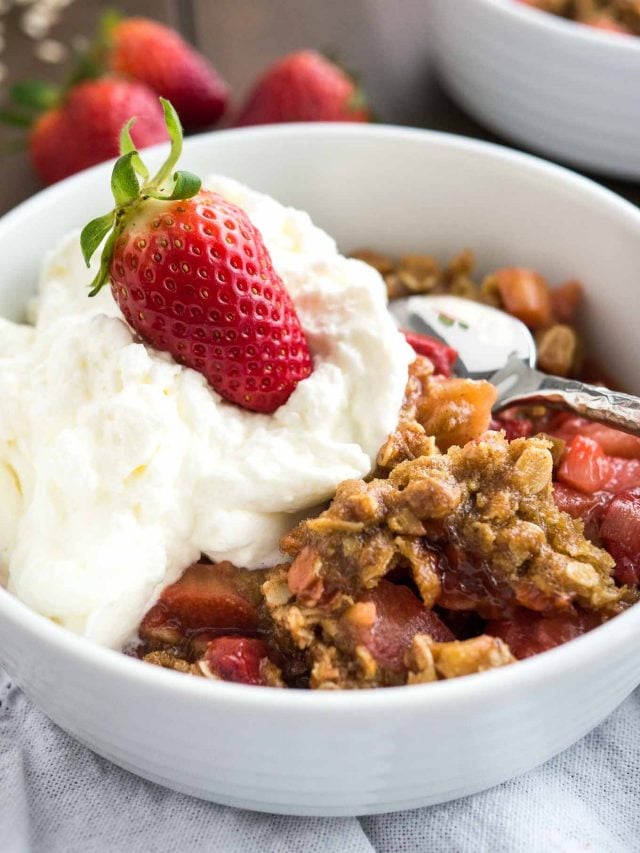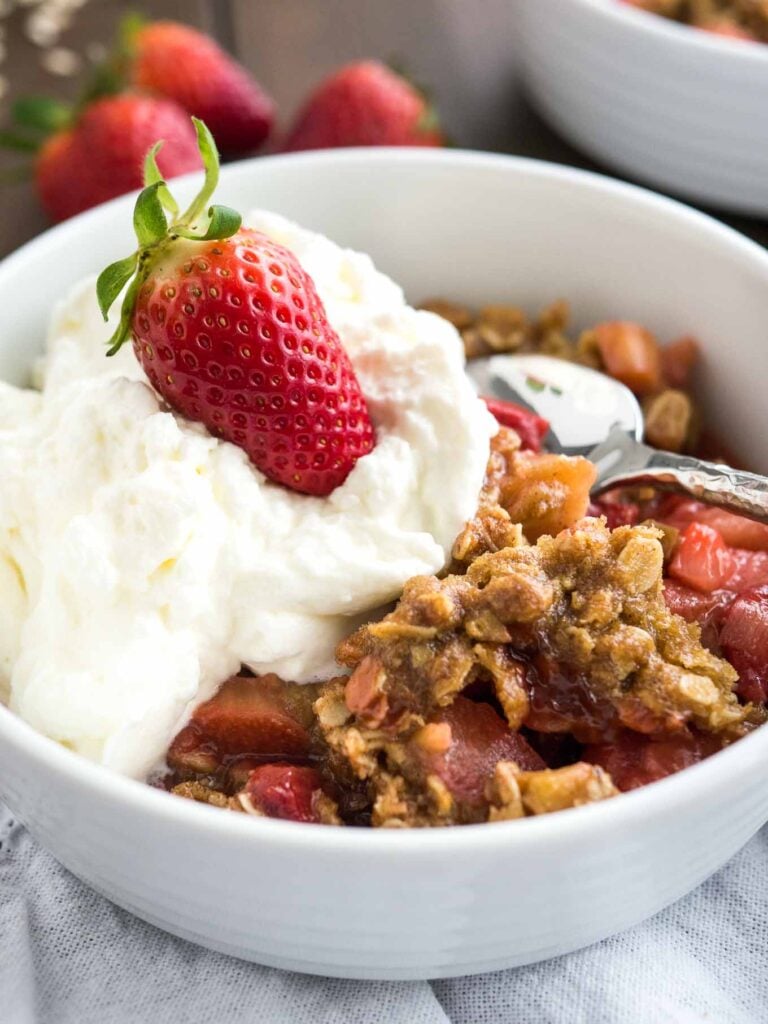 Easy Strawberry Rhubarb Crisp topped with a scoop of ice cream is the perfect ending for every summer meal. This easy dessert will be a hit at your next BBQ, summer party, or get-together with friends and neighbors!
My family loves everything streusel topped! Our summer favorites are my perfect Apple Crumble Pie, the most delicious Peach Crisp, and a family favorite – my Raspberry Lemon Cake with Streusel Topping which makes a great breakfast.
Today I want to share one of my favorite EASY summer desserts with you. This rhubarb strawberry crisp tastes so good and is super easy to make from scratch! Rhubarb might not be everyone's favorite but I promise even people who don't like rhubarb will love this crisp recipe!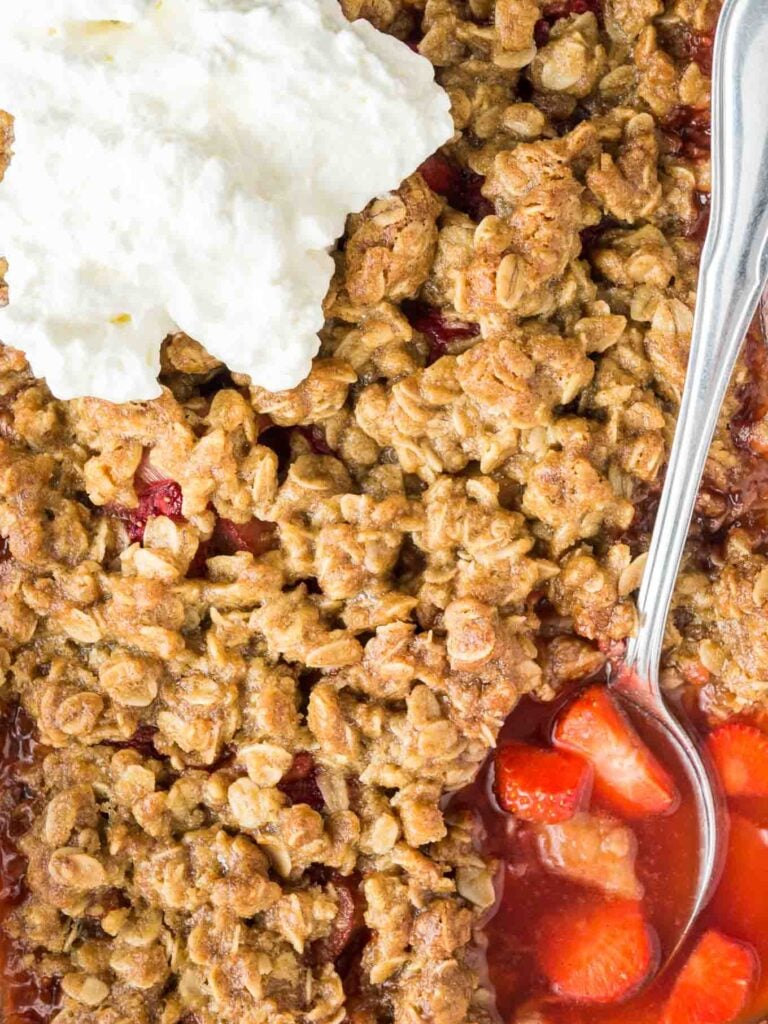 What is Rhubarb?
Is rhubarb a fruit or vegetable?
Did you know that rhubarb is technically a vegetable? But cooked down with a bit of sugar it becomes sweet with only a little bit of tartness left.
what does rhubarb taste like
Rhubarb on its own can taste a bit tart that's why I love to combine it with a sweet component like berries. This Strawberry Rhubarb Crisp is definitely one of the easiest and best desserts you can make with rhubarb! It's perfect for a warm spring or summer night served warm with a scoop of ice cream.
And the leftovers make a great breakfast! Dessert for breakfast? Yes, please! Just take a look at the crunchy streusel on top! Doesn't that look AMAZING! This Strawberry Rhubarb Crisp is sure to be your favorite summer dessert.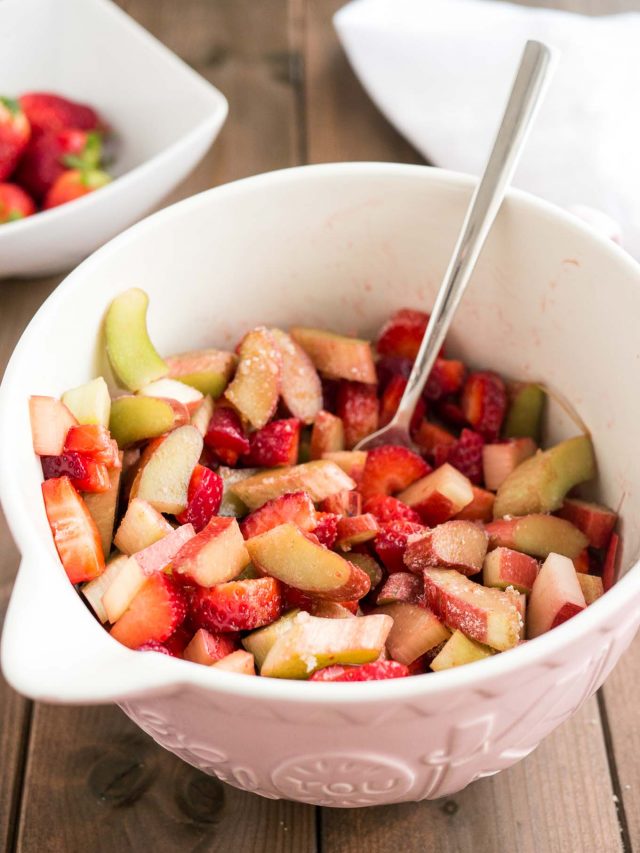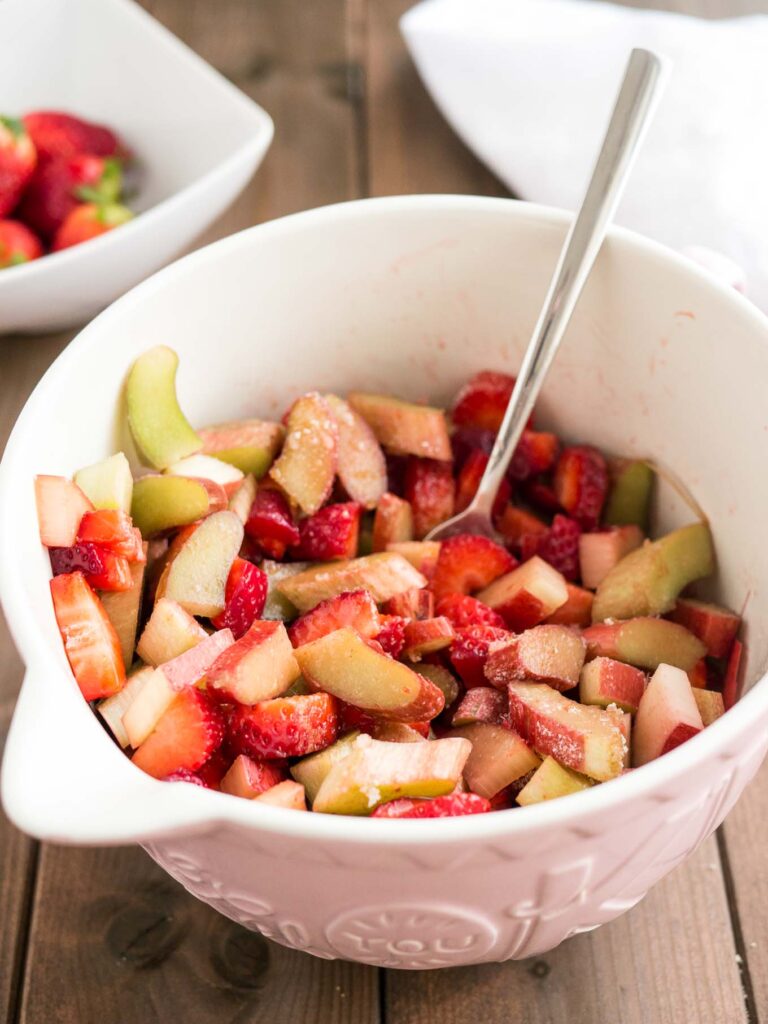 How to make Strawberry Rhubarb Crisp
You can make this crisp in your favorite baking pan, a pie dish, an oven-proof skillet or even in little ramekins to make individual crisps. Lightly grease your baking dish and add the fruit mixture.
The rhubarb and strawberry slices are combined with sugar, cornstarch to soak up some of the juices, and vanilla. Vanilla goes perfectly with the sweet strawberries and the tart rhubarb.
In another bowl make the streusel topping. This topping is made with old fashioned oats for a bit of extra crunch, brown sugar, butter and a bit of cinnamon. Because I use softened butter instead of cold butter for the streusel the mixture won't be dry and crumbly it will resemble cookie dough after you combined all the ingredients.
This makes a deliciously thick and crunchy topping that will stay crisp after baking, even after a few hours in the fridge!
Below is a picture of how the Strawberry Rhubarb crumble looks before it goes into the oven for 45 minutes: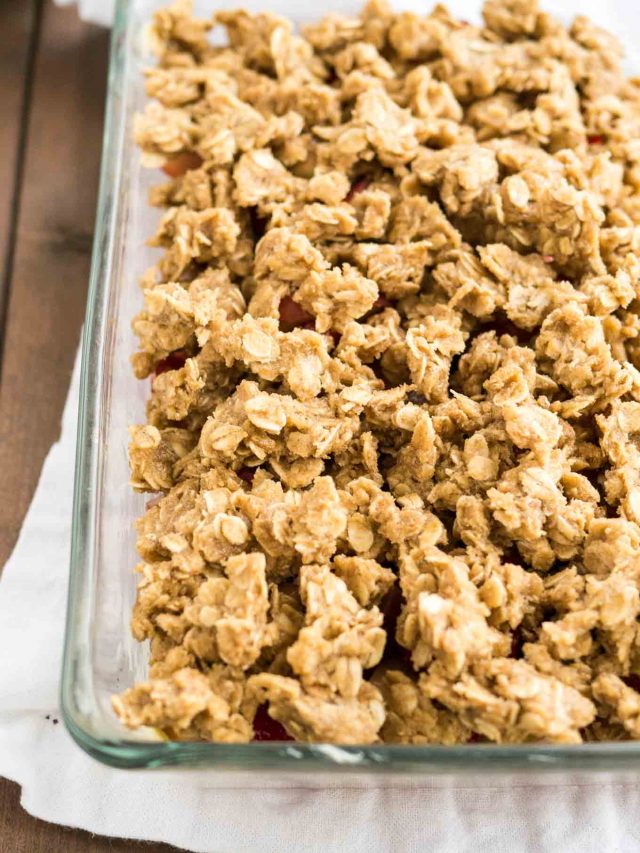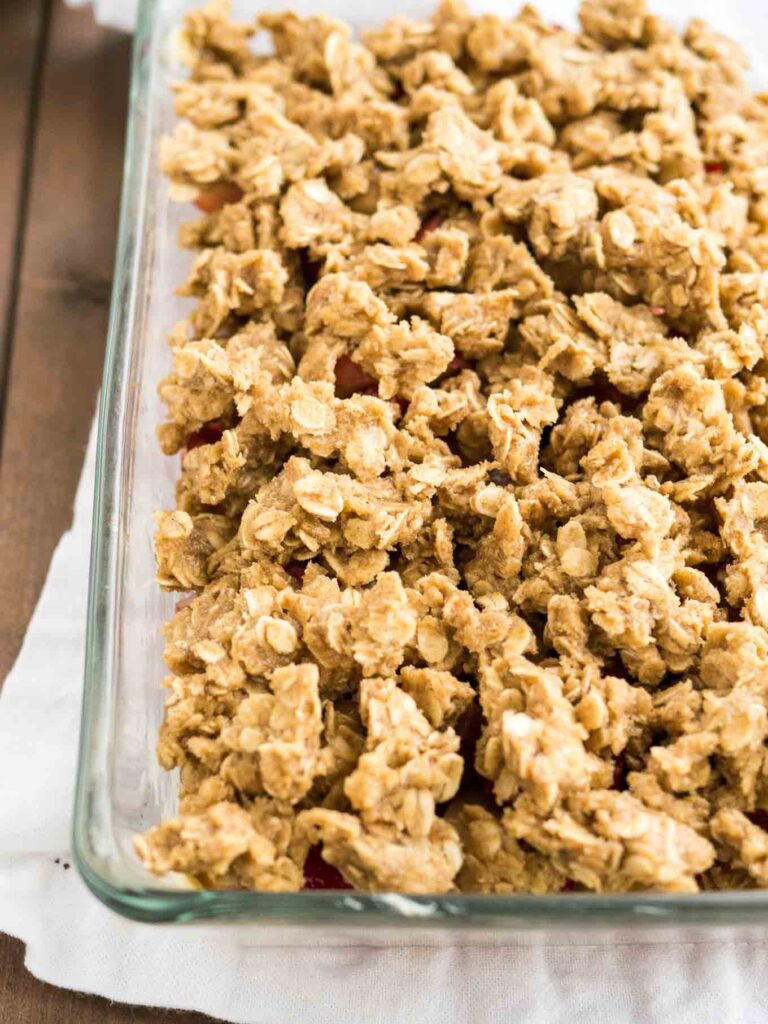 Tips for making Strawberry Rhubarb Crisp:
Don't skip the old-fashioned oats! They make the topping crispy and give you a nice crunch.
Whipped cream or vanilla ice cream would pair perfectly with this crisp. The warm juicy fruit, crunchy streusel, and cold ice cream are the perfect combo. So EASY and DELICIOUS!
I wouldn't advise increasing the amount of strawberries in this recipe even if it is tempting. Strawberries release a lot of juice so your crisp might get a bit more liquidy.
Depending on how juicy the strawberries are and how deep your dish is, the filling might be more liquidy.
If you use a shallow baking dish place it on top of a foil-lined baking sheet to catch any spills. This makes cleaning up easier!
You can use frozen strawberries (or a mixture of berries) for this recipe. No need to defrost them.
Can you freeze rhubarb crisp?
I would not recommend freezing the baked strawberry rhubarb crisp because the topping will get soggy during thawing.
Does strawberry rhubarb crisp need to be refrigerated?
This rhubarb crisp can sit out at room temperature for up to two days. But I prefer to store it in the fridge.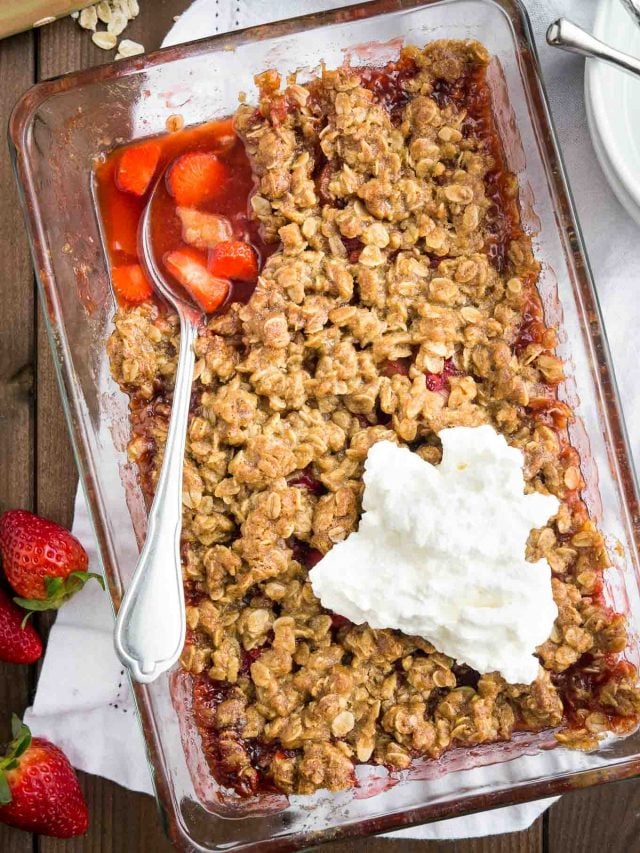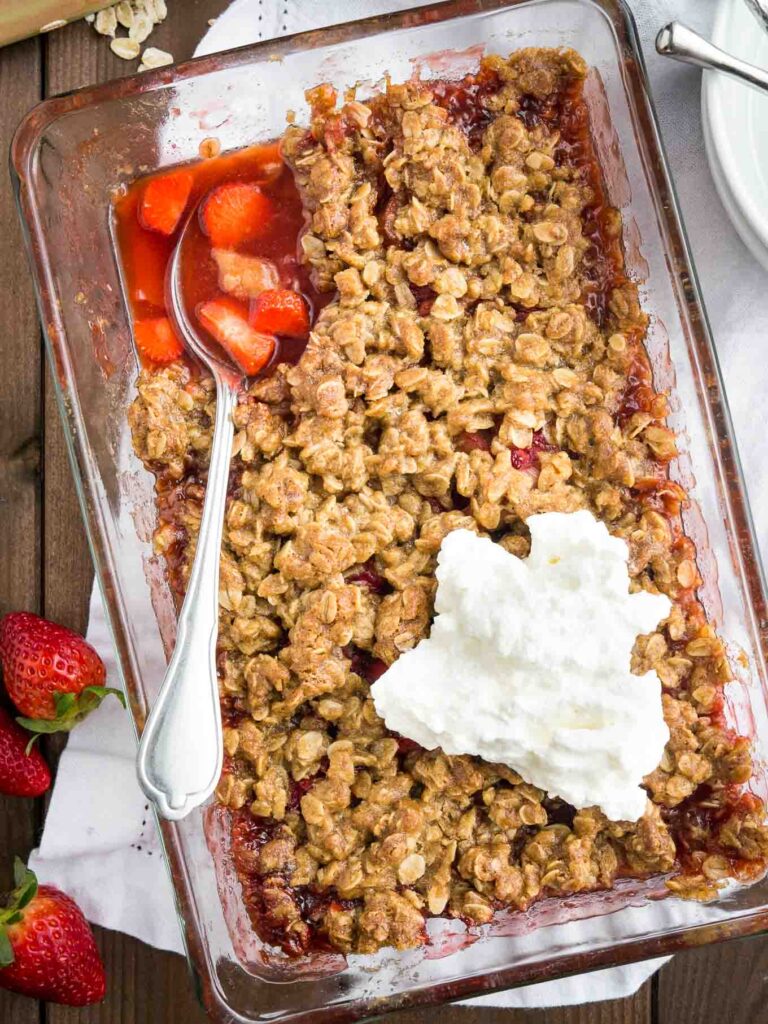 Tools Used in the Making of this easy Strawberry Rhubarb Crisp:
Vanilla Extract: This is my favorite vanilla extract. I also love their vanilla sugar for recipes where I don't want to add more liquid.
Oven-Proof Skillet: I'm all about this cast iron skillet. It has the perfect size to use it as a baking dish for crisps, skillet cookies, or vegetable side dishes and it also looks great as a serving dish.
Strawberry Huller: This little tool makes hulling strawberries super easy and it's safe for kids. It works best on medium and larger strawberries.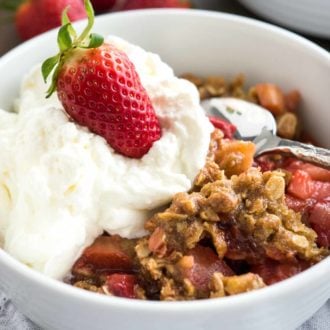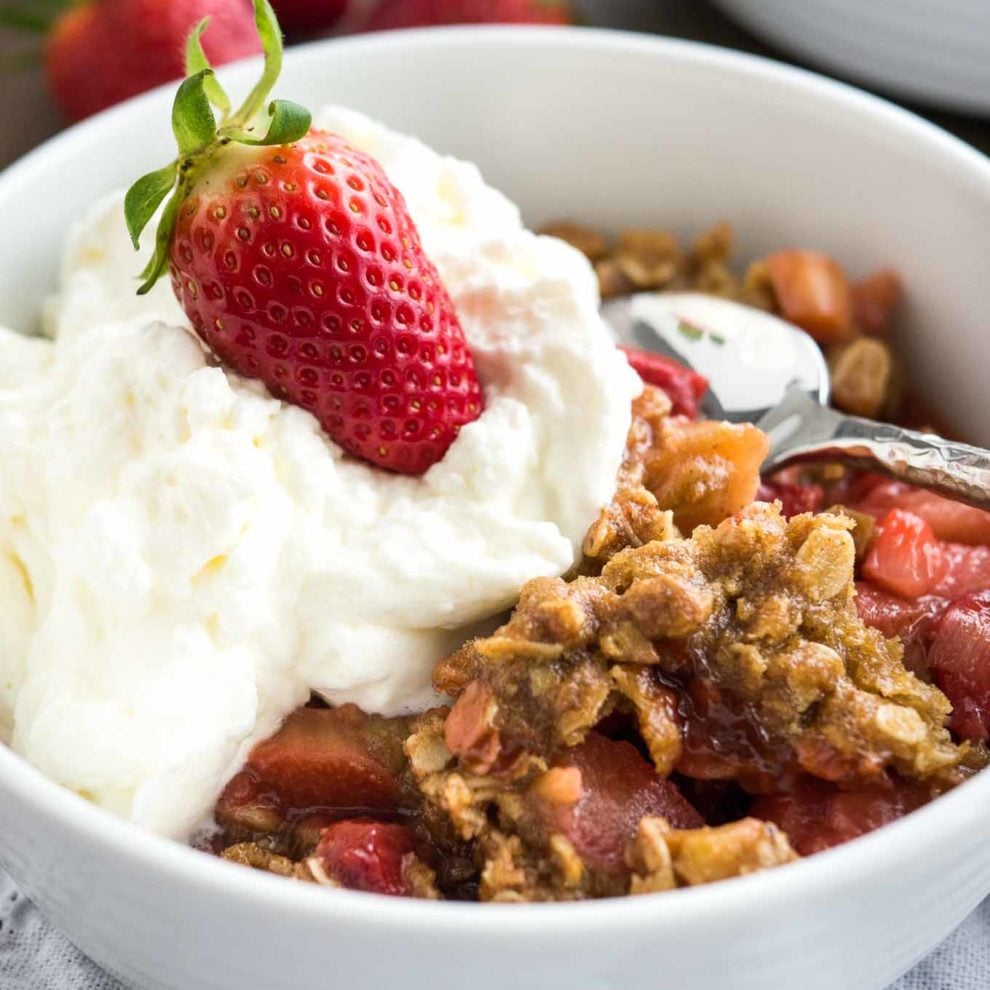 Easy Strawberry Rhubarb Crisp
This easy Strawberry Rhubarb Crisp is the perfect summer dessert! Easier to make than pie and prepped in just minutes.
Ingredients
For the Filling:
¼

cup

cornstarch

½

cup

granulated sugar

,

or less

2

tbsp

brown sugar

3

cups

sliced fresh rhubarb

,

sliced ½ inch thick (2-3 stalks)

1

lbs

strawberries

,

hulled and quartered

2

tsp

vanilla extract
For the Topping:
1

cup

old-fashioned oats

½

cup

brown sugar

,

packed

½

cup

unsalted butter

,

softened

⅓

cup

all-purpose flour

1

tsp

ground cinnamon

¼

tsp

salt
Instructions
Preheat the oven to 350°F (180°C) and grease a 9-inch square or similar sized baking dish.

In a large bowl, combine cornstarch and sugars. Add rhubarb slices, strawberry slices, and vanilla extract. Toss to coat.

Transfer the mixture to the baking dish.

In a medium bowl, combine the old-fashioned oats, brown sugar, butter, flour, cinnamon, and salt.

Mix the ingredients together until large cookie dough like crumbs form. Drop small pieces of the topping evenly over the filling until you used all of the topping.

Bake at 350°F for about 45-60 minutes, until the fruit filling is cooked and bubbling and the topping is nicely browned. Let the crisp rest for about 10 minutes before serving. Serve warm with ice cream or whipped cream if desired.
Nutrition Information
Calories:
419
kcal
|
Carbohydrates:
66
g
|
Protein:
4
g
|
Fat:
17
g
|
Saturated Fat:
10
g
|
Cholesterol:
41
mg
|
Sodium:
110
mg
|
Potassium:
372
mg
|
Fiber:
4
g
|
Sugar:
43
g
|
Vitamin A:
545
IU
|
Vitamin C:
49.3
mg
|
Calcium:
99
mg
|
Iron:
1.5
mg