Gorgonzola Potatoes au Gratin Recipe is the only potato bake recipe you'll ever need! This easy, creamy Gratin au Dauphinoise recipe is full of cheese and makes a great comfort food – perfect for a crowd. 
Sometimes you just need something cheesy, creamy, and baked in the oven. This potato gratin is exactly that. For me, it's one of those ultimate comfort food dishes that make everything better. A great side dish that is a bit more indulgent than something simple like Spaetzle or mashed potatoes but is still easy and foolproof to make.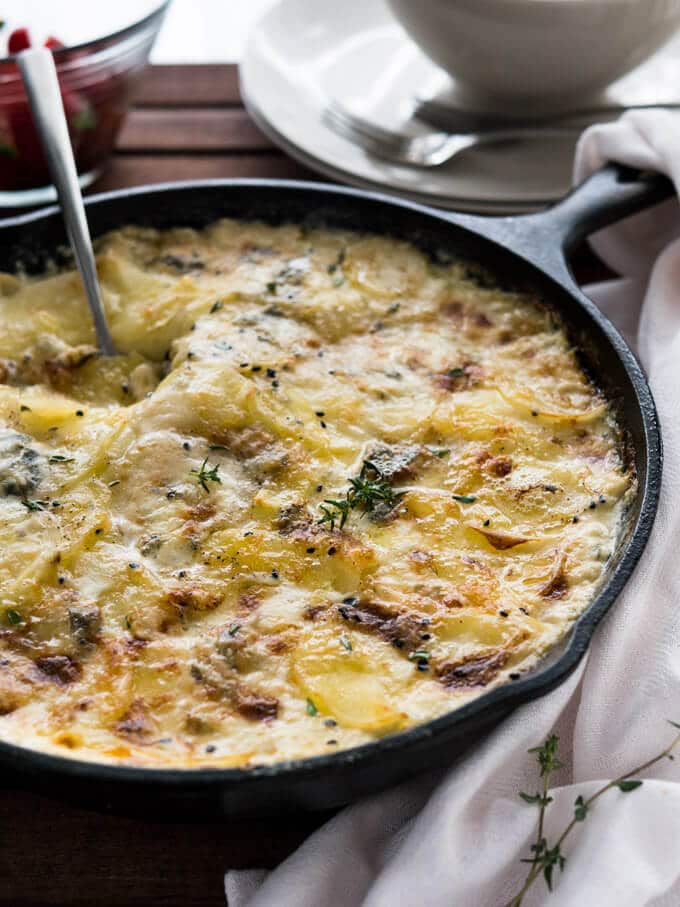 Potatoes au gratin is also one of those dishes that are great to prepare in advance and feed a crowd – great for the holidays when you have lots of people to feed. This potato gratin would taste delicious with any kind of meat like a juicy steak, a roast, or chicken but also with salmon.
You can easily double the ingredients but make sure to use a wider baking dish and don't layer the potatoes higher. You want to have as much surface area as possible because, in my opinion, that's the best part. Don't you love that cheesy crust on top?
For this gratin, you need starchy potatoes e.g. Russet potatoes. Slicing the potatoes really thin (about ⅛″) is the hardest part for me. Our mandoline slicer is not my best friend.
Everytime I use it I hurt myself because either I'm too lazy to search for the food holder which should prevent slicing off your fingers instead of the potatoes or I use it and it happens anyhow. So be careful!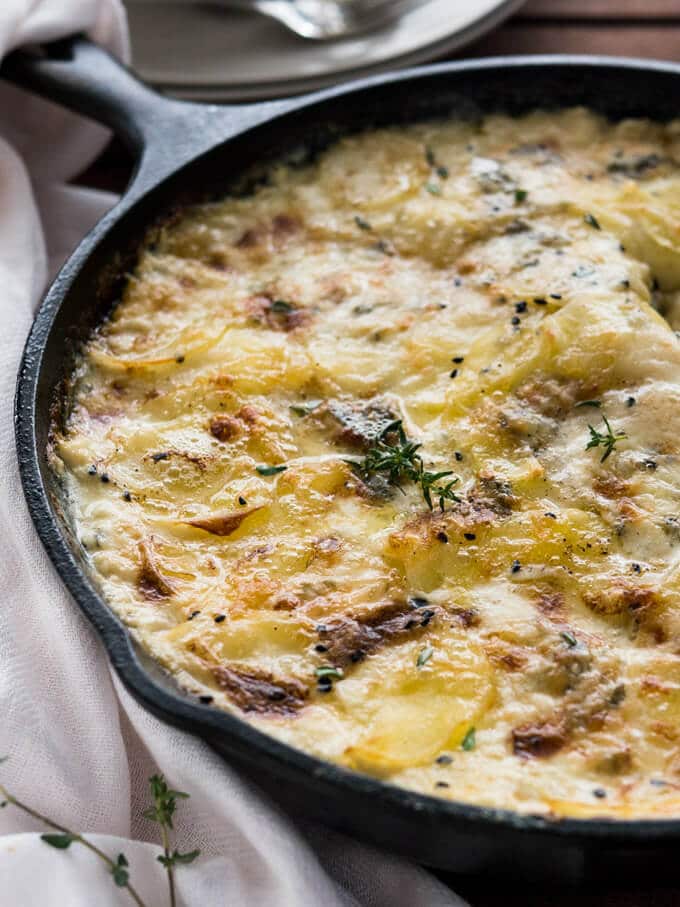 When the potatoes are sliced the hardest part is done and it's time to layer all those tasty ingredients into your baking dish like you would layer a lasagna. I like to use my Lodge skillet for Potatoes Au Gratin because it is perfect to serve the gratin in it and it looks pretty.
Each layer consists of potatoes, cream mixture, gorgonzola cheese, grated parmesan cheese, black cumin seeds, thyme, and a little bit of salt and pepper. Making layers instead of dumping everything in the baking dish at once makes this gratin more creamy and cheesy.
For the first 50 minutes cover your baking dish with aluminum foil and bake it for 10 more minutes after you removed it. We've made this dish many times and the baking time varies a bit depending on the kind of potatoes you use (and also on your personal taste how you like your potatoes and your oven).
To be on the safe side I recommend making a taste test after 1 hour and bake it for a few more minutes when it's not quite done yet. But the potatoes should still have a bit of a bite to them and not be mushy!
And if you have leftover gorgonzola try these Pear & Gorgonzola Mini Tartlets!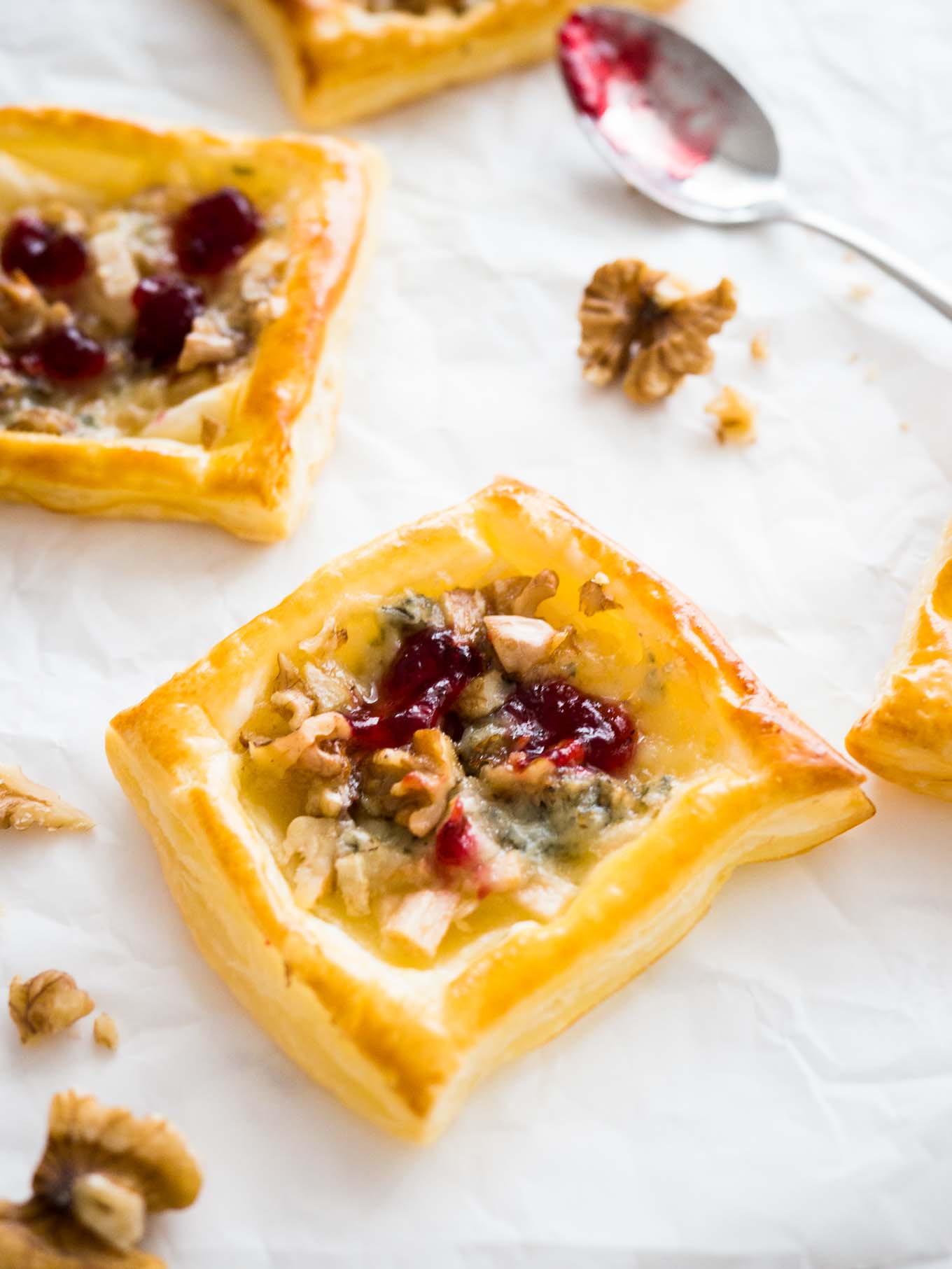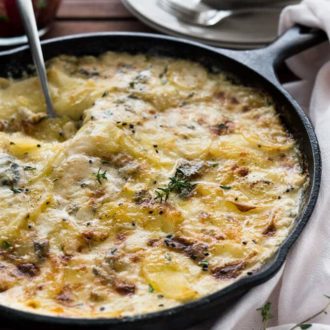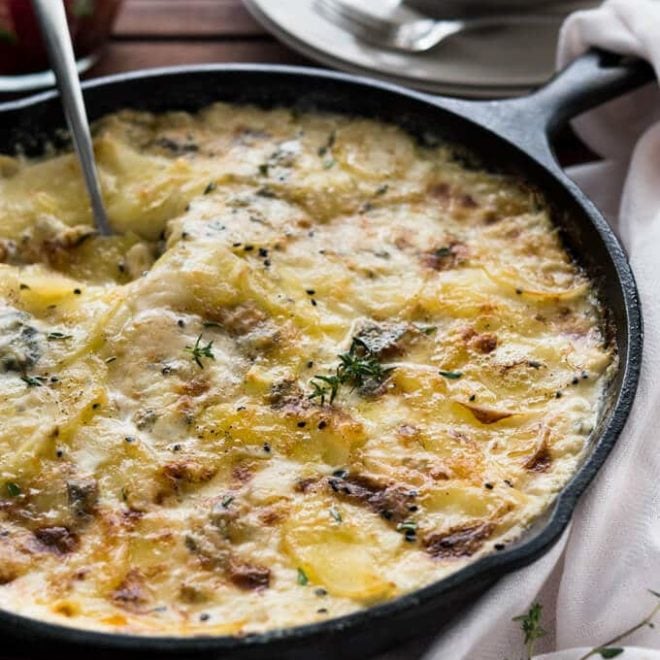 Gorgonzola Potatoes au Gratin Recipe
Gorgonzola Potatoes au Gratin Recipe is the only potato bake recipe you'll ever need! This easy, creamy Gratin au Dauphinoise recipe is full of cheese and makes a great comfort food which is perfect to feed a crowd.
Ingredients
1

clove

garlic

4

tablespoons

butter

1

cup

heavy cream

½

cup

milk

2

lb

starchy potatoes

,

e.g. Russet potatoes (1kg)

¾

cup

parmesan

,

grated

¾

cup

gorgonzola cheese

,

cut into cubes

2

tsp

black cumin seeds

1

tsp

salt

¼

tsp

pepper

2

tsp

thyme leaves
Instructions
Preheat your oven to 350°F (180°C). Cut the garlic clove in half and rub a round skillet (9" / 23cm) or medium baking dish (about 8") with it. Then grease your dish with 1 tbsp of butter.

Peel the potatoes and cut them into ⅛" (3mm) thick slices.

Mix cream and milk together.

Layer ⅓ of the potatoes in the dish, then pour ⅓ of the cream mixture on top. Sprinkle ⅓ of the parmesan cheese, gorgonzola cheese, black cumin seed, salt, pepper, butter, and thyme leaves on top.

Repeat for the 2nd and 3rd layer with the rest of the ingredients.

Cover the pan with aluminum foil, and bake for 1 hour. Remove the foil after 50 minutes to get the top golden. After taking the dish out of the oven let it rest for 10 minutes before serving.
Nutrition Information
This recipe is adapted from Julia Child's book, The Way To Cook.