German Stollen is loaded with rum raisins, candied fruit, and nuts. This traditional German Christmas recipe is a very special treat that has a long history and is very popular during the Holidays. It needs a bit of time to develop its flavor but is totally worth the effort and tastes great with a cup of coffee! 
We love to bake Christmas treats with the whole family during the Holiday season, especially German Christmas cookies and cakes, like Vanillekipferl (German Vanilla Crescent Cookies), German Lebkuchen, or Nut Corners (German Nussecken).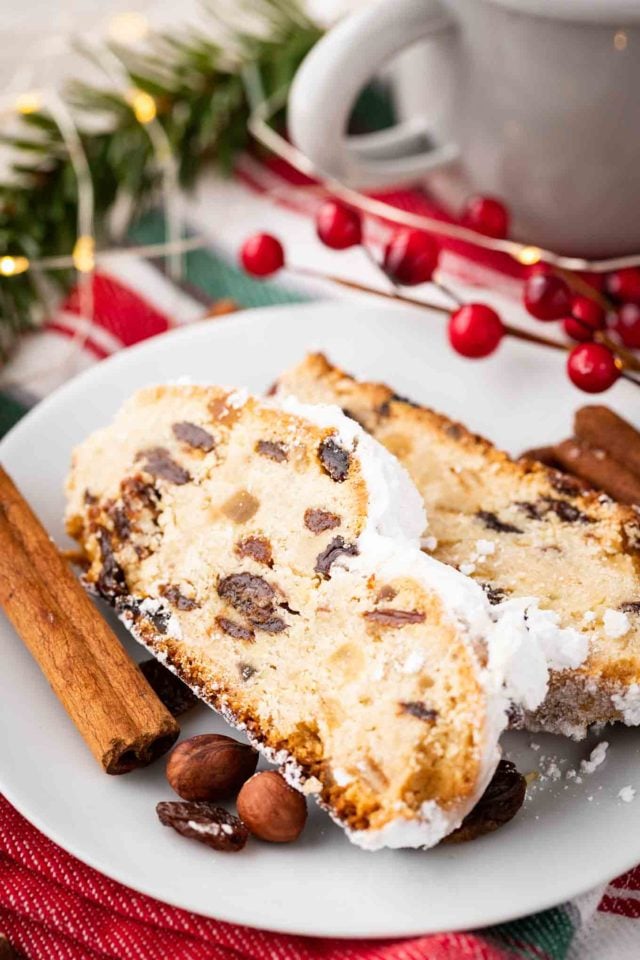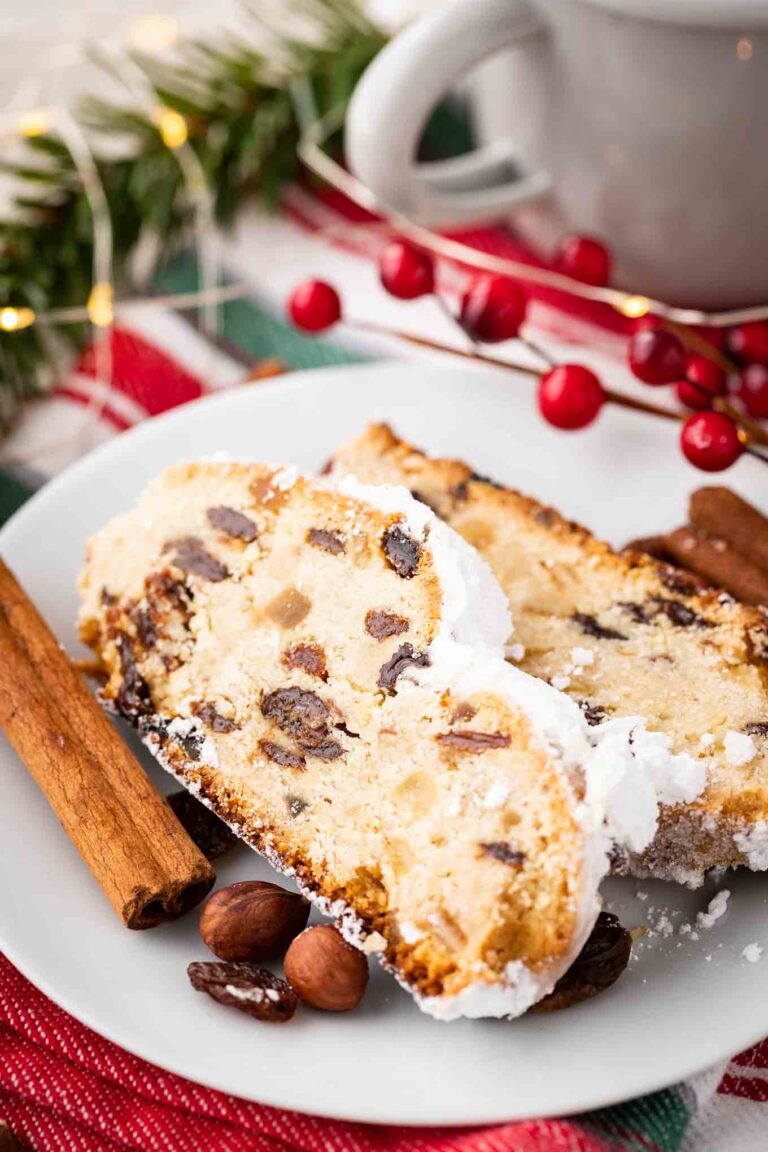 Stollen makes a great eatable gift during Christmas time. This delicious baked treat needs a bit of time to develop it's flavor so it can be made days or even weeks ahead of time! German Stollen is traditionally baked 3-4 weeks before Christmas and then stored covered in powdered sugar in a metal tin. It keeps for months!
My grandmother used to make quite a few of them and gave them as presents to her friends and family for Christmas. Baking Christmas stollen takes a bit of time because it is a yeasted dough and it needs to be shaped in a special way and then it needs to be buttered and sugared after baking but it is well worth the time and effort.
I have to admit the first time I made Stollen myself it didn't look like it should. Stollen tends to spread while baking and I didn't put aluminum foil around it. It looked like a cowpat but still tasted great. So now I always use the aluminum foil trick and my Stollen turns out great. Let me show you how I make it!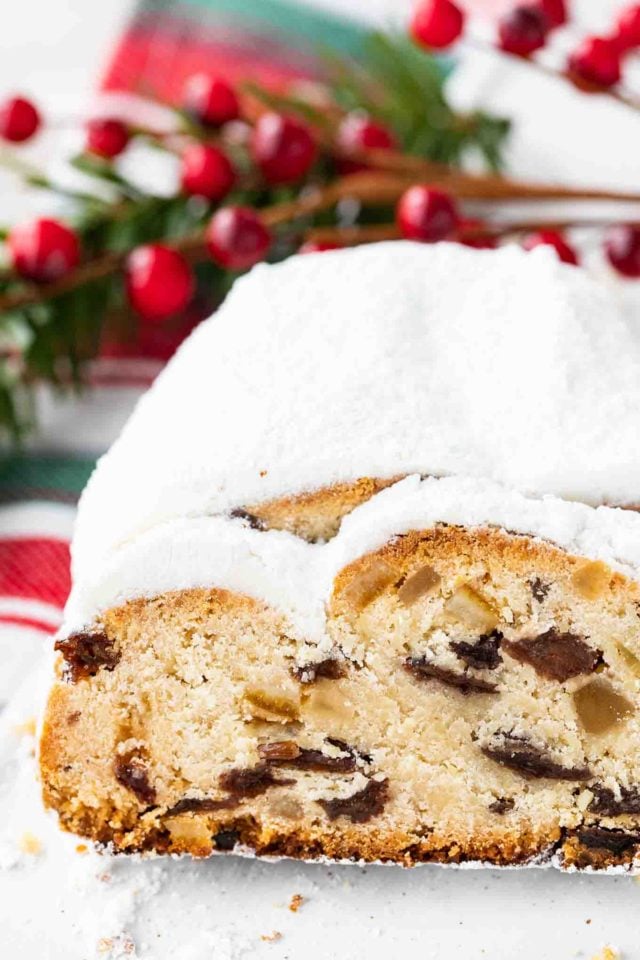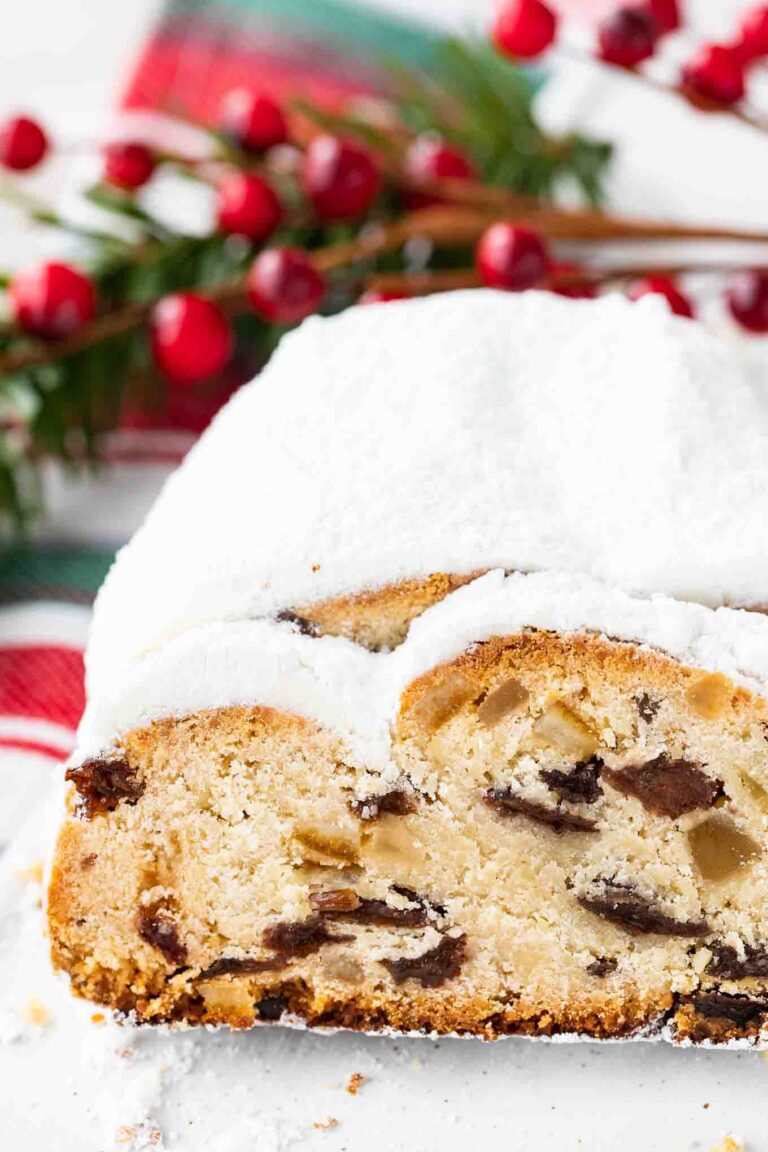 Tips and Tricks for making the best German Stollen
Make this recipe 2-3 weeks before you want to eat it for the best flavor!
The raisins and candied peel are important in this recipe, don't leave them out or try to substitute them or it won't taste like traditional Stollen.
If you can't use rum to soak the raisins in you can use water or sweet apple cider instead. It's important to soak the raisins because they add moisture to the Stollen.
If you can't find ground mace you can leave it out. The stollen will still taste like stollen.
This recipe works best with fresh yeast but instant yeast or active dry yeast make good substitutes. Always make sure your yeast is fresh and still active. It's best to store it in a cold and dry place and to keep an eye on the best before date.
The dough will not rise a lot because of the amount of fat and added fruit/peel. So don't worry.
The stollen is baked completely when it sounds hollow.
As soon as you take it out of the oven brush it with butter. Don't wait until it has cooled or it will not soak up the butter.
Make sure to cover the Stollen with lots of powdered sugar. Before wrapping it in parchment paper, sprinkle some powdered sugar on the paper before putting the Stollen on the parchment paper so the bottom of the Stollen is also covered.
You can eat the Stollen as soon as it is cooled but the longer you wait the better it will taste!

How to make Stollen
To make Stollen you need a few specialty ingredients. Rum soaked raisins add flavor and sweetness to the Stollen. It's super easy to make them but the raisins need a few hours to soak up the rum so it's best to combine them the night before you want to bake the stollen and store them in the fridge. On the next day, the raisins will have soaked up all the rum and are ready to be added to the dough.
Another not that common ingredient in this recipe is the candied lemon and orange peel. In Germany, these two are easily available in every grocery store during the Holiday season but you can also order them online (Candied Orange Peel, Candied Lemon Peel) or you can make your own. I have never tried to make it myself but people seem to have a lot of success with this recipe.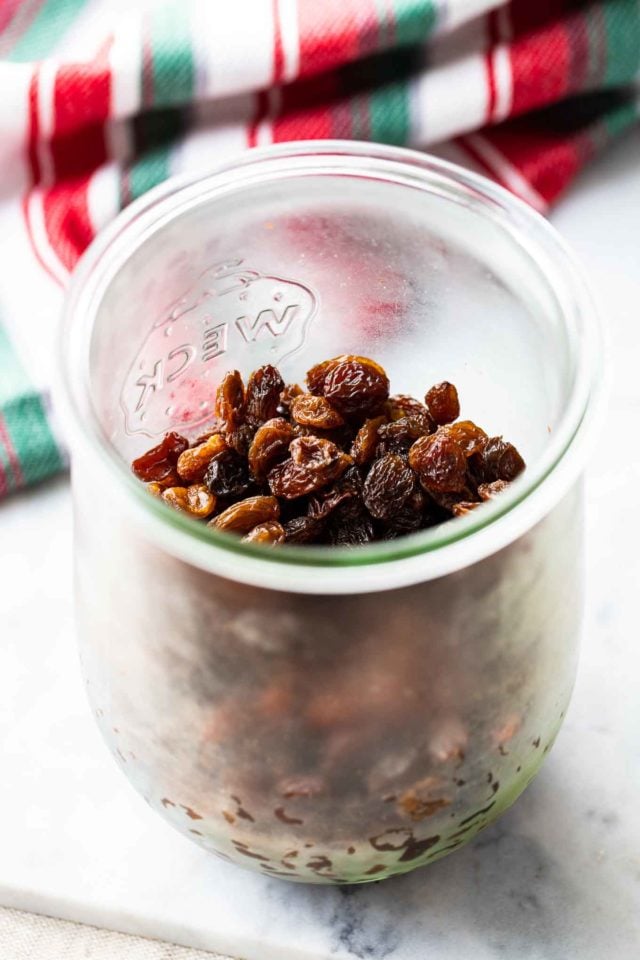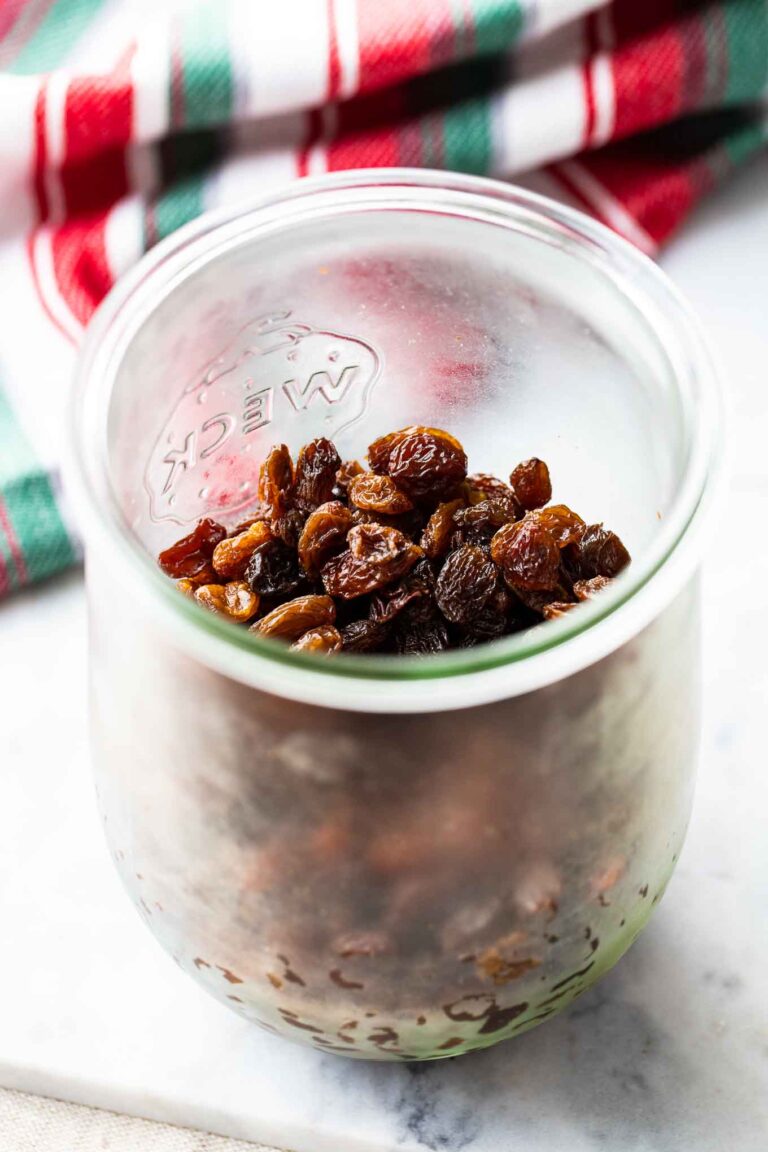 To shape the Stollen, put the dough on a large enough baking sheet covered with parchment paper and shape it into one or two oval-shaped loaves. I like to make to medium sized Stollen from this recipe because then I can gift one to friends and keep one for us. Stollen is very rich and sweet so you can get a lot of slices out of one loaf.
Use a rolling pin to flatten the middle of the loaf so that you have two bulges. Flatten one of the bulges like you see in the second picture below. and fold it over (See picture). You might have a few cracks after you've done this but just use your fingers to press the dough back together and smooth it out where it cracked. Stollen tends to spread so after folding the Stollen you need to fold an aluminum foil ring to keep the Stollen in shape.
This DIY version works better than the Stollen baking rings you can buy because the width is adjustable and you don't have a baking pan lying around that you only need once a year. To make the aluminum ring for the stollen, fold a long piece of aluminum foil three times and form a ring with it. Secure it with some metal clips (they need to be oven proof) or press the ends together firmly and fold it around your unbaked Stollen.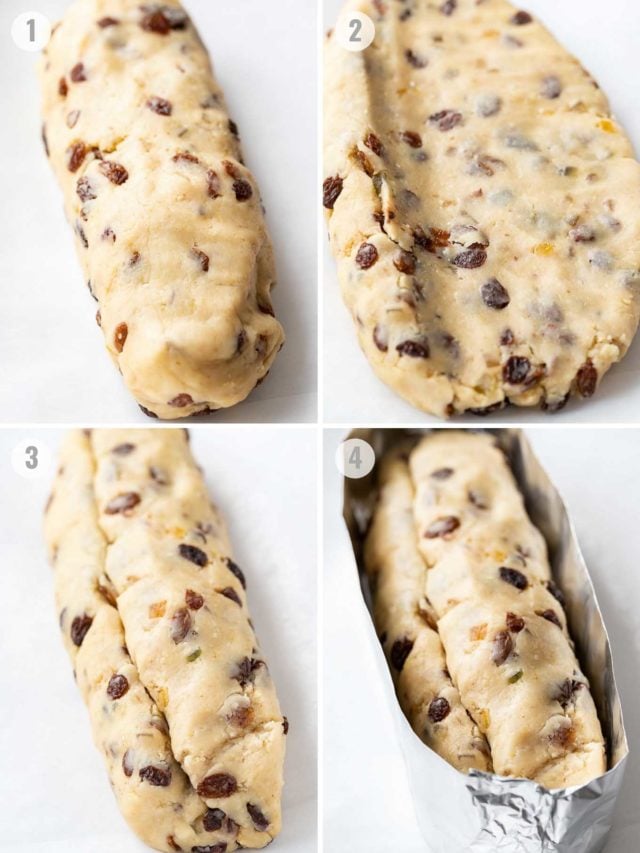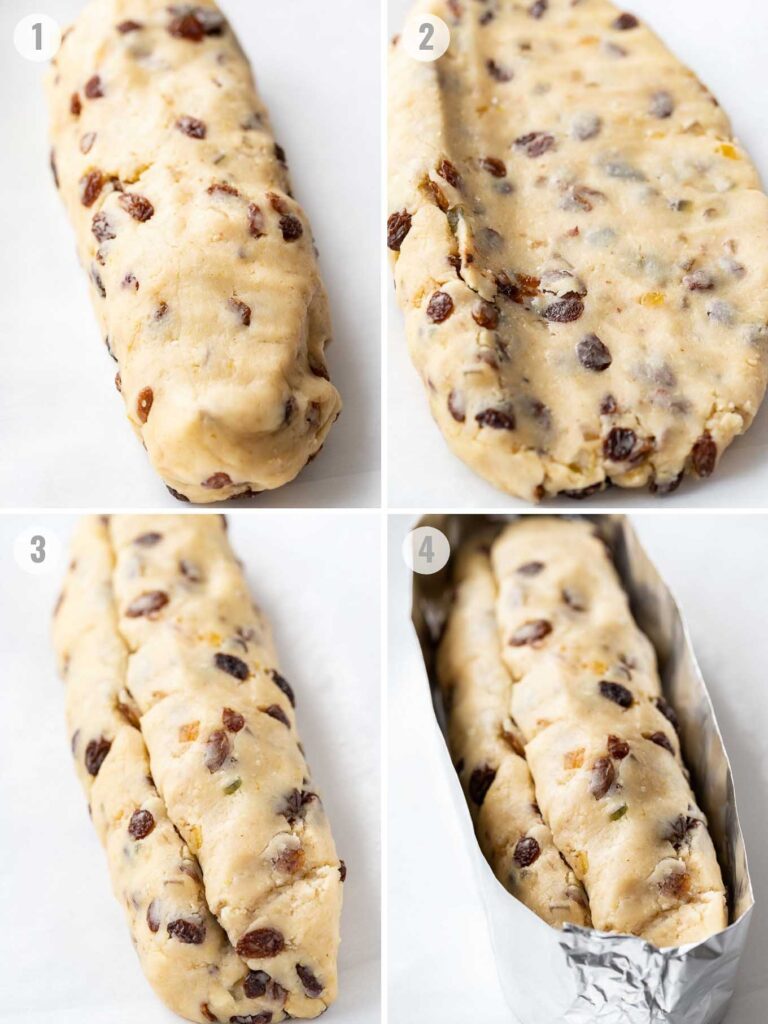 When the Stollen is done brush it with melted butter. This adds flavor and makes the Stollen moist. It will soak up all the butter. Then you have to sprinkle it with granulated sugar and then with a generous amount of powdered sugar until it is completely covered. You are aiming for about ¼-inch thick layer of powdered sugar.
This might sound like much but it will keep the stollen preserved and helps to keep the flavors in the Stollen. Don't worry you can brush it off before eating but it's important that you don't skip this step.
After letting the Stollen cool completely, it will get sprinkled with powdered sugar again before being wrapped in parchment paper and then in aluminum foil. This way it keeps fresh and doesn't dry out. Put the wrapped Stollen in an airtight zipper bag or a metal tin for 2-3 weeks! It gets better and better with time. A perfect Christmas treat!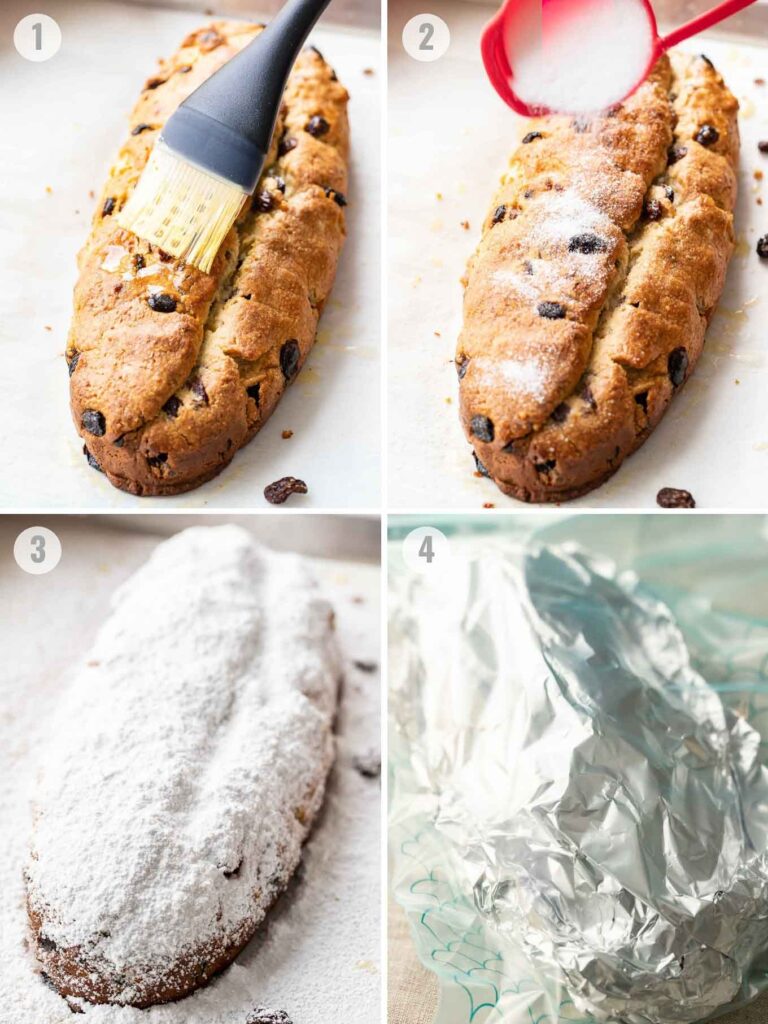 Want to try this Stollen recipe?
PIN IT TO YOUR CHRISTMAS BOARD TO SAVE IT OR SHARE ON FACEBOOK!
Follow Plated Cravings on Pinterest for more great recipes!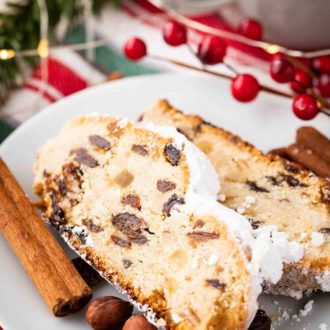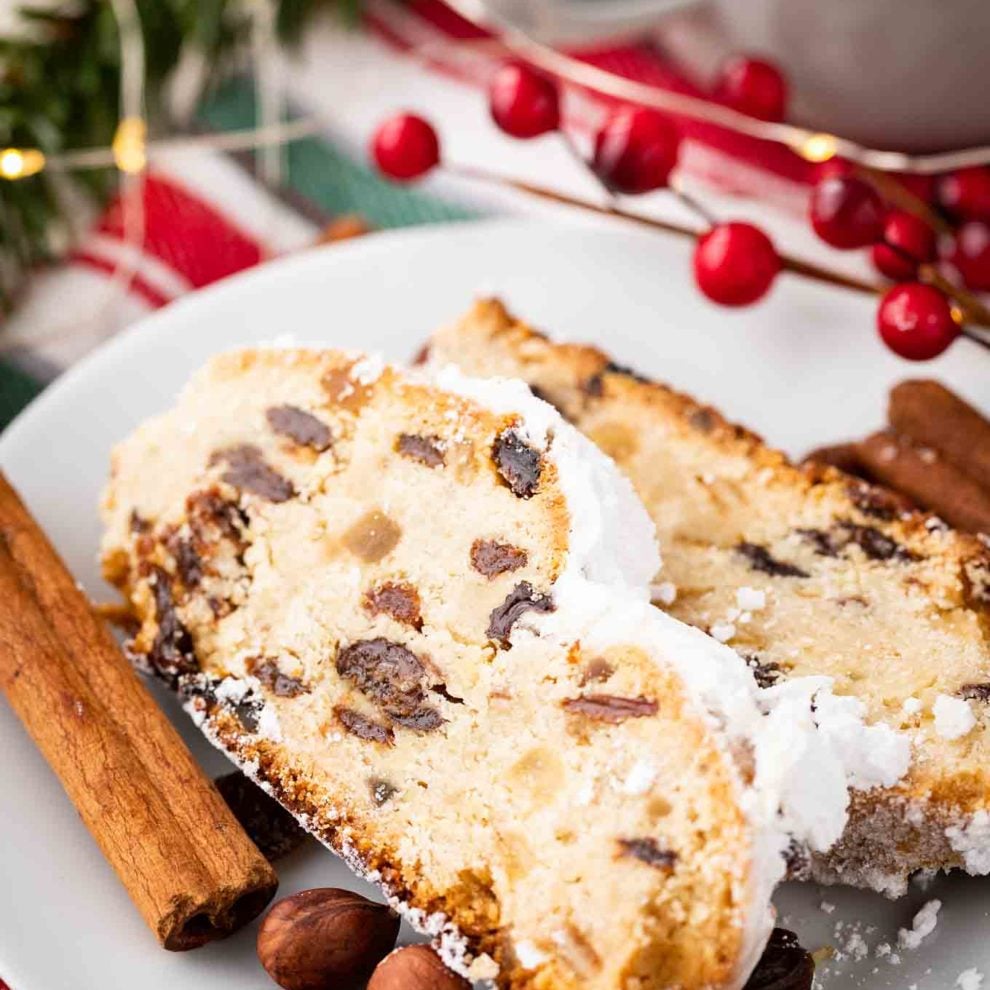 Stollen Recipe
This traditional German Christmas Stollen recipe is a very special treat that has a long history and is very popular during the Holidays.
Ingredients
For the rum raisins (Make one day in advance):
2

cups

raisins

3

tbsp

rum

,

dark works best
For the Stollen:
4 ⅓

cups

all-purpose flour

½

cup

granulated sugar

1 ½

cup

unsalted butter

,

softened (3 sticks)

½

cup

candied lemon peel

½

cup

candied orange peel

1 ⅓

cup

almond meal

1

oz

marzipan

,

see my recipe

½

tsp

salt

1

lemon

,

peel

½

tsp

ground mace

½

cup

milk

3

oz

Fresh yeast

,

or 3 Tbsp active dry yeast
After baking:
½

cup

unsalted butter

,

melted

⅓

cup

granulated sugar

1

cup

powdered sugar
Instructions
One day in advance, mix the raisins and the rum together and let the rum infuse the raisins overnight.

On the next day, heat up the milk until it's lukewarm. Mix the milk and the yeast with a fork until the yeast is dissolved in the milk. Add a little bit of sugar and 3 tbsp flour. Cover and let the mixture sit for 20 minutes.

Add flour, mace, fresh lemon peel, sugar, salt butter, almond meal, and marzipan, knead until a smooth dough forms. Now it's time to add the candied lemon peel, candied orange peel and the raisins to the dough.

Cover the dough and let it rise for 1 hour. Preheat your oven to 347°F. Knead the dough again. Cover a baking sheet with parchment paper, put the dough on it and form an oval-shaped loaf. You can make one big Stollen or two smaller ones. Use a rolling pin to flatten the middle of the loaf so that you have two bulges. Flatten one of the bulges and fold it over (See picture).

Take a piece of aluminum foil and fold it to form a 4-inch high stripe. Pin the ends together to form a circle which should be the size of your Stollen. Put it around your Stollen. Bake the Stollen for 45-60 minutes.

Take it out of the oven and brush the liquid butter over the Stollen. Sprinkle the sugar onto the Stollen and then ⅔ of the powdered sugar. Let it cool off. Sprinkle with remaining powdered sugar. The butter and sugar make it durable.

The Stollen can break easily, so be careful. Transfer it to a cake rack and leave it till the next day to make sure it's completely cooled down.

Wrap the Stollen in parchment paper and then put aluminum foil around, put it in a zipper back and store it in a cool place for 1-4 weeks. The flavors will infuse the Stollen and it gets better and better. Before you serve it, sprinkle another layer of powdered sugar on top.
Notes
Recipe originally published in December 2015. Updated with an improved recipe, more detailed instructions, and new pictures.
Nutrition Information
Calories:
4481
kcal
|
Carbohydrates:
564
g
|
Protein:
57
g
|
Fat:
231
g
|
Saturated Fat:
121
g
|
Cholesterol:
494
mg
|
Sodium:
773
mg
|
Potassium:
2017
mg
|
Fiber:
31
g
|
Sugar:
215
g
|
Vitamin A:
5770
IU
|
Vitamin C:
36.5
mg
|
Calcium:
405
mg
|
Iron:
21.1
mg
NEVER MISS A RECIPE!
If you've tried this or any other of my recipes, don't forget to rate the recipe and to leave me a comment. I love hearing from you!