This easy Nut Roll recipe is my husband's grandma's which she makes on every special occasion! It's made without yeast and filled with ground hazelnuts. A perfect Holiday breakfast or dessert!
Other than many nut roll recipes this one is made with short pastry instead of yeast dough which makes it really easy and quick to throw together. Perfect for busy days!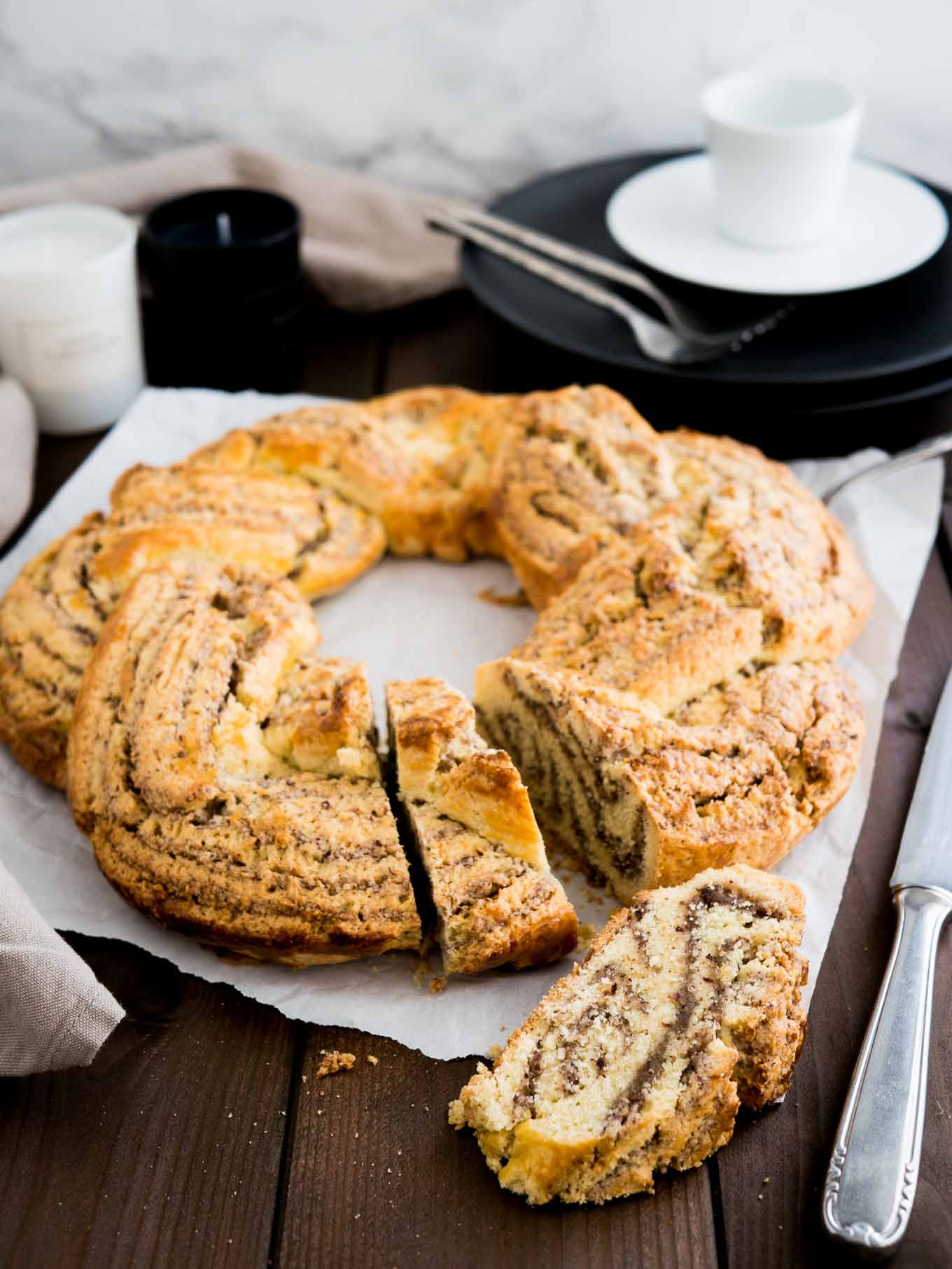 Every birthday or holiday isn't complete in our family without Grandma's nut roll! Often she has to make two because everyone loves it so much. I'm very honored that I'm allowed to share her recipe with you. I didn't change a thing because we all know: Grandma knows best!
OK, I have to admit I changed one thing.
I made a braided Nut Roll instead of a simple roll because I thought it might look prettier. So you can decide for yourself if you want to do that extra step! Either way, it'll taste delicious!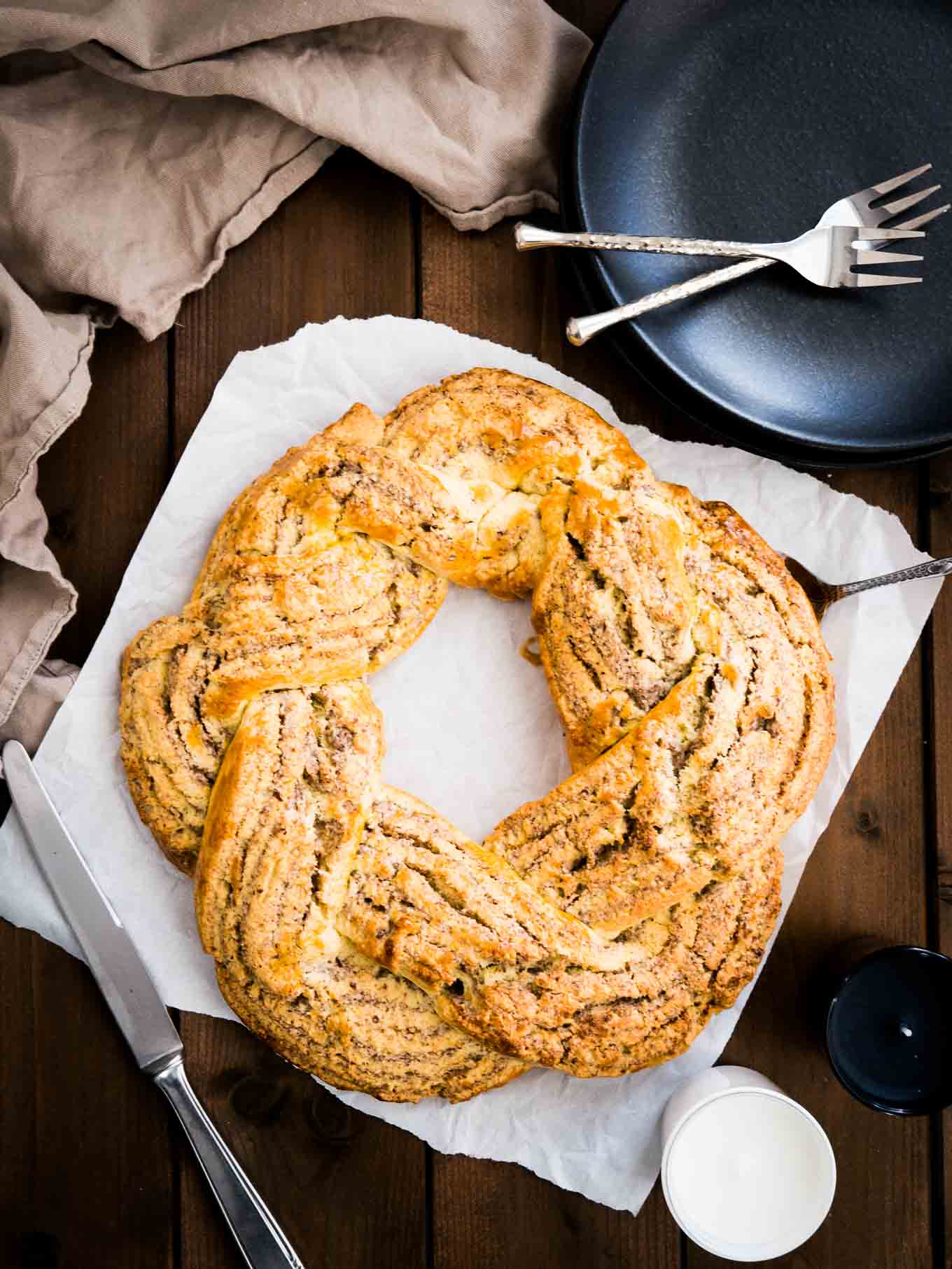 This easy nut roll recipe is super simple to make!
The first step is to make a short pastry. You might know that I love to work with yeast doughs but it takes time and sometimes when you're under pressure because of the Holidays something with yeast might not be the right thing to bake. This short pastry nut roll is perfect for these days!
You only need about 20 minutes to make the short pastry and the filling. You could even make the roll one day in advance and it will taste delicious. I love to have a slice with a cup of hot chocolate – perfect for dipping!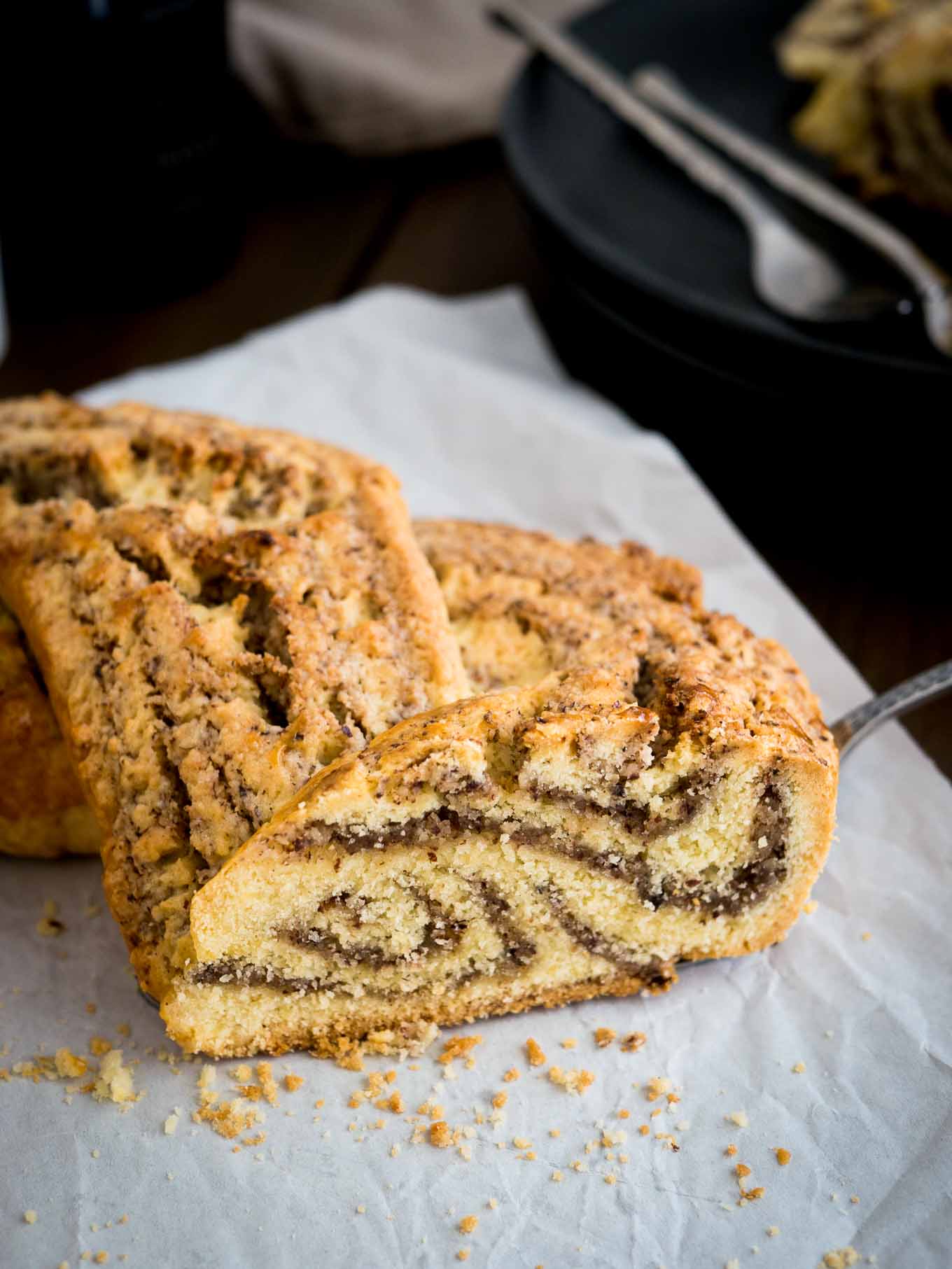 But back to the short pastry! When the short pastry is done, let it rest in the fridge or freezer until you made the filling and the oven is preheated. The dough is a bit harder to handle when it's warm. So wrap it in cling film and start making the filling!
To make the hazelnut filling, just throw everything together, give it a good stir and then roll out the dough and spread the filling all over it. Super easy!
Now you have to decide, do you want to go the easy way (which I recommend) or make the extra effort and make a braided nut roll! I explain how to make the braided version in the recipe below but if you just want to make a simple roll leave out those extra steps and just make a few cuts into the roll before putting it into the oven.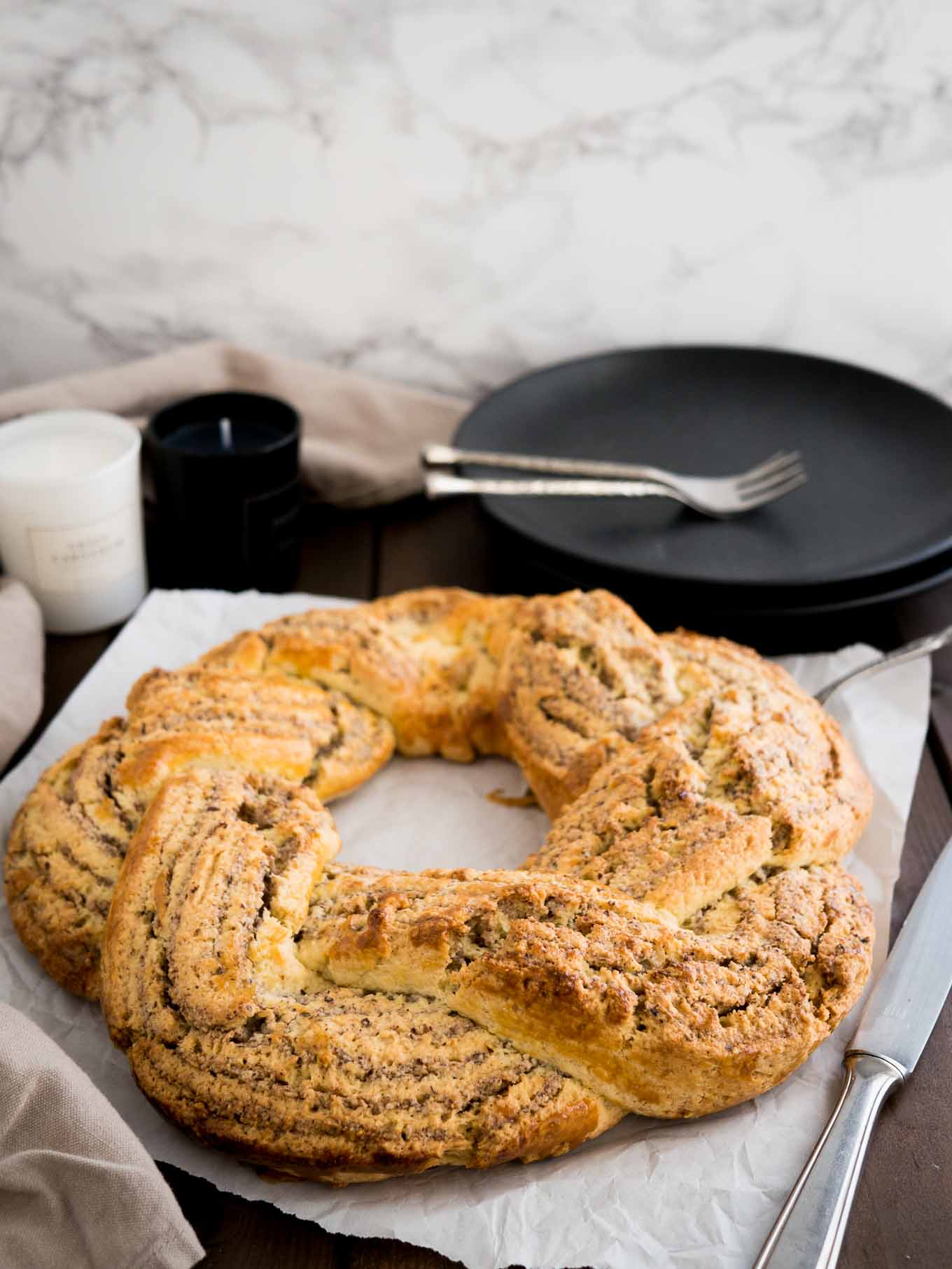 Easy Nut Roll Recipe
This easy Nut Roll recipe is my husband's grandma's which she makes at every special occasion! It's made without yeast and filled with ground hazelnuts.
Ingredients
2 ½

cups

all-purpose flour

2

tsp

baking powder

½

cup

sugar

2

tsp

vanilla extract

1

egg

,

large (See note)

2

tbsp

milk

1

stick butter
For the Filling:
1

egg white

2

cups

ground hazelnuts

½

cup

sugar

4-5

drops almond extract

4-5

tbsp

water
Instructions
In the bowl of stand mixer fitted with the paddle attachment combine flour, baking powder, sugar, vanilla extract, egg, milk, and butter (cut the butter into cubes) at medium-high speed for about 2 minutes until a slightly soft but not sticky dough forms. Don't mix too long or the butter will get too warm and it will be hard to work with the dough.

Wrap the dough in plastic wrap and let rest in the fridge for about 10 minutes while making the filling.

Preheat the oven to 350°F (175°C) and line a baking sheet with parchment paper or a non-stick baking mat.

To make the filling: In the bowl of your stand mixer fitted with the paddle attachment combine the egg white, ground hazelnuts, sugar, almond extract, and water. Beat at medium speed until combined.

Take the short pastry out of the fridge and roll the dough into a 10x20-inch (25x50cm) rectangle on a lightly floured surface. The dough should be about 0.2 inches (½ cm) thick.

Spread the hazelnut filling onto the dough and distribute it evenly.

Starting along a long side, tightly roll up the dough.

To make a braided roll: With a sharp knife, cut the roll in half lengthwise. Carefully turn the halves so the cut sides are facing up, and then loosely twist the halves around each other, keeping cut sides up.

Carefully transfer the twisted rope to the baking sheet and shape into a wreath. Pinch the ends together to seal.

Brush the roll with beaten egg yolk milk (and make a few cuts into the roll when you didn't braid it).

Bake it until lightly golden brown, about 40-45 minutes.
Notes
If your short pastry is too crumbly you can add one additional egg.
Nutrition Information
Calories:
177
kcal
|
Carbohydrates:
24
g
|
Protein:
3
g
|
Fat:
7
g
|
Cholesterol:
18
mg
|
Sodium:
8
mg
|
Potassium:
74
mg
|
Fiber:
1
g
|
Sugar:
10
g
|
Vitamin A:
25
IU
|
Vitamin C:
0.5
mg
|
Calcium:
45
mg
|
Iron:
1.4
mg