Jelly filled Donuts – sprinkled with confectioners' sugar and filled with rose hip jelly!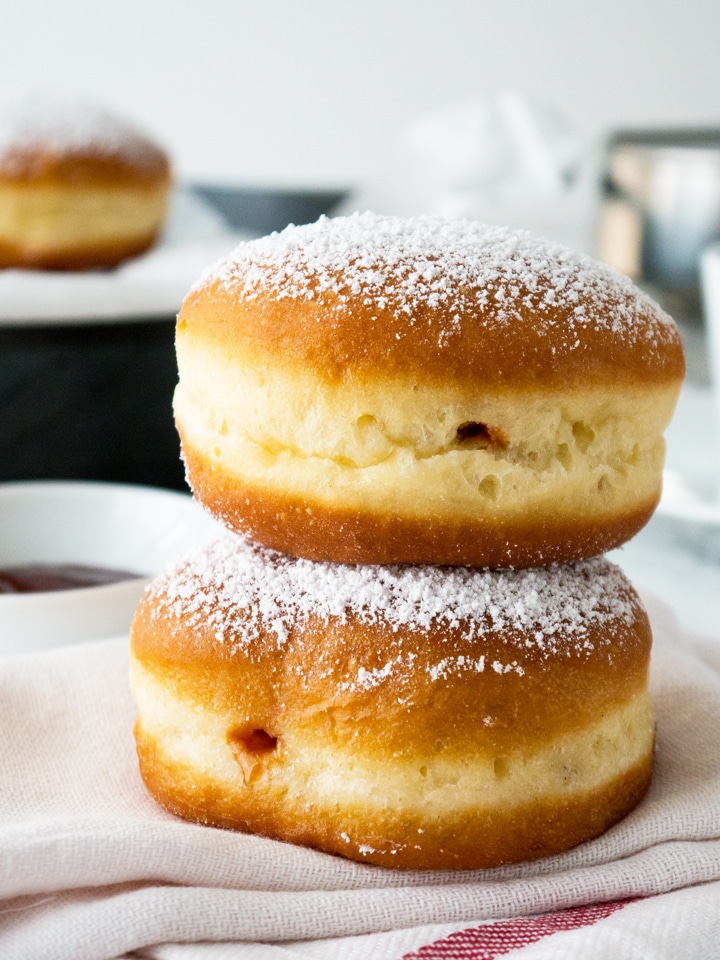 "Fasching" is a big thing in many parts of Germany, it has different names like Karneval or Fastnacht and people celebrate with parades and shows. The season begins on 11/11 at 11:11 am and ends just before midnight on Ash Wednesday the following year. But the last days of the season are the most important.
Last Thursday was "Weiberfasching" which means Women's Carnival, on Monday is "Rosenmontag" and on Tuesday "Faschingsdienstag". Everyone at the parades and shows wears costumes, even the kids at school and kindergarten.
Peter and I are from Franconia where Fasching is a really big thing. Many towns and villages have their own clubs for Fasching and organize big shows which include comedy sketches, dancing, and music (for example the biggest show in Bavaria: "Fastnacht in Franken"). When I was little I performed on stage with my kindergarten group as cowgirls and cowboys. Nowadays I'm not a big fan of this festivities but I'm still a big fan of Jelly filled Carnival Donuts.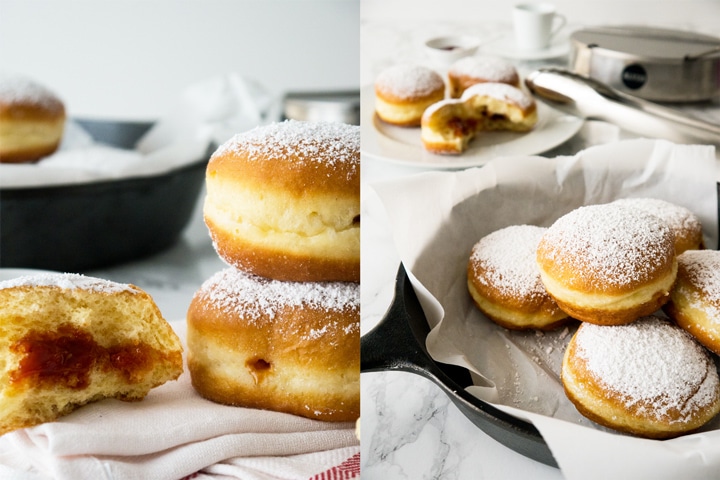 There are many names for Carnival in Germany but Carnival Donuts are eaten everywhere. In Bavaria they are known as Krapfen, in Hessen they call them Kreppel, many think they are "Berliner" but the Berliner call them Pfannkuchen (pancakes). I know it's very confusing.
The filling differs like the name from region to region. In Franconia, they are traditionally filled with rose hip jam and in Berlin with plum jam but you can also buy them with vanilla cream or chocolate filling. A common German practical joke is to fill one secretly with mustard and serve it together with jam filled ones without telling anyone.
Jelly filled Donuts are best eaten fresh, after 1 day they get dry but you can freeze them (without sugar on top). The topping changes with the filling, I use powdered sugar because that's how I grew up but you can also glaze them like regular donuts.
– Julia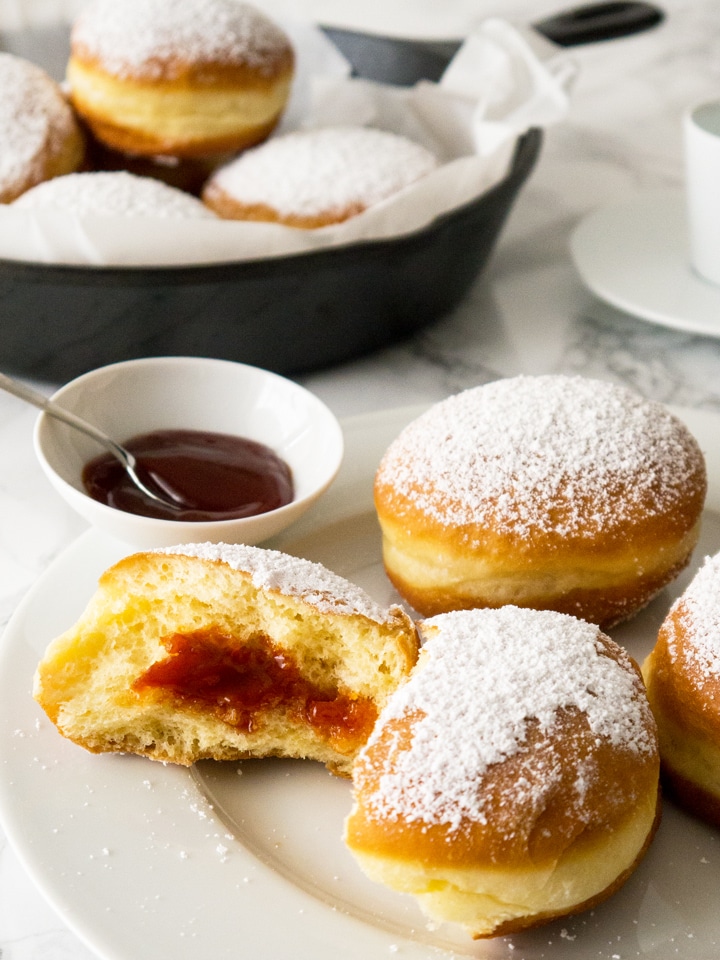 Jelly Donuts
Celebrate Carnival the German way with Jelly filled Carnival Donuts! They're the perfect dessert for your Mardi Gras Party or for "Fasching" which we celebrate on the same day here in Germany.
Ingredients
¾

cup

milk

4

tsp

instant yeast

,

or active dry yeast

¼

cup

sugar

¼

cup

unsalted butter

2

large eggs

2

egg yolks

¼

tsp

vanilla extract

½

tsp

salt

4

cups

all-purpose flour

1

cup

jelly

,

or jam

powdered sugar
Instructions
Heat up the milk until it's lukewarm (100°F). Pour the warm milk into the bowl of a stand mixer fitted with a dough hook attachment and sprinkle the yeast and the sugar on top of the milk. Give it a light stir (with a spoon) and let it sit for 2 minutes.

With the mixer running at low speed, add the softened butter, eggs, egg yolks, vanilla and salt. Mix until everything is well incorporated.

Add the flour and beat on low speed for 3 minutes until a soft, slightly sticky dough has formed.

Place the dough in a greased bowl, cover the bowl with plastic wrap and place it in a warm environment to rise until doubled, about 30 minutes to 1 hour.

Once doubled in size, remove the dough from the bowl and turn it out onto a lightly floured surface. Knead the dough to release any air bubbles and then roll the dough out until it's about as thick as a finger. Use a glass or something else approximately 3 inches in diameter to cut out 20 dough circles. Arrange them on your lightly floured surface so they don't stick to it, then loosely cover them with plastic wrap and allow to rise until doubled in size and puffy, about 30 minutes.

Heat up oil in a deep fryer to 320°F (160°C). If you don't have a deep fryer, you can use a normal deep pot. Be careful, don't fill up the oil higher than ⅓ and be sure to control the temperature with a cooking thermometer. If the oil gets too hot your donuts will get too dark and if it's too low they won't cook through.

Fry the donuts 3 minutes on one side. Try not to get oil on the top of the donut while frying the bottom, it won't rise properly. Flip the donut and fry the other side for 2 minutes. Use a slotted spoon to transfer the donuts to paper towels to drain. Test the first donut to be sure they are completely cooked and adjust the frying time if necessary.

Fill the Jelly Donuts with your favorite jam, marmalade or pastry cream You can use a pastry decorating syringe with a long tip or a disposable syringe. If you use a skewer to poke a hole into the donut it will be easier to fill it.

Dust with powdered sugar and serve on the same day!
Nutrition Information
Calories:
189
kcal
|
Carbohydrates:
34
g
|
Protein:
4
g
|
Fat:
4
g
|
Saturated Fat:
2
g
|
Cholesterol:
43
mg
|
Sodium:
76
mg
|
Potassium:
68
mg
|
Fiber:
1
g
|
Sugar:
11
g
|
Vitamin A:
135
IU
|
Vitamin C:
1
mg
|
Calcium:
23
mg
|
Iron:
1
mg