Puff Pastry Walnut Apple Strudel is made with a Walnut Raisin Apple filling and doesn't get a soggy bottom because of my secret ingredient!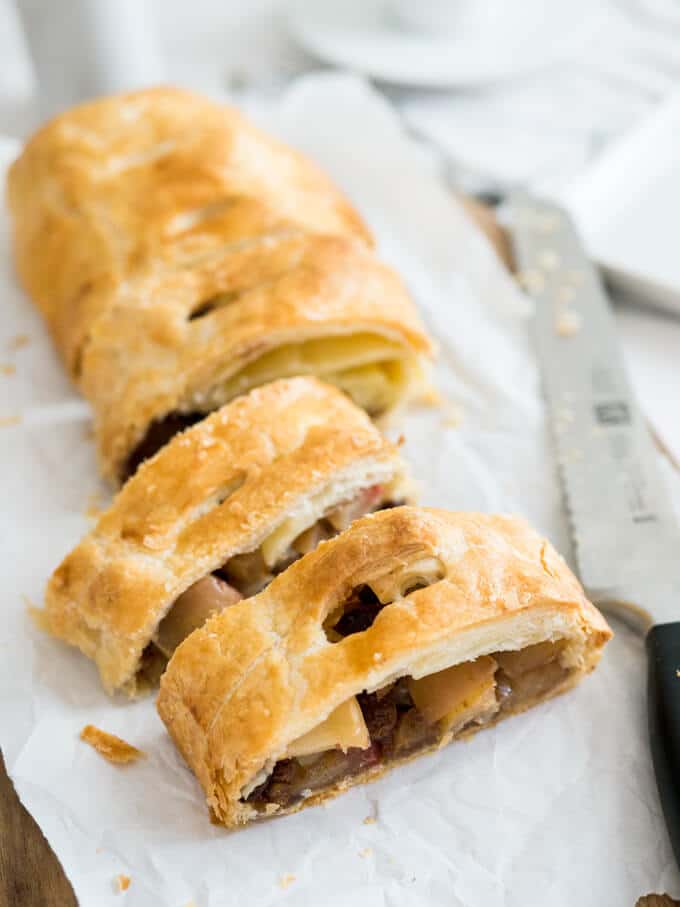 If you have ever been to Austria or Bavaria you will know why I love Apple Strudel! The warm filling with sweet raisins, soft apples, and warm spices, the flaky crust and the delicious smell makes this dessert one of the best.
Traditionally apple strudel is made with strudel dough. But I have to admit I'm a bit intimated by the process of making it. You have to stretch strudel dough very thinly until it becomes quite opaque. If you watched the Great British Bake Off you know what I mean.
So when I make apple strudel I make an easier version using puff pastry which is quite similar to strudel dough. Strudel dough only has one layer and is folded many times when it's time to assemble the strudel. Puff pastry is already layered and has butter between each layer.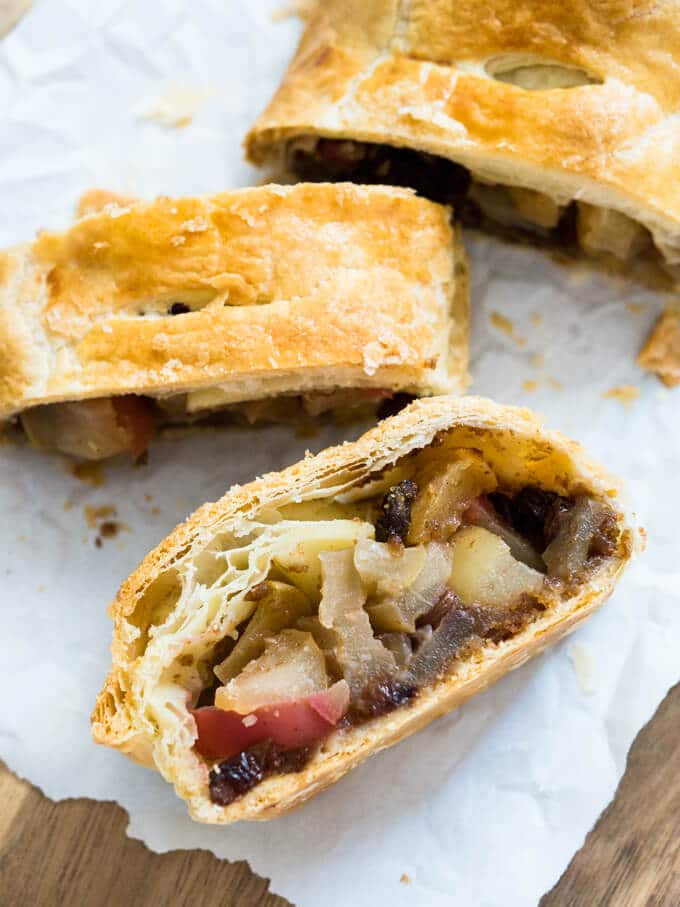 Puff pastry is more flaky and soft than strudel dough. That leads to a problem: Many with puff pastry made baked goods have a soggy bottom. But here is my trick, I use a mixture of graham cracker crumbs to prevent that. The crumbs will absorb the moisture of the apples and you get a nice completely baked crispy bottom.
I also put the baking sheet in the oven when I preheat it. So the baking process starts as soon as you put the assembled strudel onto the hot sheet.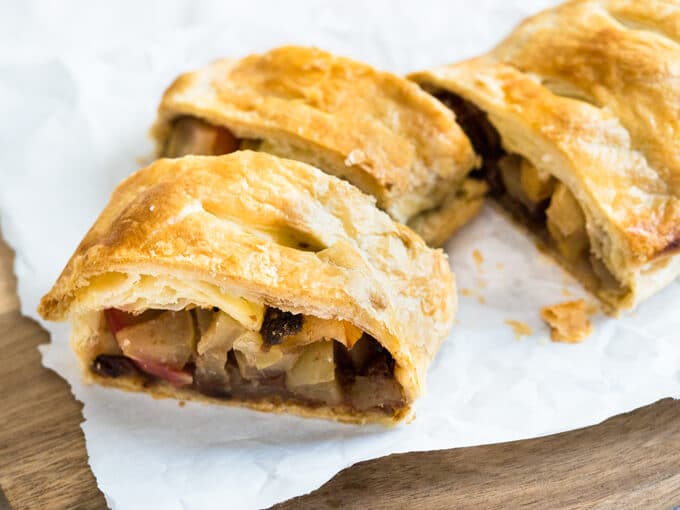 I also made my life easier by not peeling the apples for this Puff Pastry Walnut Apple Strudel. Haha, you know the most vitamins are directly under the peel so I made it actually healthier by being lazy.
Apple Strudel is actually an Austrian recipe but like many other delicious desserts, like Kaiserschmarren, it is quite a normal dessert here in Bavaria. You can get it frozen in the supermarket or in restaurants.
But you don't need to travel so far! Try my easy recipe and have a big scoop of vanilla ice cream with the warm apple strudel. And if you are a big apple dessert fan like me you will definitely love my German Apple Streusel Sheet Cake.
– Julia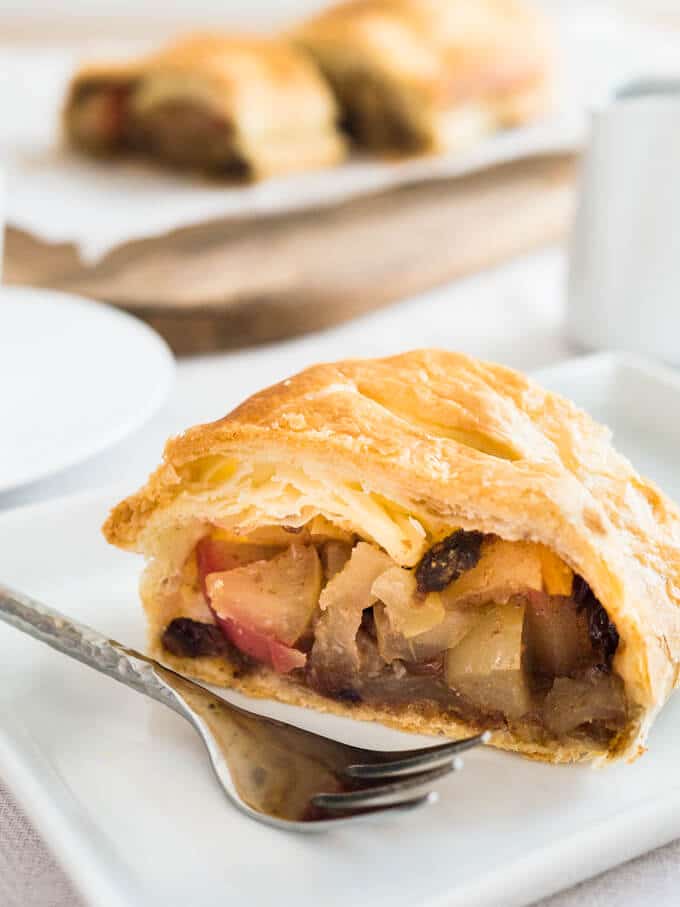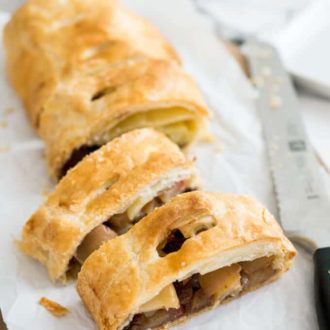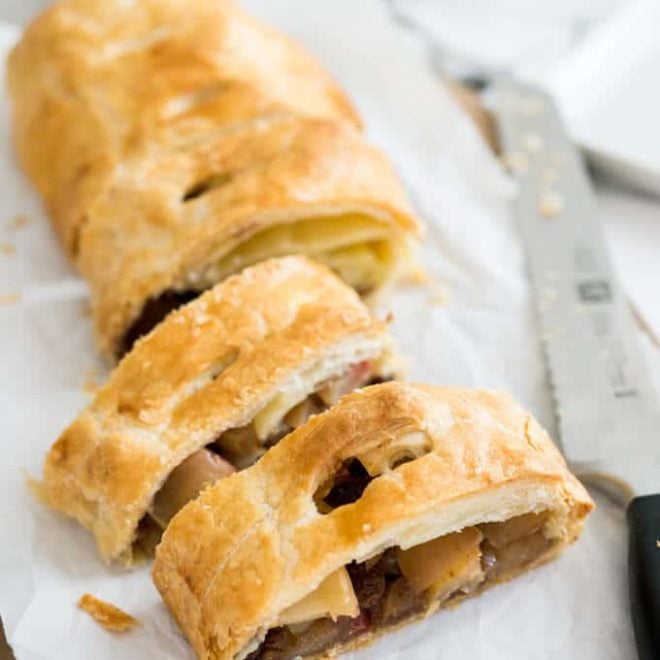 Puff Pastry Walnut Apple Strudel
This Puff Pastry Walnut Apple Strudel is made with a Walnut Raisin Apple filling and doesn't get a soggy bottom because of my secret ingredient!
Ingredients
1/2

cup

raisins

2

medium apples

1/4

cup

sugar

,

+ 1 tsp

1/2

tsp

vanilla extract

1/3

cup

walnuts

,

coarsely chopped

1/3

cup

graham cracker crumbs

,

or other digestive biscuits

1

tsp

rum

1

tsp

cinnamon

2.5

tbsp

butter

1

sheet puff pastry

1

lime

1

egg
Instructions
Preheat the oven to 360F (180C) with the baking sheet inside.

Peel and core the apples. Cut them into quarters and thinly slice them.

Combine the apple slices, 1/4 cup sugar, rum, lime juice, chopped walnuts, vanilla extract, and raisins in a small bowl.

Melt the butter in a small pan over low heat. Add the graham cracker crumbs, cinnamon, and 1 tbsp sugar. Increase the temperature to a medium heat and toast the mixture for 1 minute.

Add half of the graham cracker crumbs mixture to the apple slices.

Sprinkle flour on your work surface. Unfold the puff pastry sheet and roll the pastry sheet into a 16 x 12-inch rectangle. With the long side facing you, spread the rest of the graham cracker crumb mixture evenly onto the middle third of the puff pastry sheet. Leave 1.5 inches of the side empty.

Spoon the apple mixture onto the crumbs and fold the lower half over the apple mixture. Then fold over the top half and tuck it under to seal the roll. Also, tuck the ends under to seal.

Brush the pastry with the egg mixture and cut several slits in the top of the pastry.

Transfer the apple strudel to the hot baking sheet in the oven and bake for 40-50 minutes until the apple strudel is golden brown.

Serve warm with whipped cream, vanilla sauce, or vanilla ice cream. You can also sprinkle it with powdered sugar.
Nutrition Information
Calories:
335
kcal
|
Carbohydrates:
38
g
|
Protein:
4
g
|
Fat:
19
g
|
Saturated Fat:
6
g
|
Cholesterol:
30
mg
|
Sodium:
142
mg
|
Potassium:
186
mg
|
Fiber:
3
g
|
Sugar:
12
g
|
Vitamin A:
165
IU
|
Vitamin C:
5
mg
|
Calcium:
25
mg
|
Iron:
2
mg