Tropical White Wine Sangria
Last updated on June 14th, 2017
This Tropical White Wine Sangria is the perfect drink for any occasion! Fruity, bubbly and so delicious, this easy, crowd-pleasing recipe is super refreshing and comes together in minutes.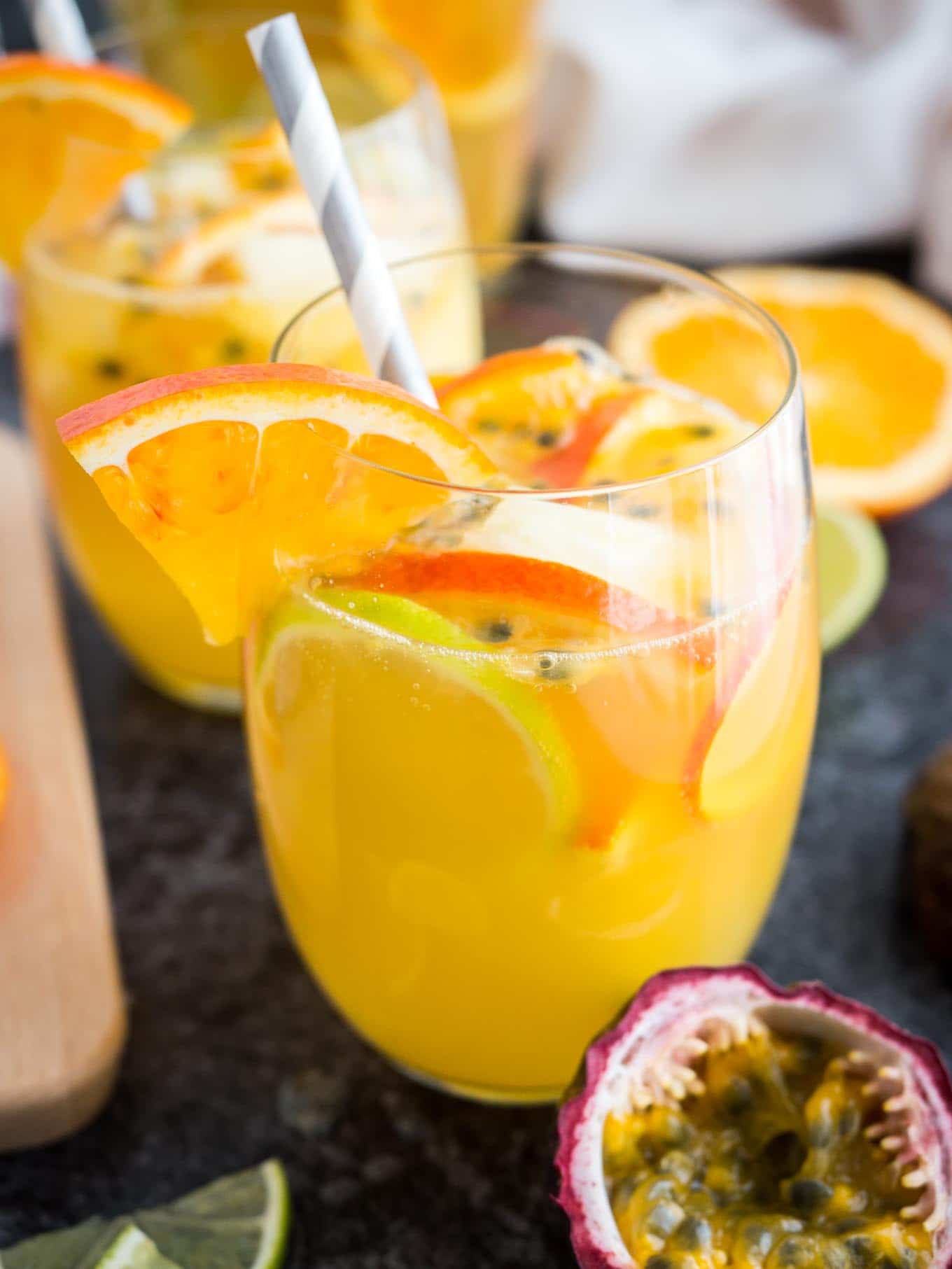 This White Sangria recipe is inspired from our last trip to Mallorca. Mallorca is a Spanish island in the Mediterranean sea and one of our favorite places to go to. They have great food, beautiful beaches, and the weather is always nice.
But we made a little mistake when we booked our last trip and forgot that we're not big fans of parties and all-inclusive buffets. The trip before our last one we stayed in a beautiful little Finca but this time we found ourselves in one of the party villages with noisy impolite neighbors and food that was not really worth writing home about.
After our first night, we thought about flying home because it really wasn't what we expected but decided to give our trip another chance. At dinner, my hubby ordered Sangria for us and after one glass everything seemed to be better. One could say Sangria saved our trip or better my sanity!
No, I don't want to recommend to drink yourself happy but it made me realize that everything is not as bad as it seems even when the man in the next room proclaims really loud how the weather is today … at 6 am.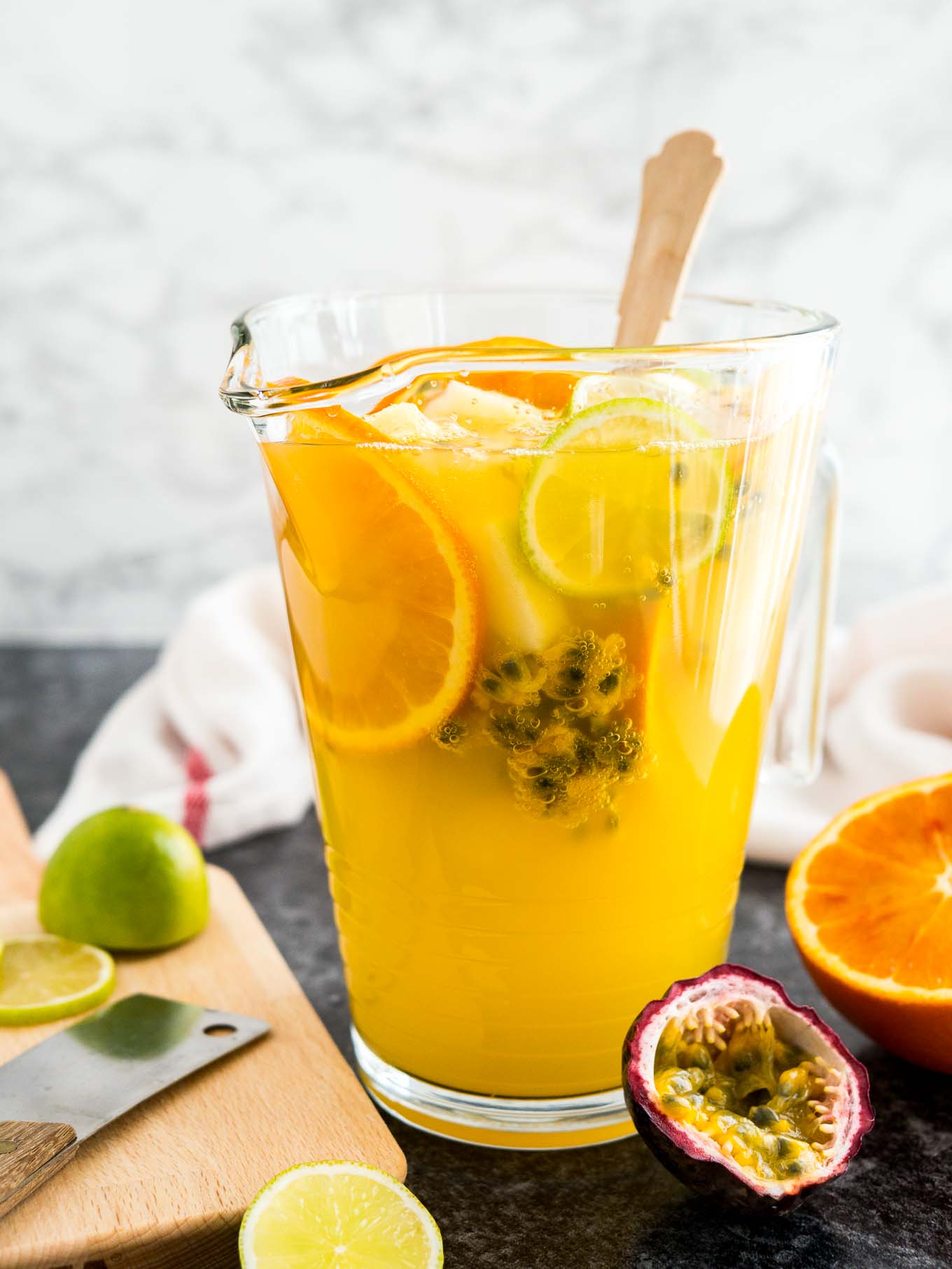 WHERE IS SANGRIA FROM?
Sangria is a fruit-based wine cocktail beverage that originates from Spain. There are many variations but traditional recipes are made with Spanish Rioja red wine and mixed fruits, like pineapple, melon, peaches, and apples. Some recipes also use brandy or sparkling water. The classic Spanish Sangria is pretty tart but refreshing.
Sangria Blanca (or White Sangria) is a modern version of Sangria that is made with white wine instead of red wine.
Today many places in Spain make their Sangria with Lemon-Lime Soda or Lemonade which is also the way I prefer my Sangria. Like with all alcoholic drinks like cocktails I prefer sweet drinks. This recipe is made with my favorite San Pellegrino Aranciata
 Lemonade but you can also use any sparkling lemon lime soda like Sprite or other variations of the San Pellegrino Lemonade.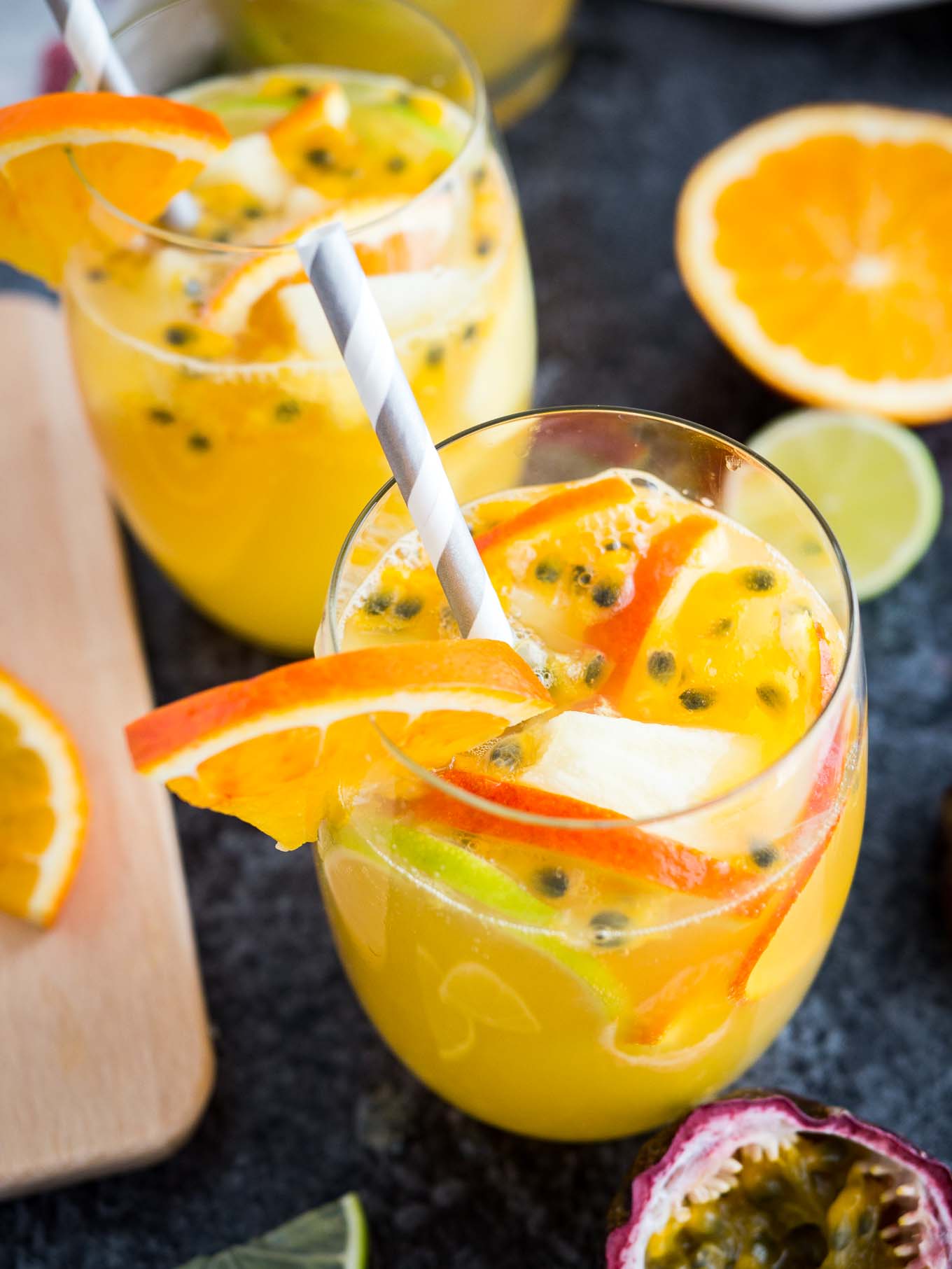 How to make Tropical White Wine Sangria
To make this Tropical Sangria Blanca you need a large pitcher
 and a wooden spoon. Combine all the ingredients in the pitcher then stir with the spoon until everything is combined. Muddle the fresh fruits with the spoon to release their flavor.
This sangria doesn't need to rest before serving. Letting it sit for too long would make it bitter because of the orange and lemon slices and it would loose its fizz and go flat. Muddling it with a spoon will release enough flavor and make your Tropical White Wine Sangria super delicious.
And the most important tip: Don't add ice to your pitcher! You don't want to dilute the Sangria with melting ice cubes. Instead, fill the glasses with ice cubes or put out a bucket with ice so your guests can fill their glasses themselves. You want your sangria to be well chilled when it's served but not dilute the great flavor.
SOME MORE RECIPES YOU'LL ENJOY!
I have a lot of recipes to choose from if you want to take a look at my recipe index, but here are a few of my recent recipes.
This easy Lemon Sheet Cake is a simple but so delicious and moist sheet cake that is perfect for Spring and Summer! If you're looking for a recipe to make with your new Instant Pot you need to try this Instant Pot Carrot Soup Recipe or this Easy Instant Pot Irish Stew, both are perfect for Instant Pot beginners.
And if you're more in the mood for cupcakes these Raspberry Lemon Curd Cupcakes are not only super pretty but also super delicious.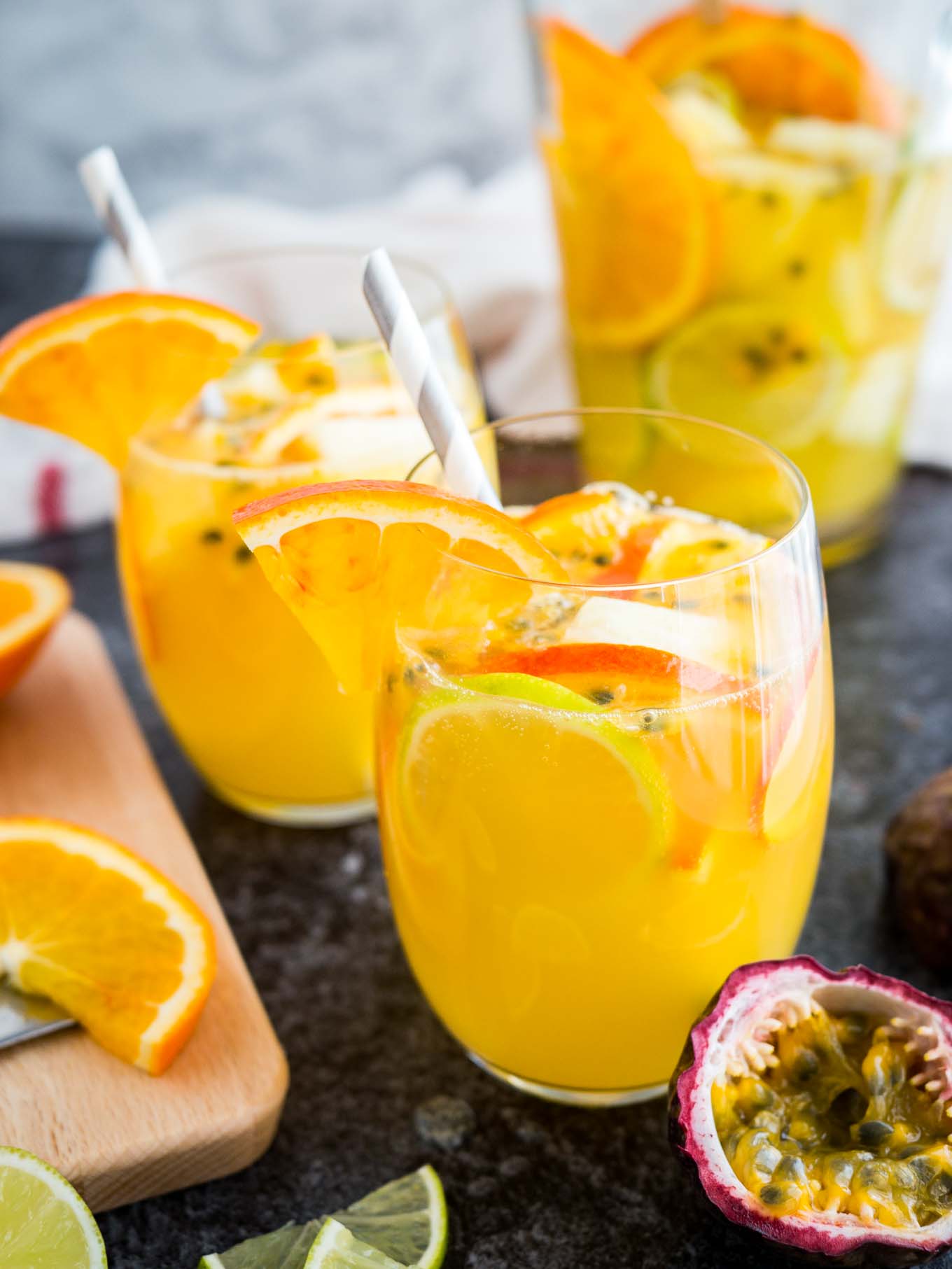 Tropical White Wine Sangria
This Tropical White Wine Sangria is the perfect drink for any occasion! Fruity, bubbly and so delicious, this easy, crowd-pleasing recipe is super refreshing and comes together in minutes.
San Pellegrino Lemonade --> Get it here
Ingredients
1 750

ml

bottle sweet white wine

cold

2 11.5

oz

cans San Pellegrino Aranciata

sparkling orange lemonade, cold

2

passion fruits

1

cup

orange juice

1

orange

quartered and thinly sliced

2

limes

sliced

1/2

pineapple

peeled, cored, and cut into 1-inch batons
Instructions
In a pitcher or punch bowl, combine the white wine, sparkling orange lemonade, passion fruit puree, orange juice, orange slices, lime slices, and pineapple and stir well.

When ready to serve, fill glasses with ice. Divide the sangria, with the fruit, among the glasses.
MORE OF MY FAVORITE DRINK RECIPES!