Tomato Mango Salsa is sweet, tangy, and slightly spicy! A simple and colorful recipe that is perfect for summer entertaining.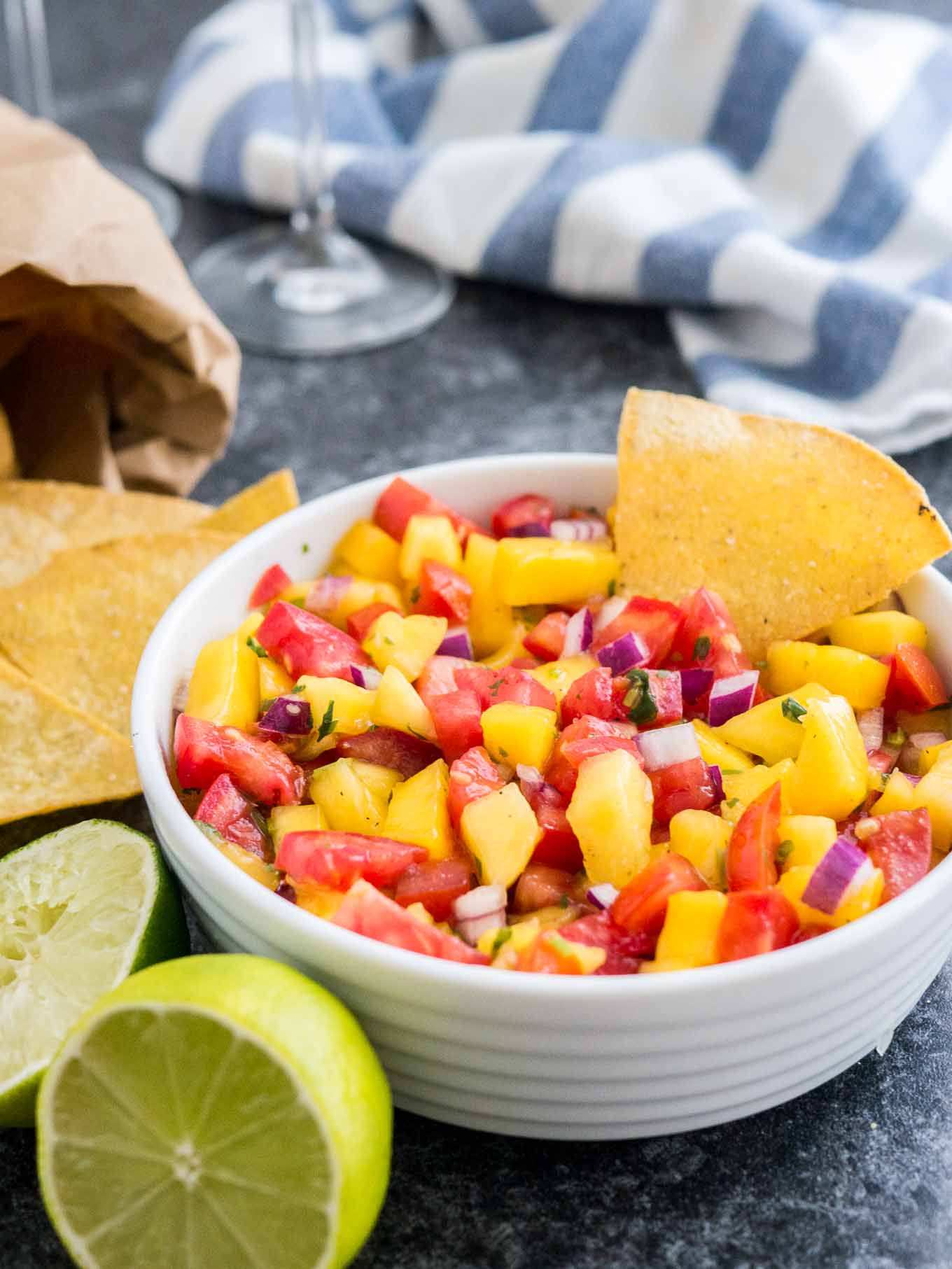 Tomato Mango Salsa is so versatile and easy to make in less than 5 minutes. A perfect sweet and slightly spicy salsa that tastes great as an appetizer with tortilla chips, on tacos or with grilled fish, chicken or pork at a BBQ.
Salsa Fresca is one of my favorite summertime snacks but I often forget how easy it is to make. The chopping takes only minutes and a few tricks make dicing the mango into perfect little cubes super easy. Even my husband who isn't the biggest fan of combining sweet and savory flavors loves this easy tomato mango salsa and can't get enough of it.
This colorful dish is so tasty! My mouth is watering just thinking about it.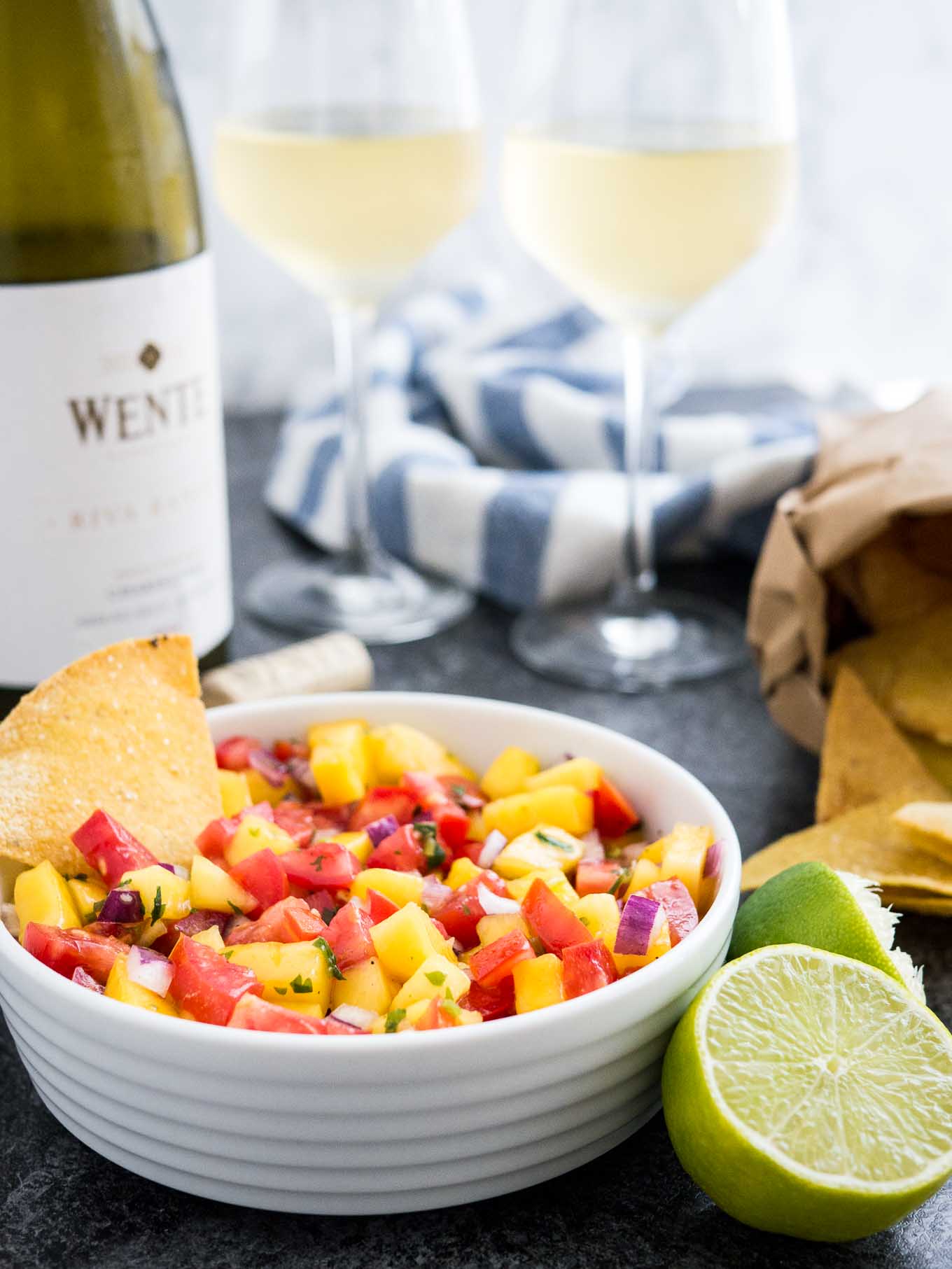 This is an amazing light yet so flavorful dish that pairs really well with a bottle of white wine. My favorite white wine at the moment is the Riva Ranch Chardonnay from Wente Vineyards. In addition to the classic Chardonnay flavors of apple and pear, this Chardonnay also has aromas and flavors of tropical and stone fruits – a perfect match with this fresh Mango Salsa Recipe.
I prefer white wine especially in the warmer months of the year and Chardonnay is one of my favorite wines so I am excited to work with my friends at Wente Vineyards today to celebrate Chardonnay Day on May 25th and their Love of the Journey campaign.
Since we started dating over 10 years ago, my hubby and I've been on a foodie journey. We share the love for good homemade food and wine and are constantly trying to improve our cooking skills and explore new flavors and cuisines. We love this journey! I'm so happy that my husband is also a foodie, he introduced me to some of my favorite foods like avocados and cilantro and when I'm tired after a day of recipe testing he pours me a glass of wine and happily gets his apron on to make dinner for us. Without him, this blog would not exist and I'm so thankful that he is my husband and best friend.
One of our favorite things to do together is being in the kitchen, trying new recipes for fun and sharing a bottle of wine. We enjoyed this salsa over the weekend with a glass of Chardonnay and homemade lime tortilla chips. This easy dish is perfect for date night and working together makes chopping the ingredients even faster.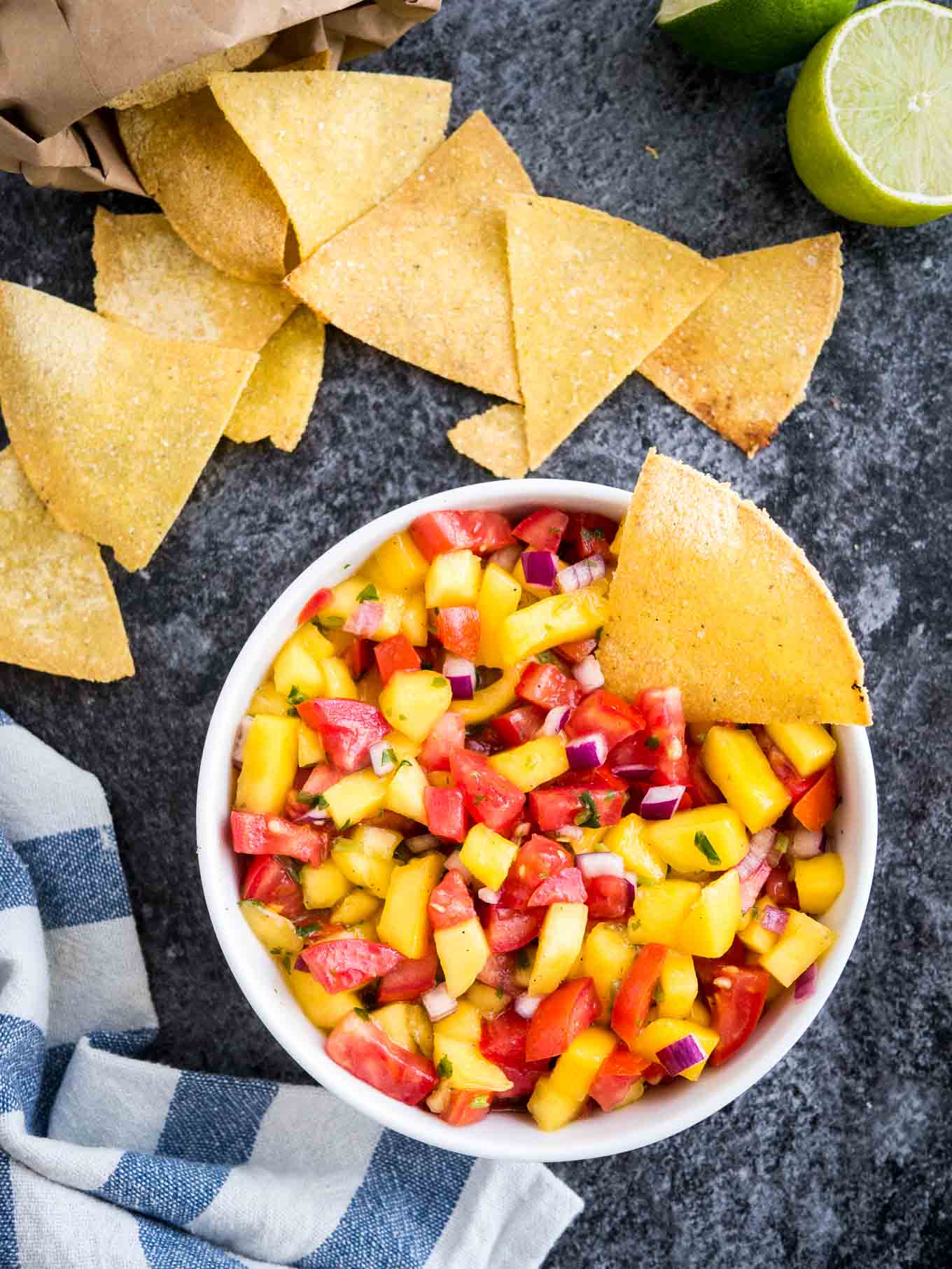 Looking for more summer side dish and appetizer options?
To find your favorite summer wine check out Wente Wine they have a great selection of Chardonnay and other wines.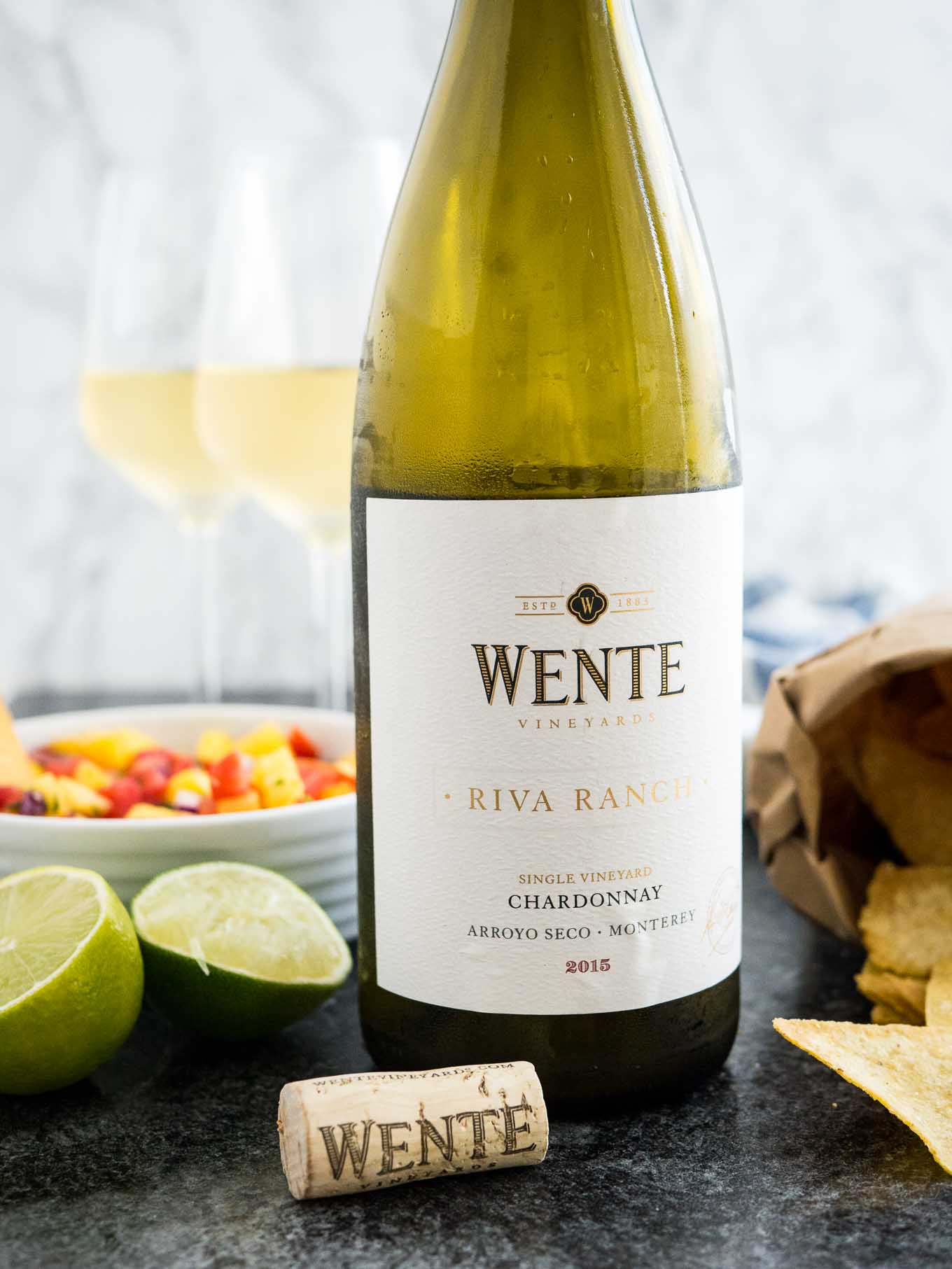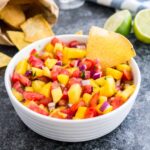 Tomato Mango Salsa
Tomato Mango Salsa is sweet, tangy, and slightly spicy! A simple and colorful recipe that is perfect for summer entertaining.
Ingredients
1

large mango

finely chopped

2

tomatoes

finely chopped

1/2

red onion

finely chopped

1

small red chili

deseeded and finely chopped

2

tbsp

fresh lime juice

2

tbsp

olive oil

1

tbsp

finely chopped fresh cilantro

Salt and pepper

to taste

Tortilla chips
Instructions
Combine all ingredients except for the tortilla chips in a bowl and stir to combine.

Season with salt and pepper.

Serve with tortilla chips or pita chips. Enjoy!
Recipe Notes
How to cut a mango into cubes:
Cut off the mango "cheeks". Hold one mango piece in the palm of your hand and make long cuts down the length of the mango but don't slice through the skin. Repeat with perpendicular cuts to form cubes. Depending on the size of your mango you might have to dice the cubes into smaller cubes.