Tzatziki Sauce Recipe – this greek yogurt cucumber dip tastes great with grilled meat or fish! You never want to buy Tzatziki at the store again after trying my easy authentic recipe which only needs 5 ingredients.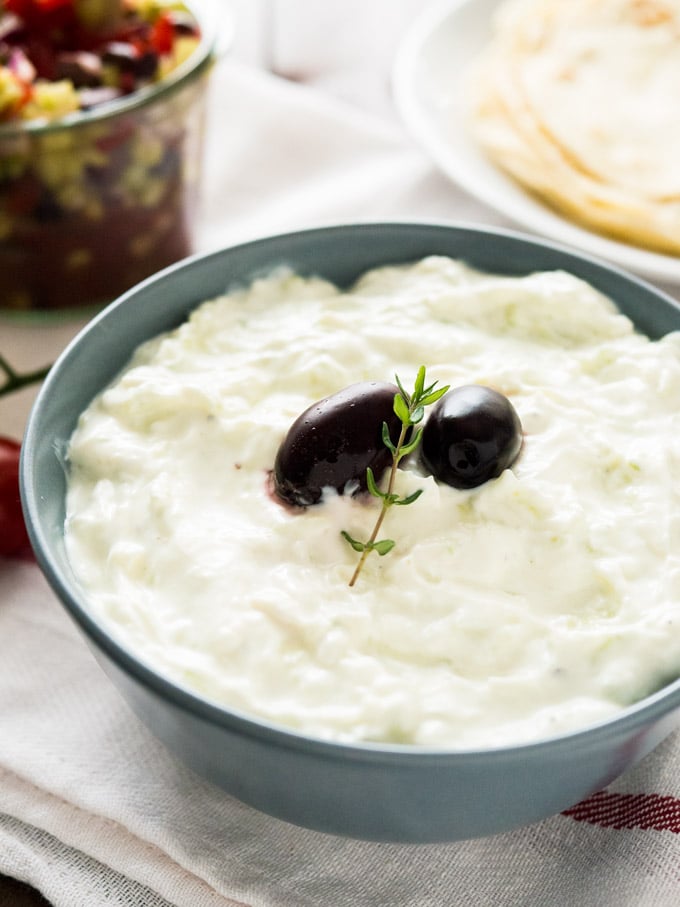 I'm a big fan of the Mediterranean cuisine! I love things like Spaghetti alla Carbonara or Greek Salad. And especially Italian gelato!
After visiting all those countries many times on holiday, I think I'm a bit spoiled. If you've ever tasted authentic Pizza in Italy or Gyros with Tzatziki in Greece, you know what I mean! You can't go back, you know how it should taste and that can be a problem!
The Greek dish I probably love the most is Tzatziki Sauce! It tastes so good! I could lick out the bowl every time we make it. It's a really refreshing sauce which tastes great with bread, with vegetables, with meat and fish – perfect for summer BBQs.
Every supermarket here sells it but it doesn't taste as good as in Greece. It's often watery and not made with real Greek yogurt. So I make my own Tzatziki. It's really easy to make and I guarantee you it's the most authentic recipe!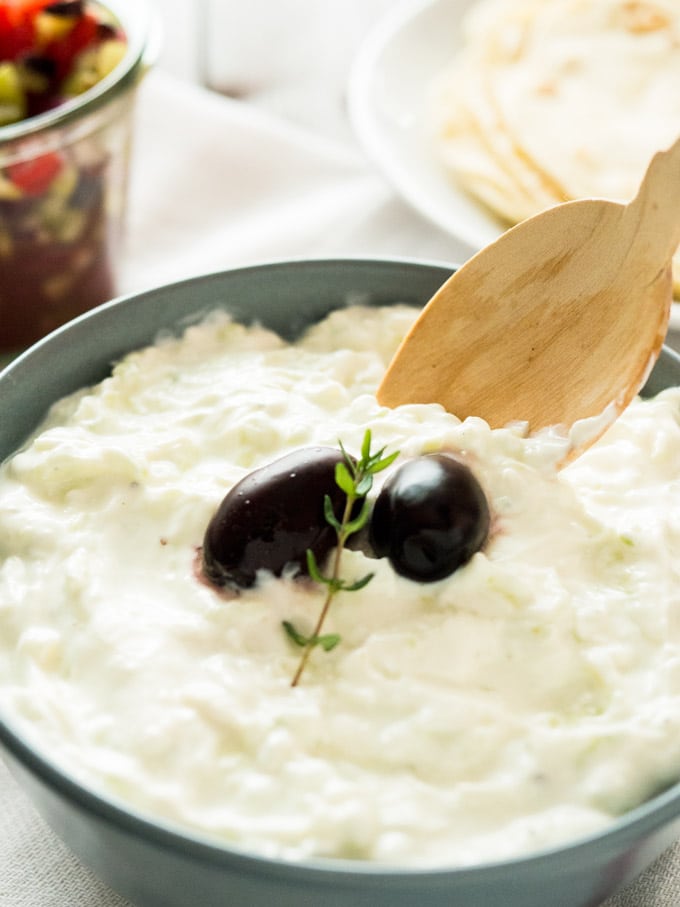 For a real Greek Tzatziki, you need real full-fat greek yogurt like Fage Total. Don't use the 0% or 2% kind! Tzatziki is a healthy dip even if you use full-fat yogurt. 1 cup of full-fat Fage Total has 220 calories which is quite reasonable in my opinion.
You also need cucumber. The cucumber makes the tzatziki sauce so refreshing! But to prevent the sauce from getting watery you need to get rid of the excess water. After grating the cucumber (no need to de-seed it), put it into a fine mesh sieve, salt it, and let the water drop-off until the cucumber is well-drained.
There is no need to add any herbs to your tzatziki but you can add a little bit of dill if you want. I'm not a big fan of dill so I didn't add any!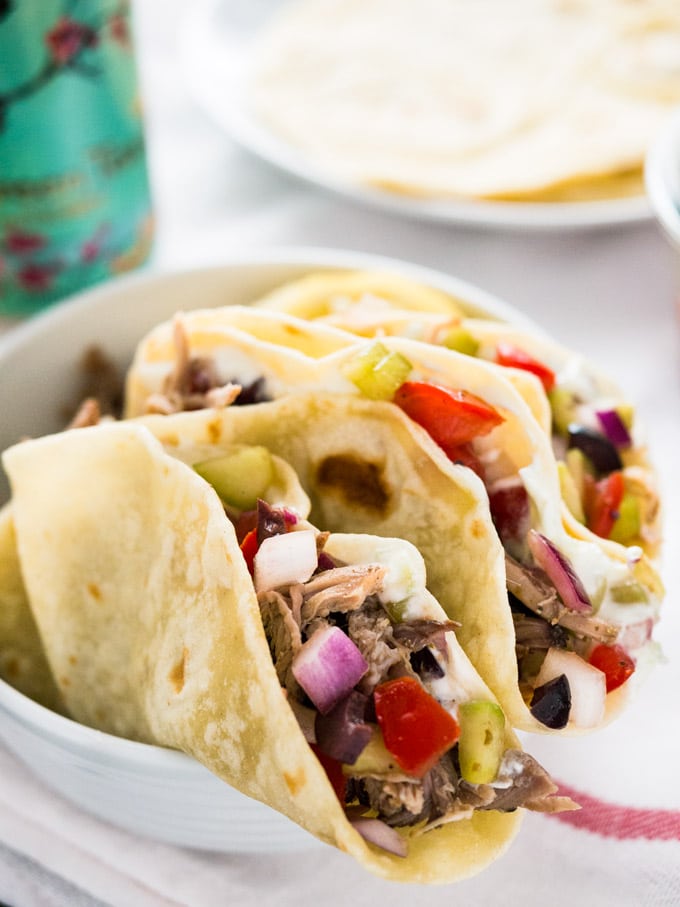 Tzaziki tastes great with grilled meat or fish but you can also serve it as an appetizer with bread! Or eat it with a spoon 🙂
Last week I made some delicious Greek-style Tacos with Pulled Pork Gyros, Greek Salsa, and Tzatziki and I have to say these were probably one of the best tacos I ever had in my life! We had them 3 days in a row and I could eat them today, too!
– Julia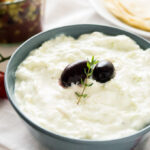 Tzatziki Sauce Recipe
Easy authentic Tzatziki Sauce Recipe - this greek yogurt cucumber dip tastes great with grilled meat or fish!
Ingredients
1/2

large cucumber

unpeeled

1/4

teaspoon

salt

2

cups

plain full-fat Greek yogurt

e.g. Fage Total Plain

2

cloves

garlic

finely minced

2

tbsp

extra virgin olive oil

1

tbsp

white vinegar
Instructions
Grate the cucumber coarsely, sprinkle with salt, mix, and drain through a fine mesh sieve about 30 minutes. Use a spoon to squeeze out some more liquid.

Combine the greek yogurt, grated cucumber, minced garlic, olive oil, and white vinegar in a large bowl. Season with salt and pepper. Cover and refrigerate for at least 3 hours.