Bavarian Potato Salad
Bavarian Potato Salad is made with vinegar, oil, and broth! It's much lighter than the mayonnaise version and makes a great side for any German dish like Schnitzel or Bratwurst!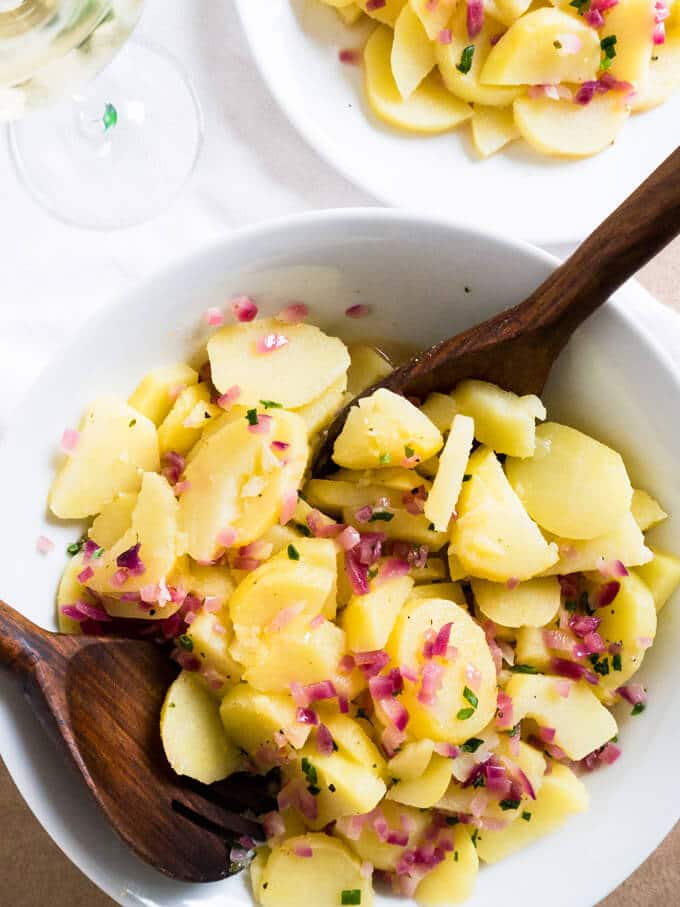 In Germany, we have many ways of making potato salad but my favorite is this one. It's made with onions, vinegar, broth and some kind of fat or oil of your choice. You can make it with olive oil, sunflower oil, butter, or bacon fat.
Most of the time I use a tasteless oil like canola oil because we love the vinegar flavor of the salad!
This kind of potato salad is served in Bavaria and Swabia. It's best when it's still lukewarm. A great salad for warmer temperatures like my Asparagus Panzanella.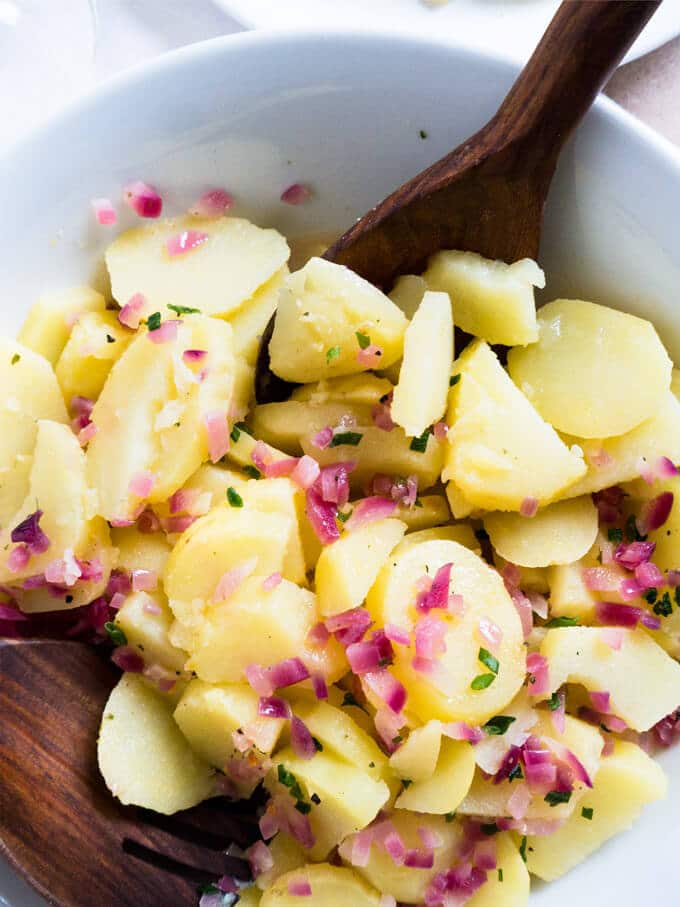 Most of the potatoes you can find in Germany you can't get in the US. In Germany, firm, yellow potatoes are used which keep their shape well (for example Bamberger Hörnchen). From my research, Yukon Gold potatoes are the closest you can get to those. And don't peel them before boiling! Just give them a good scrub to get rid off any dirt and boil them with their skin on.
Traditionally this salad is made with beef broth, it tastes best with it. But if you are vegetarian, vegan or simply don't have beef broth at home then you can also use vegetable broth. It will taste a little bit different but it won't be less delicious. For the vinegar be sure to use white vinegar and not balsamic!
You could also serve this salad with raw onions but the salad will keep fresh longer if you stew the onions a little bit!
– Julia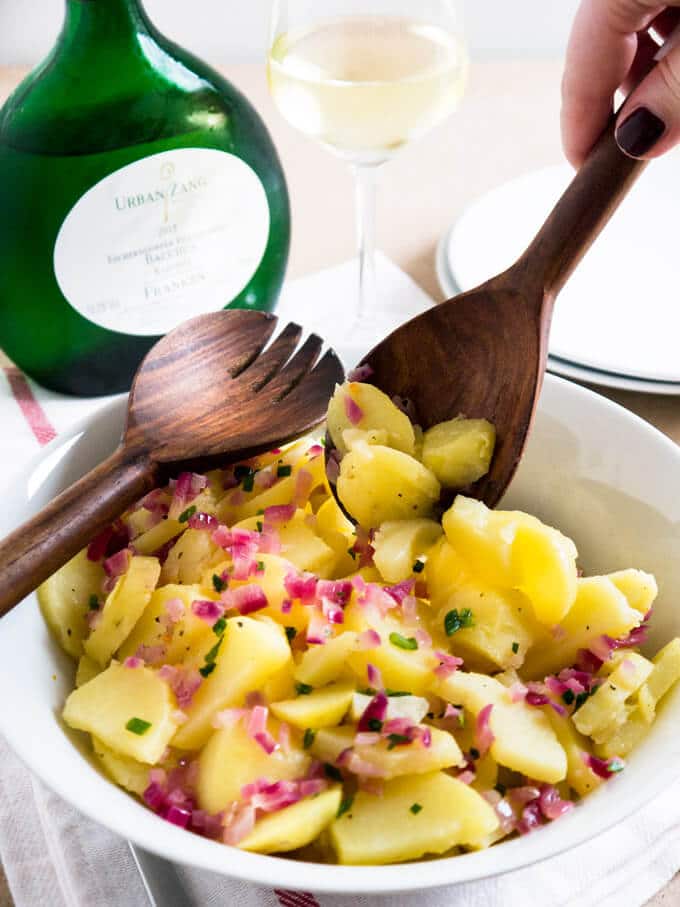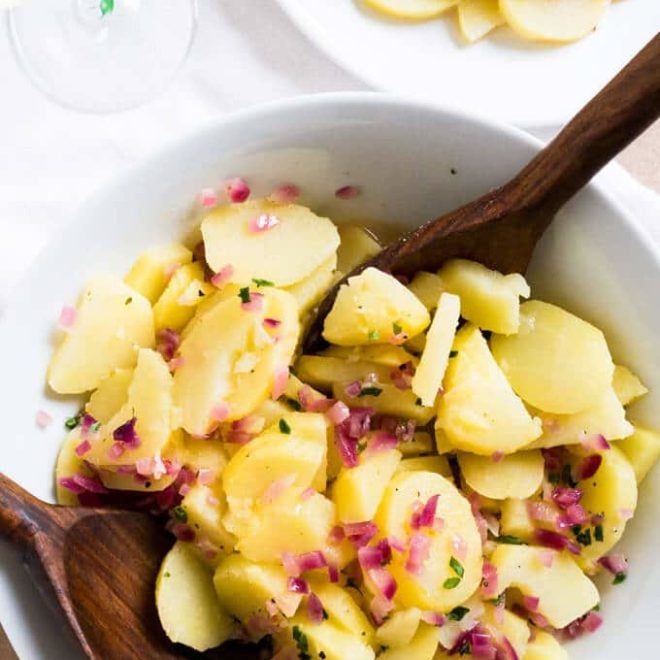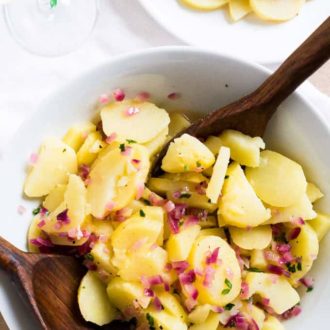 Bavarian Potato Salad
This Bavarian Potato Salad makes a great side for German dishes like Schnitzel or Bratwurst! Great for parties and barbecues.
Ingredients
2

pounds

small Yukon gold potatoes of similar size

1

red onion

,

chopped

1/2

cup

beef bouillon

,

or vegetable bouillon

5

tbsp

white vinegar

1

tsp

dijon mustard

2

tbsp

canola oil

1/2

tsp

sugar

1/4

cup

chives

,

chopped

Salt and pepper
Instructions
Leave the potatoes in their skins. I use a fan steamer and a pan to boil my potatoes in steam because they taste better this way, but if you don't have a steamer boil them in lightly salted water. It will take 25-30 minutes until your potatoes are boiled. To check if they're ready, pierce them with a skewer in the thickest part , they shouldn't be hard in the centre.

Let the potatoes cool down a little bit until you can handle them, then peel the potatoes and slice them into quarter-inch slices. Put the sliced potatoes in a large bowl and set aside.

In a medium sauce pan add a dash of oil and stew the chopped onions a little bit but don't brown them. After a minute add the broth, vinegar, sugar, and mustard. Season with salt and pepper to taste.

Pour the hot mixture over the potatoes. Mix the salad gently and let it sit for 20 minutes.

Sprinkle with chives and serve lukewarm!
Notes
This Bavarian Potato Salad will keep fresh for a few days in the fridge. Take it out 30 minutes before serving.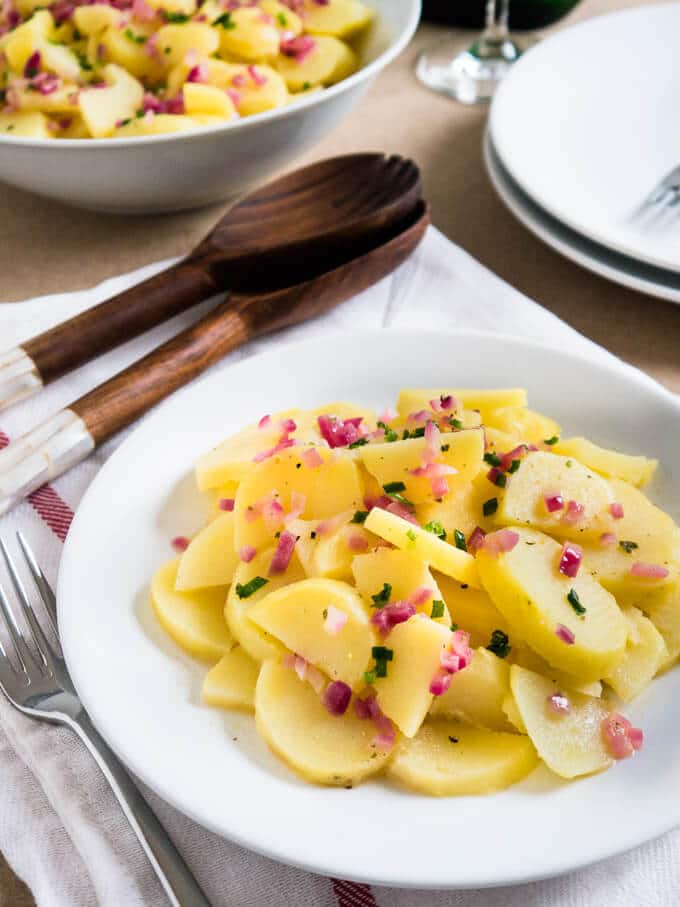 Here are some more of my German recipes you might like