Air Fryer Cauliflower is crispy, delicious, and ready to eat in under 20 minutes! Make this recipe as an easy side or a snack with your favorite dip.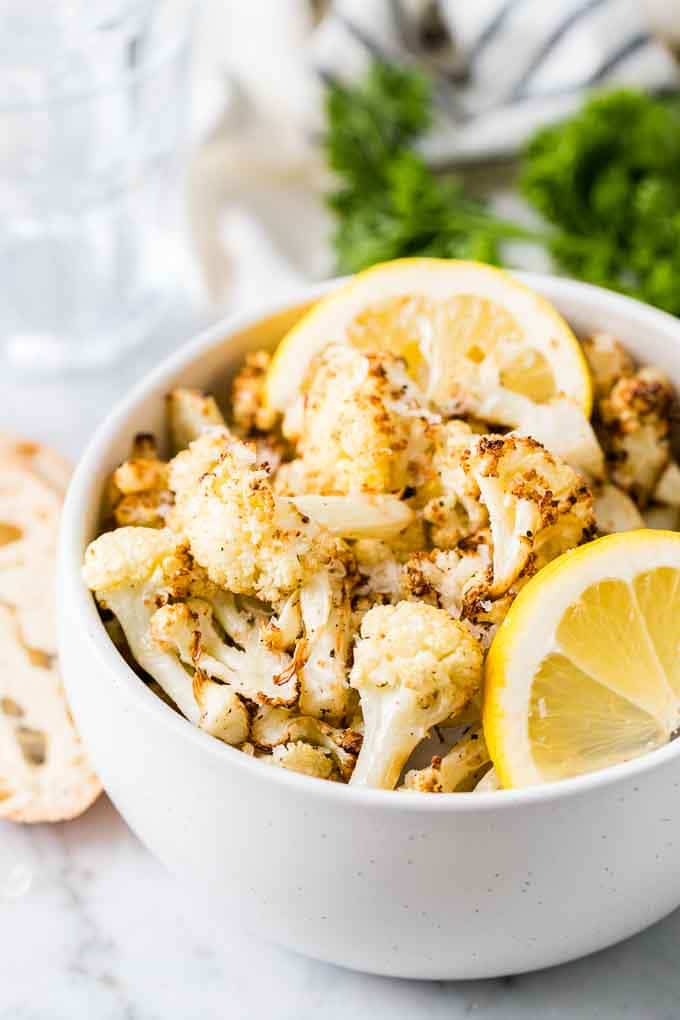 Using an oven to roast vegetables heats up your kitchen and is time-consuming. It can take up to an hour if you include the time to preheat your oven! Air frying cauliflower is so much faster and guarantees a bite that is tender on the inside, while perfectly crisp on the outside.
And with just a few simple ingredients you're taking cauliflower from bland to super flavorful. You may already have everything you need to make the recipe!
Looking for more simple Air Fryer recipes? Check out my Air Fryer Carrots and my Air Fryer Asparagus, both recipes are super simple! And if you are looking for an Air Fryer dessert check out my Air Fryer Donuts, they are always a hit.
Ingredients you'll need
Cauliflower – the head should be firm and tightly closed, a medium-sized head feeds 4-6 people as a side dish. Did you know that cauliflower also comes in many different shades, including orange, green, and purple?
Oil – I use olive oil but any oil works, if you want to use less oil use an oil spray
Garlic – fresh garlic that is finely minced or garlic powder
Lemon juice – freshly squeezed tastes best but store-bought works too
Parmesan – I prefer to buy a big slab of parmesan cheese and freshly grate it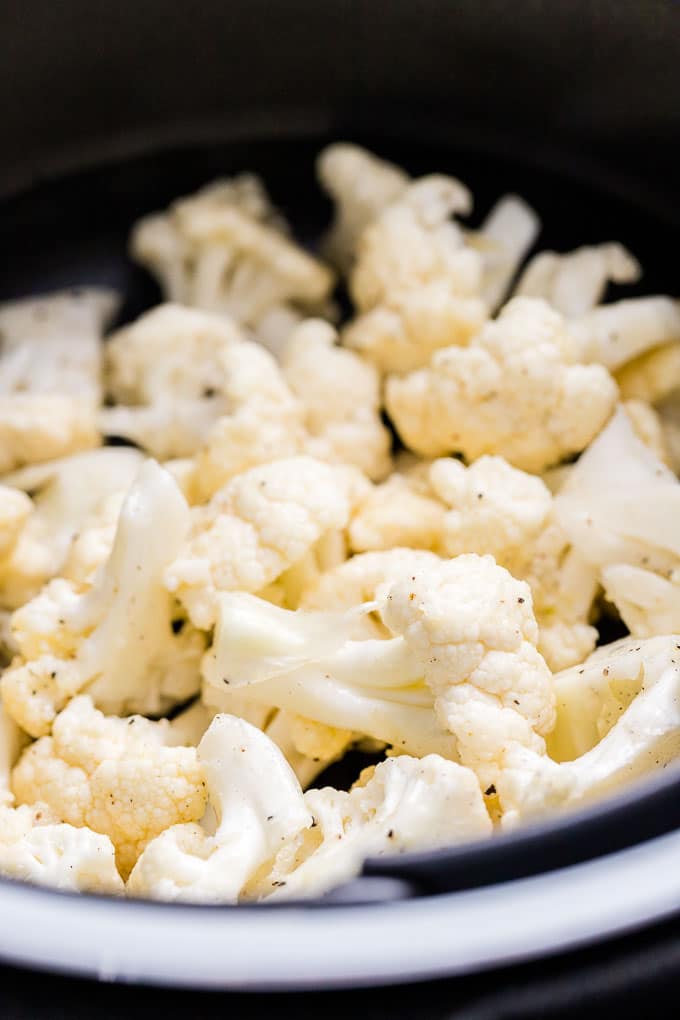 How to clean and prepare cauliflower
If you'll be using a fresh head of cauliflower, you will need to remove the stalk and leaves and then separate the florets. The florets are the flowery part on the top of the stalk.
Remove leaves – First, remove any leaves from the stalk. Just pinch them between two fingers and pull out and down, toward the base of the cauliflower.
Remove stalk – Next, use a sharp knife to remove the stalk from the florets. Cut widthwise through the stalk about an inch or so below the florets. 
Separate florets – Continue cutting and separating the florets until they are the size you want them. To ensure that everything cooks evenly, try to keep the florets as similar in size as possible.
Clean – When you have the florets ready, transfer them to a strainer. Then, wash them thoroughly under cool tap water.
Dry – Lastly, use either a clean kitchen towel, paper towels, or salad spinner to dry the cauliflower florets.
Variations
Curried – Try a curried version by adding 1 ½ teaspoons yellow curry powder and ¼ teaspoon ground cinnamon.
Breaded aka "deep-fried" – To make extra crispy cauliflower florets, season the florets with salt, pepper, and garlic powder. In a bowl combine 2 eggs and 2 Tbsp of water, toss the florets in the mixture then transfer to a bowl with about 1 cup of panko breadcrumbs. Follow the cooking instructions below.
Taco-style – Use taco seasoning instead of the spices listed below!
Air Fryer Buffalo Cauliflower – Season the florets with salt, pepper, and garlic powder before cooking and then when they are done toss in homemade (¾ cup Franks Hot Sauce+1 tbsp melted unsalted butter) or storebought buffalo sauce. So yummy!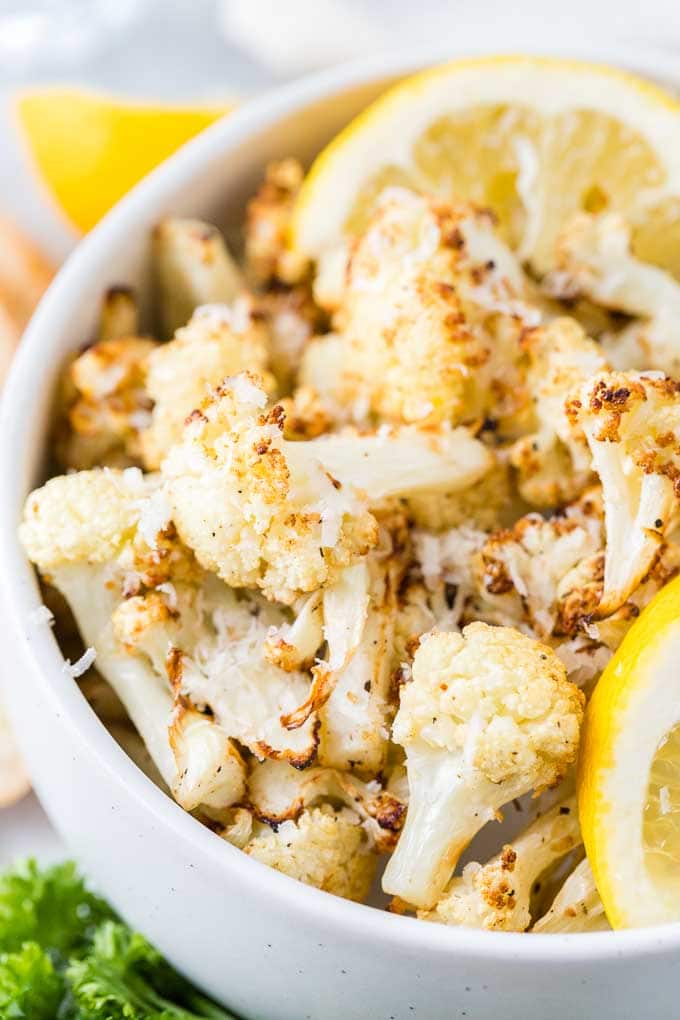 Recipe Tips and Notes
Toss the florets – Tossing the air fryer basket every few minutes while cooking prevents the cauliflower from cooking unevenly, and it ensures that the edges are nice and crispy.
Keep florets similar in size – While you won't have completely identical sizes, try to use florets that are as similar in size as possible. This also ensures even cooking.
Save time – Instead of buying a whole head, you can also buy pre-washed, pre-cut cauliflower florets!
Use the whole cauliflower – Everything except the very bottom of the stalk is edible as well. So, save it for later if you want to. It's perfect to use when you make soup, casseroles, and salads.
Separate before washing – Some people wash their cauliflower before they cut it, but I think it's much easier to wash cauliflower after it's been cut into florets.
Preheat – If the manual calls for it, preheat your Air Fryer. Some models need to be preheated, others don't.
What to serve with this dish
Served as an appetizer – serve the crispy florets with your favorite dipping sauce just like chicken wings, e.g. blue cheese dip or aioli
Served as a side dish – this veggie dish goes well with any protein, like pork chops, chicken, or fish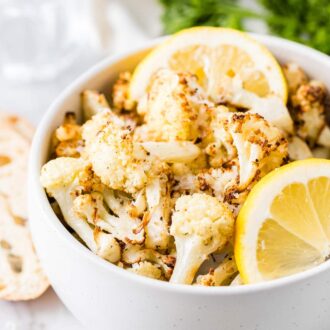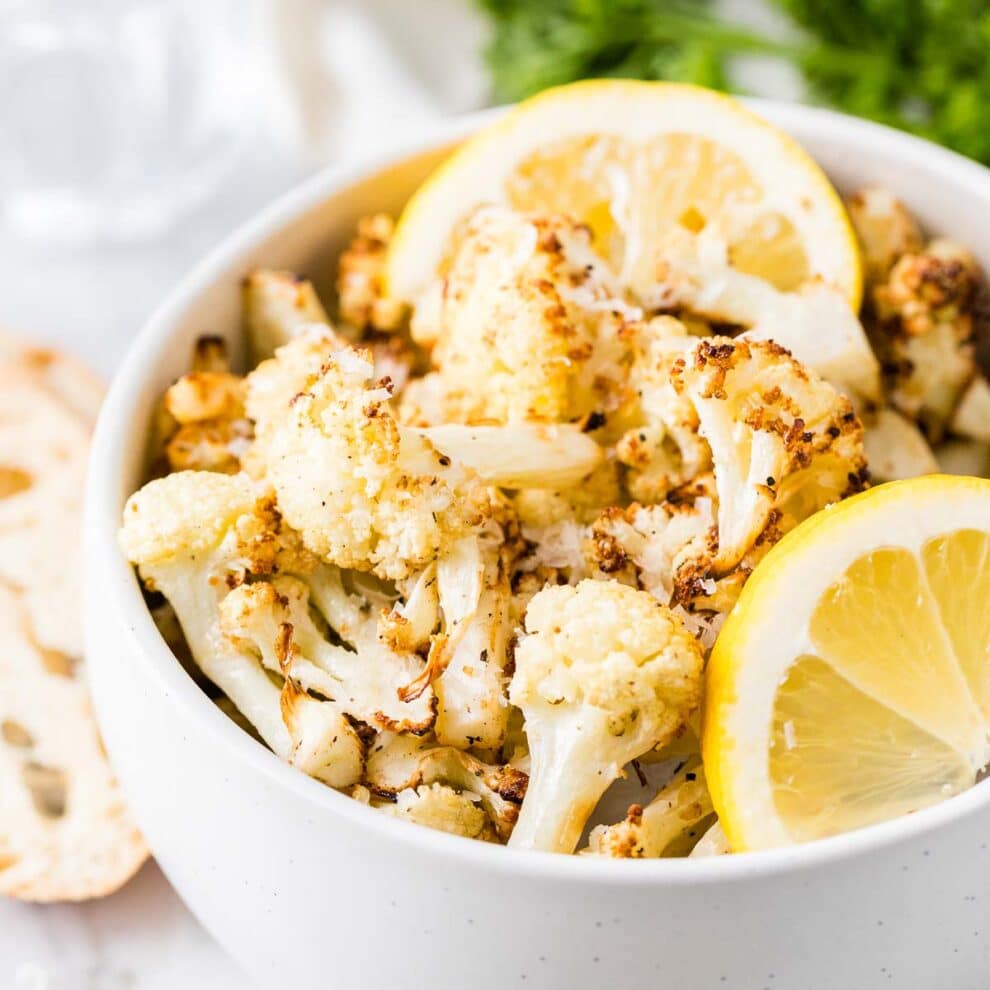 Air Fryer Cauliflower
Air Fryer Cauliflower is crispy, delicious, and ready to eat in under 20 minutes! Make this recipe as an easy side or a snack with your favorite dip.
Ingredients
1

cauliflower head

,

cut into florets, about 4 cups

1

Tbsp

olive oil

,

or more

1-2

garlic cloves

,

minced

1

Tbsp

lemon juice

,

about half a lemon

½

tsp

salt

¼

tsp

black pepper

Freshly grated parmesan

,

to serve (optional)
Instructions
Preheat Air Fryer to 400 F.

In a large bowl combine cauliflower with vegetable oil, garlic, lemon juice, salt, and black pepper.

Transfer to Air Fryer Basket and cook for 12-15 minutes, until tender and tops are lightly brown.

Sprinkle generously with Parmesan cheese just before serving.
Notes
Leftovers: Leftovers will keep in the fridge stored in an air-tight container for up to three days. Tastes great cold on a salad or as a snack with some dip. Variations: Try out one of the variations listed in the post! How to serve: Cauliflower makes a great side dish but also a healthy, low-calorie snack or appetizer. Prep: You can use the florets and the stalk! The easiest way to wash cauliflower is after it's been cut into florets.
Nutrition Information
Calories:
69
kcal
|
Carbohydrates:
8
g
|
Protein:
3
g
|
Fat:
4
g
|
Saturated Fat:
1
g
|
Sodium:
334
mg
|
Potassium:
430
mg
|
Fiber:
3
g
|
Sugar:
3
g
|
Vitamin C:
71
mg
|
Calcium:
32
mg
|
Iron:
1
mg