Air Fryer Chicken Tenders are crispy on the outside and juicy on the inside! These homemade breaded chicken strips are marinated in buttermilk to make them extra tender and have a crispy flavorful crust seasoned with my KFC-copycat spice mix.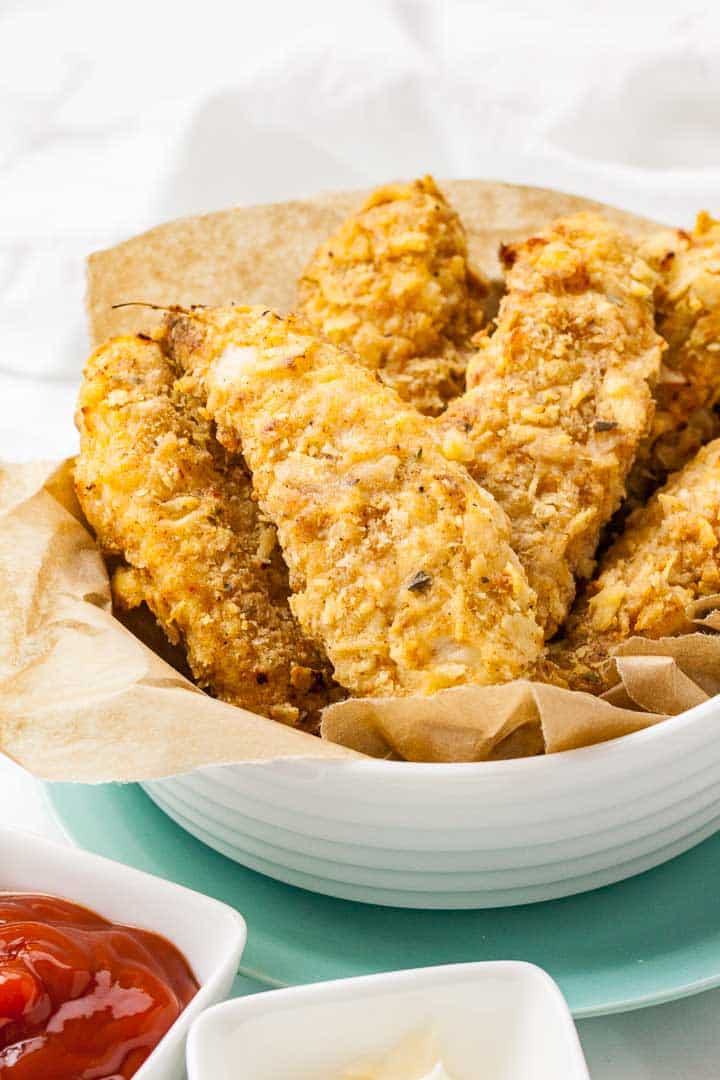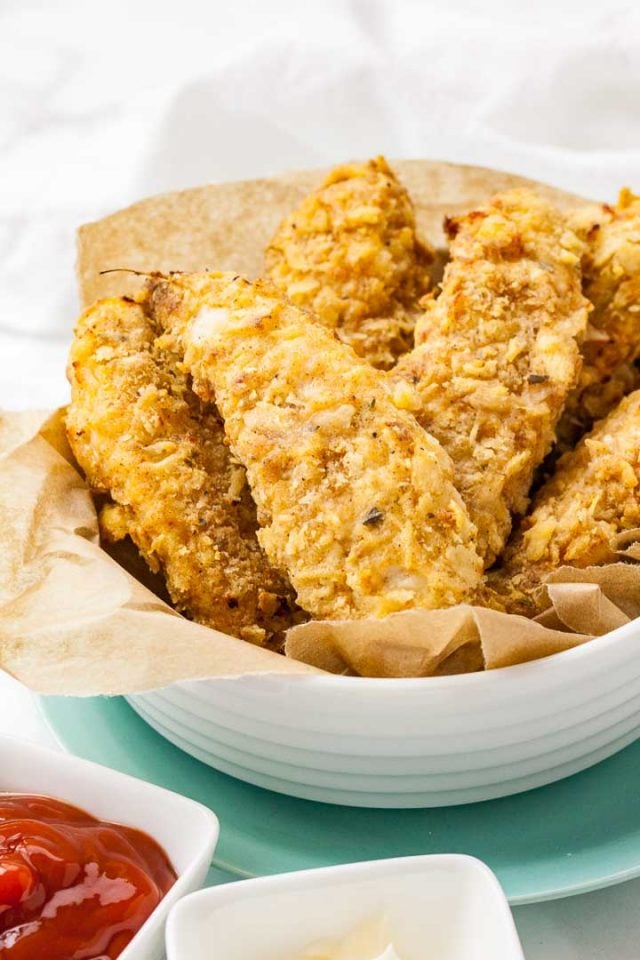 These Air Fried Chicken Tenders are a total crowd pleaser! They are super flavorful, juicy inside and extra crispy on the outside. Breaded with a mixture of panko breadcrumbs, flour, and a spice mixture that is similar to the "secret" KFC spice mix, these Air Fryer chicken tenders are as similar as you can get to "real" fried chicken without the extra calories.
My husband and I really love fried chicken but we're also trying to eat healthier. These buttermilk chicken tenders are baked in the Air Fryer instead of deep fried so they are a great alternative for days where we want to indulge without feeling guilty.
Crunchy and perfectly seasoned, these homemade chicken tenders really taste like KFC but are healthier because they are made with only a few tablespoons of butter. Perfect for fast food cravings and game day parties!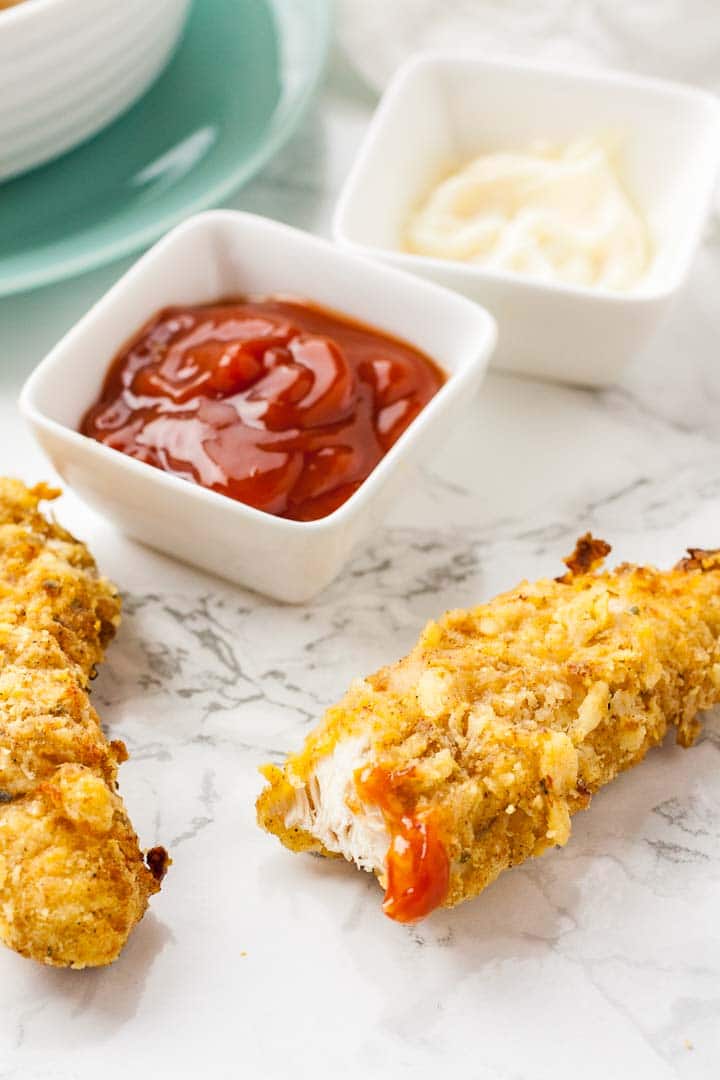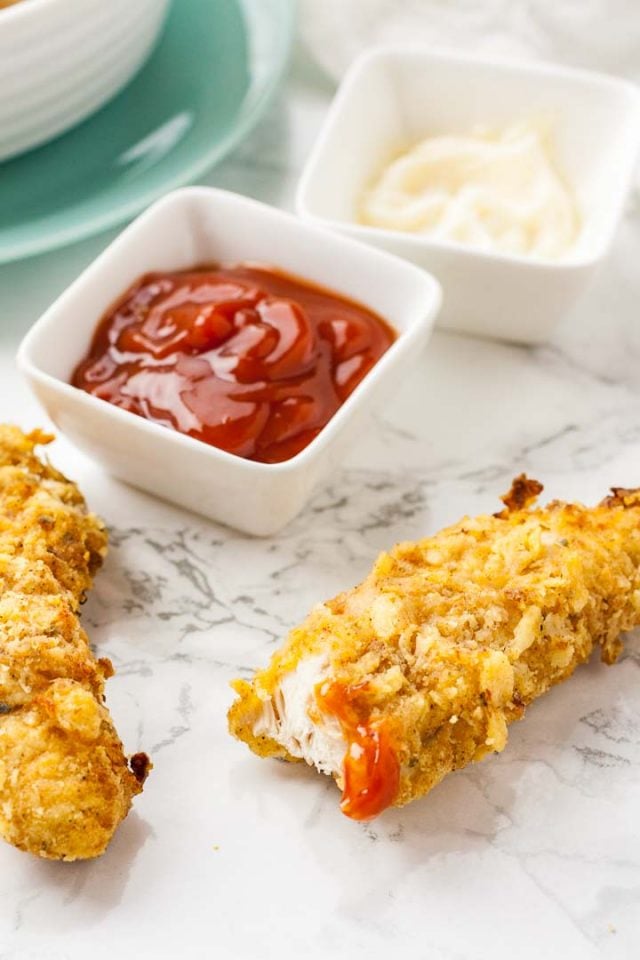 Tips and Tricks for Making Breaded Chicken Tenders in the Air Fryer
The taste of this recipe depends on the quality of the meat you're using.
The easiest way to soak the chicken in the buttermilk is to put both together in a ziplock bag, press out the remaining air and put the bag in the fridge.
Shake off excess buttermilk before putting the chicken pieces in the breading mixture. Also, shake off any excess breading mixture that doesn't stick to the tenders before putting them in the Air Fryer.
Place the breaded chicken fingers in one single layer in the basket. They can overlap a little bit but don't overcrowd the basket. I use the Philips XL Air Fryer and can cook about 1 pound of chicken tenders at the same time.
You can use melted butter to brush the chicken tenders or use an oil spray.
Check for doneness with an instant-read thermometer to make sure the chicken is cooked but still tender and moist. The internal temperature should be 175°F. Different models of Air Fryers can cook faster or slower so make sure to keep an eye on the food.
Leftovers taste great on a sandwich or cut into pieces and sprinkled over a salad.
How to make chicken tenders from chicken breast
Chicken tenders look and taste exactly the same as breast meat but are smaller than the breast. If you can't get your hands on chicken tenders, you can cut your own from a boneless, skinless chicken breast. Cut the breast lengthwise into 1/2 inch thick pieces and you have perfect chicken-tender sized pieces.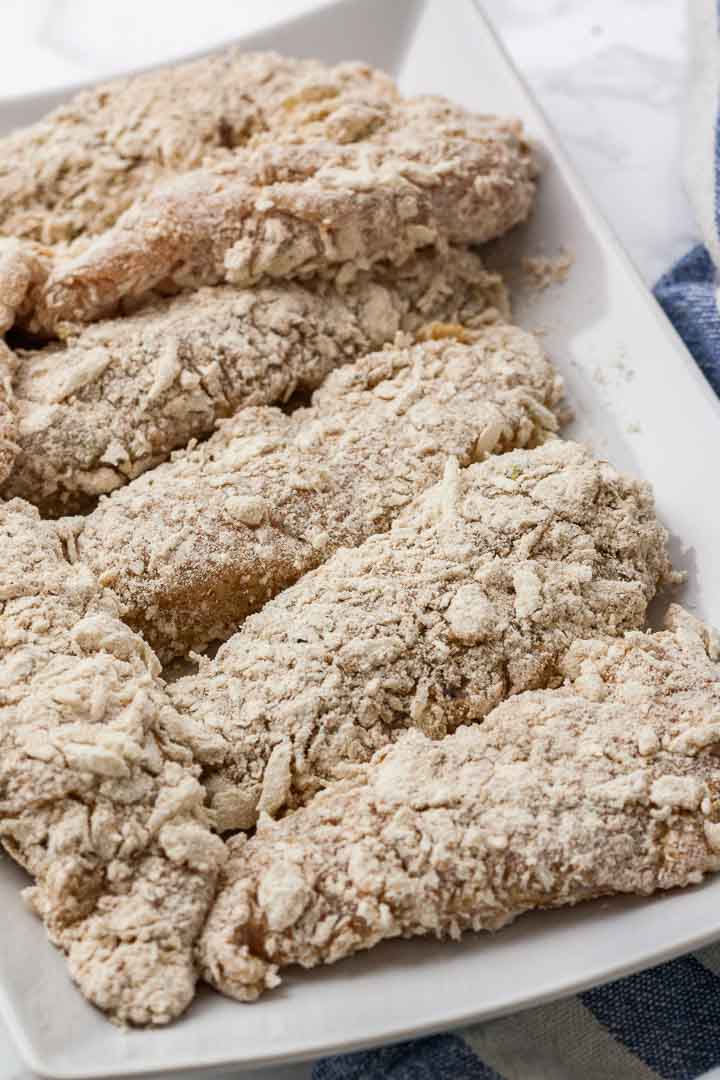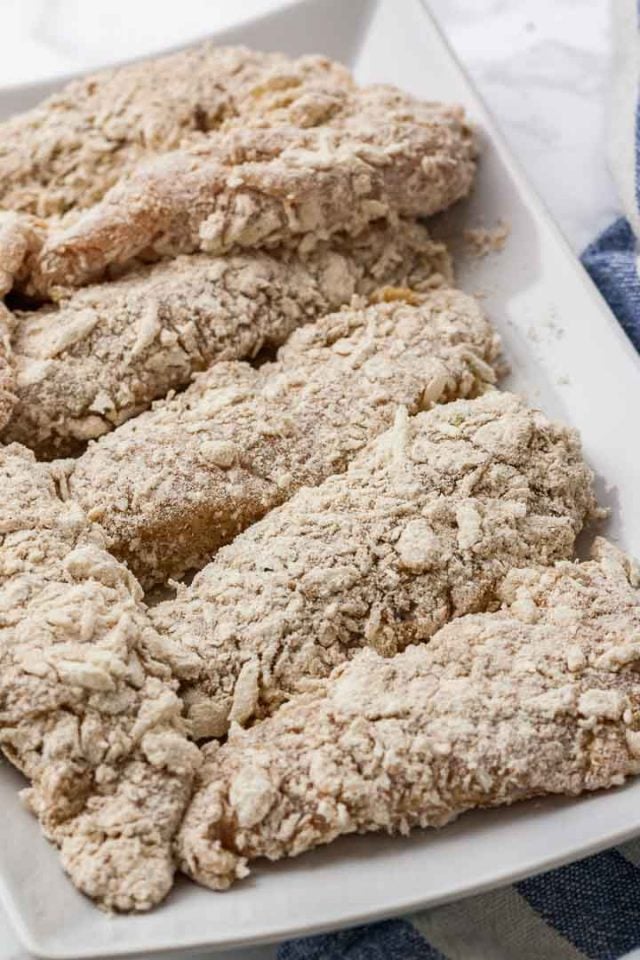 What does buttermilk do for chicken?
Marinating chicken in buttermilk produces tender and moist meat and adds flavor. The buttermilk works as a tenderizer and makes the breadcrumb mixture stick to the chicken.
How long can you marinate chicken in buttermilk?
You can marinate chicken up to 1 day in buttermilk. I wouldn't soak it longer than that because the meat might get mushy.
How long do you cook chicken tenders in the AirFryer?
Chicken Tenders cook really fast in the Air Fryer because the meat is lean. Depending on the size of your chicken strips they take about 10-12 minutes in the Air Fryer. Cook them until they're no longer pink in the center and have reached an internal temperature of 175°F. Don't overcook them because the meat will get dry on the inside!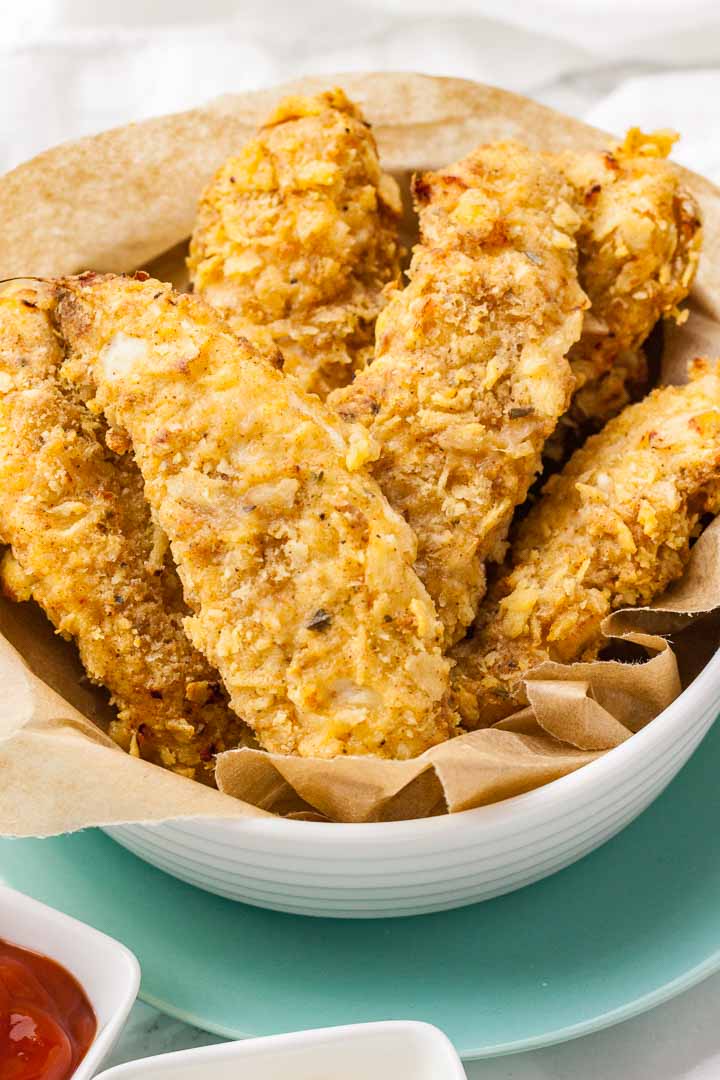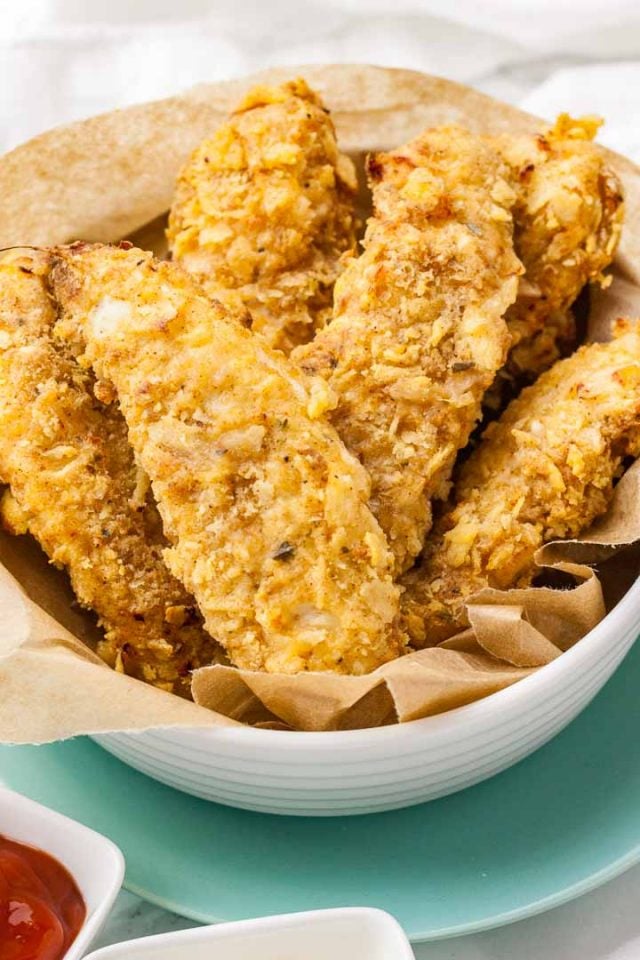 Looking for more Air Fryer Recipes?
Tools used for making this Air Fryer Chicken Tender Recipe
Air Fryer:
 This is the Air Fryer I own and really love. It has a big basket and is easy to clean.
Thermometer: I love this Instant-Read thermometer! It's cheap and perfect to check the temperature of things like a roast, turkey, chocolate or creme brulee. 
Everyone should have one of these in their kitchen!
---
WANT TO TRY THESE CRISPY AIR FRYER CHICKEN TENDERS RECIPE?
PIN IT TO YOUR APPETIZER BOARD TO SAVE IT OR SHARE ON FACEBOOK!
Follow Plated Cravings on Pinterest for more great recipes!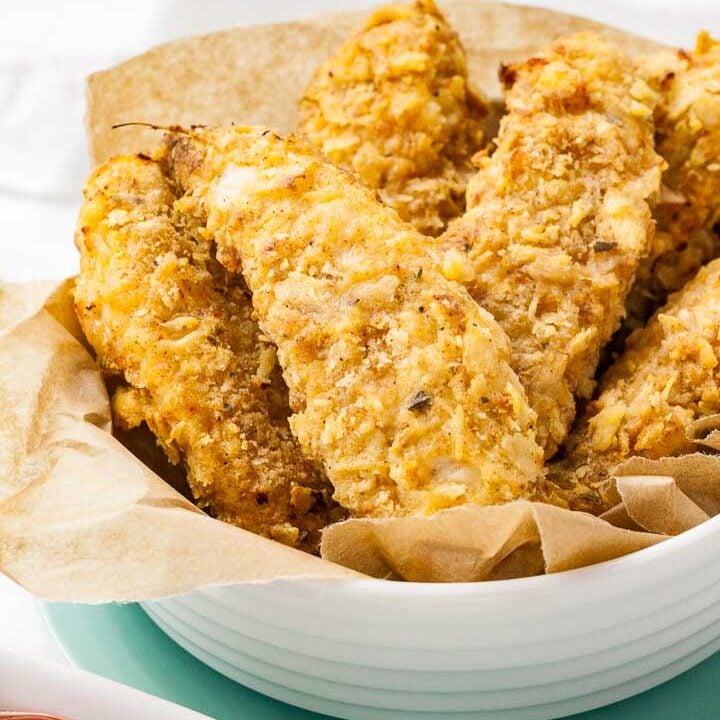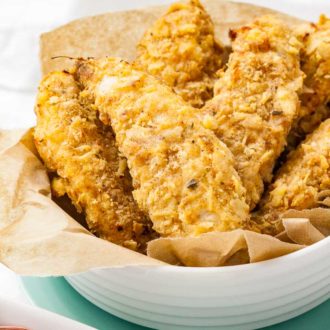 Air Fryer Chicken Tenders
Air Fryer Chicken Tenders are crispy on the outside and juicy on the inside! These homemade breaded chicken strips are marinated in buttermilk to make them extra tender and have a crispy flavorful panko breadcrumb crust seasoned with a KFC-copycat spice mix.
Ingredients
1

lbs

chicken tenders

,

(10-12 tenders)

1/2

cup

buttermilk

1/2

cup

panko breadcrumbs

1/2

cup

all-purpose flour

1/4

tsp

baking powder

1/2

tsp

salt

1/2

tsp

celery salt

1/4

tsp

dried oregano

1/4

tsp

cayenne

1

tsp

paprika

1/4

tsp

garlic powder

1/4

tsp

dried thyme

1/2

tsp

ground ginger

1/2

tsp

white pepper

1/2

tsp

ground black pepper

3

Tbsp

melted butter

,

or oil spray
Instructions
Place the chicken tenders in a ziplock bag and pour the buttermilk into the bag. Squeeze the air out and seal the bag. Let marinate in the refrigerator for 30 minutes minimum up to several hours.

In a shallow bowl combine the panko breadcrumbs, flour, baking powder, and spices.

Preheat Air Fryer to 350°F (180°C).

Remove the chicken strips from the buttermilk with a fork, shake off excess buttermilk, and dredge in the breadcrumb mixture to coat on all sides.

Put the chicken fingers in the Airfryer basket and air fry for 10-12 minutes until internal temperature reads 175°F and the chicken tenders are golden brown and crispy. Pause the AirFryer after 4 minutes and brush chicken with melted butter (or use oil spray) on one side then turn it carefully over and brush the other side.
Nutrition Information
Calories:
316
kcal
|
Carbohydrates:
20
g
|
Protein:
27
g
|
Fat:
13
g
|
Saturated Fat:
6
g
|
Cholesterol:
98
mg
|
Sodium:
876
mg
|
Potassium:
536
mg
|
Fiber:
1
g
|
Sugar:
2
g
|
Vitamin A:
680
IU
|
Vitamin C:
1.3
mg
|
Calcium:
70
mg
|
Iron:
1.7
mg
NEVER MISS A RECIPE!
PINTEREST / FACEBOOK / INSTAGRAM / TWITTER
 If you've tried this or any other of my recipes, don't forget to rate the recipe and to leave me a comment. I love hearing from you!