AirFryer Chicken Drumsticks
Juicy AirFryer Chicken Drumsticks – made with only 3 Tbsp butter but full of flavor and really easy to make. They're tender and juicy inside and crispy on the outside. You have to try them!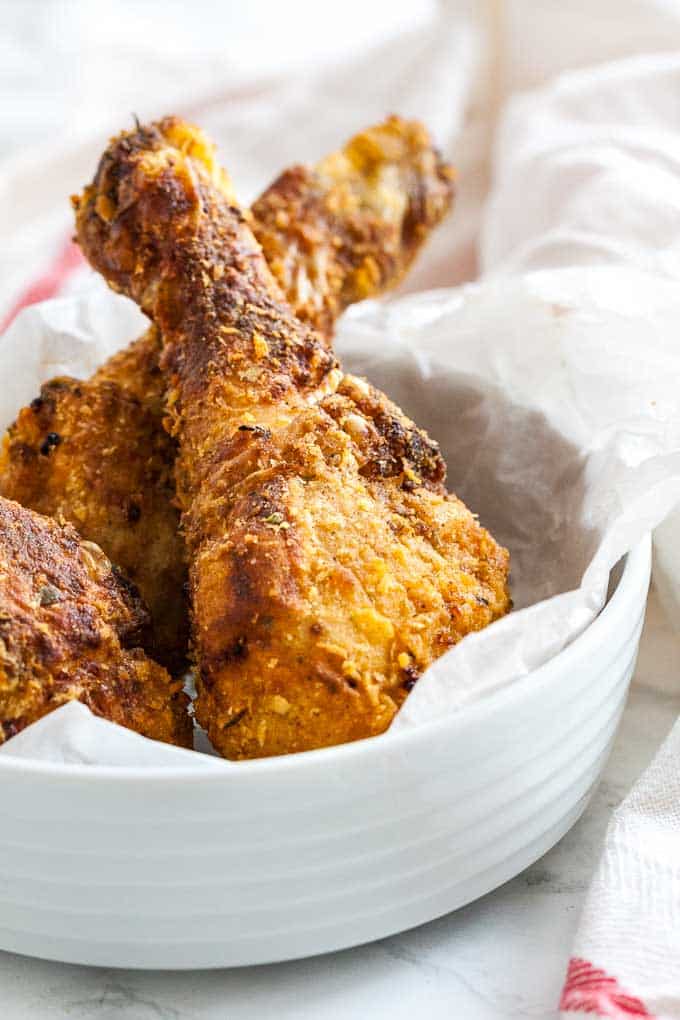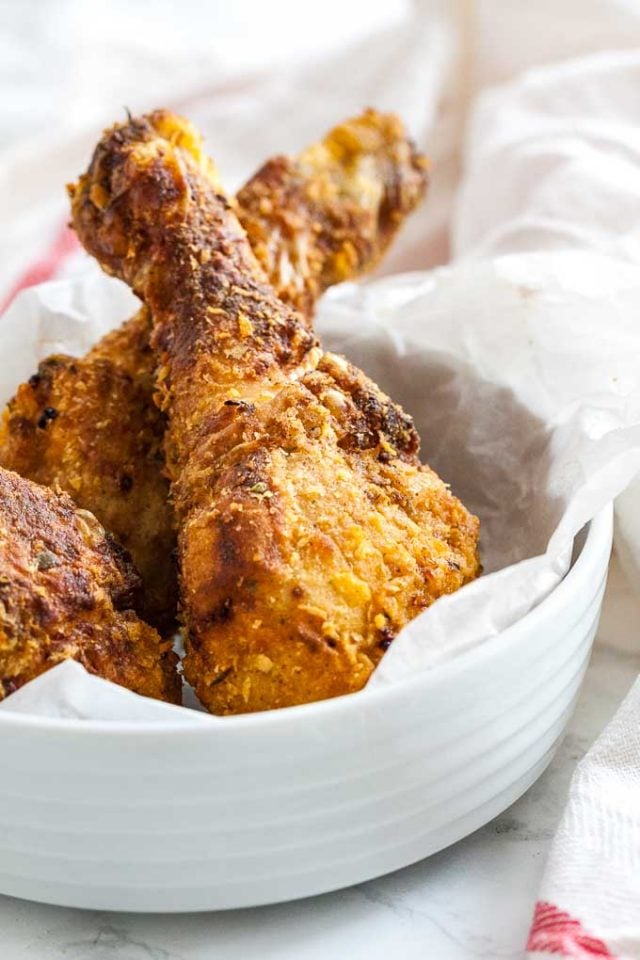 These air fryer fried chicken thighs are crispy on the outside and so juicy and tender on the inside! They taste like real fried chicken but are made using a healthier method with much less fat. Perfect for every fried chicken lover who whats to eat a bit healthier without losing flavor!
 My husband loves fried chicken, especially the one from a chain with three letters. You know what I mean! I love it too but since we're trying to eat healthier I experimented a bit with our new AirFryer and came up with this delicious recipe.
It tastes so good you won't believe it's made with much less fat! My husband loves this air fried chicken recipe!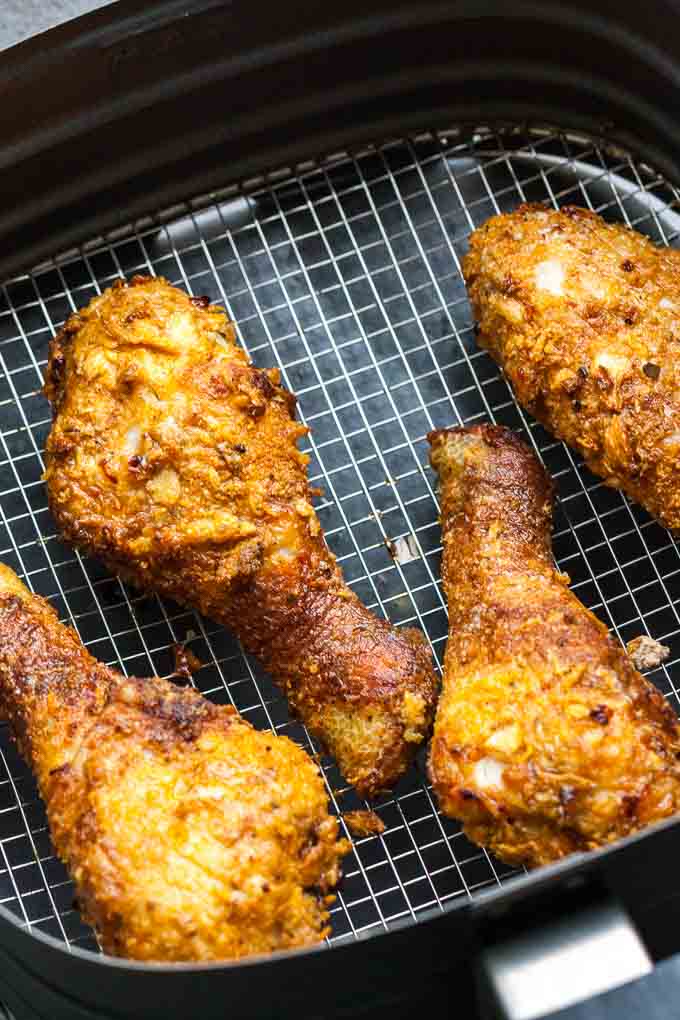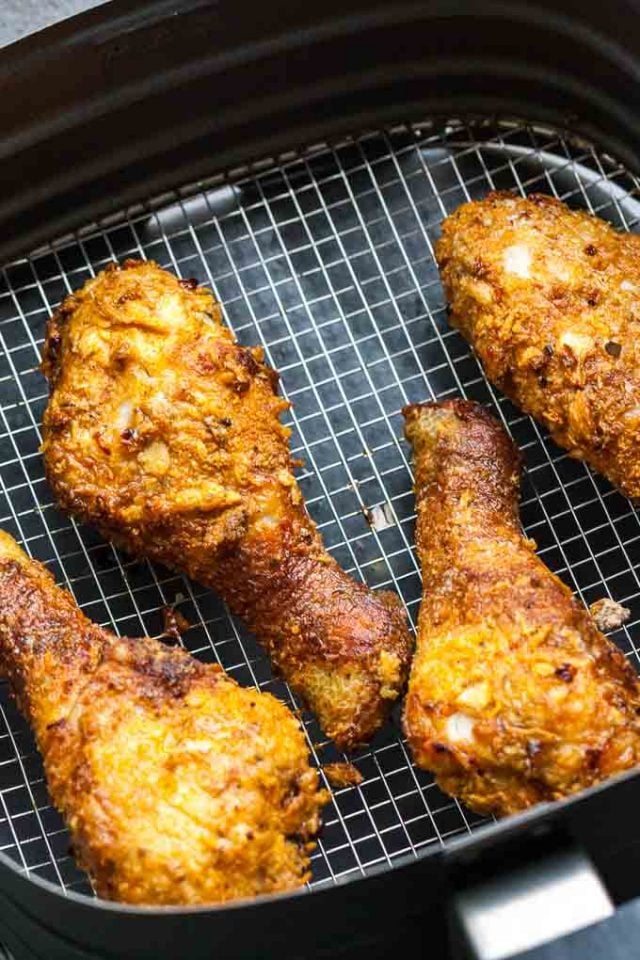 Our AirFryer (we own this one
) is one of the most used appliances in our kitchen! It gets hot much quicker than the oven and it makes fries taste so much better than making them in the oven. Just put the fries in the basket, shake it every 5 minutes or so and you get delicious crispy fries.
What is an Air Fryer?
An air fryer is a small kitchen appliance that cooks food by circulating hot air around it with a mechanical fan at high speed, cooking the food and producing a crispy texture similar to frying, but without all the oil. It cooks food with 70% to 80% less oil than a traditional deep-fryer.
The Air Fryer is perfect for making small things like fries, fish fingers, or frozen chicken strips in it. You could even make a whole roast in it but I haven't tried that yet.
You can preheat the AirFryer but I often don't do that, it gets hot so quickly, so I don't think it's necessary. To clean it, I just put the basket which holds the food in the dishwasher or I clean it quickly with some hot water and pat it dry with kitchen towels. It's really easy and quick! The basket is big enough for fries for 2-3 people, so if you are more you might need to do it twice but thin fries only take about 10 minutes.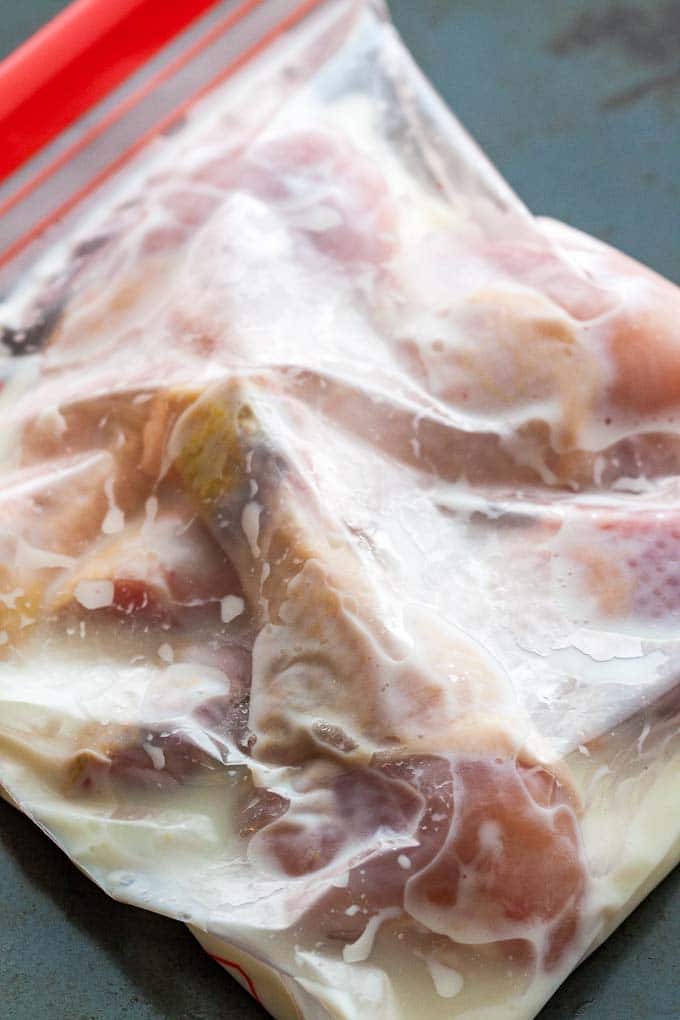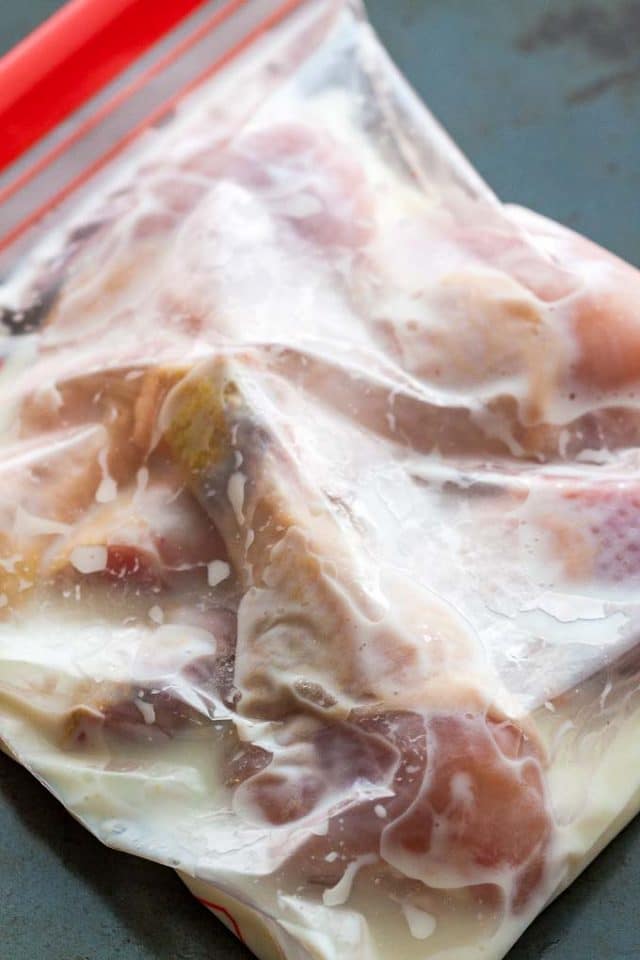 How to make fried chicken in Airfryer
These air fried chicken legs are made with buttermilk and have a crispy and slightly spicy breadcrumb crust. They are so juicy and tender inside and make a great dinner or party snack. We often have them with Creamy Crock Pot Mashed Potatoes and homemade coleslaw.
Making homemade fried chicken in an Air Fryer is super easy and quick:
Put chicken with buttermilk in a ziplock bag and refrigerate for 30 minutes.
Combine spices and breadcrumbs in a bowl. Dip chicken pieces in the breadcrumb mixture.
Put the chicken pieces in a single layer in the air fryer (don't overcrowd the basket) and fry for 20 minutes.
Brush with butter after 10 minutes.
Check for doneness and serve.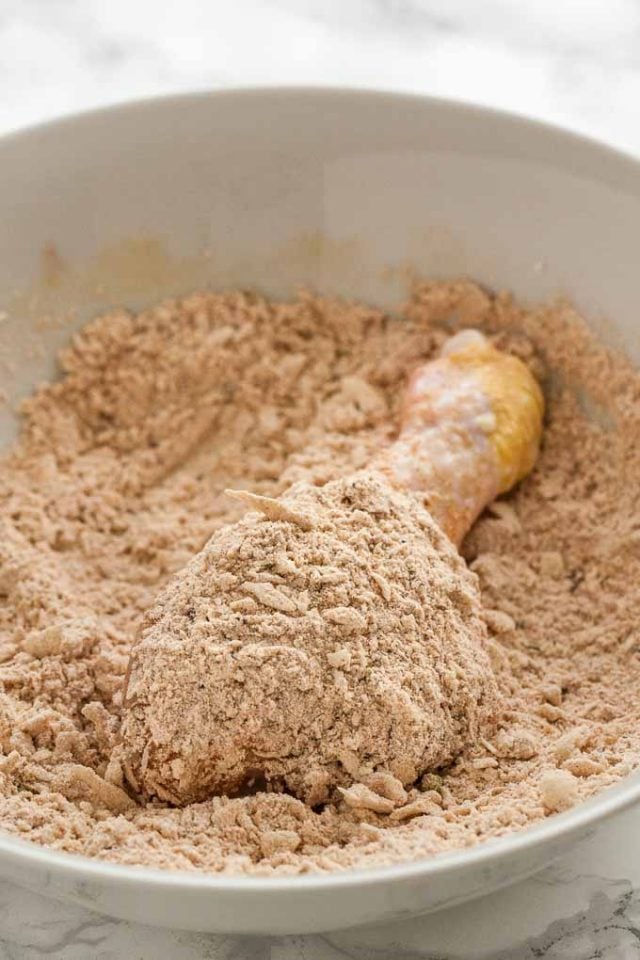 Looking for more healthier dinner ideas?
Tools used for making this air fryer recipe:
Air Fryer:
This is the model I use and love! It has a big enough basket for a family of 3 or four and is easy to use.
Panko Breadcrumbs:
 Panko Breadcrumbs work best for this recipe.
[social_warfare buttons="Pinterest, Facebook"]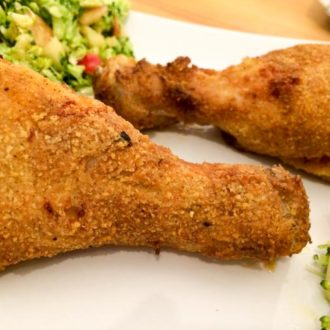 Air fryer Chicken Drumsticks
Juicy AirFryer Chicken Drumsticks - made with only 3 Tbsp butter but full of flavor and really easy to make. They're tender and juicy inside and crispy on the outside.

Ingredients
1

lbs

chicken drumsticks

,

(4-6 pieces)

1/2

cup

buttermilk

,

(120ml)

1/2

cup

panko breadcrumbs

,

(30g)

1/2

cup

all-purpose flour

,

(60g)

1/4

tsp

baking powder

1/2

tsp

salt

1/2

tsp

celery salt

1/4

tsp

oregano

1/4

tsp

cayenne

1

tsp

paprika

1/4

tsp

garlic powder

1/4

tsp

dried thyme

1/2

tsp

ground ginger

1/2

tsp

white pepper

1/2

tsp

black pepper

3

Tbsp

butter melted
Instructions
Place the chicken drumsticks with the skin on in a plastic bag and pour the buttermilk into the bag. Squeeze the air out and seal the bag. Let marinate in the refrigerator for 30 minutes minimum up to several hours.

In a shallow bowl combine the panko breadcrumbs, flour, baking powder, and spices.

Preheat AirFryer to 390°F (200°C) (or don't preheat it and just fry the chicken 2 minutes longer).

Remove the chicken from the buttermilk, shake off excess buttermilk, and dredge the drumsticks in the seasoned flour mixture to coat on all sides.

Put the chicken drumsticks in the Airfryer basket and air fry for 10 minutes. (The Airfryer might smoke a little bit during the first minute, don't worry this is normal)

The pause the AirFryer and brush drumsticks with melted butter on both sides. Turn the chicken over, lower the temperature to 300°F (150°C) and air fry for 10 more minutes or until internal temperature reads 165°F (79°C).

Remove from Airfryer and let the drumsticks rest for 5 minutes before serving.
NEVER MISS A RECIPE!
 If you've tried this or any other of my recipes, don't forget to rate the recipe and to leave me a comment. I love hearing from you!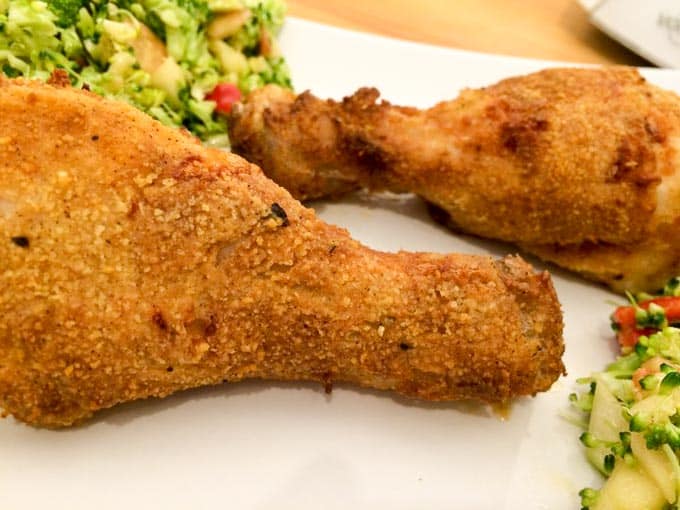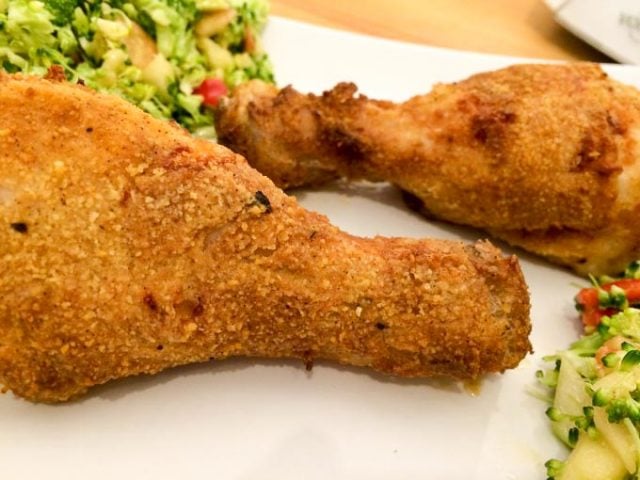 More Air Fryer Chicken Recipes:
Air fryer chicken tenders:
This recipe also works for chicken tenders, the only difference is the cooking time. Follow the recipe above using chicken tenders instead. Place them into the basket of your airfryer. Cook for 14 minutes at 400 degrees. Flip the tenders after 7 minutes.
Air fryer chicken wings:
Using an Air fryer to make chicken wings gives them a crisp texture without using any oil. Place about 1 lb. chicken wings in the fry basket. Cook for 25-30 minutes at 360°F until the skin is browned and crisp. Flip the wings every 10 minutes while cooking. Transfer them to a bowl and toss them with 2 Tbsp of your favorite wing sauce.