Air Fryer Salmon comes out tender and juicy every time! Making salmon in the Air Fryer is an easy and quick way to cook your favorite fish exactly the way you like it with only a little bit of oil.
We love to use our Air Fryer to make a healthier version of our favorite foods! This weekend we made Air Fryer Chicken Wings and Air Fryer Onion Rings for our game day party and Air Fryer Chicken Breast with Oven Roasted Potatoes for dinner.
Air Fryer Salmon
Salmon made in the Air Fryer is perfectly cooked and so delicious! You can use your favorite dry rub, marinate the salmon, or just use salt and pepper for this easy recipe. Using an air fryer saves you time and calories because you don't need to preheat most models, there is no need to turn salmon like when you use a skillet to fry it, and you can get away with only a tiny amount of oil.
How to make Air Fryer Salmon
Making Air Fried Salmon is really easy and takes only a few minutes. Start with seasoning the salmon, then spray the Air Fryer basket with cooking spray, this way it is easier to remove the cooked salmon. Put the salmon fillets in the basket in one layer, depending on your Air Fryer you can fit all four fillets in the basket or use a rack to stack them. Start the Air Fryer and cook for about 10-12 minutes depending on how done you like your fish. We love it medium so I take it out when my Instant Read Thermometer is at 125 degrees F.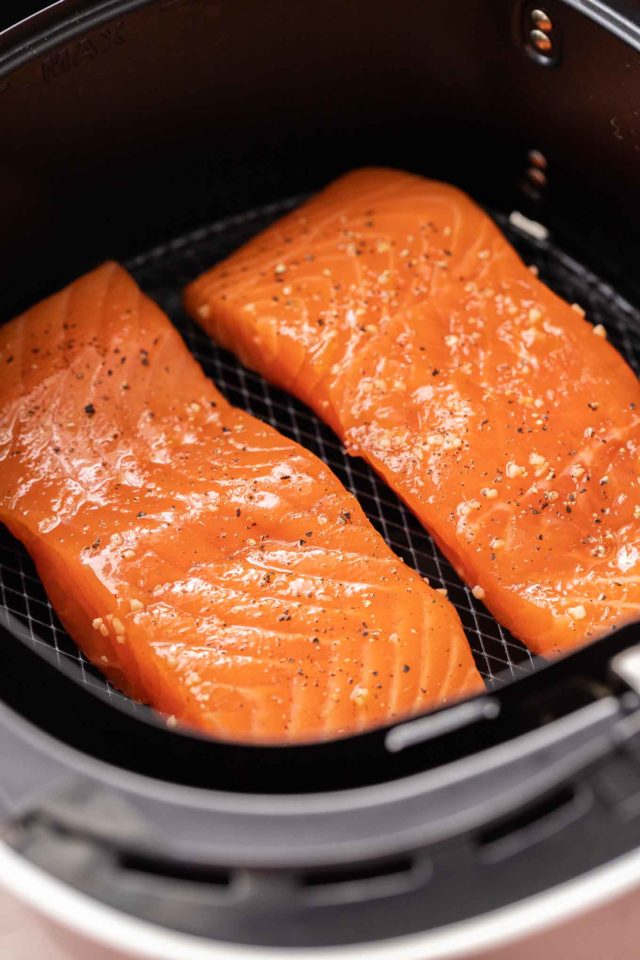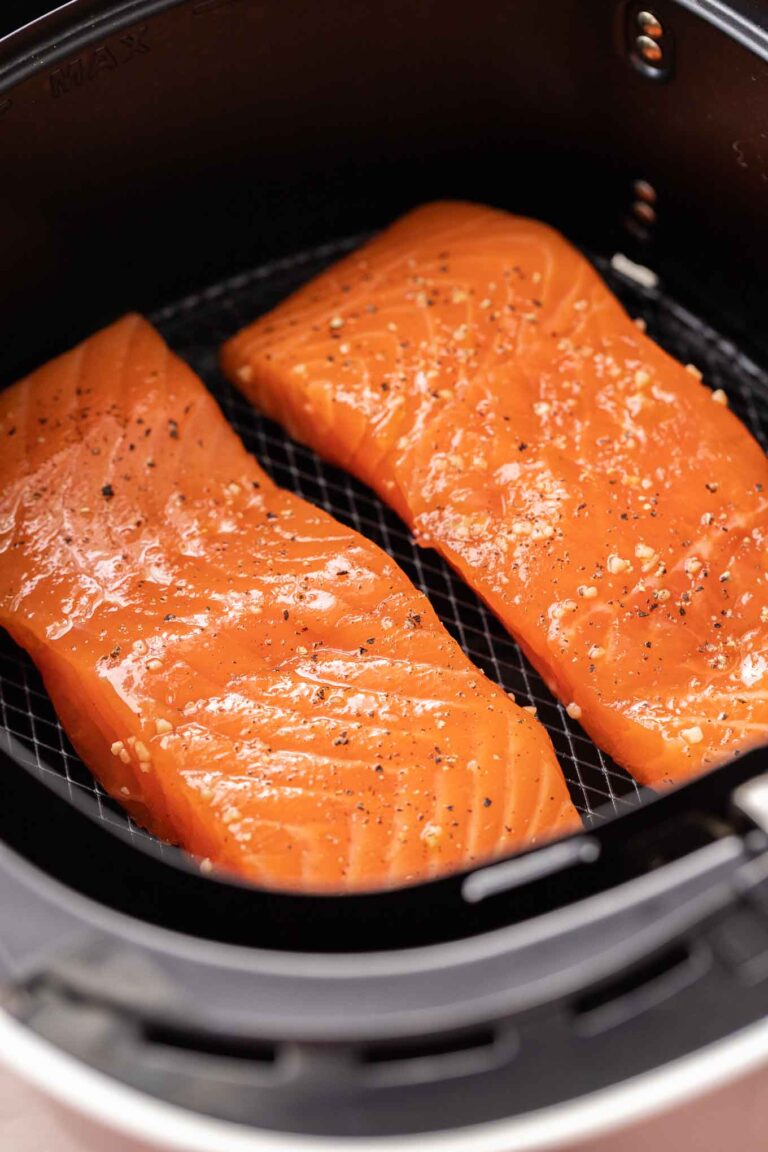 Tips and Tricks for making Air Fryer Salmon
Cooking time varies depending on the thickness and size of the salmon filets
Don't overcrowd the basket! You want the air to flow freely between the food.
Spray the basket with cooking spray before putting the salmon in so it doesn't stick
I prefer my salmon cooked to medium rare (120-125 degrees F)
For the best results, use an Instant Read Thermometer like a Thermapen to check the temperature!
Let the salmon rest for about 2-4 minutes after taking it out of the Air Fryer,
Rather undercook the salmon then overcook it! It keeps cooking while resting, this way you get the juiciest results. Overcooked salmon is very dry!
Squeezing some lemon juice over the cooked salmon just before serving adds a delicious flavor boost!
How long to marinate Salmon
Don't marinate salmon for longer than 30 minutes! Most salmon marinades contain acids like lemon, orange, or soy sauce which will begin to break done the fish and make it mushy if it sits in it for too long.
How long to cook salmon
The salmon is cooked to medium rare when a thermometer inserted in the thickest part of the fillet reads a temperature of 120-125 degrees F, this takes about 8-10 minutes at 350 degrees F. Depending on how you like your salmon you can cook it for 1-2 minutes longer or until it has reached a temperature of 140 degrees F measured in the thickest part for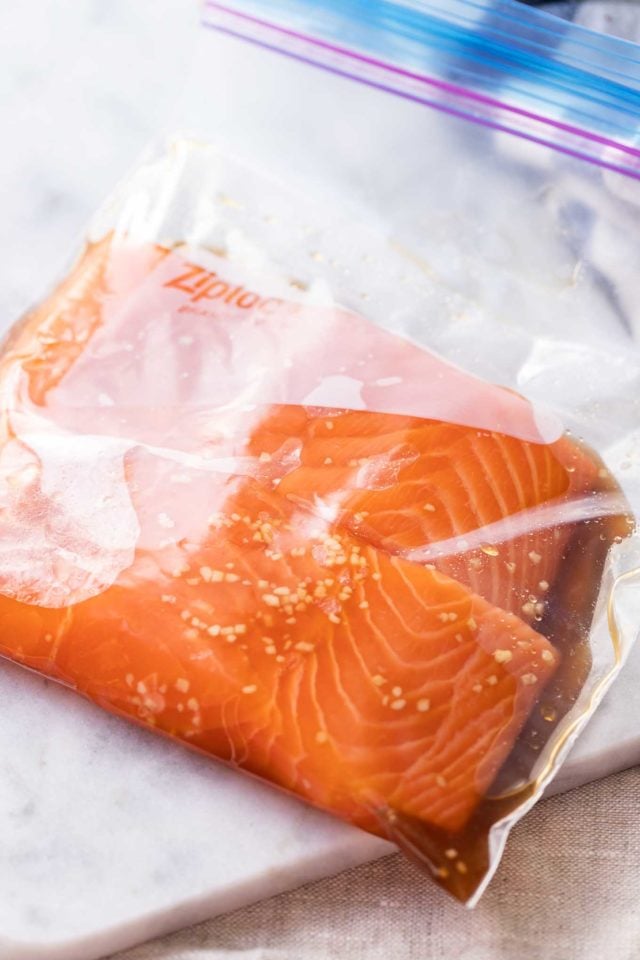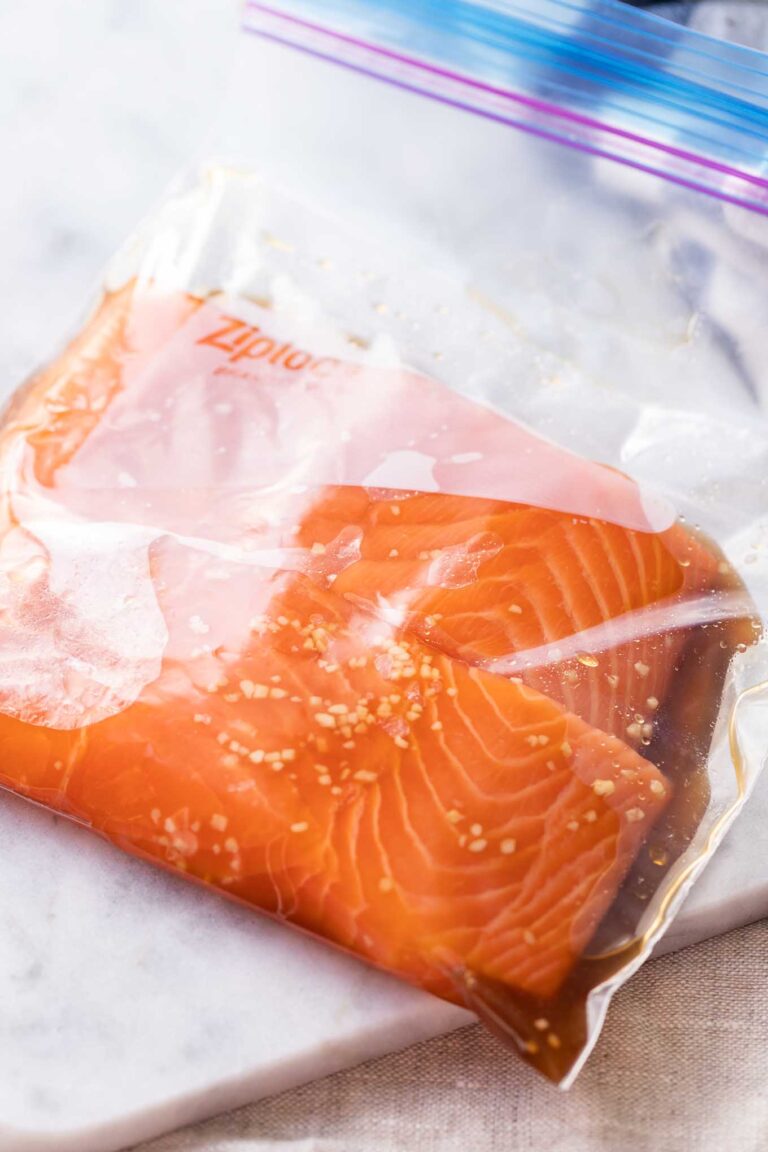 Salmon Marinades and Seasonings
Salmon goes perfectly with some acidity like lemon or soy sauce. But because the acid will start to cook the fish (think Ceviche) you should only marinate salmon for less than 30 minutes. This is long enough for the salmon to absorb the flavors but if you want to marinate longer choose a dry rub or marinade without acid. In the recipe card you'll find my favorite maple marinade for salmon but here are some other ideas:
Dry Rub for Salmon: Mix up any combination of garlic and onion powder, fresh kosher salt, very finely chopped herbs, spices, and some ground chilies if you like it spicy. Massage it into the flesh and then let it sit, uncovered in the fridge for up to three hours. Brush off any excess rub before cooking.
Honey Mustard Salmon: Combine 1 Tbsp Dijon mustard + 1 Tbsp honey + 1 tsp minced garlic + 1 tsp olive oil (optional) and brush over salmon
Can you put aluminum foil in an air fryer?
Yes, you can put aluminum foil or baking paper in your Air fryer basket but you should never cover the basket bottom completely so air can still flow around the food.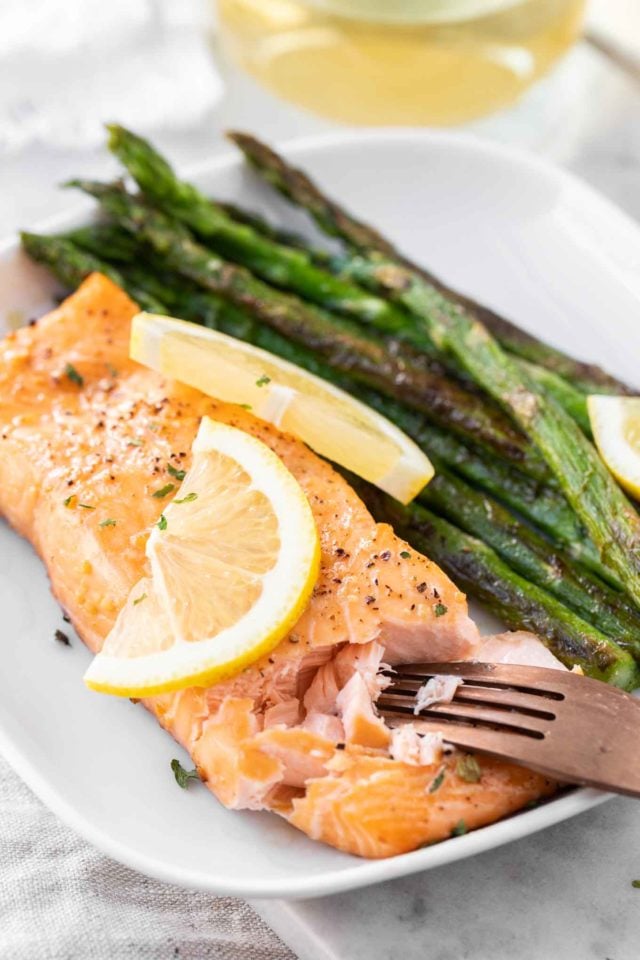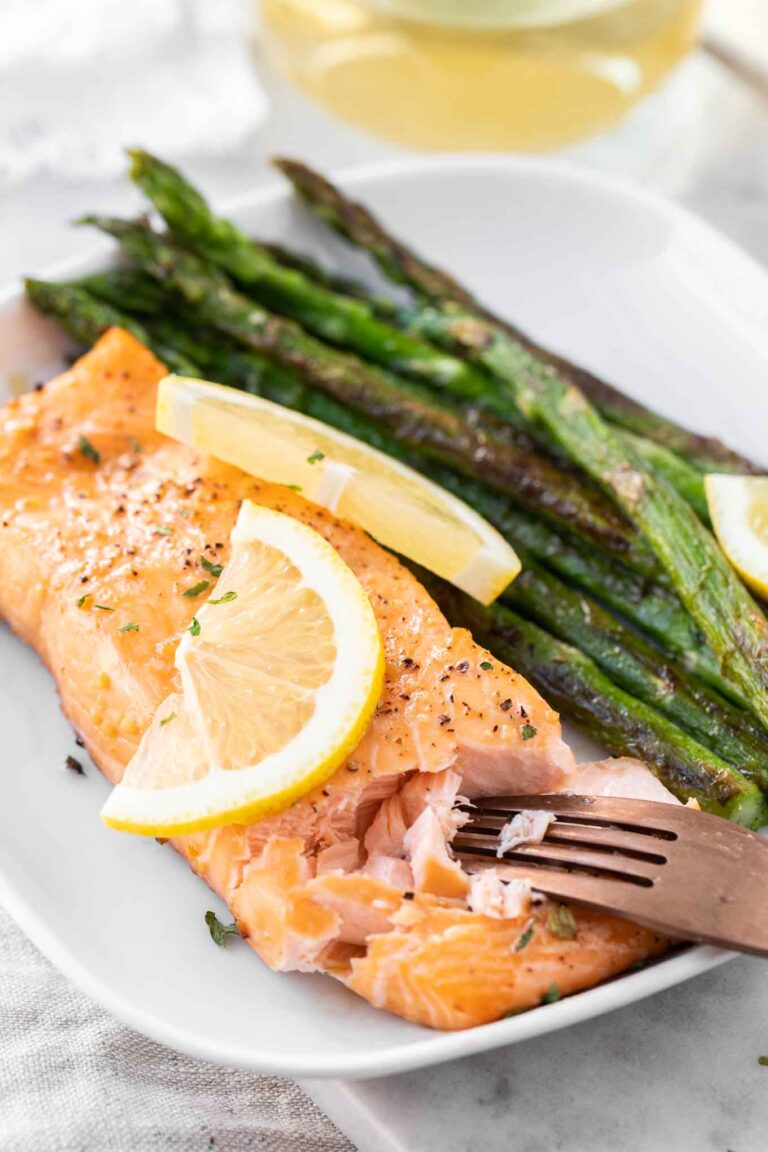 Tools used to make this Baked Salmon Recipe
Air Fryer: This is the model I own. I really like it and would recommend it for smaller families. It came with a rack which doubles the space in the basket. Before buying this model I had the older XL Air Fryer which was bigger but took a lot more space to store.
Air Fryer Oven: This oven is on my wishlist! I saw it at Costco and it has great reviews. It has a lot more functions then an Air Fryer!
---
Want to try this Air Fried Salmon recipe?
PIN IT TO YOUR DINNER BOARD TO SAVE IT OR SHARE ON FACEBOOK!
Follow Plated Cravings on Pinterest for more great recipes!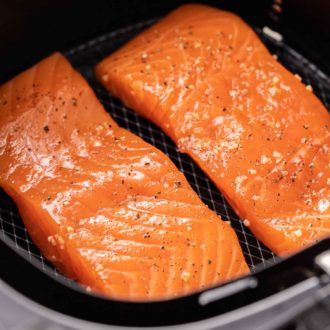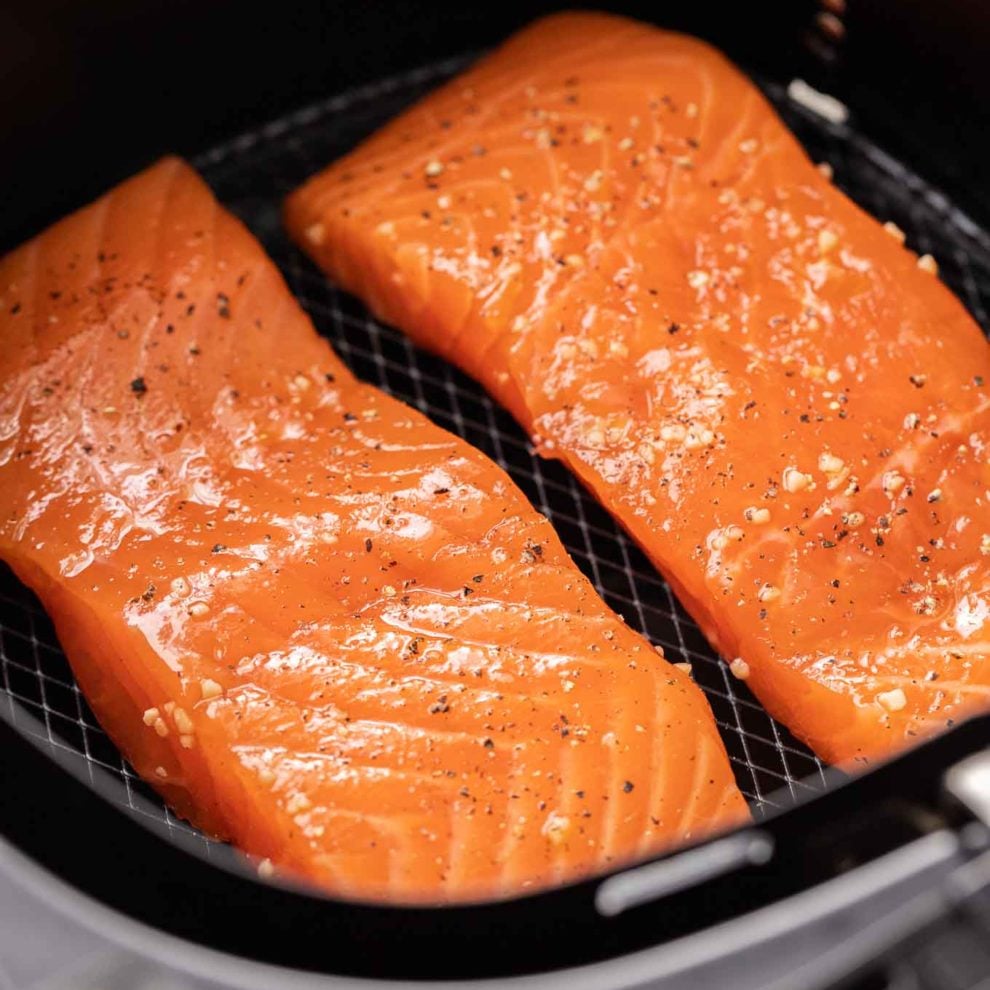 Air Fryer Salmon
Air Fryer Salmon comes out tender and juicy every time! This recipe works for every marinade or dry rub.
Ingredients
Maple Marinade
3

Tbsp

maple syrup

4

tsp

soy sauce

1

tsp

minced garlic

⅛

teaspoon

ground black pepper
Instructions
Combine maple syrup, soy sauce, garlic, and black pepper. Put salmon fillets in a ziplock bag and pour marinade in the bag. Let marinate for 10-30 min. Instead of marinating the salmon you can also just season it with salt and pepper or use one of my seasoning ideas above.

Place salmon fillets in one layer in the Air Fryer basket, discard marinade.

Cook at 350 degrees F for 8-10 min for medium rare or for 10-12 min for well done depending on the thickness of your fillets. For medium rare aim for an internal temperature of 120-125 degrees F and for well done for 140 degrees F.
Nutrition Information
Calories:
222
kcal
|
Carbohydrates:
10
g
|
Protein:
25
g
|
Fat:
7
g
|
Saturated Fat:
1
g
|
Cholesterol:
68
mg
|
Sodium:
391
mg
|
Potassium:
658
mg
|
Sugar:
9
g
|
Vitamin A:
50
IU
|
Vitamin C:
0.2
mg
|
Calcium:
31
mg
|
Iron:
1.1
mg
NEVER MISS A RECIPE!
If you've tried this or any other of my recipes, don't forget to rate the recipe and to leave me a comment. I love hearing from you!