Air Fryer Sweet Potatoes bake up perfectly creamy and flavorful every time without much effort! Learn how easy and fast it is to make them in your Air Fryer.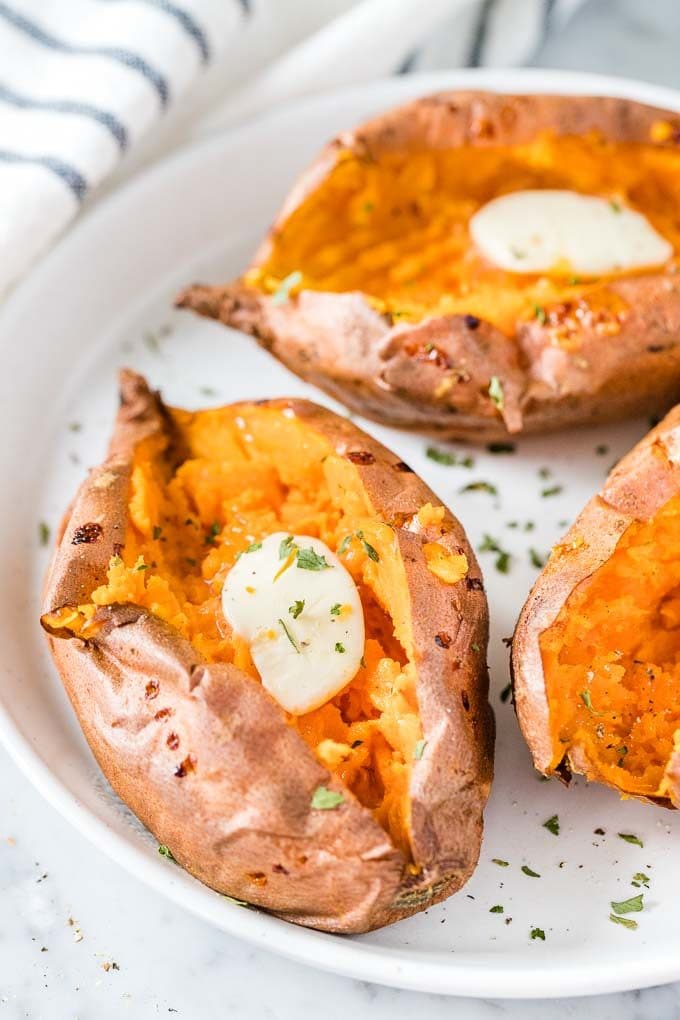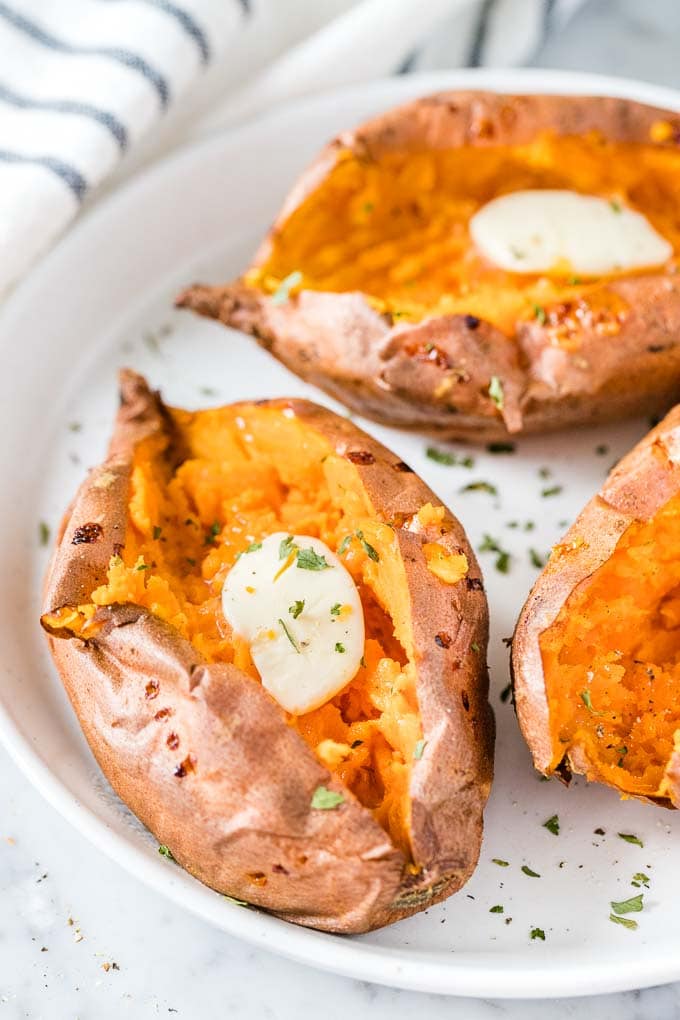 Air Fryer Sweet Potatoes
Baked Sweet Potatoes are a great side dish that can be made sweet or savory! Sprinkle them with salt and pepper, top them with our Instant Pot Chili and grated cheese, or sprinkle them with cinnamon and drizzle with honey or maple syrup.
Baking sweet potatoes with their skin on gives you a creamy and flavorful interior that can be easily mashed up with a fork after you cut it open.
Why use an Air Fryer to bake sweet potatoes? Because the Air Fryer heats up faster than a regular oven, cooks the sweet potatoes faster, and crisps up the skin more.
If you're looking for more Air Fryer Recipes while you're here, try out our Air Fryer Potato Wedges, our Air Fryer Fried Okra, or our reader favorite, Air Fryer Chicken Wings.
What is the difference between yams and sweet potatoes?
Yams are usually imported from the Carribean and have dry, starchy flesh and dark bark-like skin. Sweet Potatoes have moist flesh that can vary in color from white to orange and even purple.
In order to distinguish the orange-fleshed sweet potatoes from the white sweet potatoes, they are often referred to as "yams", even though they aren't real yams.
Do You Have To Poke Holes In Sweet Potatoes?
Yes! Poking the sweet potatoes all over with a fork adds some ventilation so that they don't explode while baking. The risk of them exploding is low but it makes a big mess so better do this extra step.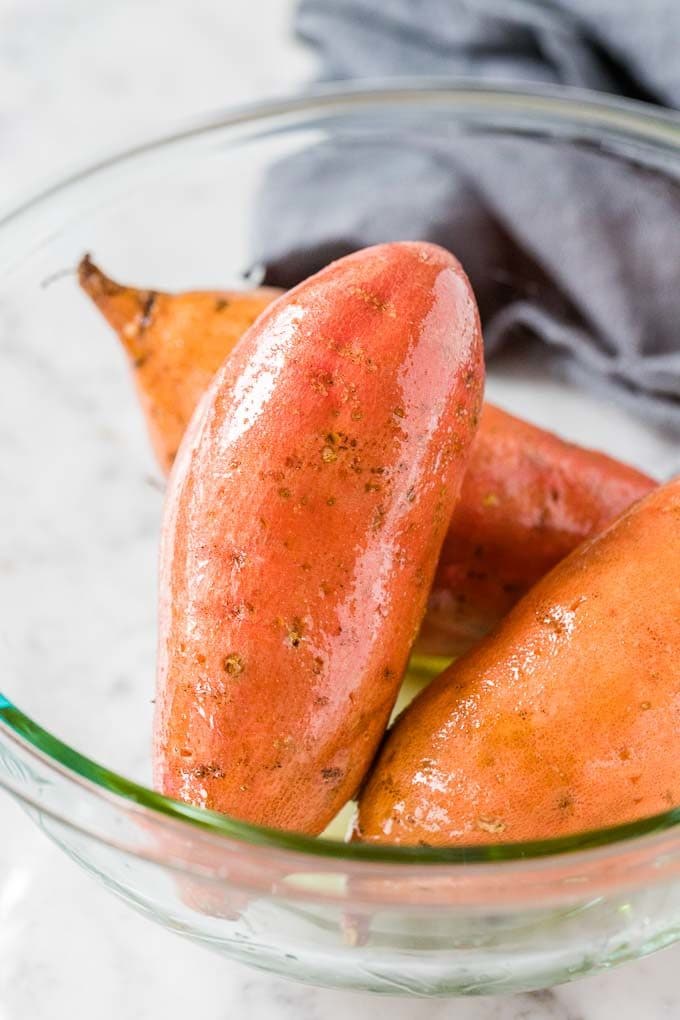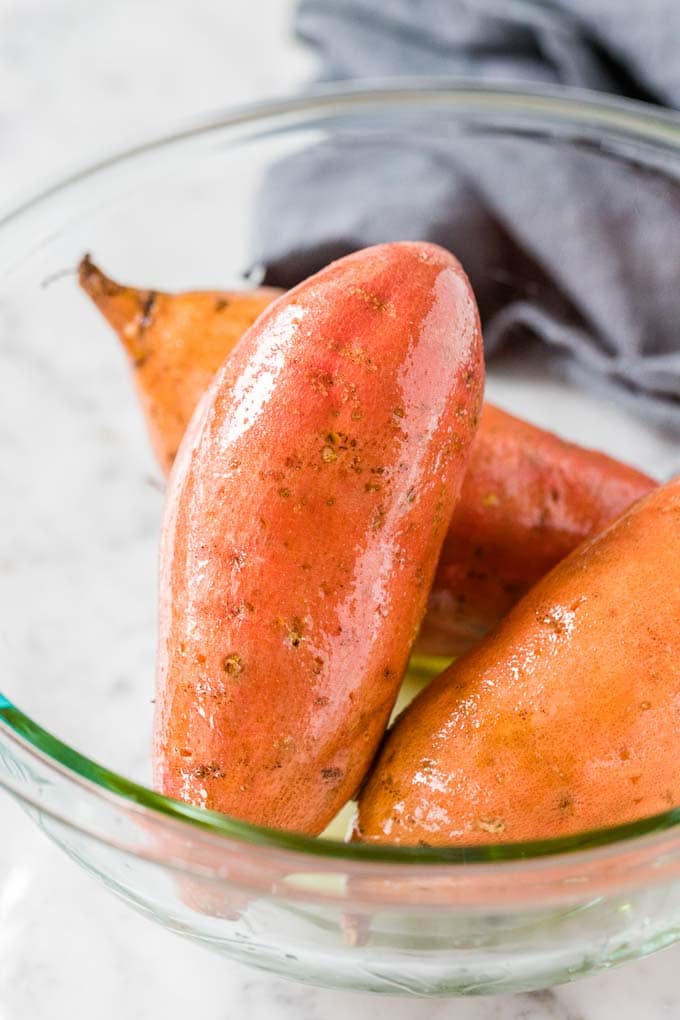 How to make Bake Sweet Potatoes in an Air Fryer
Scrub the potatoes, rub them with some oil, and prick the skin with a fork about 10 times.
Bake for 25-55 minutes at 390F in the Air Fryer until the flesh is tender.
Serve with butter and parsley, salt, or some honey drizzled on top.
What temp to bake sweet potatoes?
I recommend baking sweet potatoes in the Air Fryer at 390F. You can also increase the temperature to 400F but the skin of the potatoes will brown faster.
Can you eat the skin of a baked sweet potato?
Yes, you can eat the skin of a sweet potato. Keeping the skin on helps retain the nutrients. Make sure to scrub the potatoes thoroughly before cooking. I recommend using a produce rinse and a vegetable brush to clean them.
If you don't want to eat the skin, you can scoop out the flesh easily when the potatoes are cooked.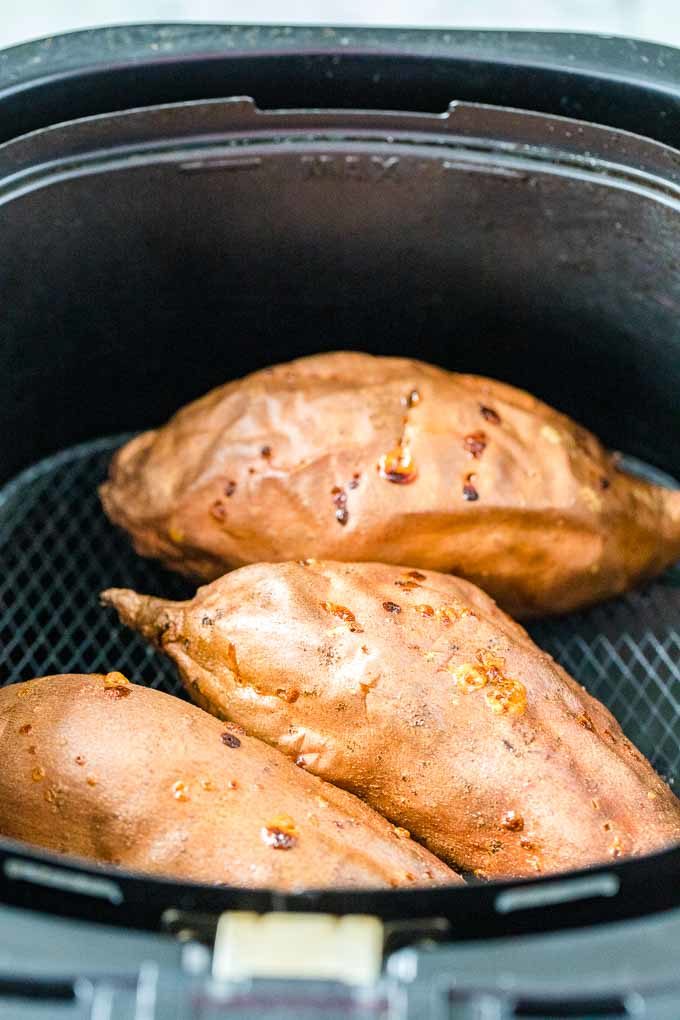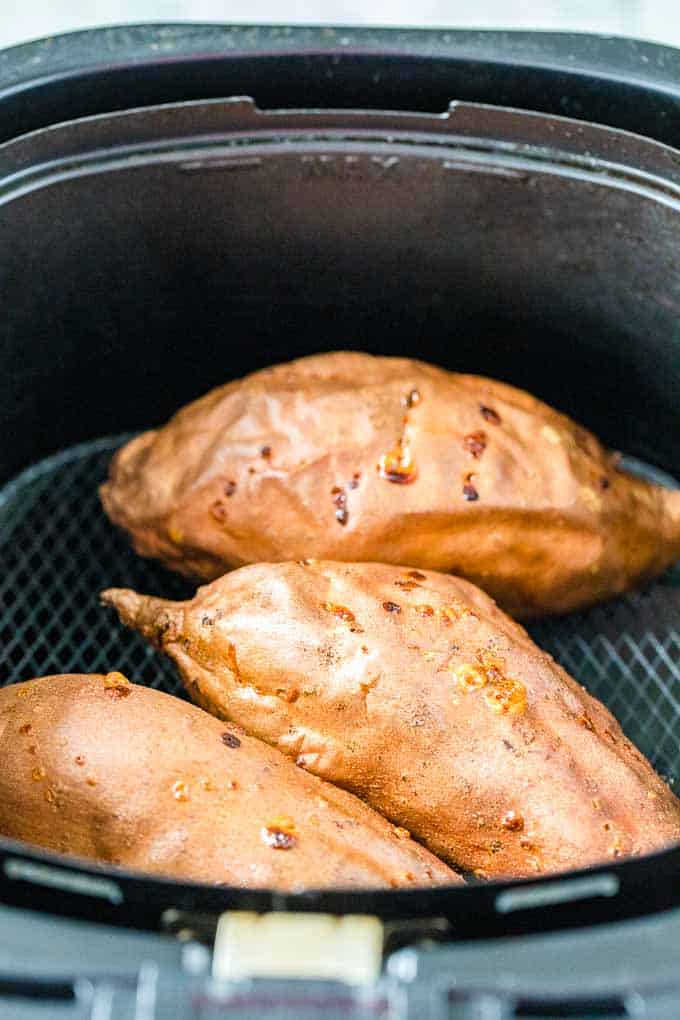 how long to bake sweet potatoes
Depending on the size of your sweet potatoes the cooking time might be longer or shorter. It takes about 25-60 minutes at 390 degrees F.
Small Sweet Potatoes – 1.5 -2 inches in width: ~ 25-30 minutes
Medium Sweet Potatoes – 2 – 2.5 inches in width: ~ 30-40 minutes
Large Sweet Potatoes – 2.5 – 3 inches in width: ~ 45-55 minutes
Air Fryers I use and recommend:
Philips AirFryer: This is a smaller Air Fryer that is perfect for 2 persons. I like that you can shake the basket easily and the simplicity of it.
Ninja Foodi Grill: It's an indoor grill that can also air fry, bake, dehydrate, and roast. I love the big air fry basket that is shallow and how easy it is to use.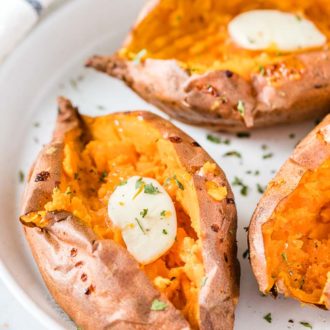 Air Fryer Sweet Potatoes
Air Fryer Sweet Potatoes bake up perfectly creamy and flavorful every time without much effort!
Ingredients
4

medium sweet potatoes

,

washed

1

Tbsp

olive oil
Instructions
Preheat your Air Fryer to 390 degrees F.

Poke holes all over each sweet potato with a fork and coat it with oil. About 1 tsp of oil per sweet potato.

Place the sweet potatoes in the Air Fryer basket and bake for about 30-40 minutes until soft and fork-tender. If they are getting too brown while baking cover with a little aluminum foil tent halfway through.
Notes
See cooking times above for different sizes of sweet potatoes.
Nutrition Information
Calories:
143
kcal
|
Carbohydrates:
26
g
|
Protein:
2
g
|
Fat:
4
g
|
Saturated Fat:
1
g
|
Sodium:
72
mg
|
Potassium:
438
mg
|
Fiber:
4
g
|
Sugar:
5
g
|
Vitamin A:
18443
IU
|
Vitamin C:
3
mg
|
Calcium:
39
mg
|
Iron:
1
mg