Copycat Lindor Truffle Chocolate Desserts – a delicious brownie topped with a homemade Lindor Chocolate filling!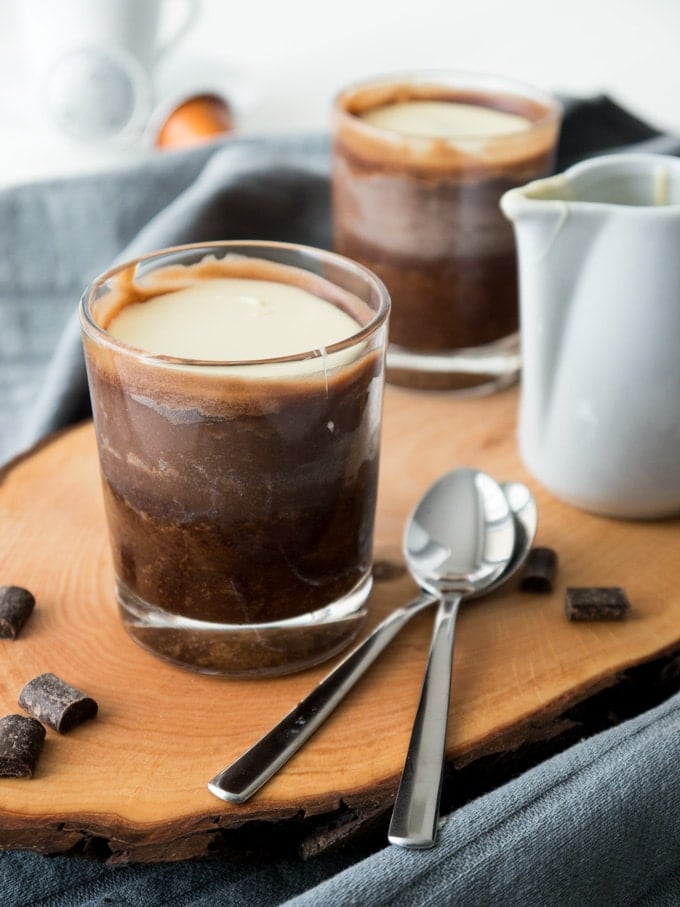 Do you love the filling of Lindor Truffles? Then this Copycat Lindor Truffle Chocolate Dessert is perfect for you! Three different chocolate layers which melt in your mouth: a delicious chewy brownie topped with homemade Lindor Truffle filling and drizzled with hot white chocolate.
I can't get enough of these Lindor Truffles. Every Lindor Truffle is great but I especially love the milk chocolate ones with the red wrapping. They are the best, I could eat a whole bag of them in one sitting. The filling melts in your mouth, it's so good – I would love to eat the filling with a spoon!
So I wondered if I could make this filling at home. And let me tell you – YES, you can make Copycat Lindor Truffle filling and you want to spread it on everything!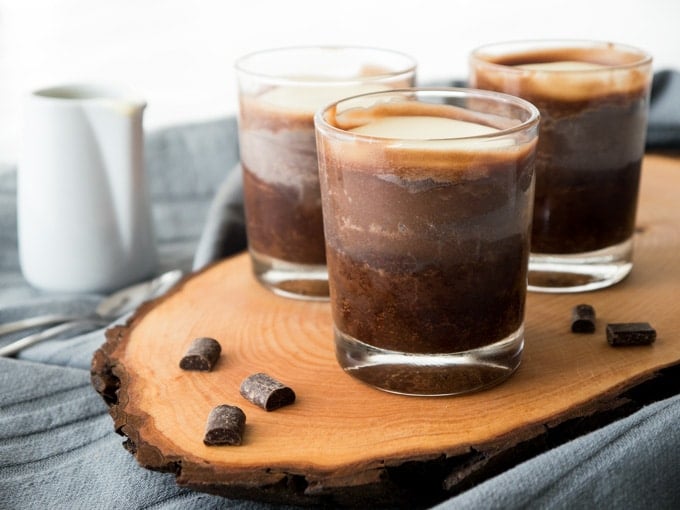 The secret ingredient which makes it melt in your mouth immediately is coconut oil. I have forgotten the science behind that but it has to do with the melting point of the oil. Coconut oil is solid at room temperature but above 75°F, it liquefies. So when you put a spoon of this delicious cream in your mouth it will melt immediately because obviously, your body temperature is higher than 75°F.
I wanted to combine the Lindor Truffle cream with something other chocolaty and what would be better fitting than a chocolate brownie. You see this recipe is not for non-chocolate lovers :-)
The flavors and consistencies of this two work perfectly together and make the ultimate chocolate dessert!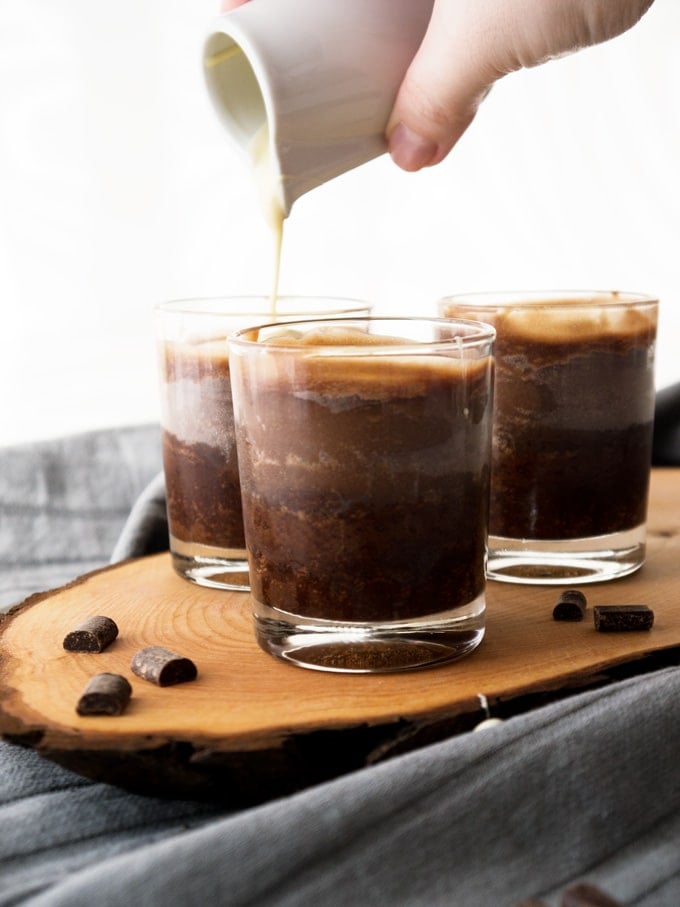 And because two kinds of chocolate aren't enough for me, I added melted white chocolate on top! Muhahaha
You have to use small glasses for this dessert, it's so rich and chocolatey. And it's really important to use quality chocolate, European chocolates are perfect for this recipes.
Why don't you make these next weekend!
– Julia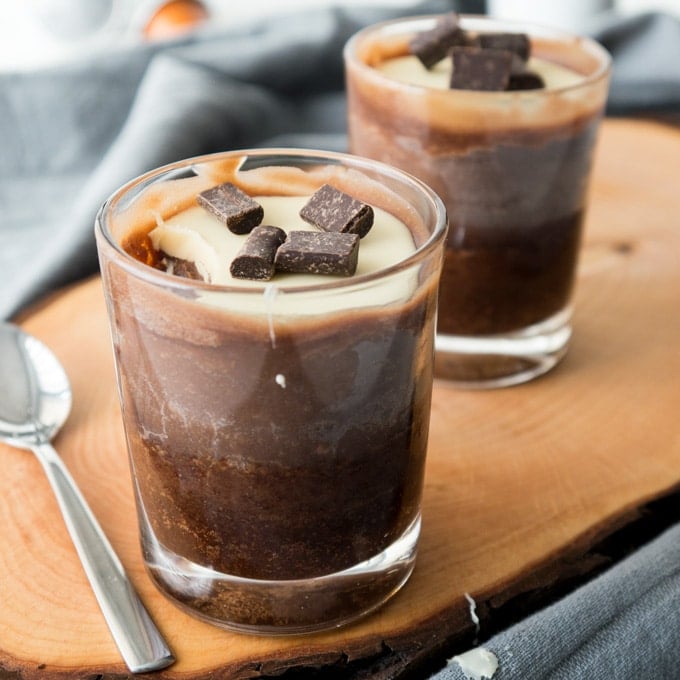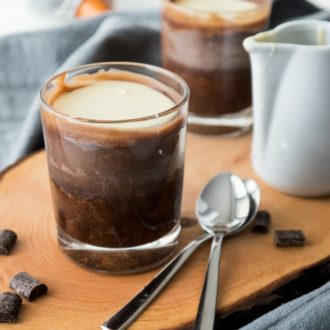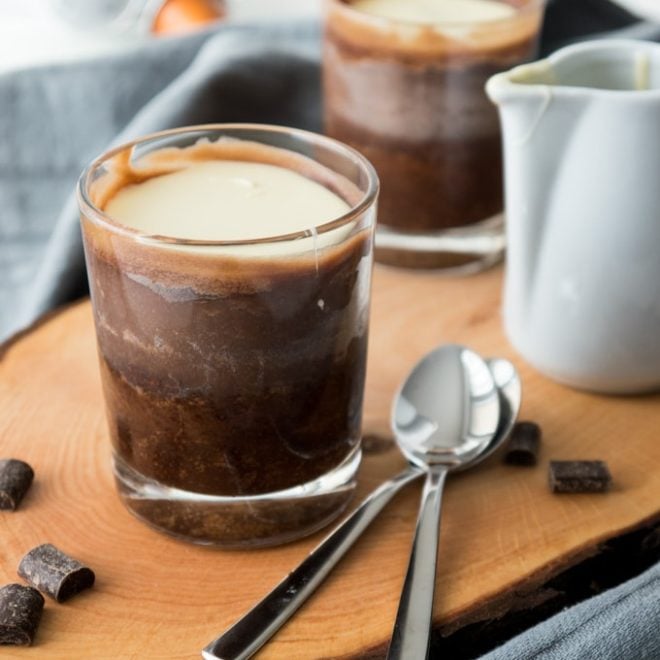 Copycat Lindor Truffle Chocolate Dessert
This Copycat Lindor Truffle Chocolate Dessert has three chocolate layers which melt in your mouth: A brownie, DIY Lindor filling and hot white chocolate. You need 4-6 small oven-proof glasses for this recipe.
Ingredients
Brownie:
¼

cup

unsalted butter

4

oz

coarsely chopped semi sweet chocolate

6

tbsp

granulated sugar

2

medium eggs

½

tsp

pure vanilla extract

⅓

cup

all-purpose flour

1

tbsp

natural unsweetened cocoa powder

⅛

tsp

salt
Lindor Truffle Filling:
4

oz

coarsely chopped milk chocolate

½

cup

heavy or whipping cream

¼

cup

coconut oil
White Chocolate:
2

oz

coarsely chopped white chocolate
Instructions
Make the Lindor Truffle Filling: In a small pot heat up the cream. Add the milk chocolate and coconut oil and keep stirring until completely dissolved. Fill the mixture into a container and let it cool down for an hour or longer.

Make the brownie batter: In a medium pot over medium heat melt the butter and chopped semi-sweet chocolate. Stir constantly, about 5 minutes. Remove the pot from the heat and pour the butter mixture into a large mixing bowl. Let it cool for 10 minutes.

Preheat oven to 350°F (177°C) and adjust the oven rack to the lower third position.

Whisk the sugar into the cooled butter mixture and add the eggs. Whisk until smooth then add in the vanilla extract. Now we only have to fold in the flour, cocoa powder, and salt and the batter for the brownies is ready.

Fill each small glass ⅓ high with brownie batter. The brownie will expand a little bit and we want to have enough room for the Lindor filling.

Put the glasses on a baking pan for easier handling and bake them for 20 minutes or until a skewer comes out clean with only a few crumbs on it. Let the little brownies cool down for 30 minutes.

Now we add the Lindor Truffle filling. Divide the filling between the glasses. Then put the glasses in the fridge for 2 hours until the filling is cold and creamy.

For the white chocolate sauce, melt the chocolate in a bowl over hot water until just melted. Don't let the chocolate get too hot. Drizzle chocolate on top of the cream and serve immediately.
Notes
It's important to use quality chocolate in this recipe. You will taste the difference!
Nutrition Information
Calories:
844
kcal
|
Carbohydrates:
68
g
|
Protein:
9
g
|
Fat:
63
g
|
Saturated Fat:
41
g
|
Polyunsaturated Fat:
2
g
|
Monounsaturated Fat:
15
g
|
Trans Fat:
0.5
g
|
Cholesterol:
151
mg
|
Sodium:
134
mg
|
Potassium:
377
mg
|
Fiber:
5
g
|
Sugar:
52
g
|
Vitamin A:
929
IU
|
Vitamin C:
0.2
mg
|
Calcium:
92
mg
|
Iron:
4
mg
Brownie recipe adapted from sally's baking addiction