Cranberry Orange Rolls are the perfect holiday breakfast! Filled with sweet and tart cranberry jam and topped with a delicious, sweet orange icing, these perfectly gooey and tender Orange Sweet Rolls are a family favorite.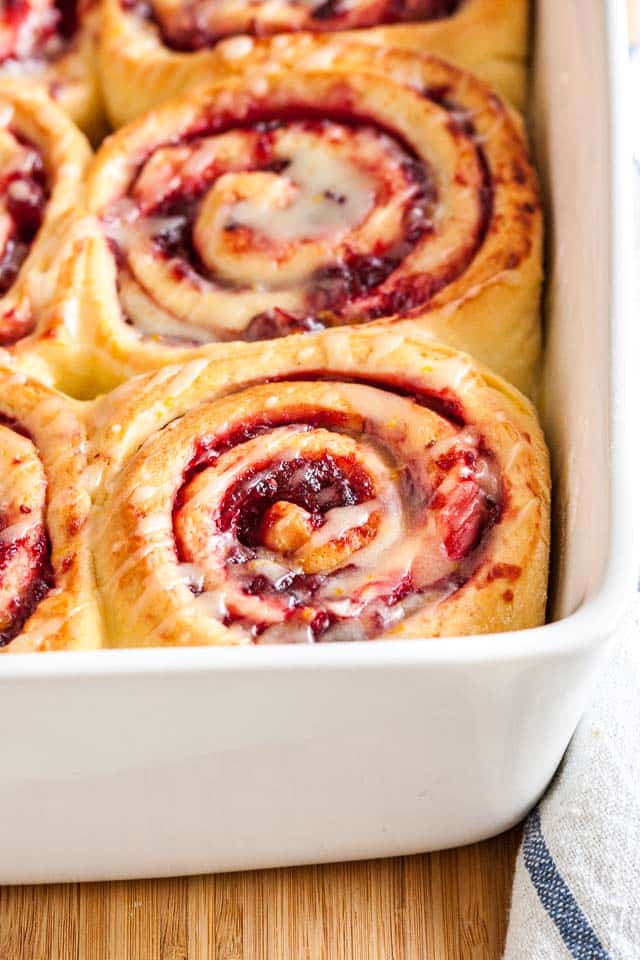 These homemade Cranberry Rolls are drizzled with the most delicious sweet orange glaze and make a great holiday brunch or breakfast treat! A great alternative to cinnamon rolls that tastes even better and looks so festive and pretty. But these rolls are not only pretty they also taste so good, my husband can't get enough of them when I bake them.
They're so soft and tender, just like the perfect yeasted sweet rolls should be. How many times have you tried to make gooey and soft homemade cinnamon rolls? I've tried many times but sadly so many recipes produce lean buns. So what's the secret? The secret is a rich, buttery, almost sticky brioche dough.
This recipe is not a shortcut recipe but giving the dough time to rise and using quality ingredients is so worth it! You'll be rewarded with the best rolls you've ever tried. Gooey, tender, soft and perfectly baked (without a yeasty aftertaste like many recipes that use a large amount of yeast and only let the dough rise for a short time).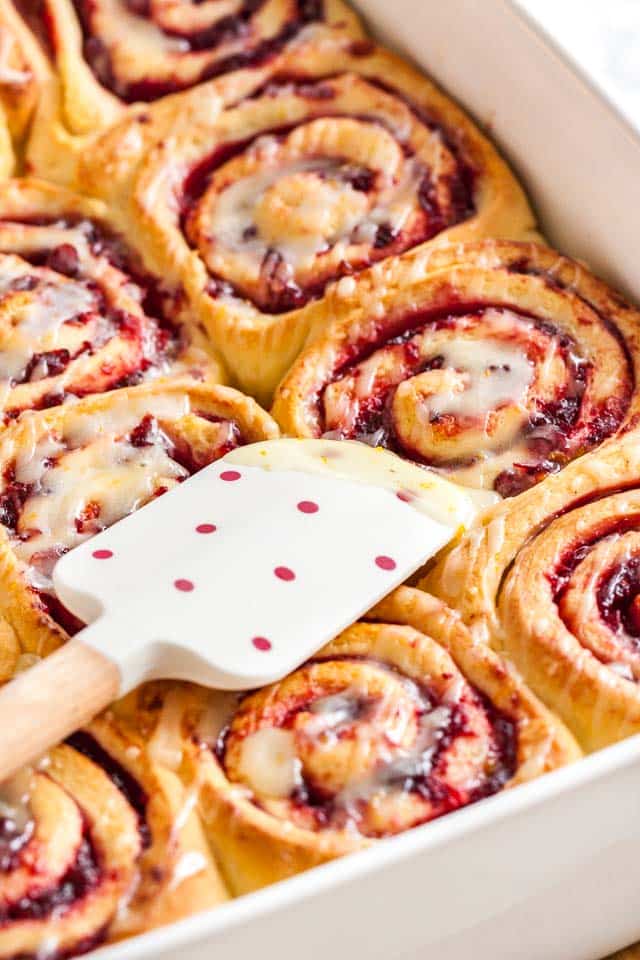 Tips and Tricks for Making Cranberry Orange Rolls
Make sure to follow the recipe! The milk should be warm, not hot, measure the flour correctly, and let the dough rise like instructed. You'll be rewarded with the best rolls ever!
This recipe can be made on the day before! Perfect for busy holiday mornings. Instructions are below.
Instead of making cranberry sauce you can also use leftover sauce from your holiday dinner or use canned cranberry sauce to make this recipe easier. You'll need about 2 cups.
Every oven is different and your choice of baking dish also affects how long the rolls need in the oven! Test if the rolls are done by sticking a small fork between the rolls and tearing off a little bit of dough. If the dough is not cooked put them back in the oven for 5 more minutes.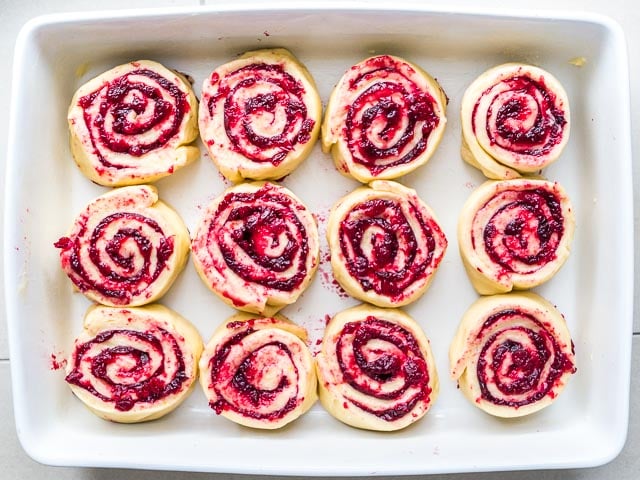 How to make Orange Sweet Rolls with Cranberry Filling – FAQs
Can these rolls be made ahead?
Yes, they can be made ahead. After you've placed the filled rolls into the baking pan, cover the pan with plastic wrap and put it in the refrigerator. The next day, remove the pan from the fridge and allow the rolls to come to room temperature before baking. This takes about 1 hour.
What if I don't have a stand mixer?
You can also knead the dough by hand! This takes longer than using a stand mixer but gives you a nice workout. Start out by stirring with a spoon until everything is combined then knead it by hand. This dough is sticky so you'll need a little bit more flour to keep it from sticking to your hands.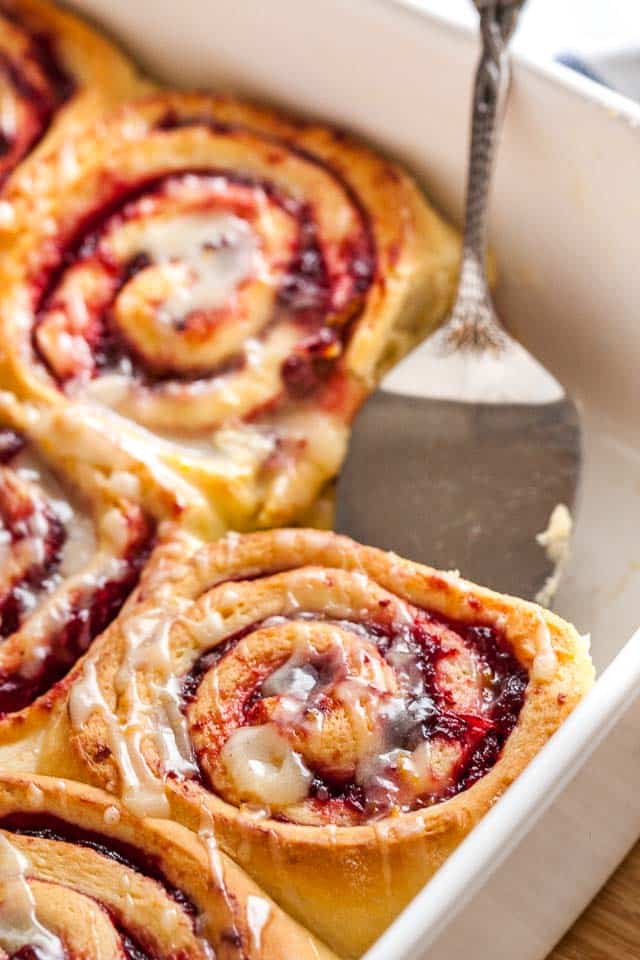 Tips for Working with Yeasted Dough
Milk Temperature: Make sure the milk is warm and NOT hot. The milk should be warm to the touch, about 100°F. I use a thermometer to check the temperature. If the milk is too hot (130°F or higher) the yeast will die and your baked goods won't rise.
Typ of Yeast: I always use Instant Dry Yeast. It can be added directly to dry ingredients but I like to dissolve it in a liquid before using because this makes the yeast very active and you can see if your yeast is still good before adding all the other ingredients. If it doesn't foam up and get bubbly after a few minutes your yeast is probably too old or your milk was too hot. Active dry yeast works similar to Instant Dry yeast it just needs a little bit more time to rise.
Rising: During rising, the yeast ferments the sugar and develops the dough. This improves the flavor and texture of the baked goods. It's important to give the dough enough time to rise. Underproved dough will result in a yeasty aftertaste and a doughy texture.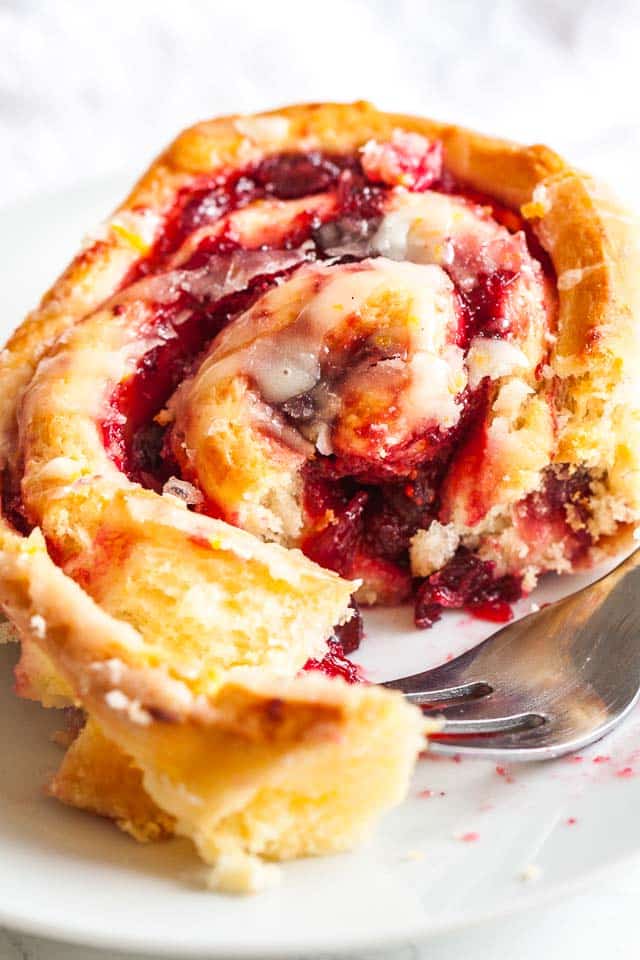 Looking for more Breakfast and Brunch recipes?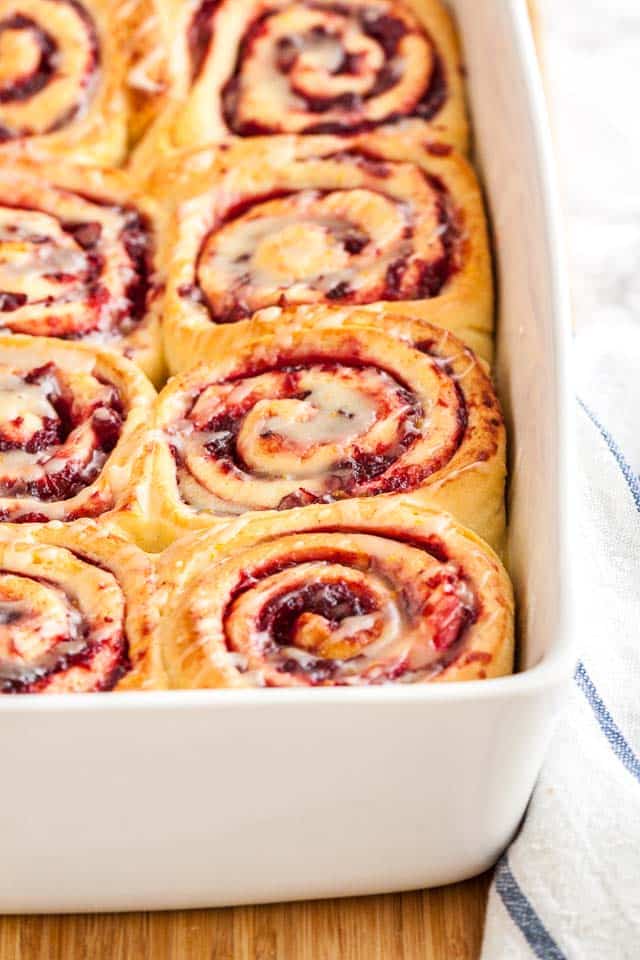 Tools and Ingredients used for this recipe
Yeast:
 This is my favorite yeast!
Stand Mixer
: My most used kitchen appliance and it's so pretty it can sit on the counter as decoration! Kneading dough is so much easier with it.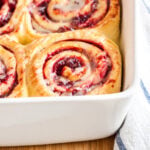 Homemade Cranberry Orange Rolls
Cranberry Orange Rolls are the perfect holiday breakfast! Filled with sweet and tart cranberry jam and topped with a delicious, sweet orange icing, these perfectly gooey and tender Orange Sweet Rolls are a family favorite.
Total Time
3
hours
35
minutes
Ingredients
3/4

cup

whole milk

heated to 95°F/35°C (180ml)

1/2

cup

granulated sugar

(100g)

2 1/4

tsp

instant dry yeast

or active dry yeast

4 1/4

cups

all-purpose flour

(530g)

1/2

cup

cornstarch

(120g)

3/4

tsp

salt

3

large eggs

room temperature

3/4

cup

unsalted butter

cut into 12 pieces and softened (180g)

2

tsp

orange zest
For the cranberry orange jam:
4

cups

cranberries

fresh or frozen (400g)

1

cup

granulated sugar

(200g)

1/4

cup

fresh orange juice

(60ml)

2

tsp

orange zest
For the glaze:
1

cup

powdered sugar

(120g)

3

Tbsp

orange juice

2

tsp

orange zest
Instructions
In the bowl of a stand mixer fitted with the dough hook attachment combine warm milk, sugar, and yeast. Stir together with a whisk then let sit for about 5 minutes until foamy.

Meanwhile combine flour, cornstarch, and salt in a small bowl. Set aside.

Add the eggs to the milk mixture and whisk until combined.

With the mixer running on low, add the flour mixture. Increase speed to medium and mix until the dough comes together, about 1 minute.

With the mixer running on medium, add butter, one piece at a time. Add the orange zest.

Continue to mix for 10 minutes until the dough is smooth and comes away from the sides of the bowl. If the dough is still wet after 10 minutes, add one or two tablespoons flour until the dough comes away from the sides.

On a lightly floured surface, knead the dough into a smooth ball. Place in a lightly greased bowl, cover with plastic wrap, put it in a warm place and let rise until doubled in size, about 1.5-2 hours.

Meanwhile make the cranberry jam: Combine cranberries, sugar, orange juice, and orange zest in a medium saucepan and bring to a boil. Reduce heat to medium and let simmer gently for about 15 minutes, until most of the cranberries have burst open. Let cool completely.

Punch down the dough and roll it out into a 18x18 inch rectangle. Spread the cooled cranberry jam on top, leaving a 1-inch border.

Starting with the edge nearest you, roll dough into tight cylinder, pinch lightly to seal seam, and cut into 12 pieces with a sharp knife.

Arrange rolls in a lightly greased 13x9-inch baking pan. Cover with plastic wrap and let rise in a warm place until doubled in size, about 1 hour. (Or refrigerate overnight, see instructions above.)

Preheat oven to 350°F (180°C).

Discard plastic wrap and bake rolls until golden brown, about 35 to 40 minutes. Then transfer pan to a wire rack.

Make the glaze: Whisk the powdered sugar, orange juice, and orange zest together until smooth. Drizzle or spread over warm rolls. Serve.
Recipe Notes
Dough adapted from Cook's Country.