This Beer Bread recipe is easy to make in one bowl and uses only a few simple ingredients to make a hearty, tender quick bread with a delicious crust that is so flavorful!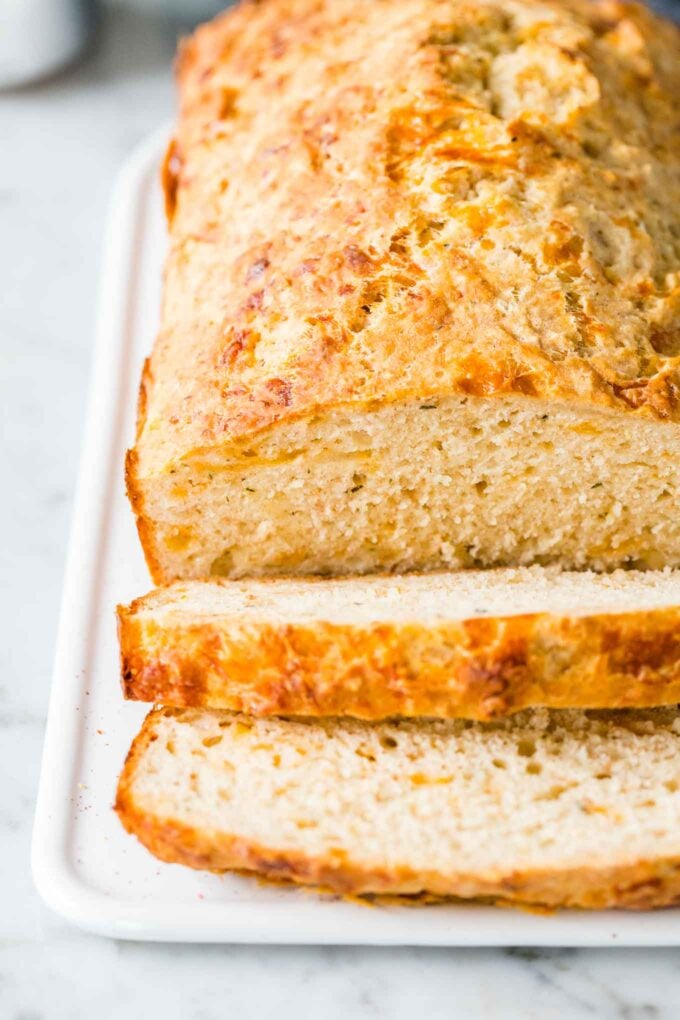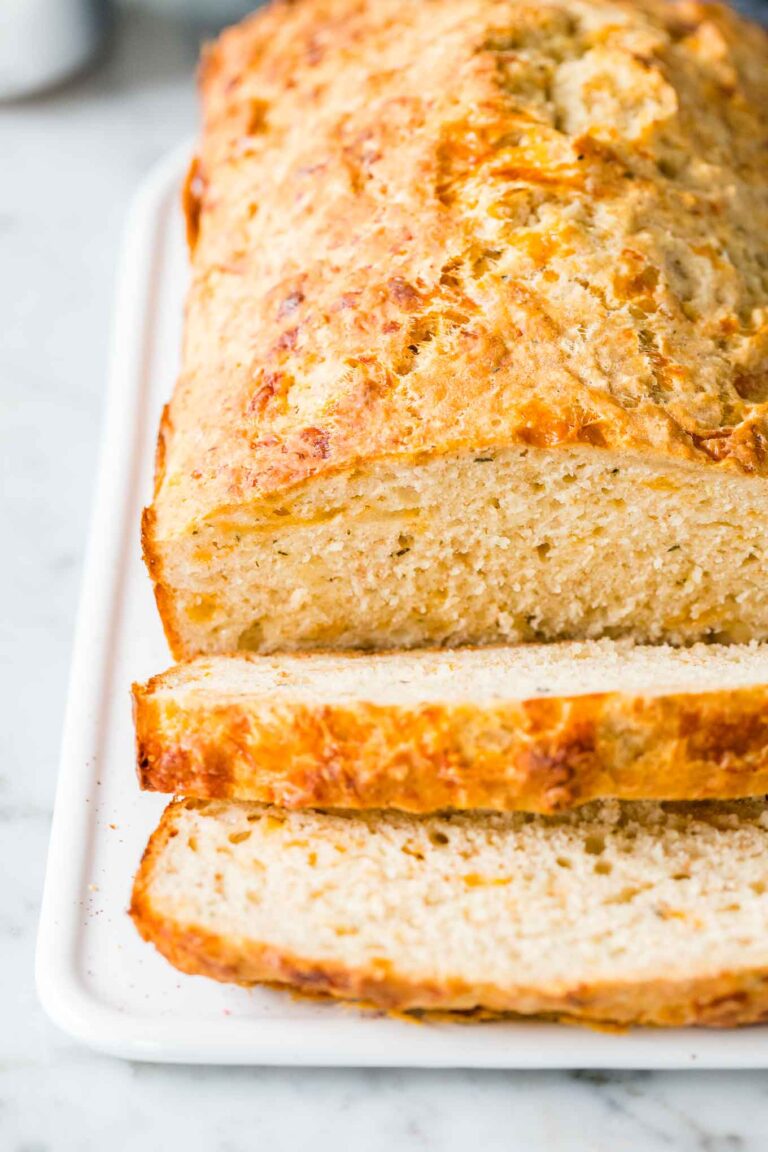 This is the easiest bread you can make! Stirred together in minutes, this beer bread bakes up into a tender, hearty loaf that makes a perfect side for stews, soups, BBQ parties or potlucks.
You just need a few simple ingredients that you probably have in your pantry to make this recipe and it takes less than an hour from start to finish. We have been making this recipe for years and it is always a hit!
Compared to my white bread and whole wheat bread, which are both made with yeast, this bread is definitely easier and faster to make. It is a savory bread that works best as a side or with some butter on top, whereas the other two are a perfect sandwich bread with a more neutral taste.
Why you should make this recipe!
No yeast required: This bread is made without yeast and uses baking powder and beer to leaven the bread.
No proofing required: Because it doesn't use yeast, this bread can be made in minutes!
You can customize it: Add shredded cheese, herbs, or add butter to the top before baking – this recipe works with what you have at home!
Works with different flours: You can use all-purpose, bread, whole wheat, or self-rising flour in this recipe.
Use any beer you have at home: This recipe works with any beer – depending on your taste or what you have on hand, you can use a light-tasting beer, a stronger beer, or even non-alcoholic beer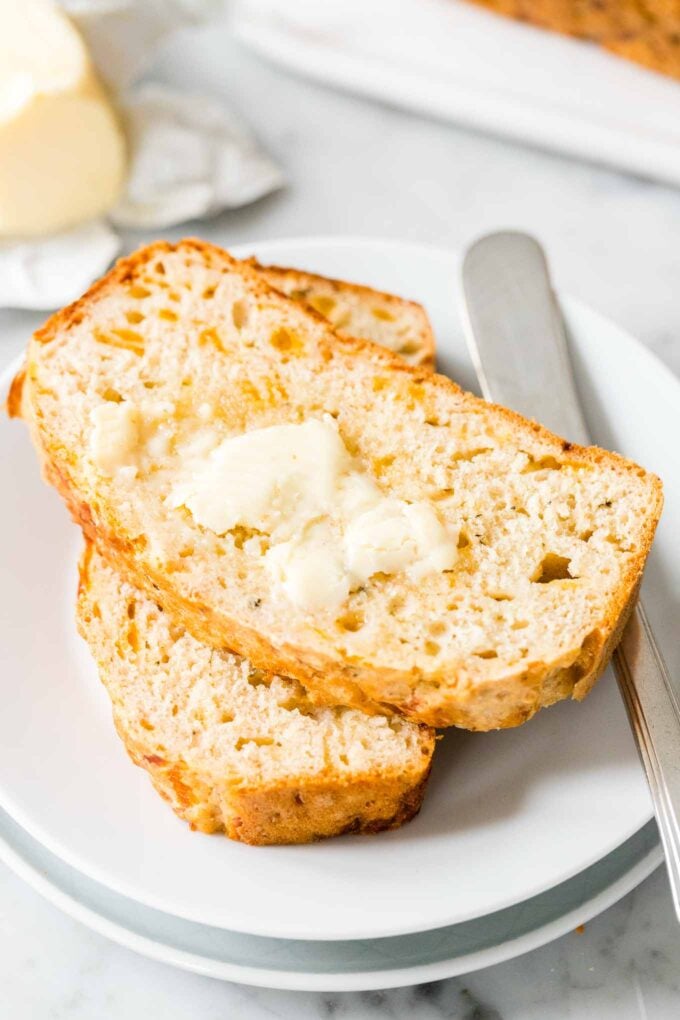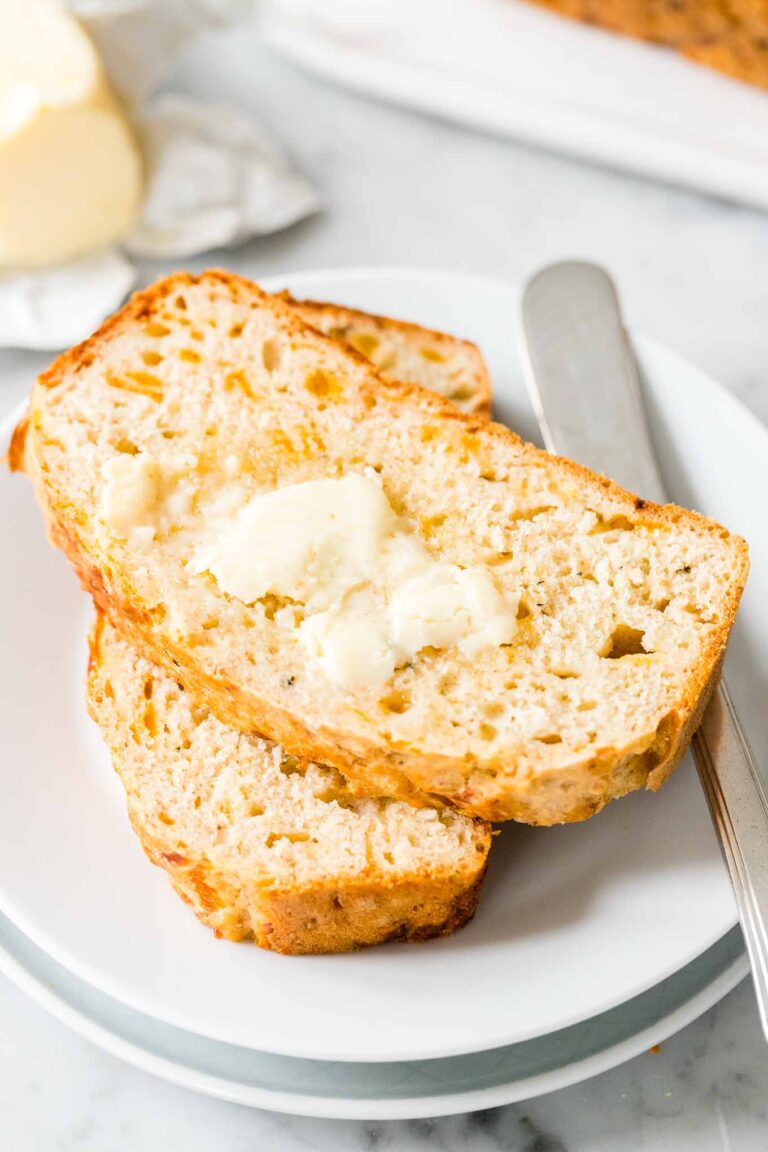 How to make Beer Bread
This recipe couldn't be easier to make from scratch!
Sift the flour: This is an important step for making a light and tender beer bread. Always sift the flour before adding the other ingredients.
Combine dry ingredients: Add dried spices during this step, they add a lot of flavor.
Pour in beer: Slowly pour in the beer, it will foam up but that's totally fine!
Mix it together: Because you want to keep as much of the carbonation of the beer in the batter, mix just until everything is combined. You don't want to over-mix the batter!
Add cheese: If you want to add cheese, fold it in with a spatula.
Transfer to baking pan: For a delicious, crispy crust pour a little bit of water on top of the batter in the loaf pan.
Bake: Try to keep the time between mixing and baking short. Because this bread uses baking powder, you want to have the oven preheated before starting.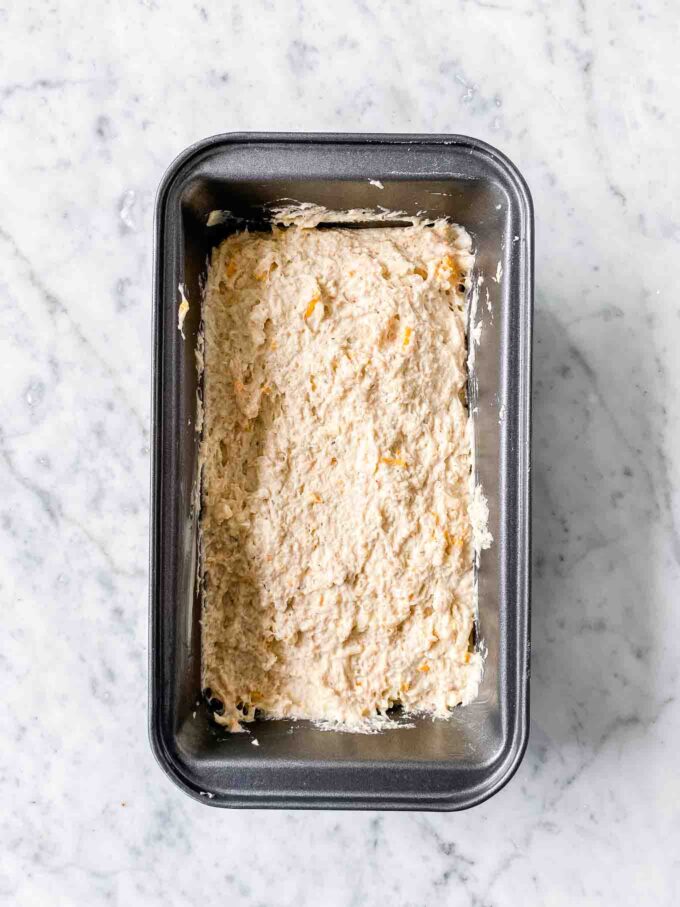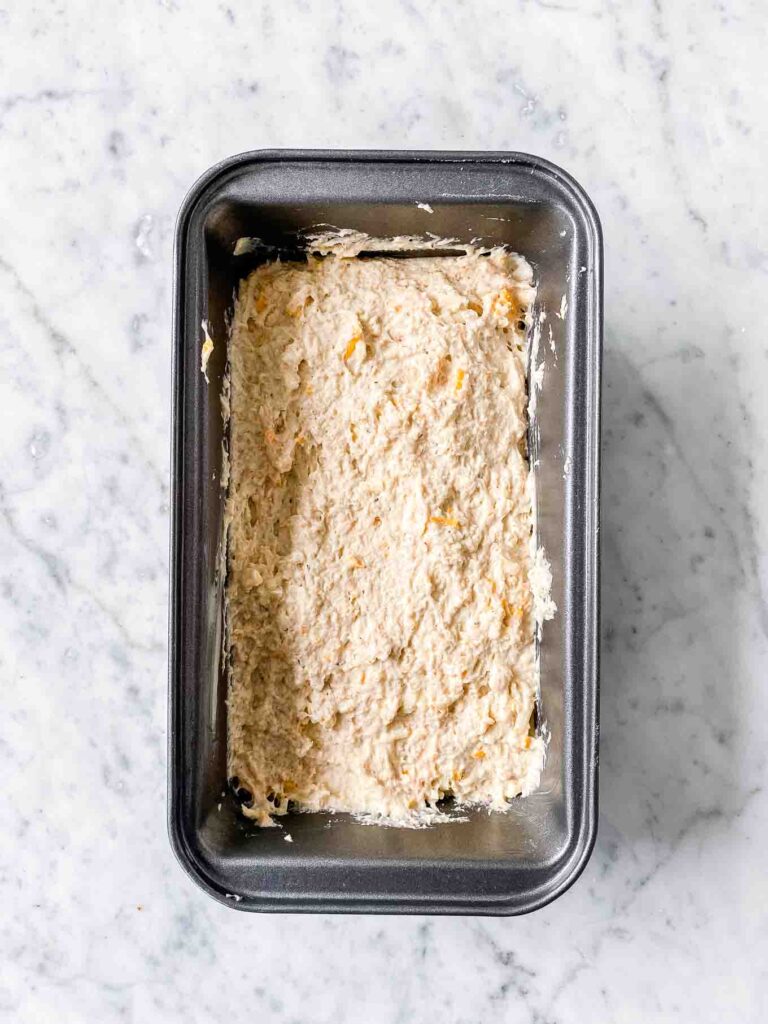 Frequently asked questions
What kind of beer do you use for beer bread? You can use any beer! Depending on the beer the flavor of the bread will change. Lighter beer results in a more mellow flavor, strong beer results in a more bitter, deeper flavor.
What if I don't have beer/can't use beer? You could use carbonated water but the bread won't be as flavorful. I haven't tried it myself but I would add more herbs and cheese in that case. You could also use non-alcoholic beer.
Can I use self-rising flour? Yes, you can! Omit the salt and baking powder.
What do I need to change if I live at a high altitude? I don't have any experience with high altitude baking but I recommend this guide about baking at high altitude from King Arthur Flour.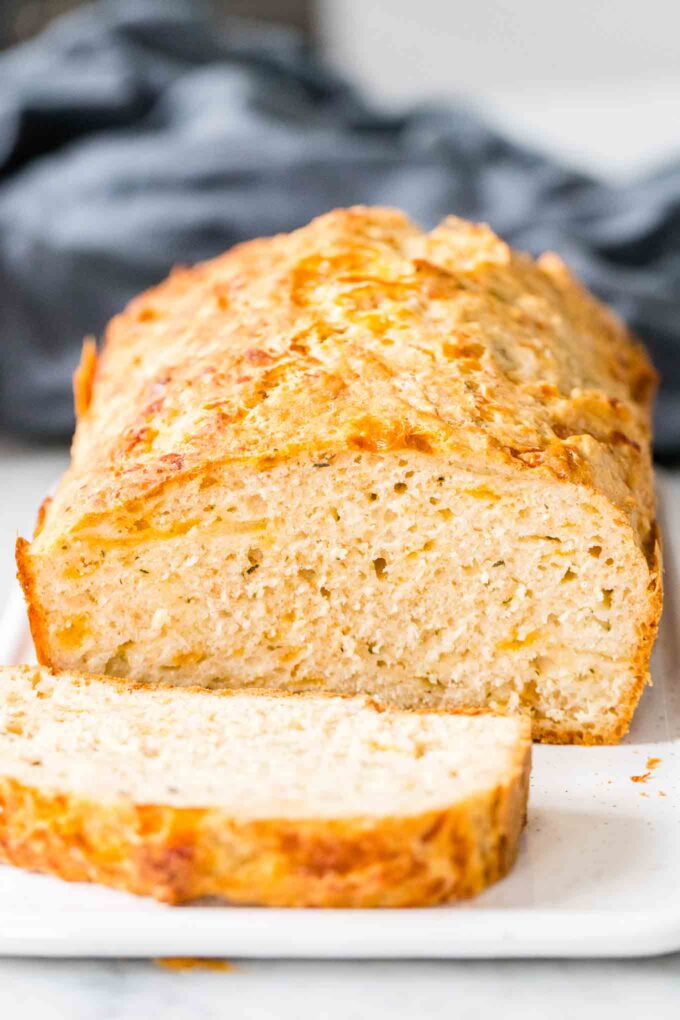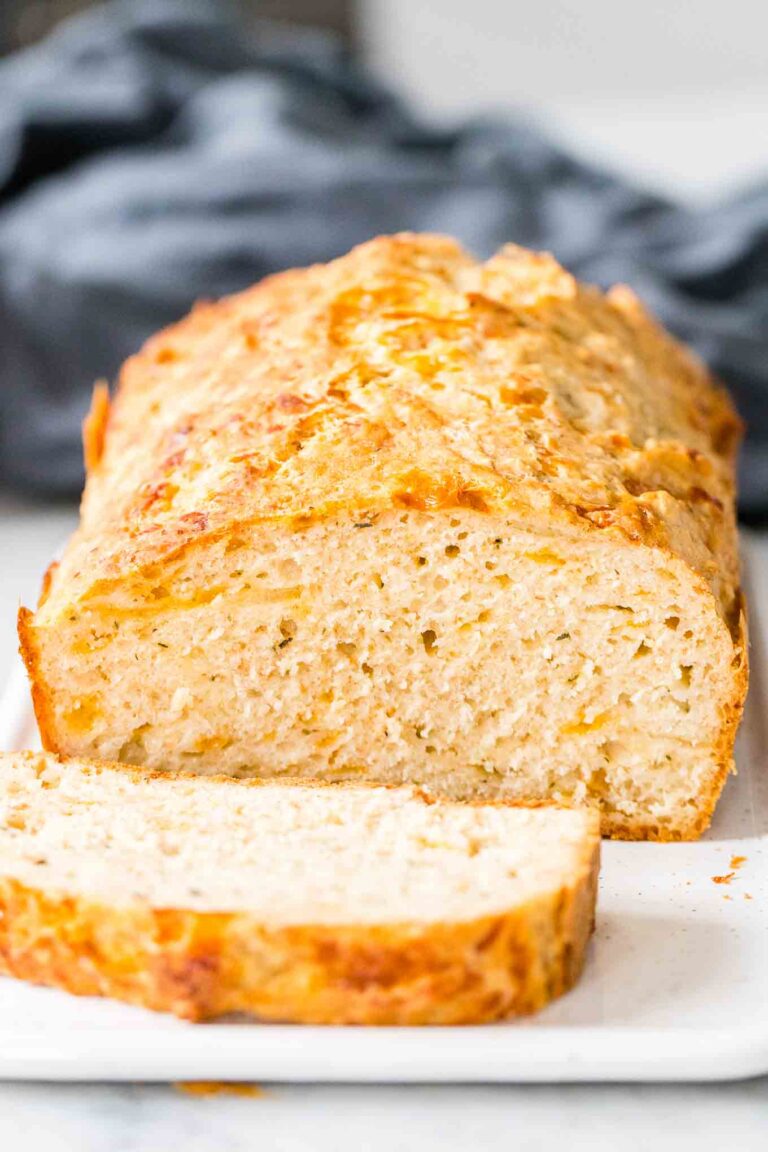 How to store it? This bread keeps stored in a plastic bag for 3-4 days. It can also be frozen for up to 3 months. Always wait until the bread has cooled to room temperature before storing it.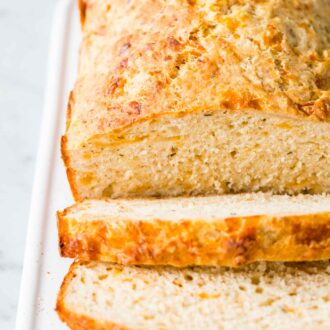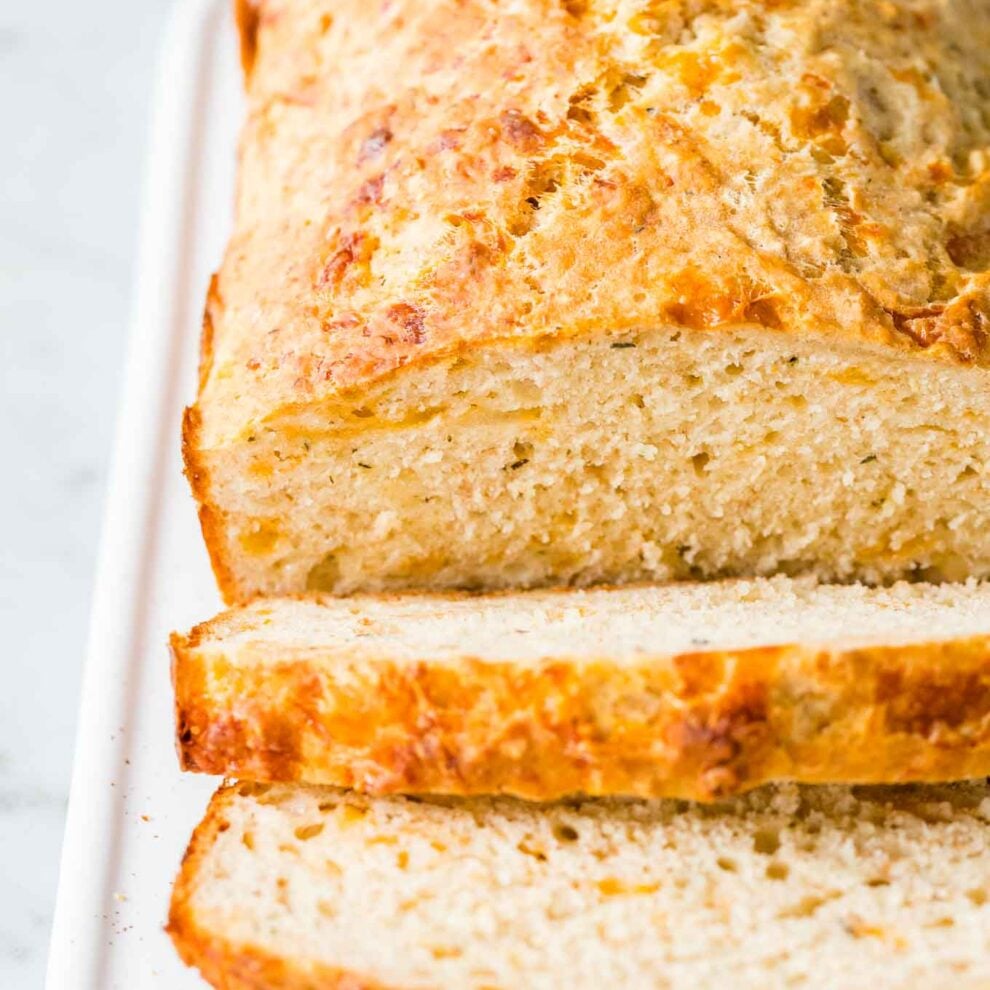 Easy Beer Bread
This Beer Bread recipe is easy to make in one bowl and uses only a few simple ingredients to make a hearty, tender quick bread with a delicious crust that is so flavorful!
Ingredients
3

cups

all-purpose flour

,

sifted

1/2

tsp

dried garlic powder

,

optional

1/2

tsp

dried thyme

,

optional

2 1/2

tsp

baking powder

1

tsp

salt

1

Tbsp

honey

12

oz

beer

1/2

cup

shredded cheese

,

or more

2

Tbsp

water

,

or butter
Instructions
Preheat oven to 375°F and grease a 9×5-inch loaf pan.

Sift the flour into a big bowl. Add spices, baking powder, and salt. Stir to combine.

Add honey. Then slowly pour in beer. Use a hand mixer or wooden spoon to mix together until just combined and no flour pockets remain.

Fold in cheese with a spatula then transfer to loaf pan. Pour water on top (or use butter).

Bake in the preheated oven for 45-55 minutes, or until a skewer inserted in the middle comes out clean with only a few moist crumbs attached.

Remove from pan after 10 minutes and let cool on a cooling rack.
Notes
You can also use 2 cups all-purpose and 1 cup whole wheat flour. But don't use more whole wheat flour

Sift the flour before adding the other ingredients
You can use any beer you have on hand. The beer will change the flavor of the bread

Add 1/4 cup seeds (pumpkin, sunflower, etc.) for a heartier loaf.

Omit salt and baking powder if using self-rising flour

Avoid overmixing the batter and transfer immediately to the oven after mixing
Nutrition Information
Calories:
220
kcal
|
Carbohydrates:
40
g
|
Protein:
7
g
|
Fat:
2
g
|
Saturated Fat:
1
g
|
Cholesterol:
6
mg
|
Sodium:
339
mg
|
Potassium:
218
mg
|
Fiber:
1
g
|
Sugar:
2
g
|
Vitamin A:
47
IU
|
Calcium:
109
mg
|
Iron:
2
mg