Easy homemade pretzel croissants combine the flakiness of a butter croissant with the texture of a pretzel! Made with puff pastry AND yeast dough.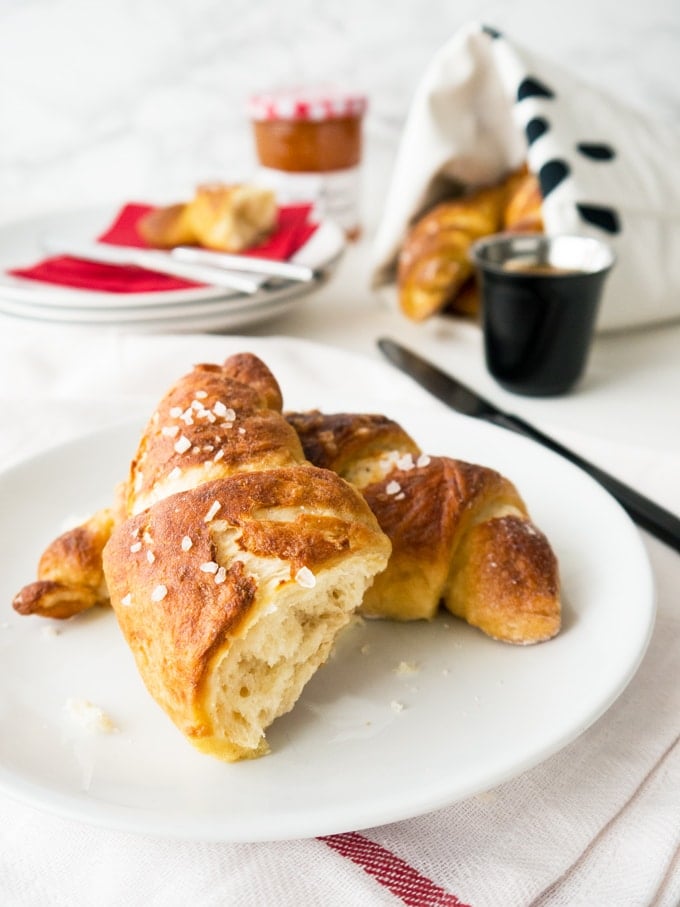 Everybody loves Pretzels and everybody loves butter croissants! My easy homemade Pretzel Croissants are the even better combination of both.
Pretzel Croissants are not normal croissants, they are a hybrid version of a pretzel and a croissant. They are not as sweet as normal croissants and make a perfect snack in the afternoon but they're also great for breakfast.
These easy homemade Pretzel Croissants are a favorite of mine!
I love Pretzel Croissants! They are called Laugencroissants in Germany and you can get them at most bakeries. To get that special texture which is a bit sturdier than normal croissants I combined yeast dough and puff pastry. Puff pastry consists of many layers with butter in between which gives you the flaky texture. I like to work with store-bought puff pastry because it saves time and is less stressful. Yeast dough is much easier to make, just have an eye on your yeast and let it sit for a few minutes in the warm water to make sure it's not dead.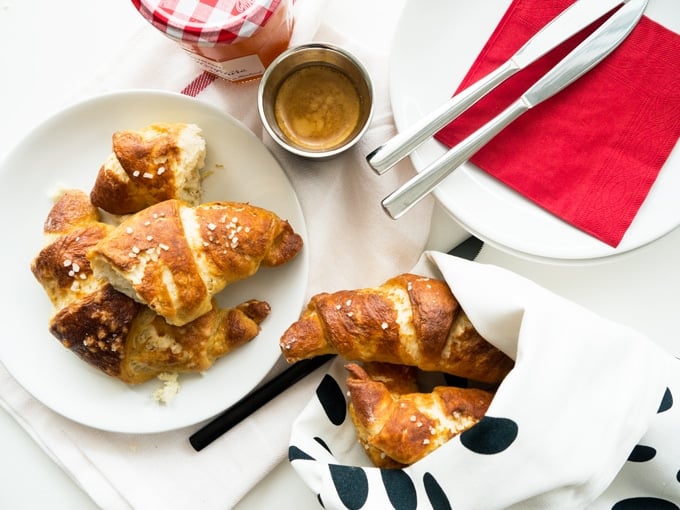 l like my Pretzel Croissants with salt on top but if you more of a sesame fan sprinkle some sesame seeds over your bathed croissants. These easy homemade Pretzel Croissants are great with a savory dip like my Smoked Salmon Lime Dip but you can also have them with some butter and jam.
Wouldn't these be great for a weekend breakfast?
– Julia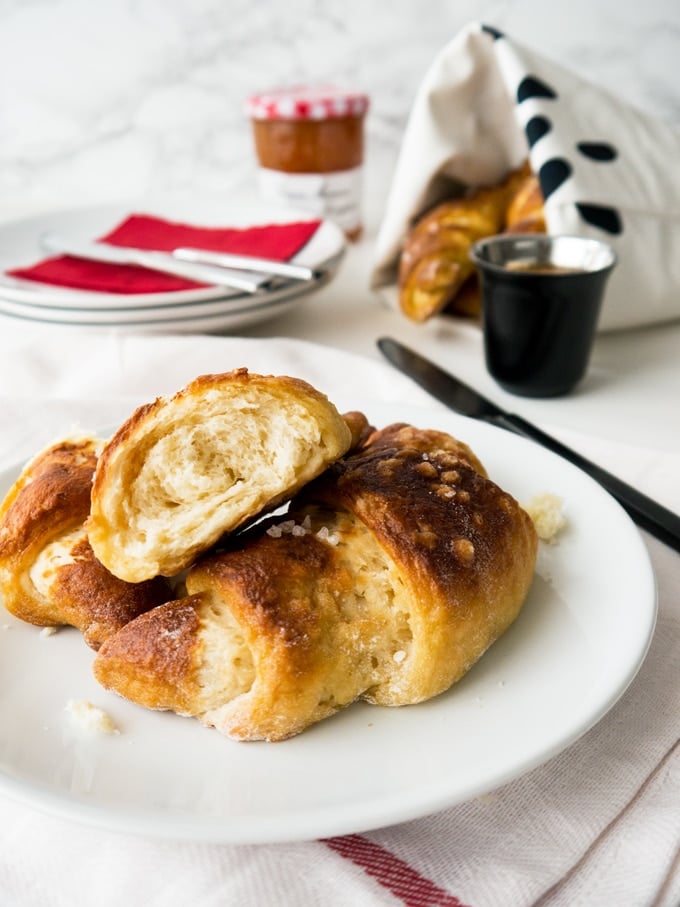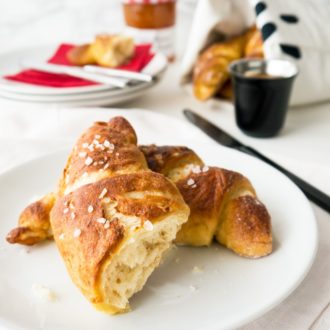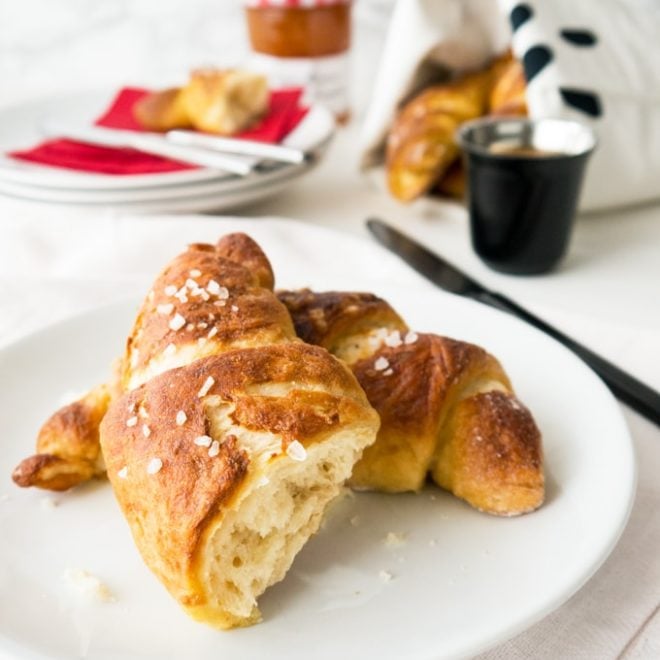 Easy Homemade Pretzel Croissants (Laugencroissants)
Easy homemade pretzel croissants combine the flakiness of a butter croissant with the texture of a pretzel! Made with puff pastry AND yeast dough.
Ingredients
¾

cup

lukewarm water

2

tsp

instant yeast

2

cups

all-purpose flour

1

tbsp

olive oil

1

tsp

sea salt

2

tsp

brown sugar

1

sheet puff pastry

,

thawed according to package instructions

4

tsp

baking soda

6

cups

water
Instructions
In the bowl of your stand mixer fitted with a hook attachment, combine the warm water and yeast. Give it a gentle stir and let it sit for 5 minutes until the mixture is foamy. Add the flour, olive oil, sugar, and sea salt. Mix on low speed for 1 minute until all the ingredients are mixed then slowly knead for 4 minutes on low-medium speed. The dough should be smooth and elastic. Place the dough in a large lightly greased mixing bowl and cover with plastic wrap. Allow the dough to rise for 15 minutes in a warm environment.

Lightly flour your work surface and unfold the thawed pastry sheet. Roll the pastry sheet into a 15 x 10 inches rectangle. Roll out your yeast dough to the same size as the puff pastry. Put the puff pastry on top of the yeast dough and press them together. Now you fold the top half down (have a look at the step by step pictures) and then the right half on top of the left half.

Roll the dough out until it has the same dimensions (15x10) as before. Repeat the folding process and roll out the dough a second time. Fold the dough a third time. Cover the dough package with a kitchen towel and let it rise for 10 minutes.

Roll out the dough into a circle with a 20-inch diameter. Cut the dough into 8 equal pieces and roll up each croissant from the wider side. Shape the croissants a little bit, cover them with a kitchen towel and let them rise for 30 minutes.

In the meantime preheat your oven to 410°F (210°C) and prepare a baking sheet with parchment paper. Lightly flour the parchment paper.

To give the pretzel croissants their special taste and color, bring 6 cups water to a boil. Add 4 tsp baking soda and turn off the heat. Transfer each croissant with a slotted spoon into the soda-water mixture and let it sit in there for 1 minute. Let all the excess water drip off and transfer each croissant to the baking sheet. Sprinkle the croissants with coarse sea salt or sesame seeds. Bake them for 25 minutes. The croissants will change their color in the second half of the baking time.
Nutrition Information
Calories:
312
kcal
|
Carbohydrates:
40
g
|
Protein:
7
g
|
Fat:
14
g
|
Saturated Fat:
3
g
|
Polyunsaturated Fat:
2
g
|
Monounsaturated Fat:
8
g
|
Sodium:
927
mg
|
Potassium:
82
mg
|
Fiber:
2
g
|
Sugar:
1
g
|
Vitamin A:
0.3
IU
|
Vitamin C:
0.01
mg
|
Calcium:
16
mg
|
Iron:
2
mg