Eggnog Cake with a delicious eggnog glaze is the perfect holiday dessert! Easy and quick to make from scratch this moist bundt cake is so flavorful and tastes even better on the next day – a perfect cake to make in advance.
We love moist and tender cakes like our Moist Lemon Cake Recipe, German Apple Cake, and this fun Copycat Starbucks Raspberry Swirl Pound Cake. Simple cakes like these can be dressed up easily and are much quicker to make than fancy layer cakes.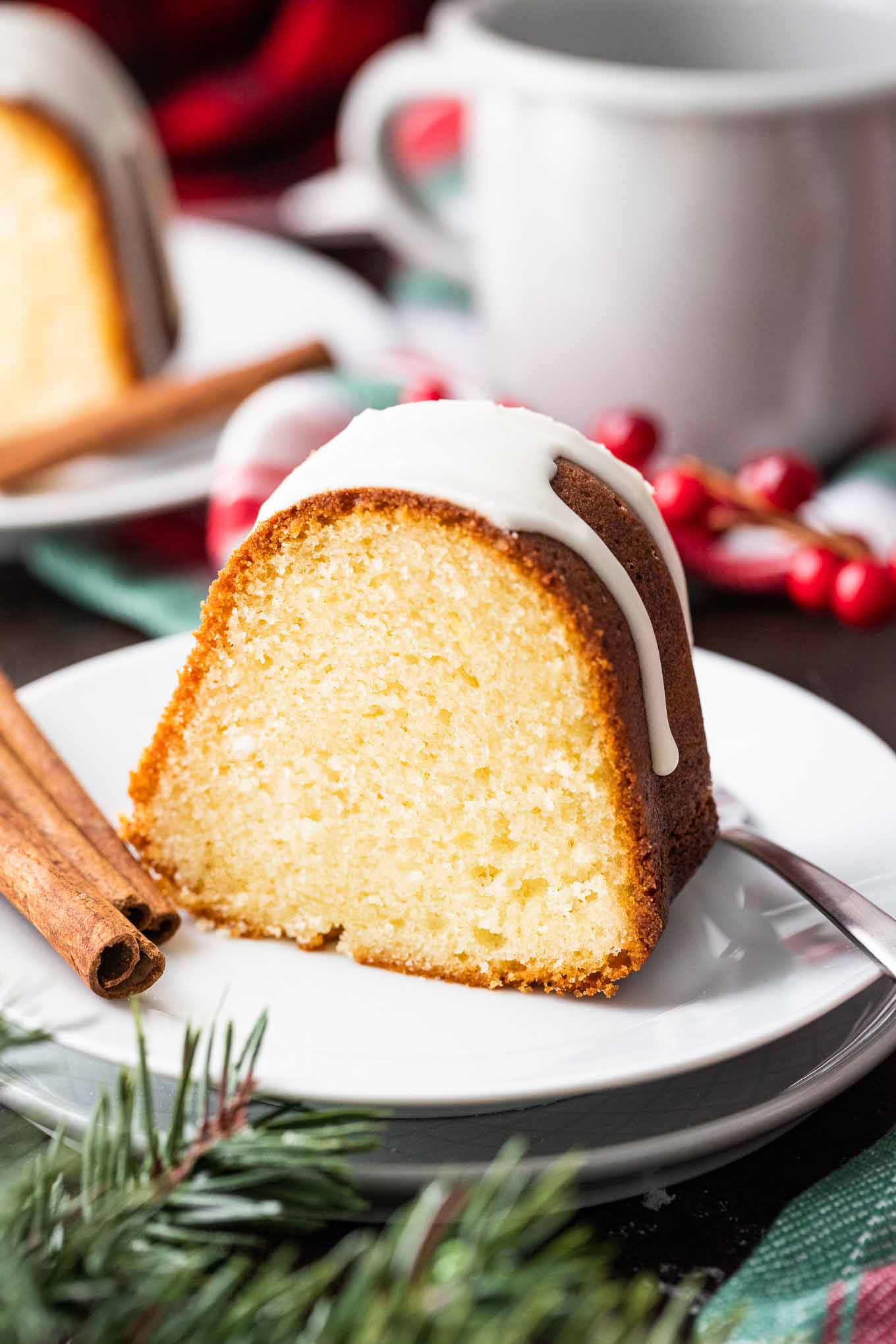 This Eggnog Bundt Cake is the perfect cake to make for Christmas because it can be made ahead and goes so well with a cup of hot cocoa or Glühwein (German Mulled Wine)! Dress it up with an easy eggnog glaze and you have a delicious dessert that is easy to whip up and tastes so moist and flavorful.
This recipe is adapted from one of my favorite German cakes called "Eierlikörkuchen" (German eggnog cake). Eierlikoer is a spiked Eggnog similar to the Dutch liquor Advocaat. But this classic recipe tastes also great with eggnog and if you want to add a bit of extra flavor I highly recommend adding a few tablespoons of rum to the cake batter – so delicious!
The secret that makes this cake so fluffy and tender is whipping up the eggs with the sugar until the mixture is really pale and has almost doubled in volume. This technique is often used in German cakes and makes them light and fluffy because of the air that gets incorporated during mixing. You have to give this easy recipe a try!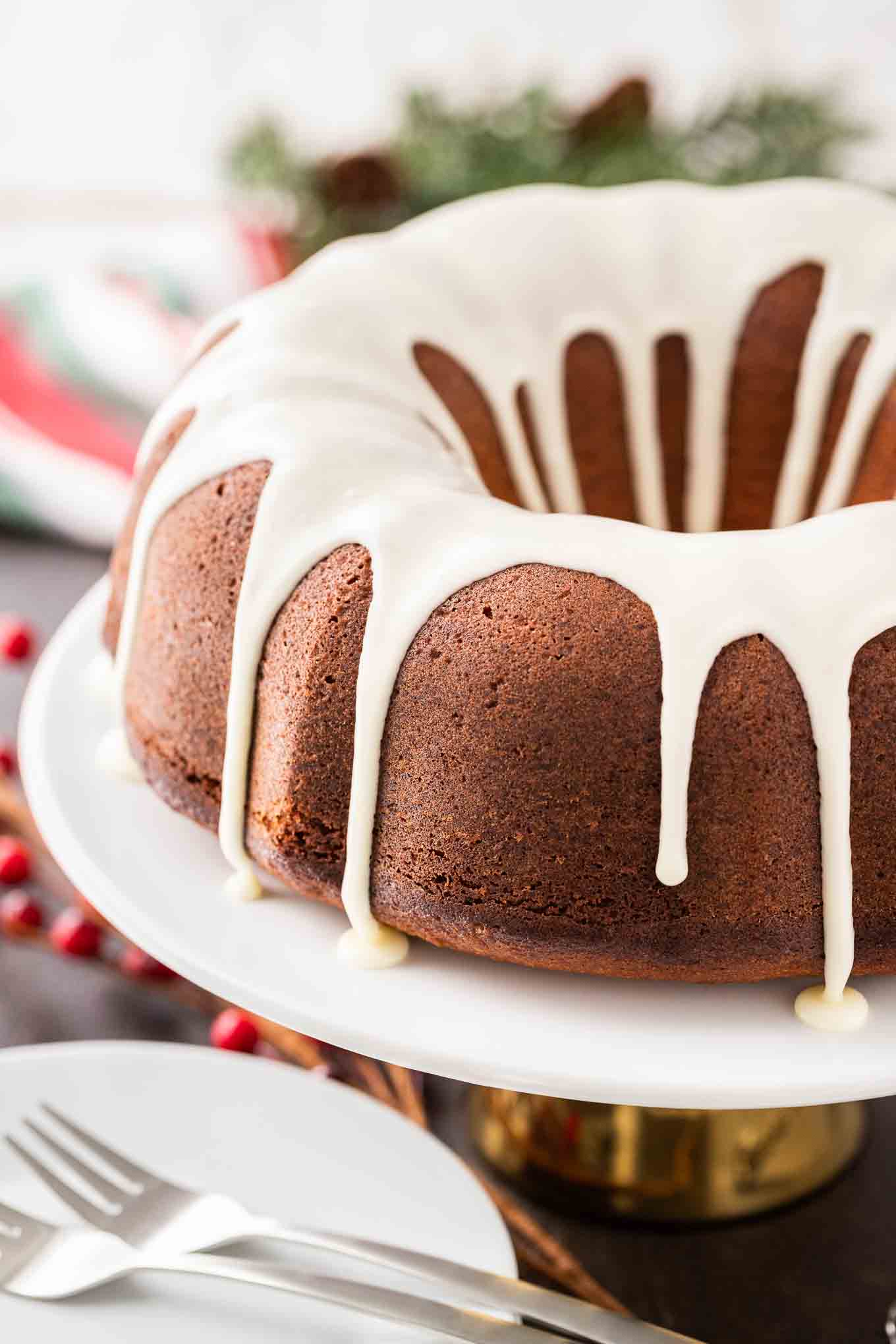 Julia's Tips and Tricks
Let it rest: This cake tastes best after sitting at room temperature for 24 hours. The eggnog flavor will get stronger with time
Prep pan: Always grease and flour your cake pan, especially bundt pans!
Whip eggs and sugar: Beat the sugar and eggs together until the mixture is pale and has increased in volume (see picture below). It's best to use a stand mixer for this!
Add rum: I like to add a little bit of rum for an even better flavor
Or Egg liqueur: Instead of eggnog and rum, you can also use the same amount of Advocaat or Eierlikoer (both are alcoholic beverages)
Don't overbake: Test the cake with a skewer for doneness after 40 minutes to prevent overbaking it. Baking the cake too long will make it dry
Let it cool: Let the cake cool completely before pouring the glaze over it or sprinkling it with powdered sugar
Don't refrigerate it: Store the cake at room temperature, don't put it in the fridge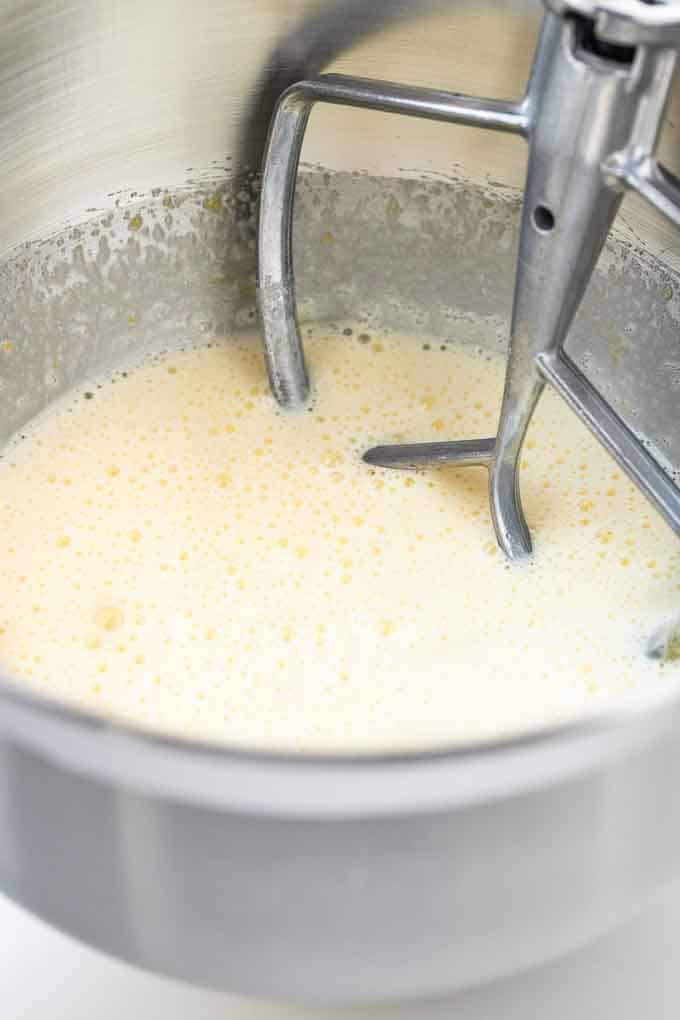 How do I keep a cake from sticking to a bundt pan?
My advice is always to grease your pans with butter and then lightly flour them. Some people also swear by vegetable oil spray and a sprinkle of almond flour but butter and flour are always in my pantry and it works every time in my experience.
Use a paper towel and rub the pan with butter, especially the corners. Then use a small sieve to sprinkle the pan with 1-2 Tbsp of flour. Shake the pan over the sink to make sure that everything is floured. This is especially important when using a bundt pan! Even if you are using a non-stick pan I would recommend doing this.
How do you get a cake out of a Bundt pan?
As soon as the cake comes out of the oven put the pan on a cooling rack and loosen the edges of the cake with a knife or thin heatproof spatula. Let the cake sit on the cooling rack in the pan for 10 minutes then invert the pan onto the rack. Sometimes the cake slides right out, sometimes it needs a little jiggle. If it is stubborn let it sit for a few minutes then try again. If it really doesn't want to come out, put the cake pan back in the turned-off oven for 10 minutes and try again. Lift the pan off and let the cake continue to cool on the rack until completely cooled.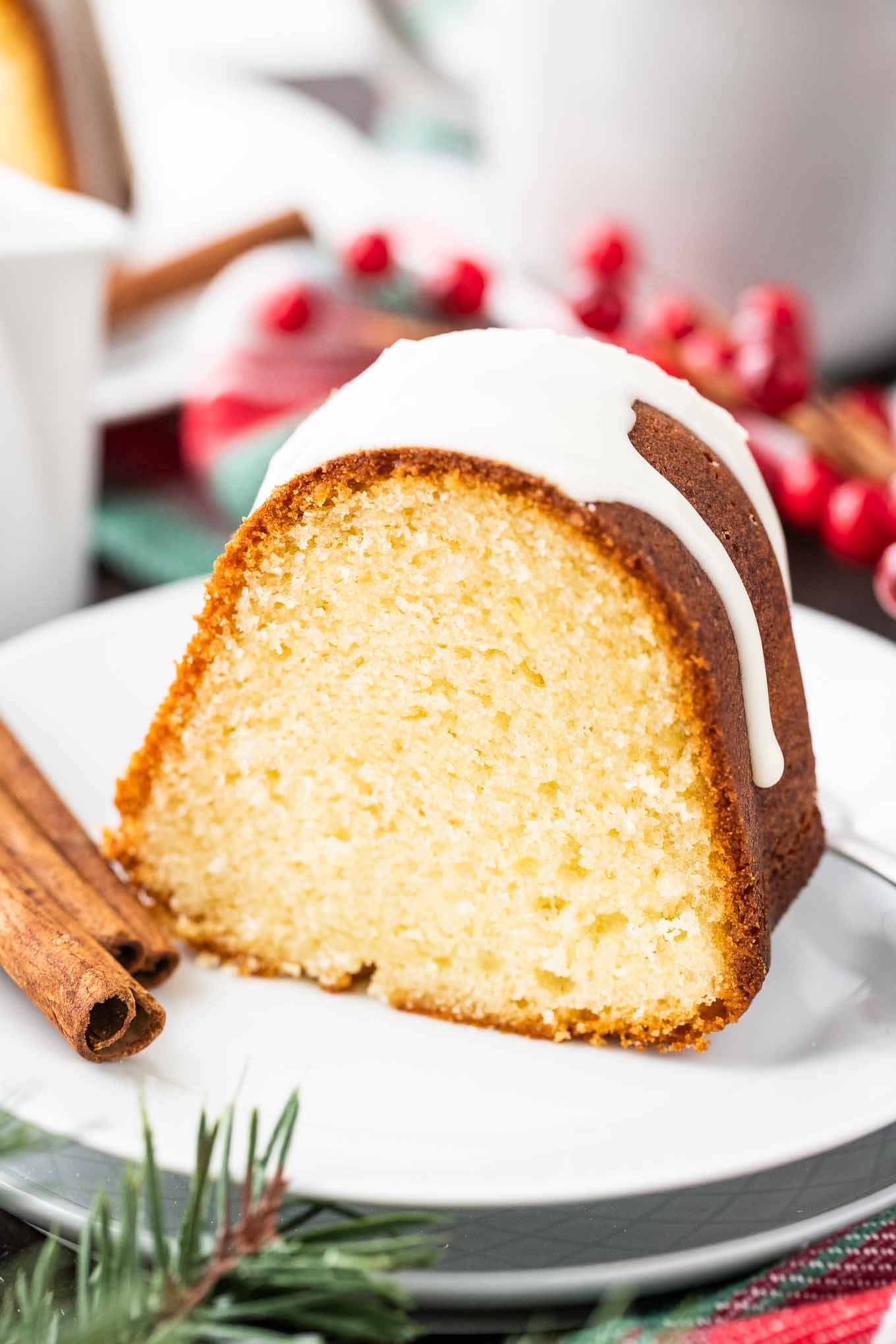 More festive Cake recipes
Never Miss A Recipe! Subscribe to my newsletter and follow along on Facebook, Instagram, and Pinterest for more great recipes and all of the latest updates.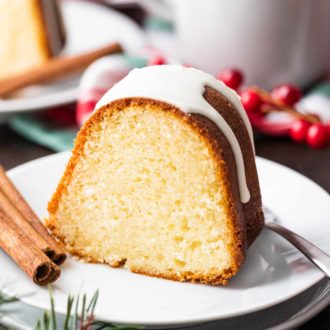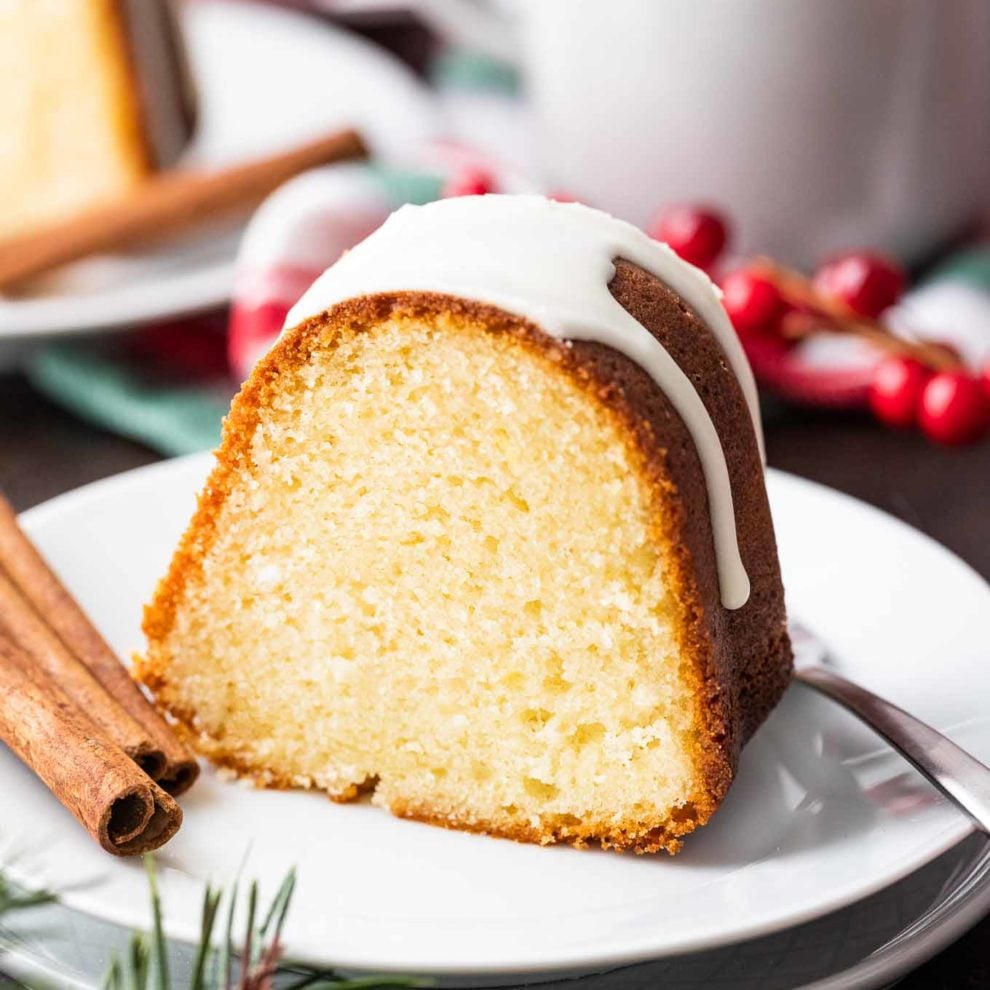 Eggnog Cake
Eggnog Cake with a delicious eggnog glaze is the perfect holiday dessert!
Ingredients
Bundt Cake:
4

large eggs

1 ¼

cup

granulated sugar

2

teaspoons

vanilla extract

1

cup

vegetable oil

1 ¼

cups

eggnog

3

Tablespoons

dark rum

,

or brandy (optional)

2

cups

all-purpose flour

2

teaspoons

baking powder

½

teaspoons

salt
Eggnog Glaze:
1 ¼

cups

powdered sugar

,

sifted

2

Tablespoons

melted butter

2

Tablespoons

eggnog

,

or more
Instructions
Preheat oven to 350 F and grease and flour a bundt pan.

In the bowl of a stand mixer fitted with the paddle attachment combine eggs and sugar. Beat at medium-high speed for 4-6 minutes, until pale and fluffy (see picture above for reference).

With the mixer running on low speed add the vanilla extract, vegetable oil and the eggnog in a slow stream. Add the rum and mix until combined.

Combine flour, baking powder, and salt. Sieve into the stand mixer bowl and mix at low speed until just combined. Pour into prepared baking pan.

Bake for 45-55, until a skewer inserted in the center, comes out clean with only a few moist crumbs attached.

Let cake cool for 15 minutes in the pan on a cooling rack then turn out the cake onto the cooling rack and let cool completely.

Combine all the ingredients for the glaze and pour it over the cake. Instead of a glaze, you can also sprinkle the cake with powdered sugar.
Notes
This cake tastes best after it has been sitting at room temperature for 24 hours. The eggnog flavor will get stronger with time
Always grease and flour your cake pan especially bundt pans!
IMPORTANT: Beat the sugar and eggs together until the mixture is pale and has increased in volume (see picture below). It's best to use a stand mixer for this!
I like to add a little bit of rum for an even better flavor
Instead of eggnog and rum, you can also use the same amount of Advocaat or Eierlikoer (both are alcoholic beverages)
Test the cake with a skewer for doneness after 40 minutes to prevent overbaking it. Baking the cake too long will make it dry
Let the cake cool completely before pouring the glaze over it or sprinkling it with powdered sugar
Store the cake at room temperature, don't put it in the fridge
Nutrition Information
Calories:
279
kcal
|
Carbohydrates:
52
g
|
Protein:
5
g
|
Fat:
5
g
|
Saturated Fat:
2
g
|
Polyunsaturated Fat:
1
g
|
Monounsaturated Fat:
1
g
|
Trans Fat:
1
g
|
Cholesterol:
77
mg
|
Sodium:
152
mg
|
Potassium:
160
mg
|
Fiber:
1
g
|
Sugar:
36
g
|
Vitamin A:
197
IU
|
Vitamin C:
1
mg
|
Calcium:
79
mg
|
Iron:
1
mg