Copycat Starbucks Raspberry Swirl Pound Cake
Copycat Starbucks Raspberry Swirl Pound Cake is so easy to make from scratch and is topped with a delicious cream cheese frosting. Raspberry and Lemon batters are swirled together to make a perfect summer treat!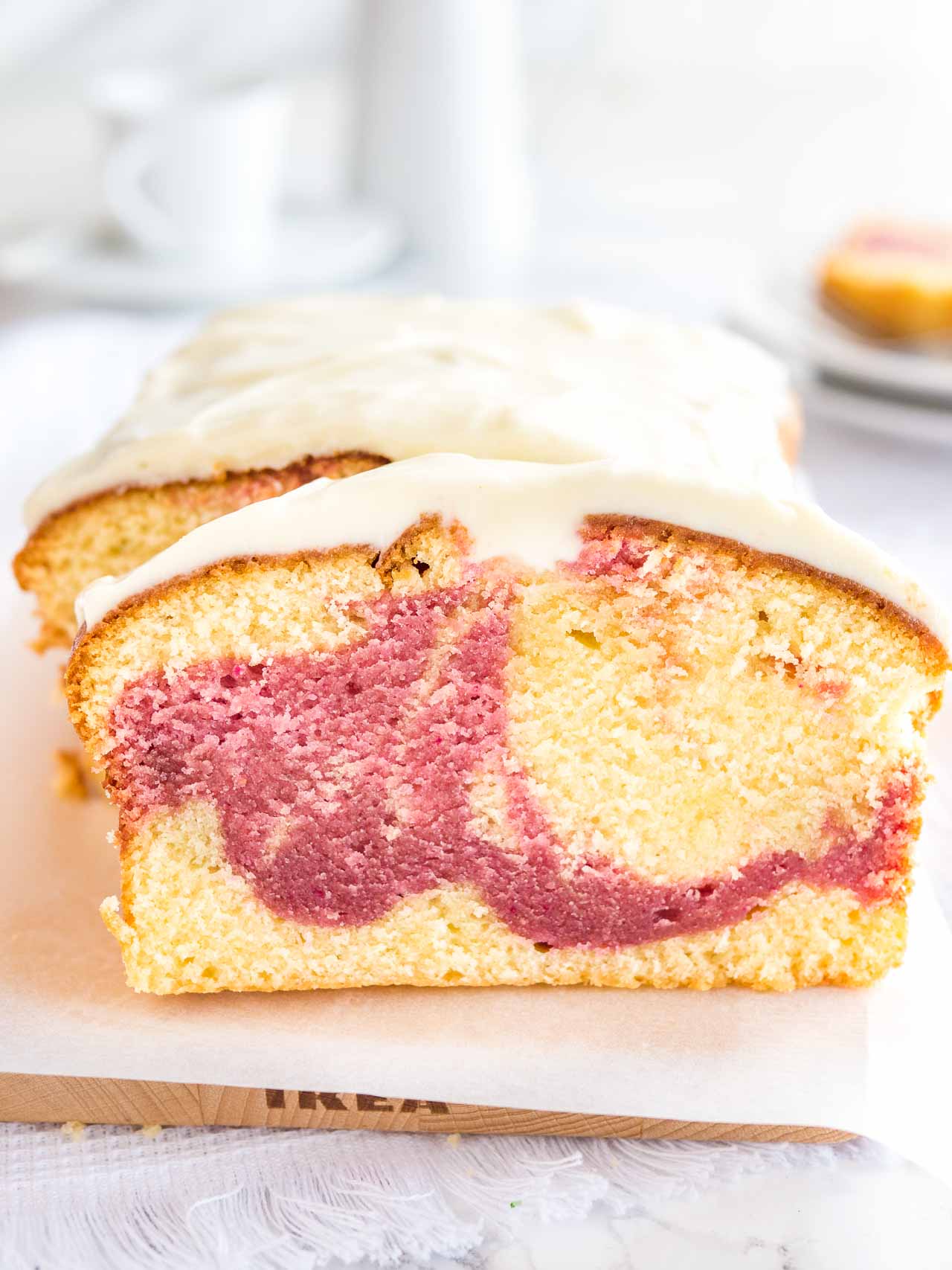 Copycat Starbucks Raspberry Swirl Pound Cake is a great summer dessert. A simple pound cake with a raspberry swirl made completely from scratch. No need to use a cake mix for this pound cake! It's so easy and fast to make and you probably have all the ingredients already in your pantry.
I got the idea for this cake from Starbucks. Raspberry Swirl Pound Cake is one of their summer menu treats! My homemade version saves you quite a few bucks and might taste even better than the original. Don't get me wrong I love to go to Starbucks but every time I go there I spend way too much money. By making this pound cake at home you can have it whenever you want!
What is pound cake? The name says it all. Traditionally 1 pound of butter, flour, eggs, and sugar were used to make this cake. The texture of this raspberry pound cake is a bit lighter than an old fashioned pound cake. I love the flavor combo of this cake, raspberry, lemon, vanilla, and tangy cream cheese. The cream cheese frosting really is the icing on this cake! So delicious!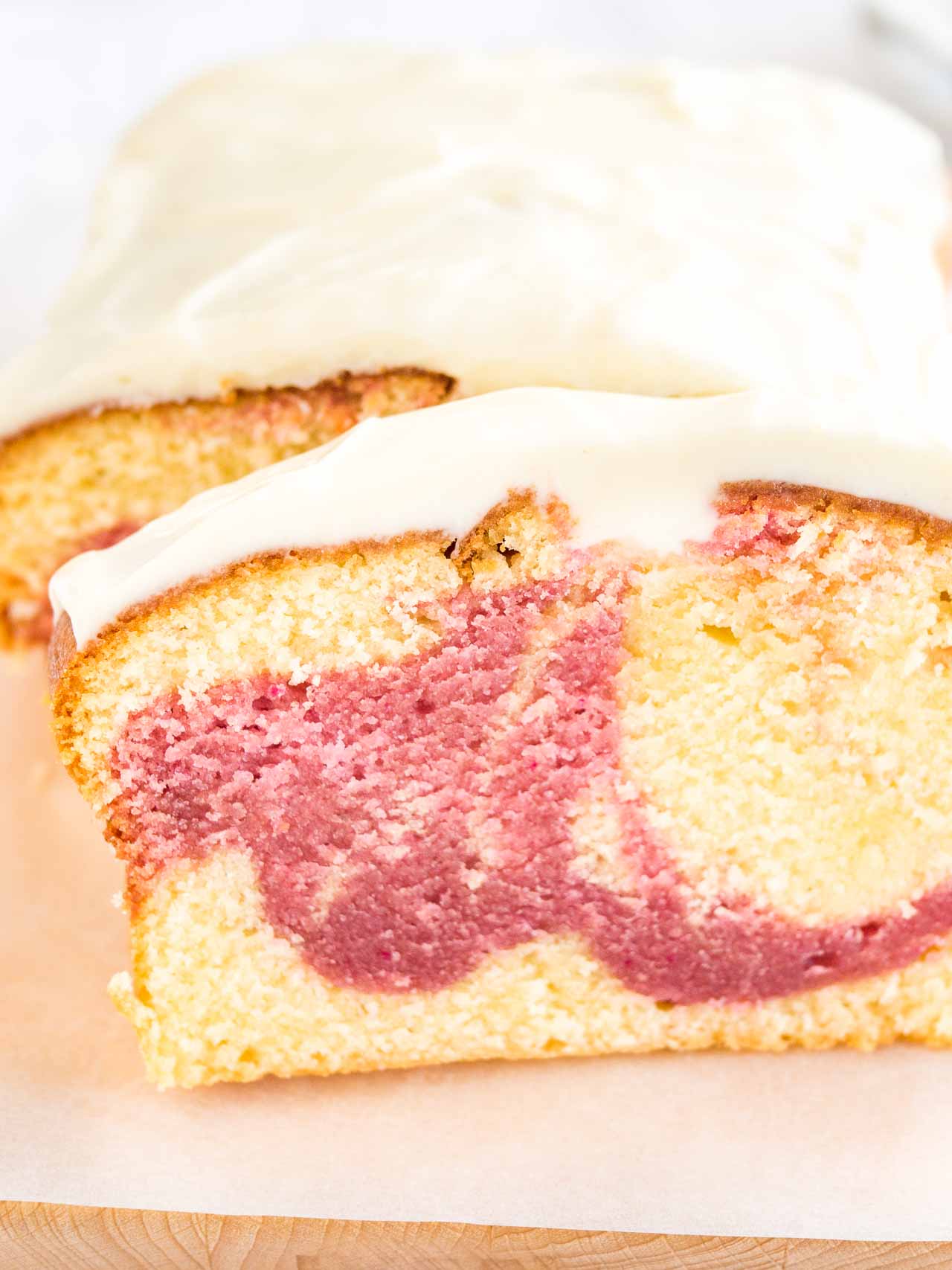 We posted this recipe 1 year ago. Today we've updated the photos, improved the recipe, and of course included a video tutorial to show you just how easy this cake is to make.
Tips and Tricks for making this Copycat Starbucks Raspberry Swirl Pound Cake
I always make this cake from scratch because it is so easy and fast but nothing against taking a shortcut and using a package of cake mix. Make the batter according to package instructions then divide it and add lemon juice to one batter and raspberry jam to the other.
I sometimes but not always add a few drops of food color to the raspberry jam batter. The color of the batter depends on the raspberry jam you are using and some are not as pink as others. You really don't need to add food color to your cake it will be pretty without it but if you want the raspberry swirl to be really pink I recommend adding 2 or 3 drops of gel color. I linked to the brand I use above the recipe.
Don't swirl the batters too much together! You want a bit of a swirl but you also want the colors to be defined. Watch the video below to see how I do it!
Pound Cakes are denser than other cakes because of the amount of butter and the little amount of baking powder so this cake takes 1 hour or more in the oven. Test with a skewer after about 55 minutes if your cake is done.
Instead of seedless raspberry jam, you could also use the same amount of strawberry or cherry jelly or jam.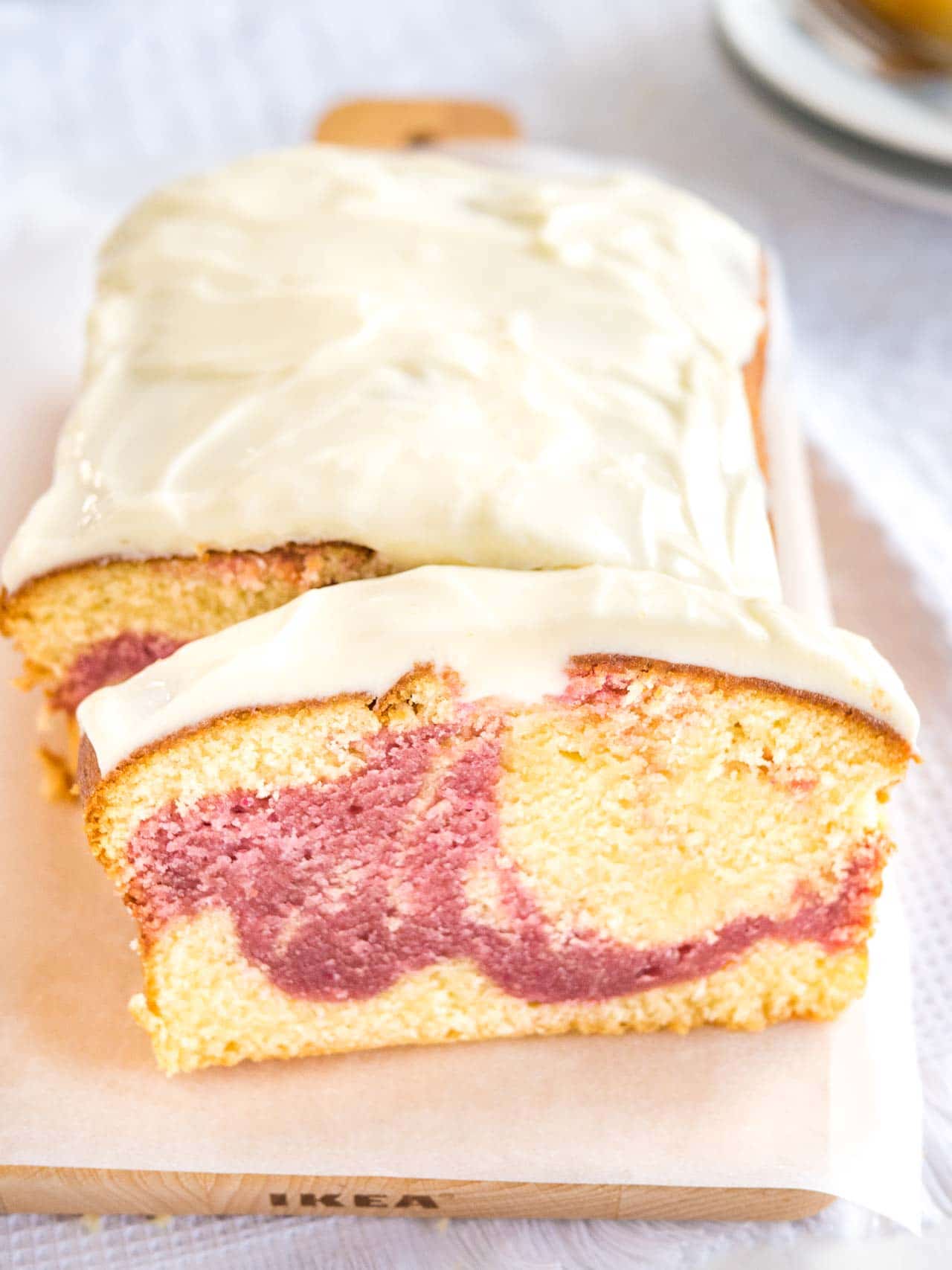 Looking for more Cake Recipes?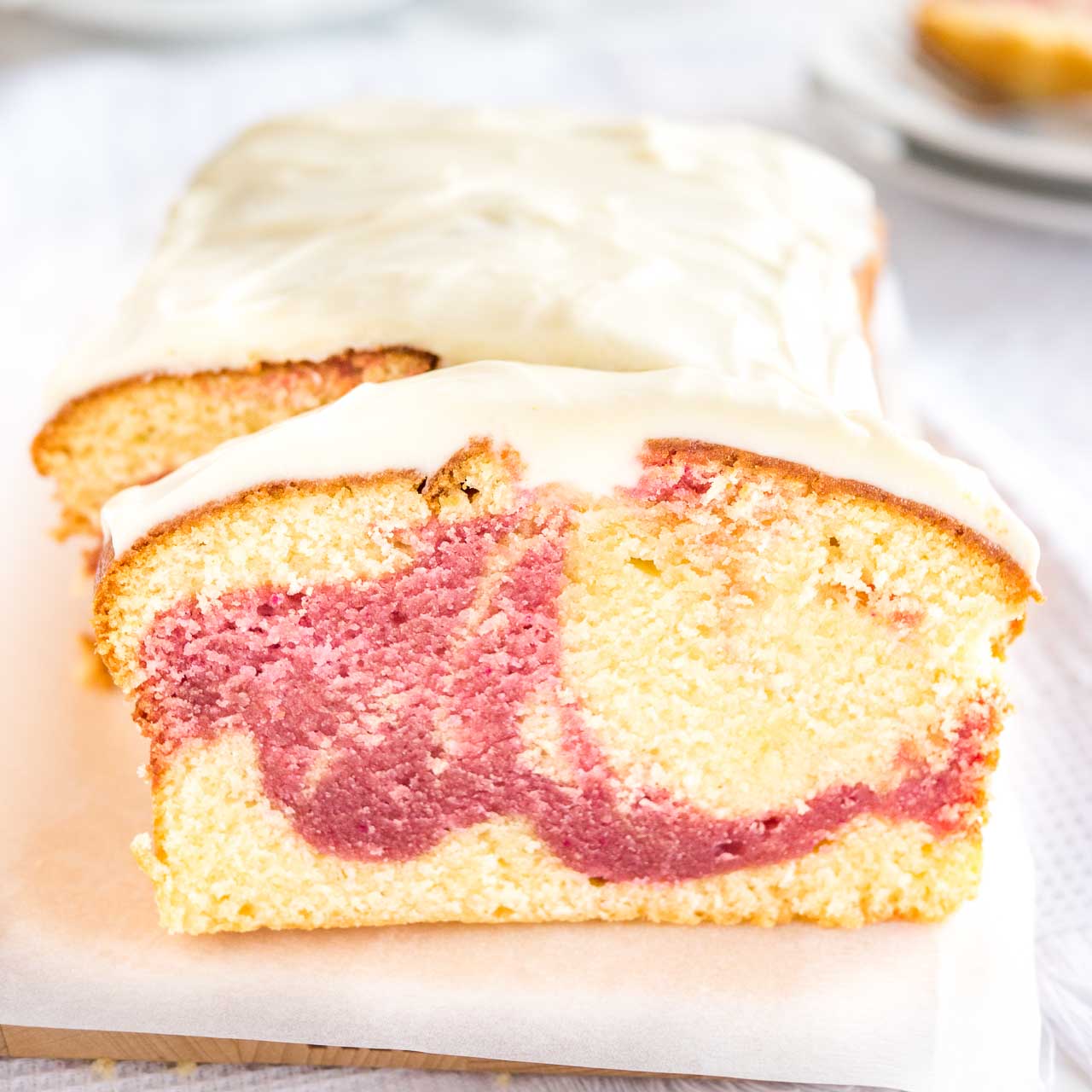 Tools used for making this Copycat Starbucks Raspberry Swirl Pound Cake
Loaf Pan:
I can recommend all the baking pans from this brand! They're super easy to clean and cakes bake evenly.
Seedless Raspberry Jam:
This is my favorite jam! For this recipe, you should use a seedless jam or jelly.
Gel Food Color:
I love these gel colors! They are tasteless and you only need a few drops to get really great results. Most of the time I don't add food color to this cake but sometimes I want it to be extra pretty.
Stand Mixer
: My most used kitchen appliance and it's so pretty it can sit on the counter as decoration!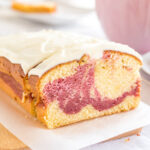 Print Recipe
Copycat Starbucks Raspberry Swirl Pound Cake
Copycat Starbucks Raspberry Swirl Pound Cake is so easy to make from scratch and is topped with a delicious cream cheese frosting. A perfect summer treat!

Ingredients
For the Raspberry Swirl Pound Cake
1

cup

unsalted butter

room temperature (230g)

1

cup

sugar

(200g)

4

large eggs

1/4

tsp

salt

1 1/2

tsp

pure vanilla extract

1/4

cup

sour cream

(60g)

2

cups

all-purpose flour

(250g)

1/2

tsp

baking powder

1

tbsp

lemon juice

1/3

cup

seedless raspberry fruit spread

(100g)
For the Cream Cheese Frosting
4

oz

cream cheese

softened (110g)

1/2

cup

powdered sugar

(60g)
Instructions
Preheat oven to 350F (or 180C). Grease a 9x5-inch loaf pan and line it with parchment paper to make lifting out the cake easier. Set aside.

In the bowl of a stand mixer fitted with the paddle attachment cream butter and sugar together at medium speed until pale and fluffy about 4 minutes.

Add eggs one at a time and beat well for about 30 seconds after adding each egg. Add salt, vanilla extract, and sour cream.

In a small bowl combine flour and baking powder. With the stand mixer running on low add 1 cup of the flour mixture, beat for 30 seconds. Then add the second cup and beat for 30 seconds.

Transfer 1/3 of the batter into another bowl. Add the raspberry jam and beat until combined. Add 2-3 drops of gel food color if desired.

Add the lemon juice to the other dough and beat until combined.

Add a layer of white batter to your loaf pan. Then alternate between pink and white dough. Use a knife to swirl the doughs together but don't overdo it or you will end up without a marble effect.

Bake for 60-65 min or until a skewer inserted in center of the pound cake comes out clean with only a few crumbs attached. If your pound cake browns too quickly cover it with aluminum foil.

Let the cake cool in the pan for 15 minutes. Then lift it out of the pan and let it cool completely on a cooling rack.

To make the icing: Beat the cream cheese for about 20 seconds on medium speed until softened. Add the powdered sugar and mix until well combined.

Spread the frosting on top of the cooled cake and serve! Store leftovers in the fridge.
Nutrition