Greek Tacos with homemade Tzatziki, slow cooker pulled pork Gyros and Greek salsa. Served on homemade flour tortillas! A great twist on normal tacos!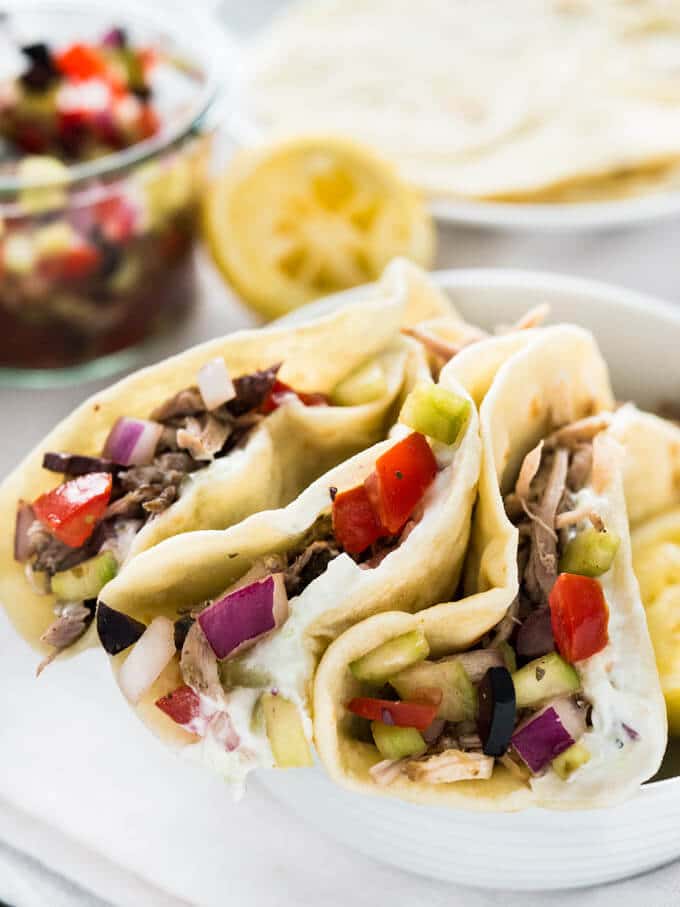 I have to admit we had these Greek Tacos three days in a row – they're so good! I promise you, you can't get enough of them and they're really easy to make.
The Slow Cooker Pulled Pork Gyros doesn't need much work and attention. Just season it with my delicious Greek Spice Rub and let your slow cooker do the work! The spice rub is really versatile, I also use it for the Greek salsa I share with you below. It gives a great Greek flavor to every dish. I store the leftover rub in an airtight container and it gets used up really quick. I think I should double the amount I make next time :-)
I also used my homemade Tzatziki Sauce on the tacos. This easy dip is definitely my favorite sauce to put on everything right know. Just give me some tzatziki and a few crackers and I'm happy. Nothing tastes better than real Greek Tzatziki!
The Salsa on this tacos is like a miniature Greek salad: chopped tomatoes, red onion, olives, and cucumber. Seasoned with my Greek spice rub which I used for the Slow Cooker Pulled Pork Gyros. It goes great with the tzatziki and the pulled pork!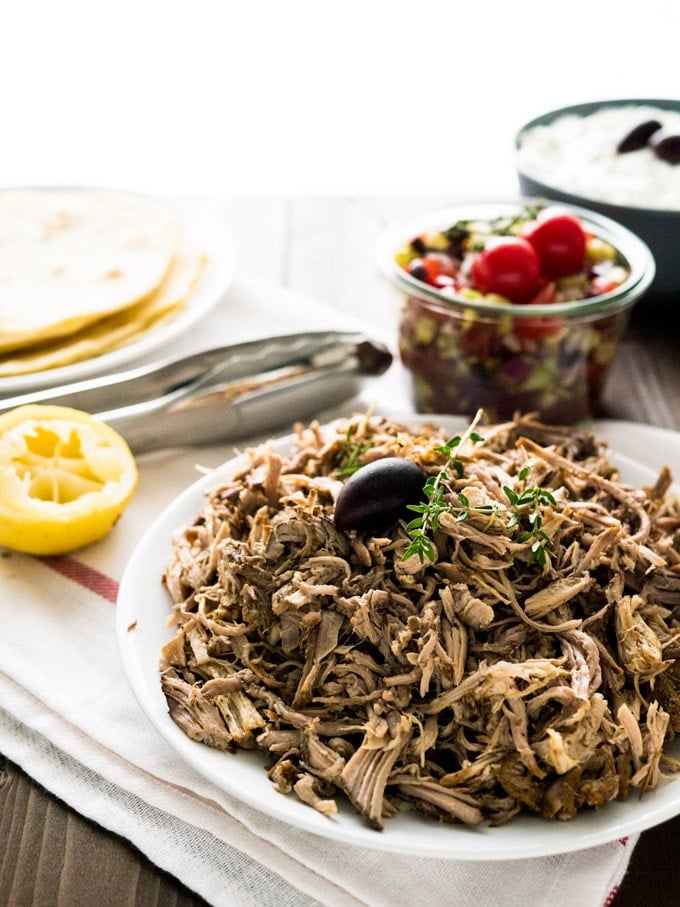 And all those delicious things are served on a homemade flour tortilla. You can use store bought tortillas instead of course but I have a hard time finding tortillas here, so I make my own! They're really easy and taste great.
I use a recipe from Epicurious which I adapted to my taste and these tortillas come out great every time we make them. My husband is in charge rolling them out and I cook them.
I'm a bit embarrassed to share that but we eat all of them (12) in one go. So I can't really tell you if they freeze well or how long they keep fresh because they are gone as soon as they are done :-)
But the original recipe says they freeze well after cooling down and should be reheated in a skillet before eating. I think we should double the amount we make next time but that could also end in us eating 24 tacos together.
I'm not sure if this is a good idea :-)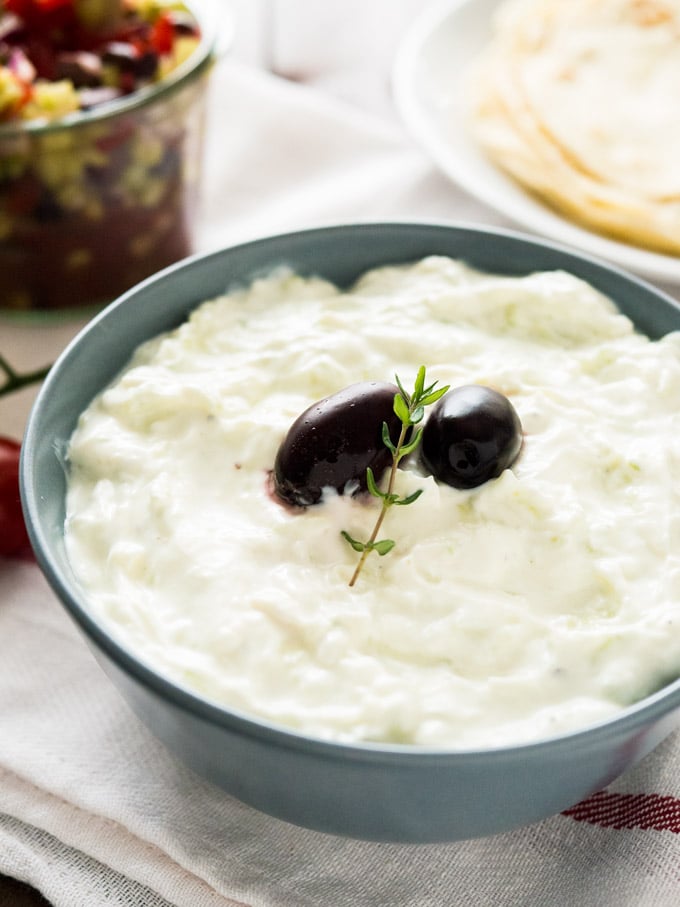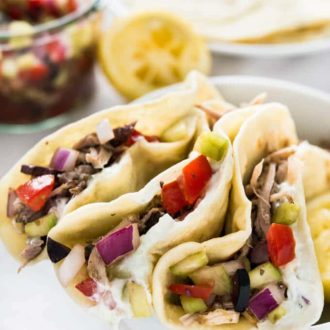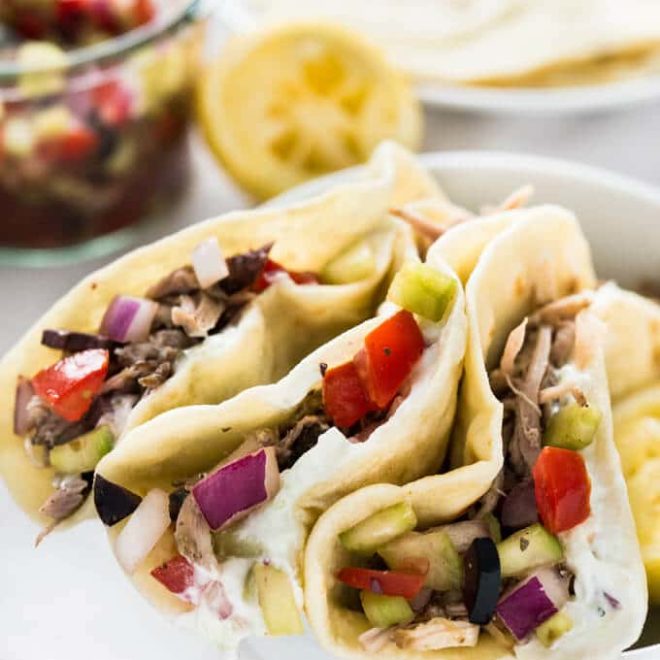 Ingredients
For the tortillas:
2

cups

all-purpose flour

1

tsp

salt

1/4

cup

butter

,

room temperature

1

tbsp

vegetable oil

1/2

cup

warm water
For the Greek Salsa:
1

cucumber

,

finely chopped

1

cup

kalamata olives

,

stone removed and finely chopped

3

tomatoes

,

finely chopped

1

red onion

,

finely chopped

1

tbsp

Greek Gyros Spice Rub

2

tbsp

olive oil

1

tbsp

balsamic vinegar
To assemble the tortillas:
Tzatziki Sauce

Slow Cooker Pulled Pork Gyros
Instructions
In a bowl,mix flour and salt together, then add the butter and use your fingertips or a pastry blender to cut in the butter.

Drizzle the vegetable oil over the mixture. Use a fork and stir in the warm water until a dough forms. Knead about 4 minutes on a lightly floured surface until elastic and smooth.

Cover the dough with plastic wrap, and let rest 30 minutes in the fridge.

In the meantime make the greek salsa. Mix all the chopped ingredients in a bowl and season with 1 tbsp of my Greek Gyros Spice Rub. Add olive oil and vinegar. Set aside.

Divide the tortilla dough into 12 equal pieces and form into balls. Heat a skillet over medium heat until hot.

Roll out each ball into a 7-inch round (use just enough flour to avoid sticking) and cook one tortilla while you roll out the next. The tortilla will puff and the bottom will be browned in about 45 seconds

Tortilla will bubble and puff, and bottom will be browned in spots in 45 seconds. Turn it over and cook the other side.

Transfer to a kitchen towel. Stack tortillas as cooked and cover with a kitchen towel to keep warm.

Assemble your tacos. Add tzatziki sauce, slow cooked pulled pork gyros and greek salsa.
Nutrition Information