Roasted Garlic Mashed Potatoes are so flavorful and make an easy side dish for the holidays and family dinners! Loaded with roasted garlic and parmesan cheese these creamy mashed potatoes will surely become a dinnertime favorite.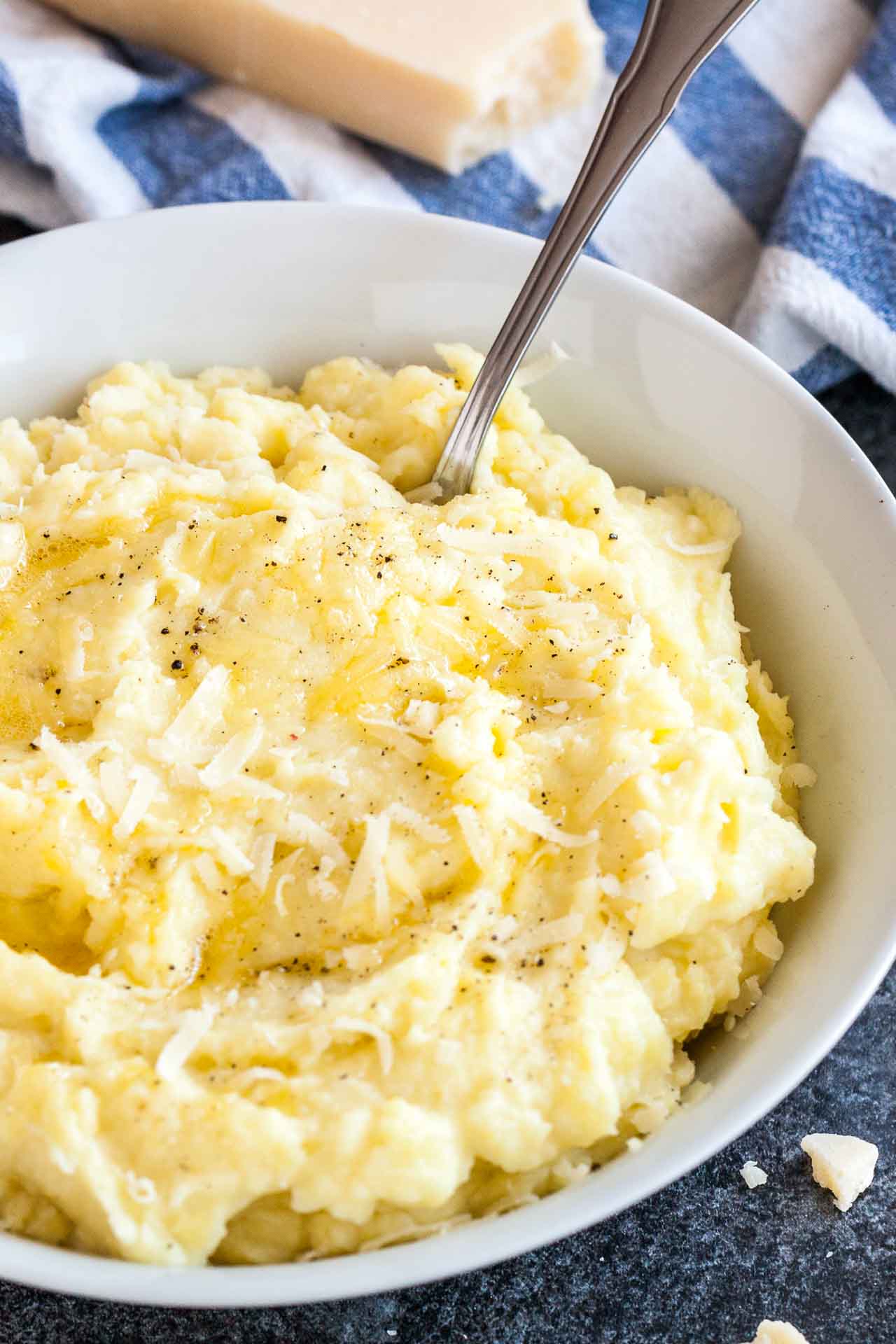 Roasted Garlic Mashed Potatoes takes simple mashed potatoes to a whole new level of deliciousness! The roasted garlic adds so much flavor to this easy side dish that wow's AND is easy and quick to make from scratch.
Potatoes in all forms and shapes are probably my favorite side dish ever! Baked potatoes, potatoes au gratin, boiled potatoes, roasted new potatoes, I love them all. But my two favorite things to make with potatoes are German potato dumplings and mashed potatoes. I can't decide which of those two I prefer, but if I had to make them myself I would choose mashed potatoes.
Mashed potatoes taste heavenly and are (in my opinion) really easy to make even if you aren't a pro in the kitchen! Add a few cloves of roasted garlic and freshly grated parmesan and you have the most delicious side dish ever. If you are a garlic "liker" like me (no need to be a garlic lover) you want to eat the whole bowl with a spoon, it's sooo good.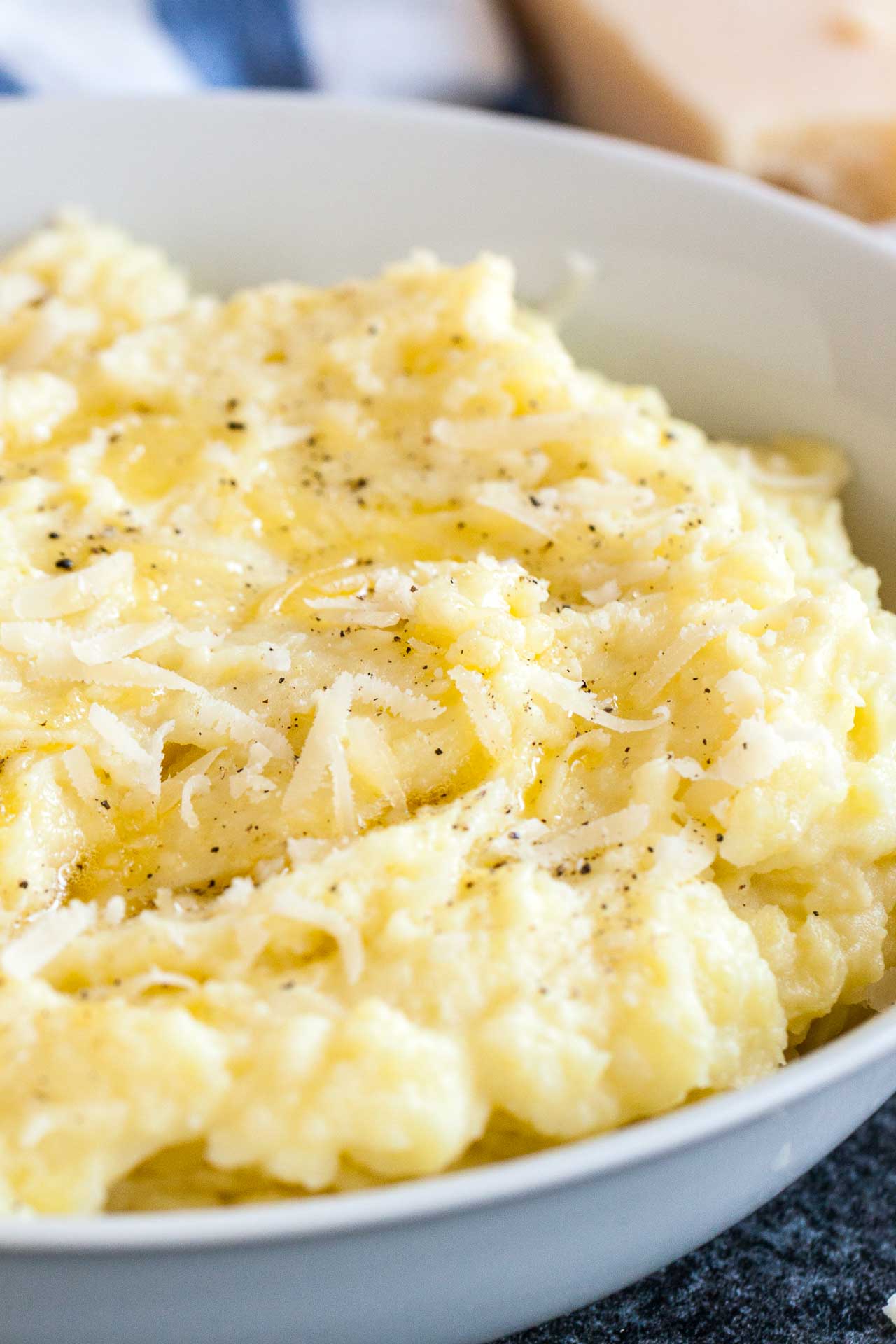 How to make Garlic Mashed Potatoes
Making Mashed Potatoes with roasted garlic adds an extra step but it's so worth it! What I like to do when I'm preparing a whole holiday dinner is to put the head of garlic for 30 minutes in the oven with whatever I'm making in there.
Can I roast the garlic in advance?
Yes, you can roast garlic in advance. Let it cool slightly then press on the bottom of a clove to push it out of its paper. Store it in an airtight container (I prefer glass containers) in the fridge for up to 2 weeks or mash and freeze in portions for up to 3 months.
Can I roast pre-peeled garlic?
Yes, you can roast peeled garlic too. Put a handful of garlic cloves (there are about 10-12 garlic cloves in a head of garlic) in the center of a piece of aluminum foil. Drizzle with olive oil and fold up the foil packet. Seal tightly and bake for the same amount of time.
Which are the best potatoes for mashing?
It's a matter of taste. The best potatoes for mashed potatoes are high-starch potatoes like russet potatoes. They mashup fluffy and light, and absorb the butter and half-half. I prefer using Russets because I love the texture. But Russets are the most mildly flavored potatoes, so to get more potato flavor you could use half Russets, half Yukon Gold.
How long to boil potatoes for mashed potatoes?
It depends on the size of the potatoes. I cut the potatoes into ¾-inch slices and these take about 20 to 25 minutes to boil until tender. They are tender when a fork inserted into a potato meets no resistance.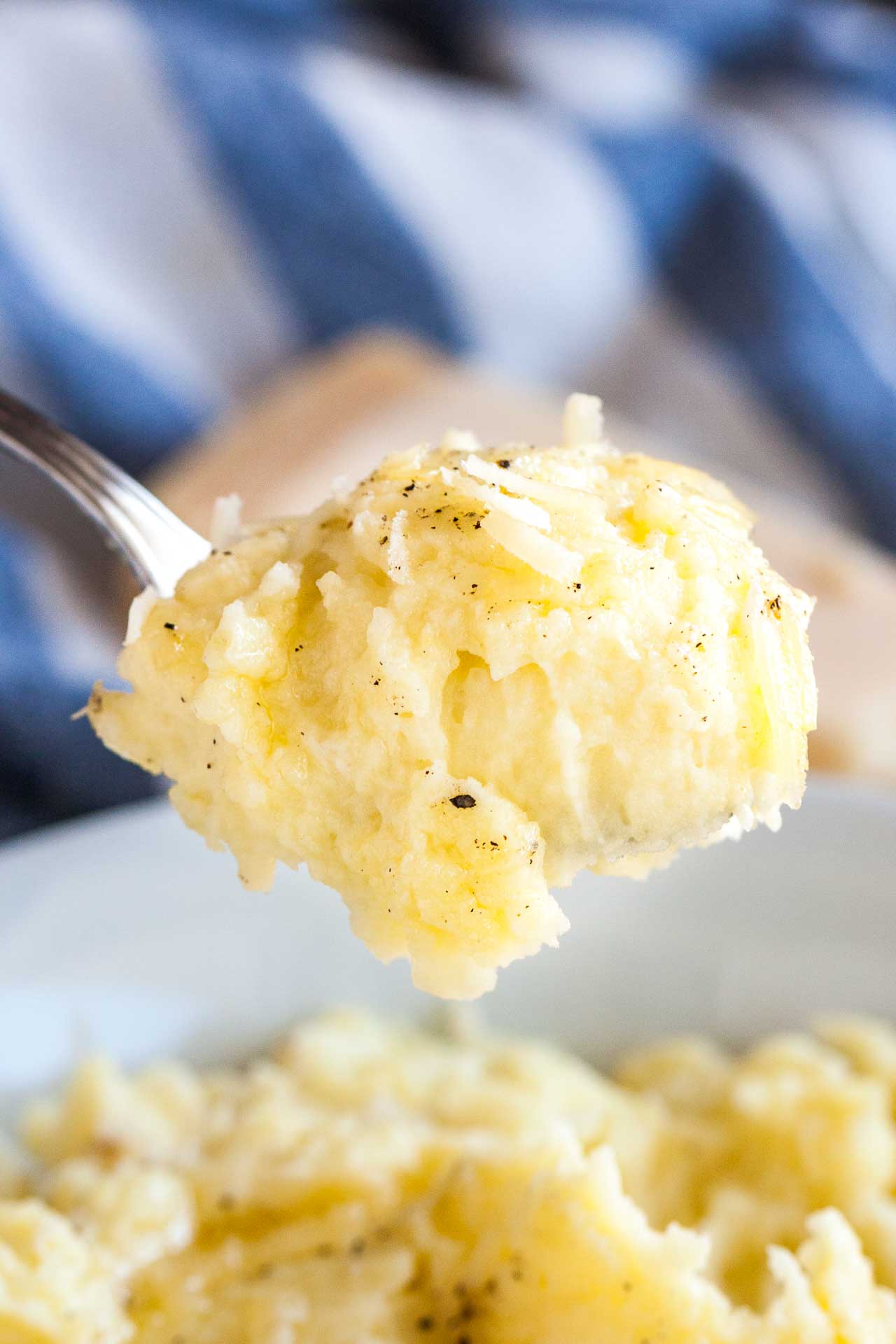 Looking for more easy side dishes?
You can find all my Fall & Thanksgiving recipes here.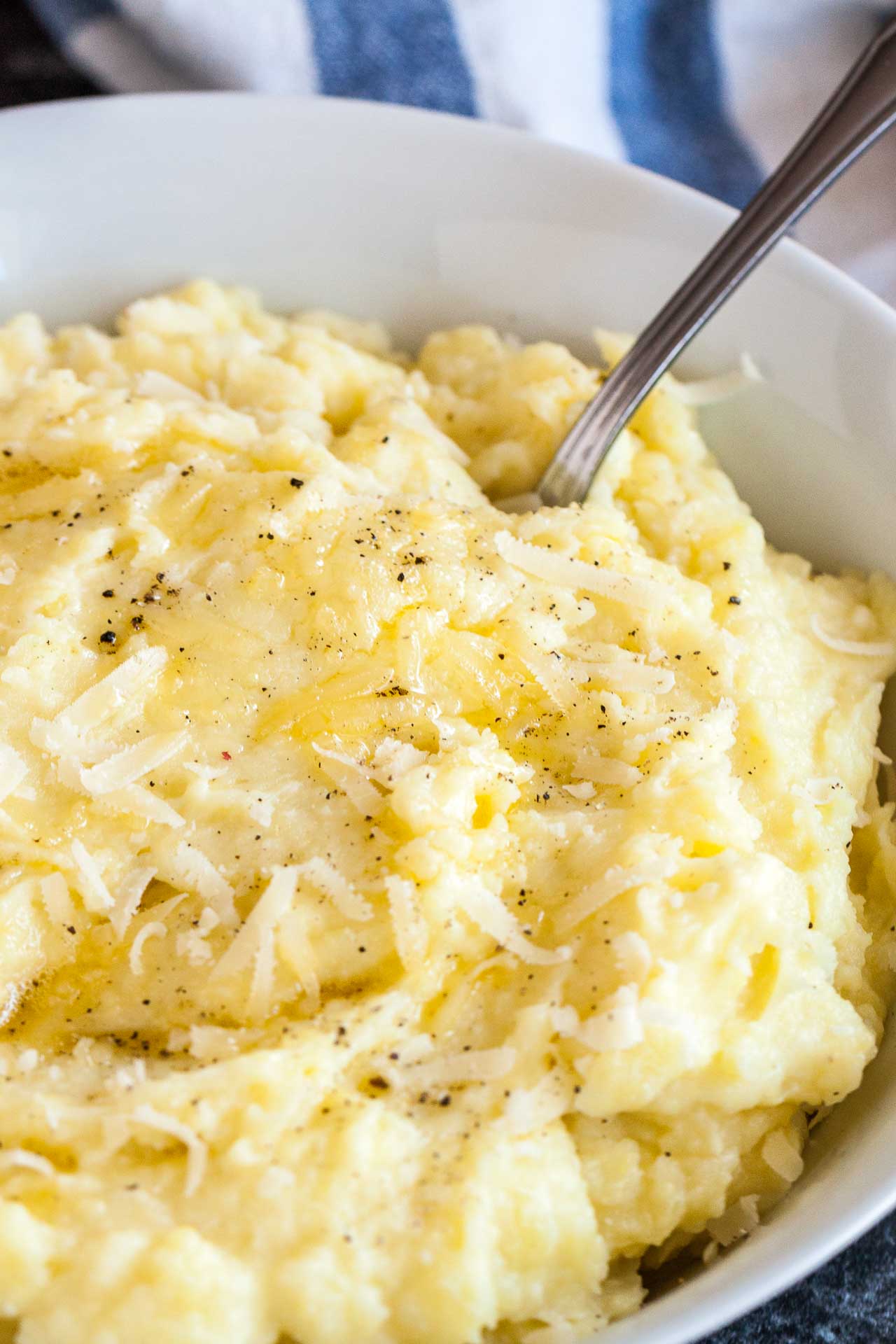 Tools used for Making Roasted Garlic Mashed Potatoes
Potato Ricer: I love this one! It has soft handles and hooks on any size of pot or bowl. This makes ultra fluffy and smooth mashed potatoes.
Chef's Knife: I love this knife. My husband bought it for my birthday a few years ago and it's still sharp and cuts everything. This knife has a great size and will make slicing, dicing, and chopping so easy and effortless.
Grater: I prefer to grate cheese myself and not buy pre-shredded cheese. Freshly grated Parmesan tastes so much better! This grater does a great job and comes with a container to catch the grated cheese.
[social_warfare buttons="Pinterest, Facebook"]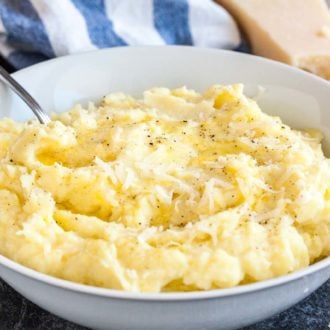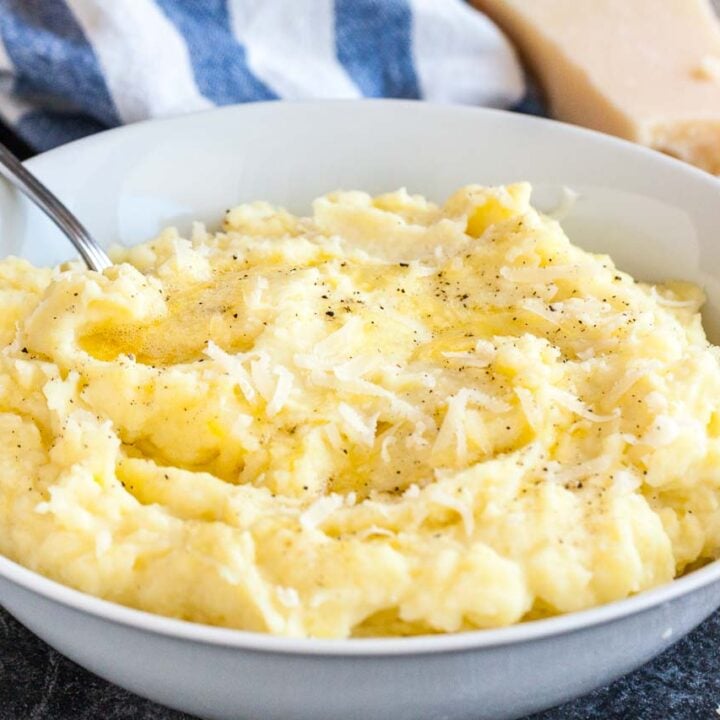 Roasted Garlic Mashed Potatoes
Roasted Garlic Mashed Potatoes are so flavorful and make an easy side dish for the holidays and family dinners! Loaded with roasted garlic and parmesan cheese these creamy mashed potatoes will surely become a dinnertime favorite.
Ingredients
1

head garlic

1

teaspoon

olive oil

2

pounds

Russet or golden potatoes

,

peeled (900g)

1

teaspoon

table salt

6

tablespoons

unsalted butter

,

melted

1

cup

half-and-half

,

warmed (240ml)

½

cup

freshly grated parmesan cheese

,

(50g)

½

teaspoon

ground black pepper

,

to serve
Instructions
Preheat oven to 425°F (218°C).

Slice off the very top of the garlic head and drizzle with olive oil. Wrap in foil, place on a baking sheet and bake until tender and fragrant, about 35-40 minutes. Remove from the oven and let cool slightly. Remove the cloves and set aside.

Meanwhile, cut the peeled potatoes into ¾-inch slices. Place them in a colander and rinse under running water for 30 seconds. Transfer potatoes to a large saucepan. Add cold water to cover by 1 inch, and bring to a boil over high heat. Reduce heat to medium, add salt and boil until potatoes are fork tender, about 20 to 25 minutes.

About 5 minutes before the potatoes are ready, melt butter together with the half-half in a small saucepan over medium heat, about 5 minutes. Keep warm.

Drain potatoes well and pass them together with the garlic through a food mill or ricer. I don't recommend using a food processor or blender!

Gently fold in the warm cream mixture and parmesan cheese with a rubber spatula until absorbed and potatoes are thick and creamy. Adjust seasoning.

Serve immediately sprinkled with parmesan and black pepper or cover with foil and keep warm in an oven on low heat.
Nutrition Information
Calories:
283
kcal
|
Carbohydrates:
21
g
|
Protein:
8
g
|
Fat:
19
g
|
Saturated Fat:
11
g
|
Cholesterol:
52
mg
|
Sodium:
548
mg
|
Potassium:
687
mg
|
Fiber:
3
g
|
Vitamin A:
565
IU
|
Vitamin C:
17.7
mg
|
Calcium:
183
mg
|
Iron:
5
mg