These Cheesy Pumpkin Dinner Rolls are made with Cheddar and are so soft and fluffy! My go-to fall dinner roll recipe is special enough for holiday parties but easy to make and freezes nicely.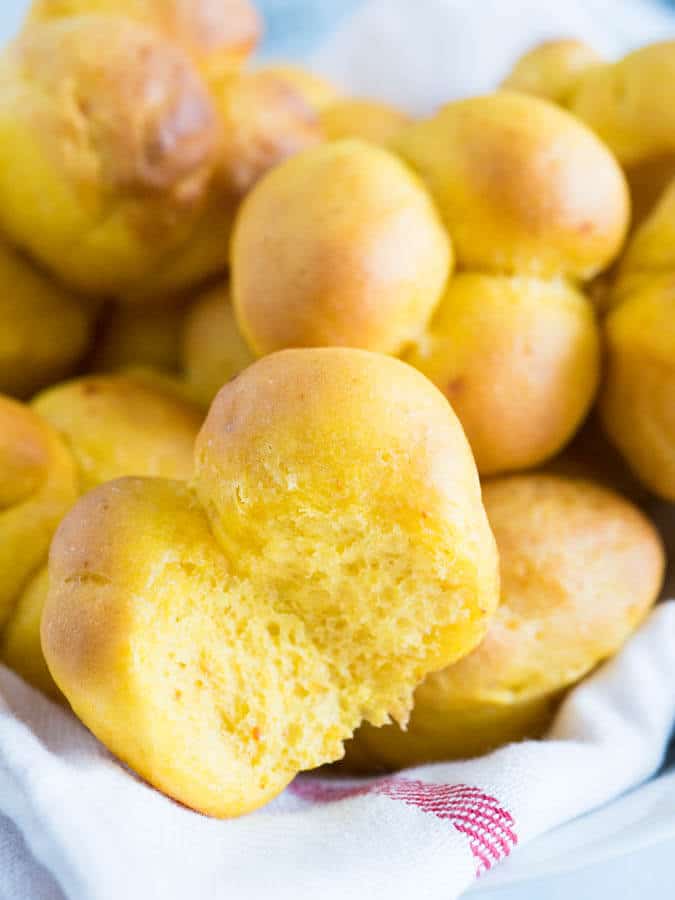 Other than fresh, warm Apple Cinnamon Muffins, very little can top buttery, homemade rolls. These cheesy Pumpkin Dinner Rolls are even better than normal rolls.
They are made with shredded cheddar and pumpkin puree which keeps them moist and adds a beautiful color. The rolls are super easy to make and leftovers freeze nicely. So you only have to make the dough once, bake them, freeze them, and just reheat when you need some.
We had these pumpkin rolls three times last week! One time with my roasted tomato soup, one time with a butternut squash soup and as a lunch snack with some Boursin cheese on top. I took the rolls out of the freezer a few hours in advance and just popped them in the hot oven for a few minutes before serving and they were as good as freshly baked! A perfect time saver in my opinion!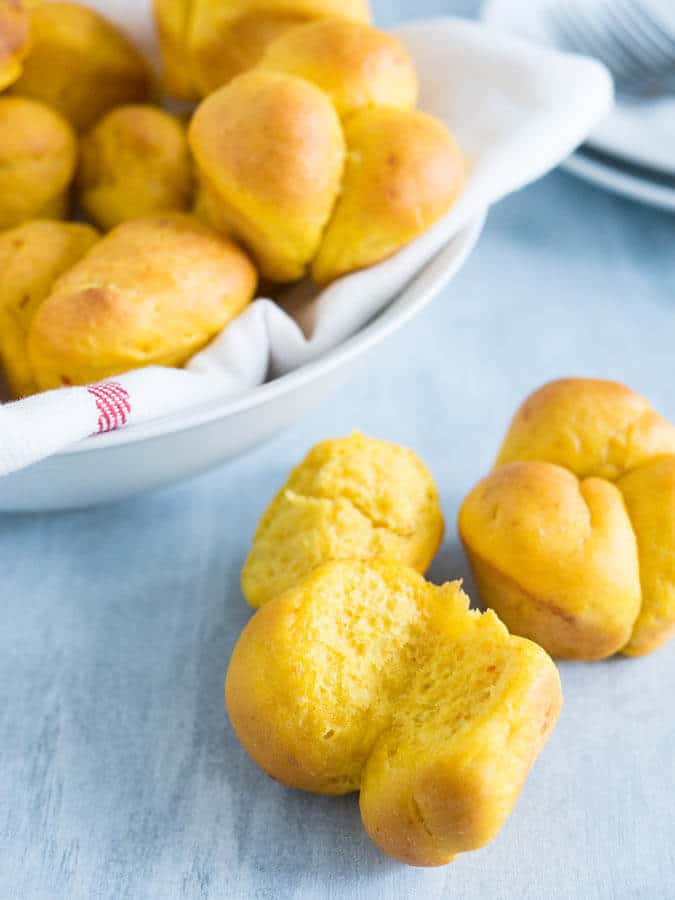 These cheezy Pumpkin Rolls are super light and airy! I wanted to make them in a shape that's easily freezable so I formed smooth little balls out of the dough and put three in a muffin cup to make cloverleaf rolls. I love pull-apart bread so what could be better than buttery pull-apart rolls?!
Making the yeast dough is really easy, even if you haven't worked with yeast before! I recommend using Instant Yeast
 (like this one
) which is really foolproof and making sure your milk is really just lukewarm or you will kill the yeast.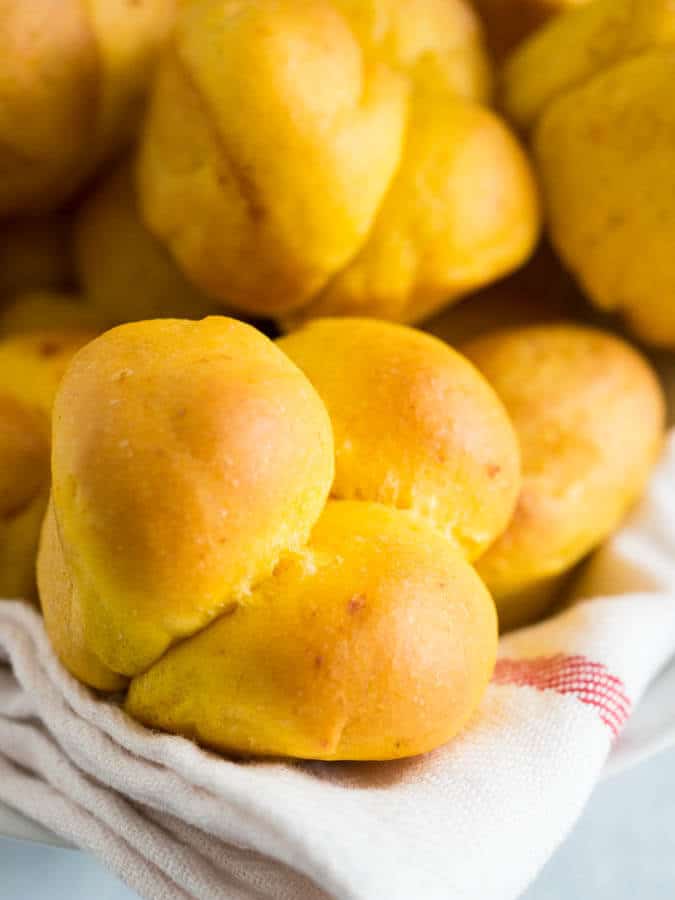 Even if I use Instant Yeast which doesn't need to be proofed I like to do it because in my experience the dough rises quicker. So just dissolve the yeast and the sugar in the lukewarm milk and let it sit for a few minutes (but if you're short on time you could also add everything at once).
When the yeast is frothy add the other ingredients and knead at medium-low speed until the dough has come together and is smooth and elastic. Then I like to turn out the dough onto a lightly floured surface and knead it by hand for just a short moment. The warmth of your hands helps the dough to become more elastic.
Then put it in a greased bowl and let it rise until doubled. I like to place the bowl in my bed under the covers. Some people put it in a warm oven but the bed method works best for me!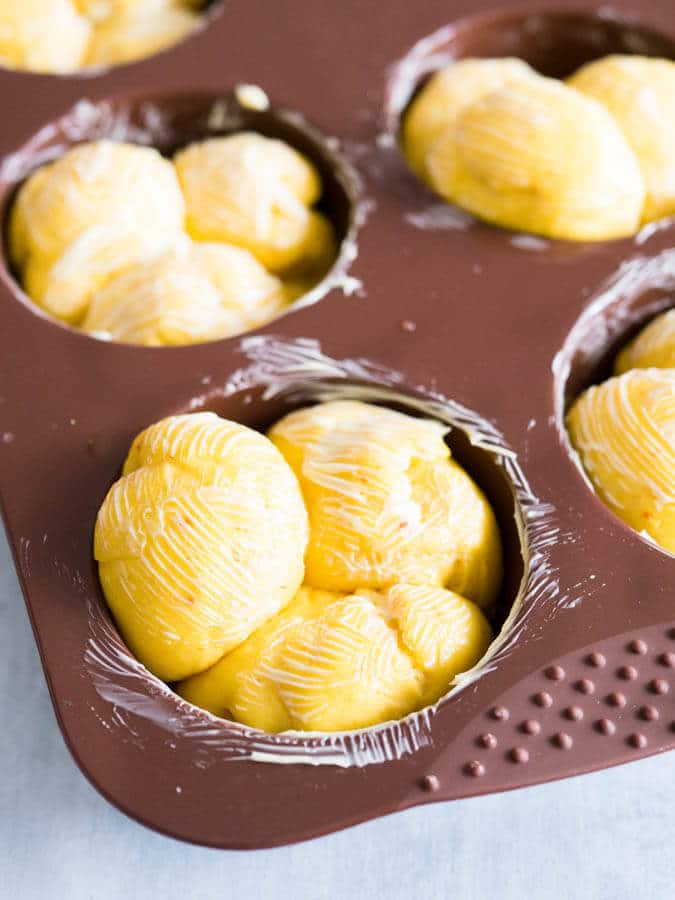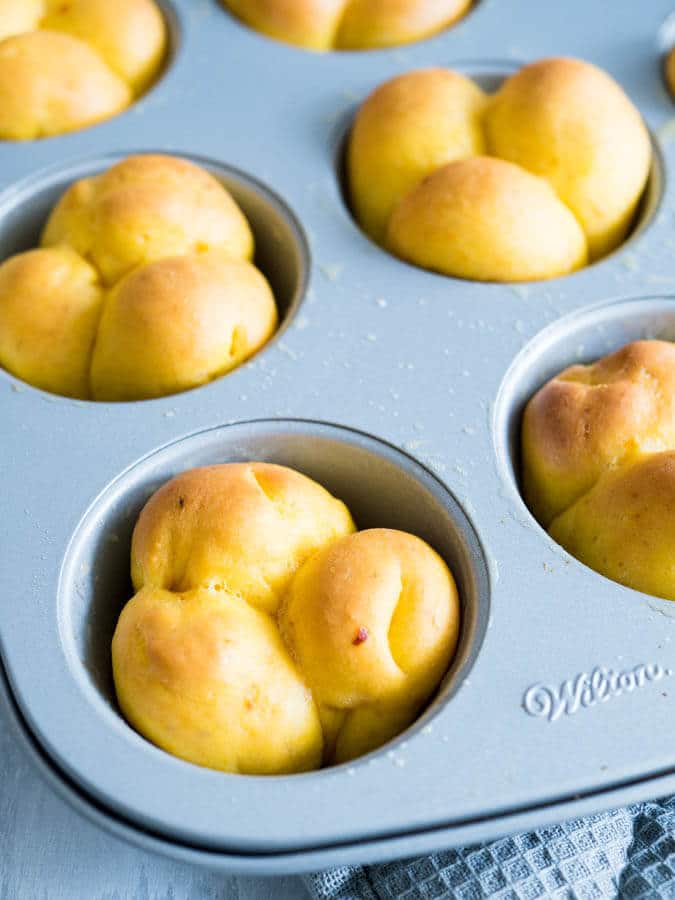 When it has doubled in size place three little dough balls in each muffin cup and brush the tops with butter. Let them rise while you preheat your oven, mine takes about 20 minutes to reach 350F, that's usually enough time for the dough balls to increase in size.
After they come out of the oven I like to give them a second brush with butter just to make them even more delicious! These Pumpkin Dinner Rolls are super tender and soft. They're special enough for Halloween or Thanksgiving but also make a great everyday roll.
I hope you enjoy my go-to fall pumpkin dinner roll recipe as much as we do!
And a quick tip if you can't find canned pumpkin puree where you live.
How to make homemade pumpkin puree:
I like to use Hokkaido pumpkins to make my own puree but this method works with every kind of pumpkin.
1. Cut a pumpkin in half, scrape out the seeds and pulp.
2. Place pumpkin pieces on a baking sheet and roast for 45 minutes in a 350°F (180°C) oven until the pumpkin is fork tender.
3. Peel off the skin and puree the pumpkin in a food processor or with a handheld blender. You can add a little bit of water if your pumpkin looks too dry.
4. Use the pumpkin puree immediately or freeze it. I recommend freezing it in 1 cup portions which are perfect for most recipes like this dinner roll recipe or my Nutella Swirl Pumpkin Bread.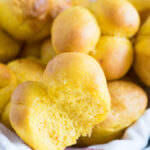 Cheesy Pumpkin Dinner Rolls
Pumpkin Dinner Rolls are made with Cheddar and are so soft and fluffy! My recipe is special enough for holiday parties, easy to make and freezes nicely.
Prep Time
1
hour
30
minutes
Total Time
1
hour
48
minutes
Ingredients
1 1/2

cups

milk

lukewarm, 360ml

2

tbsp

sugar

2 and 1/4

tsp

instant dry yeast

4

cups

all-purpose flour

500g

4

tbsp

butter

room temperature, 55g

1

tsp

salt

1

cup

pumpkin puree

225g

3/4

cup

shredded cheddar cheese

75g
Instructions
In the bowl of a stand mixer fitted with the dough hook, dissolve the sugar in the lukewarm milk. Sprinkle the yeast over the milk and stir gently. Let it sit for 3 minutes until light and foamy.

Add flour, 3 tbsp butter, salt, pumpkin puree, and shredded cheddar cheese. Mix at a medium-low speed until the dough is smooth and elastic.

Turn out the dough onto a lightly floured surface and knead for a few more minutes.

Place dough in a greased bowl, cover, and let rise in a warm place for about 1 hour until doubled.

Lightly grease two 12-count muffin pans. Set aside.

Punch down the dough. Break off small pieces and roll into balls (about 1-inch diameter). Place three dough balls into each muffin cup. Cover and let rise until doubled, about 30 mins.

Meanwhile, preheat your oven to 375°F (190°C).

Brush the tops of the dinner rolls with butter and bake for 16 minutes until the tops are golden. Take the rolls out and brush with more butter, if desired.

Serve warm! These Pumpkin Dinner Rolls also freeze great. Take them out of the freezer a few hours before you want to serve them and reheat in the oven at 300°F, about 5-10 minutes.