This Lemon Pull Apart Bread is light and fluffy, tastes like summer and has a perfect balance of sweet and tangy, which I love!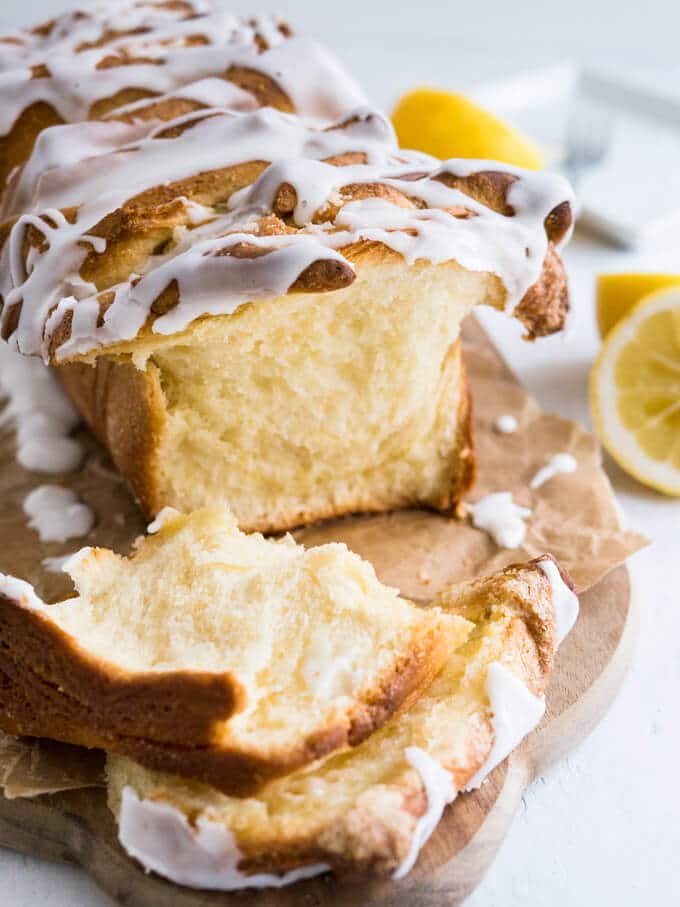 Isn't it beautiful? This Lemon Pull Apart Cake is so delicious and looks as good as it tastes.
It puffs up in the oven and the peaks get crispy and caramelized. I love working with yeast dough, you have to be patient and let it rise for an hour or two but you're rewarded with a light and fluffy sweet loaf.
The layers are filled with lemony sugar and the topping is one of my favorites: a simple lemon sugar glaze. The glaze is a bit more on the tangy side which makes it a perfect partner for the sweet loaf.
And what I love about this lemon-scented bread is that your kitchen will smell like summer! Lemon-flavored dishes like my Creamy Lemon Risotto, Easy Lemon Sheet Cake Recipe or my Lemon Puff Pastry Pockets are perfect for spring and summer.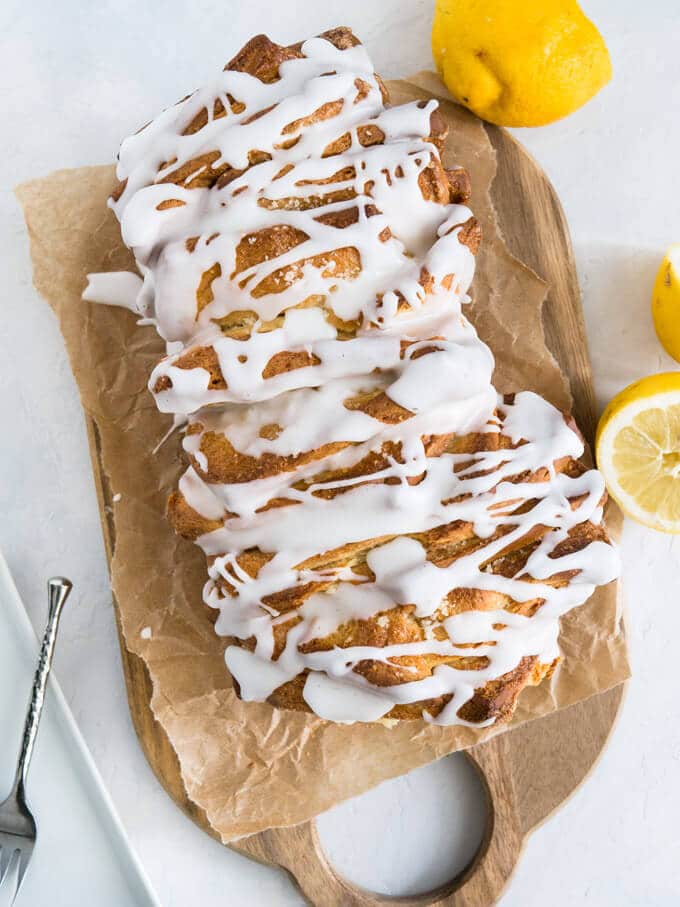 I have to admit I tried to squeeze too many dough squares into my loaf pan this time and my dough was a bit hyperactive.
So when I put the pull-apart bread in the oven some of the squares tried to escape and crawled out of the pan. They landed on the oven rack and baked there. I took them out a few minutes before the sweet bread and they made a great treat.
But I would advise that you stop to stack the squares when your pan is full. Don't squish to many in or they will come out in the oven. I had a few leftover squares that I couldn't fit into the pan and so I put them into silicon muffin cases. They made beautiful little pull apart muffins.
Another important thing is to cover your bread after 20 minutes otherwise it will get too brown and crispy on the top which makes it a bit dry. So it's best to have some aluminum foil ready when you put the pan in the oven.
When the bread starts to puff up in the oven the peaks will get irregular and the filling will start to caramelize. I love to watch yeast doughs rise in the oven. It's fascinating how quick it rises!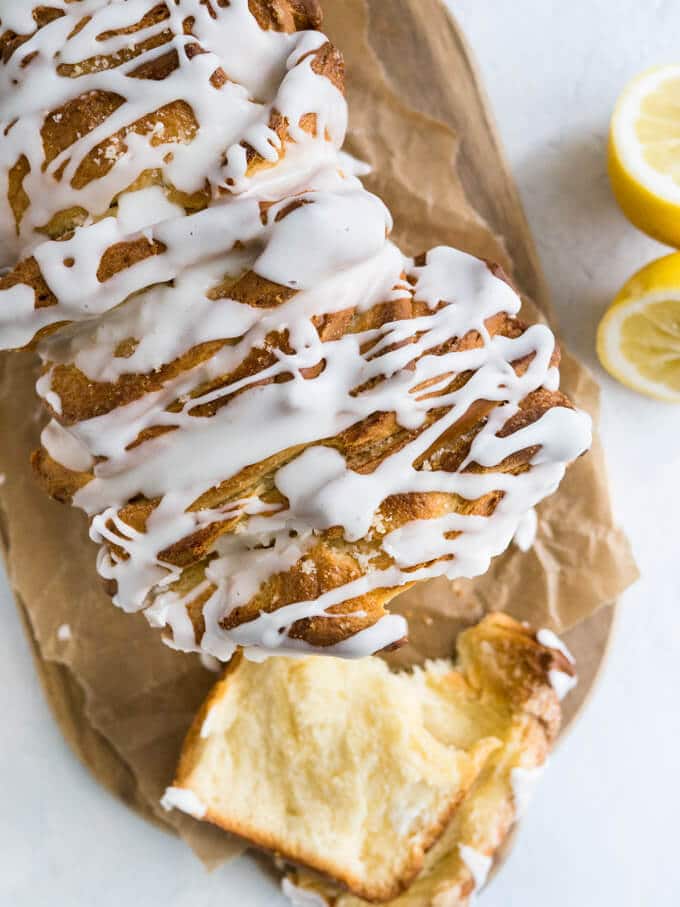 This Lemon Pull Apart Bread is a really gorgeous bread which looks beautiful, tastes like summer and isn't complicated to bake. It looks much more difficult to make than it really is. Trust me!
Yeast dough hasn't to be complicated to work with, especially when you use instant yeast which doesn't need proofing.
I made this bread in the evening and my husband took it to work in the morning. The glaze makes it easy to transport because it isn't sticky! His co-workers devoured the bread and left no crumb. I was a bit sad that I hadn't reserved a piece for me and dreamed about it the whole day while editing the photos for this post.
So I think the next one will be in my oven very soon!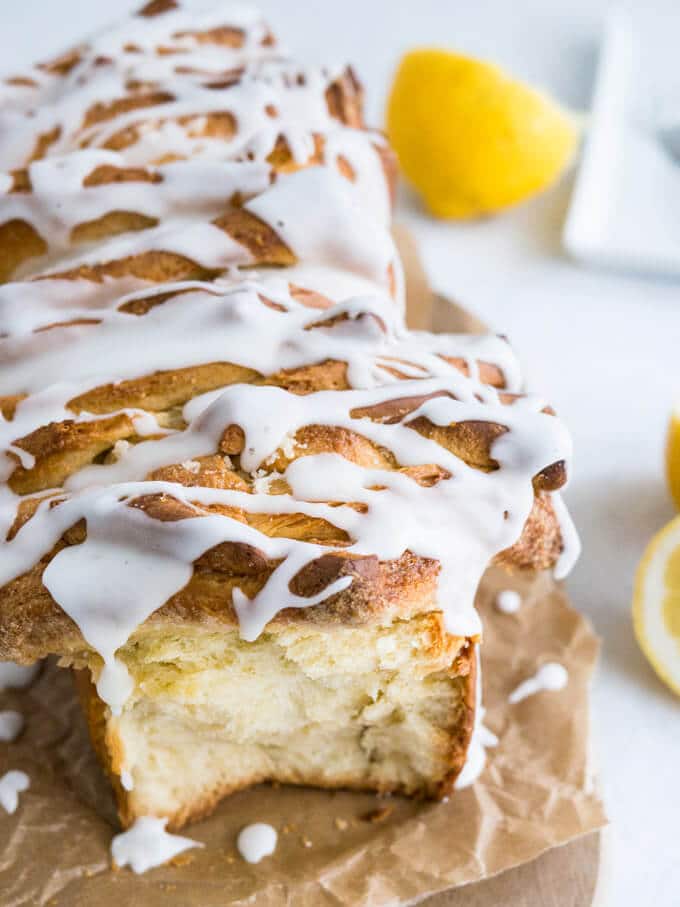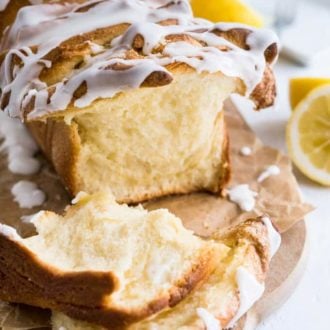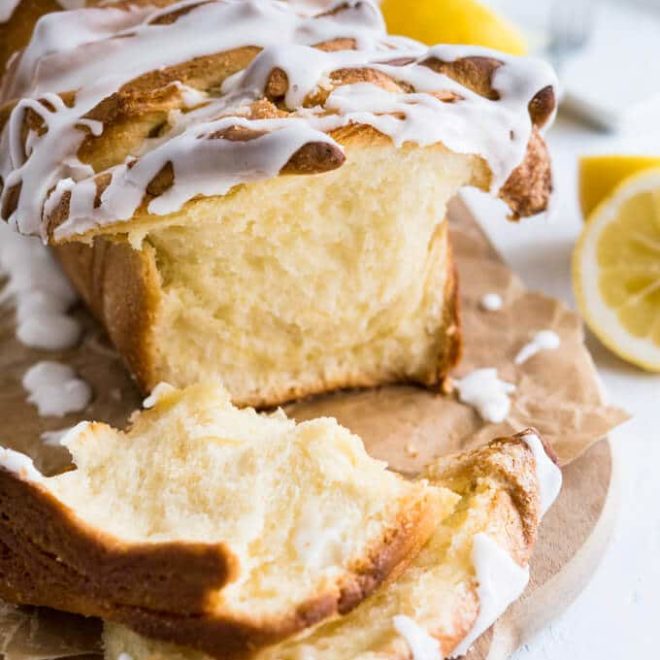 Lemon Pull Apart Bread
This Lemon Pull Apart Bread is light and fluffy, tastes like summer and has a perfect balance of sweet and tangy, which I love!
Ingredients
For the sweet yeast dough
½

cup

milk

,

120ml

½

cup

water

,

120ml

½

cup

granulated sugar

,

100g

4

tsp

instant yeast

5

tbsp

unsalted butter

,

softened to room temperature, 80g

2

large eggs

1

tsp

salt

4 ½

cups

all-purpose flour

,

plus more for dusting/rolling, 562g
For the lemon filling
5

tbsp

unsalted butter

,

softened to room temperature, 80g

¾

cup

granulated sugar

,

150g

2

tbsp

lemon zest

1

teaspoon

vanilla extract
For the lemon glaze
1

cup

confectioners' sugar

,

120g

2-3

tbsp

fresh lemon juice
Instructions
In a small saucepan, warm the milk and water together over low heat until lukewarm (about 95F). Pour the warm mixture into the bowl of a stand electric mixer fitted with the dough hook attachment or use a handheld mixer. Use a spoon and manually stir in the sugar and yeast. Cover with a towel and let sit until the yeast is foamy, about 5-10 minutes.

Beat in the softened butter on low speed. Then add the eggs, one at a time (beat until each egg is incorporated) and the salt. On low speed, add 4 and ½ cups of flour, one cup at a time. Once all the flour is added, increase speed to medium-high and beat until the dough is soft and smooth, about 3-4 minutes longer. The dough will be ready when it gently pulls away from the side of the bowl and has an elastic consistency.

Knead the dough with your hands for 1 minute and form it into a ball. Place the dough ball in a lightly greased bowl, cover and let it sit in a warm place until doubled in size, 1 to 2 hours.

In the meantime make the lemon sugar mixture for the filling. In a small bowl mix the granulated sugar, vanilla extract, and lemon zest together. Set aside.

After the dough has doubled in size, roll it out into a ¼ inch high (½cm) rectangle on a lightly floured surface. Spread the softened butter on top. Sprinkle the lemon sugar filling all over. Grease your loaf pan. Cut the rectangle with a pizza cutter or sharp knife into strips which are a little bit less wide than your baking dish (I used a silicon loaf pan), then cut the strips into squares. Each square should a bit less wide and high than your loaf pan. Stack the squares on top of each other and put the stacks into your loaf pan. The dough will rise quite a bit during the second rise and while in the oven so don't over fill your loaf pan. (see Note 1) Let my pictures below guide you. Flip the last square over, so that the side with no filling is the end of the stack.

Preheat your oven to 350F (177C) and let your pull apart bread sit in a warm place to rise a second time while the oven is heating up. My oven needs about 10 minutes to preheat and the bread gets visibly bigger in those 10 minutes.

Bake the pull apart bread for 50-60 minutes until lightly browned. If your bread gets too dark, cover it with aluminum foil. Let the loaf sit in the pan for 15 minutes then transfer to a cooling rack. Let the loaf cool down before glazing.

Prepare the glaze: In the bowl of a stand mixer fitted with the whisk attachment mix the confectioners' sugar together with 1 tbsp freshly squeezed lemon juice, add more lemon juice until a smooth but not runny mixture has formed. Beat the mixture one minute and drizzle the glaze with a spoon over the pull apart bread.
Notes
1. If you have leftover squares, cut them in half, and stack them in silicon muffins cases. Take these out of the oven after 20-25 minutes.
2. My loaf pan is 10x3.5 inches and I could fill 3 additional silicon muffin cases with dough.
Nutrition Information
Calories:
607
kcal
|
Carbohydrates:
104
g
|
Protein:
12
g
|
Fat:
17
g
|
Saturated Fat:
10
g
|
Polyunsaturated Fat:
1
g
|
Monounsaturated Fat:
5
g
|
Trans Fat:
1
g
|
Cholesterol:
80
mg
|
Sodium:
320
mg
|
Potassium:
183
mg
|
Fiber:
4
g
|
Sugar:
47
g
|
Vitamin A:
522
IU
|
Vitamin C:
3
mg
|
Calcium:
45
mg
|
Iron:
4
mg