Pumpkin Bundt Cake with Rum Glaze and Pecans
 This Pumpkin Bundt Cake is topped with pecans and brushed with a rum glaze while still warm! A great dessert for the holidays which looks impressive but is super easy to make.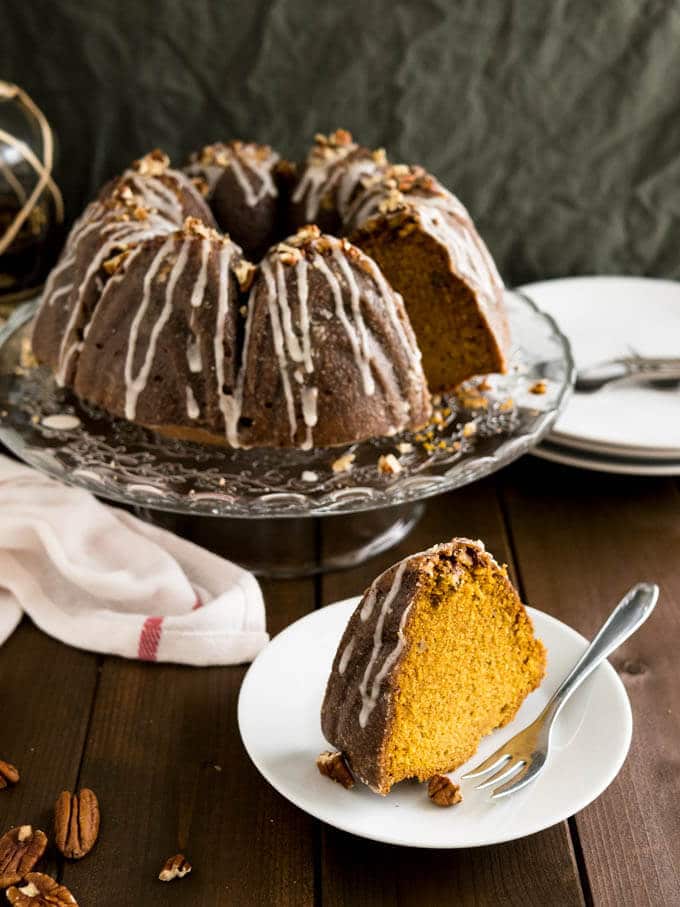 Who doesn't love a good rum glaze?! My husband is a big fan of everything with rum like cocktails or rum soaked raisins which I use in my Kaiserschmarrn Recipe (Torn Pancakes) even if he doesn't like raisins normally but he especially loves baked goods with rum glaze.
His grandmother used to make the best Christmas cookies with a rum glaze on top. These were my husband's favorite cookies while growing up. Every year he tries to get her recipe but she doesn't have one because like many grandmothers she's eyeballing it.
This cake comes with a recipe AND measurements! My husband told me it's the best rum glazed thing he has ever eaten (after his grandmother's cookies of course!).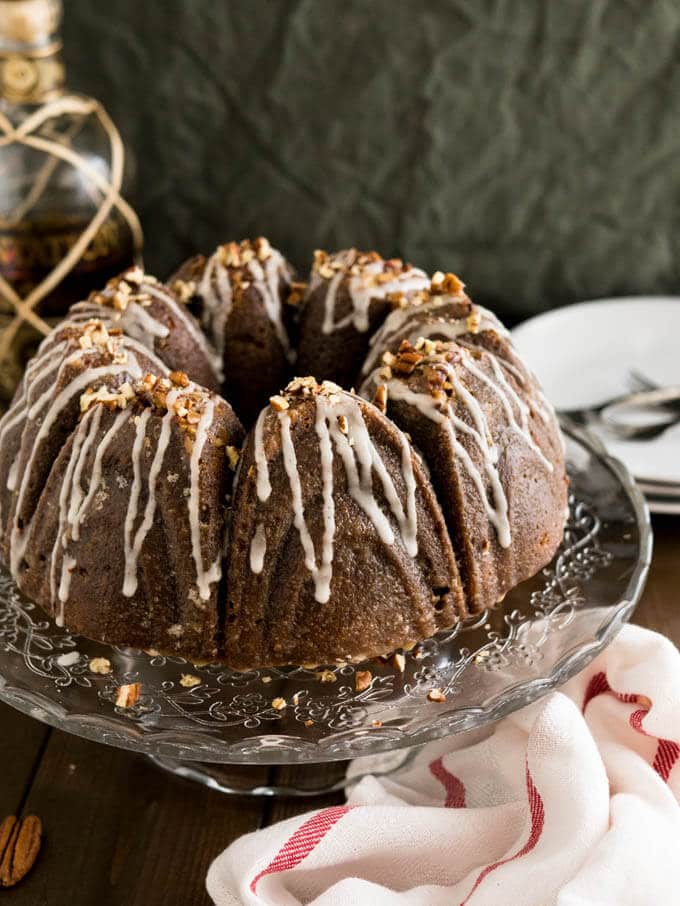 To make this beautiful Pumpkin Bundt Cake you first need to make brown butter. Ok, this step is optional but after you tasted anything with brown butter you know that this extra step is well worth it! Brown butter adds a great toffee like flavor to baked goods like in my Apple Cinnamon Muffins which are also made with it.
When the brown butter has cooled down to room temperature (the quickest way is to put it in the fridge) combine it with the sugar and beat until white and fluffy. Add the eggs and combine all the dry ingredients in a small bowl to make sure everything is distributed well and no lumps remain.
Add the flour mixture and the pumpkin puree alternately. You do this to prevent the butter from getting saturated. If that happens the batter would separate, and the liquid would stay on top. So don't add all the pumpkin puree at once!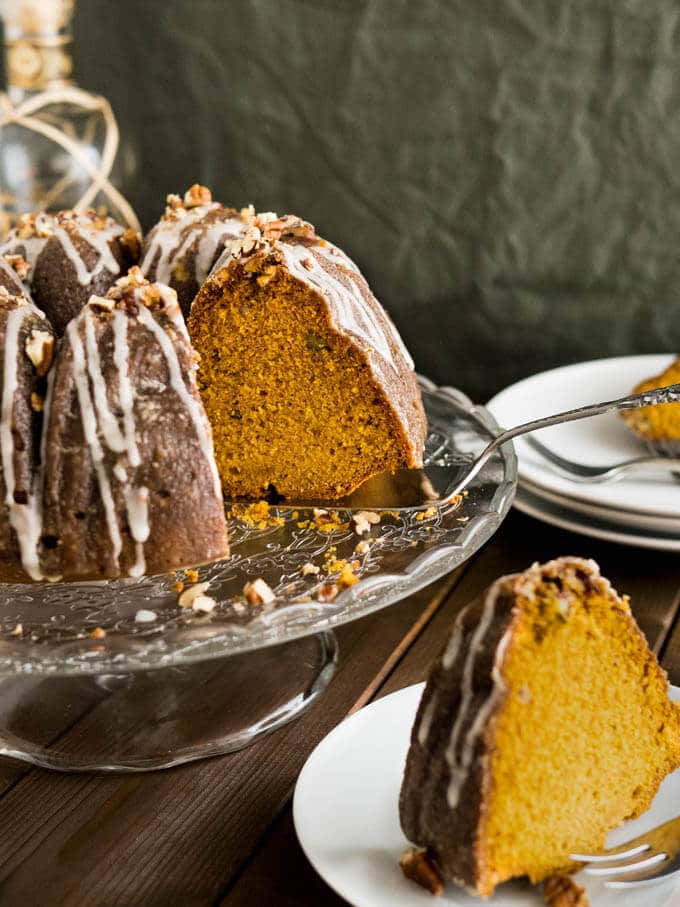 I use a 9.5-inch bundt pan with 10 cups capacity (like this one
) for my bundt cake recipes. After you prepared the pan with cooking spray or butter, sprinkle the chopped pecans on the bottom of the pan to make the pecan topping. Add the batter to the pan and bake it for about 60 minutes.
Let the cake cool down for about 10 minutes before inverting it onto a cooling rack. Meanwhile, make the rum glaze, it needs to be hot to be easily brushable. Put the wire rack on top of a rimmed baking sheet to catch any drips.
Brush the Pumpkin Bundt Cake with the hot glaze. The cake will soak up the rum glaze and the glaze will get hard and not be sticky anymore. I like to decorate this cake with a second rum glaze. It makes it even prettier and adds a bit more rum taste. If you like the taste of rum than this is definitely something you should try!
Happy Bundt baking!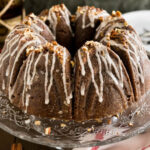 Pumpkin Bundt Cake with Rum Glaze and Pecans
This Pumpkin Bundt Cake is topped with pecans and brushed with a rum glaze while still warm! A great dessert for the holidays. Impressive but easy to make.
Total Time
1
hour
30
minutes
Ingredients
For the bundt:
1/2

cup

chopped pecans

60g

1 1/2

cup

sugar

300g

1

cup

butter

230g

3

eggs

large

2 1/2

cups

all-purpose flour

300g

2

tsp

baking soda

2 1/2

tsp

pumpkin pie spice

1/2

tsp

salt

1

cup

pumpkin puree

225g
For the glaze:
1/2

cup

sugar

100g

1/4

cup

butter

cubed, 60g

1/4

teaspoon

ground cinnamon

1/4

cup

rum

60ml
Instructions
Optional but highly recommended: To brown the butter, cut it into tablespoons and place it in a medium skillet over medium heat. Melt the butter while swirling it in the pan occasionally. Be careful it will foam and pop. Once the butter starts to brown and smells nutty remove the pan from heat. There'll be small brown bits on the bottom of the pan and the butter should be an amber color. Pour the butter in a small bowl and let cool to room temperature.

Preheat oven to 350F (180C) Grease a bundt pan with butter or non-stick cooking spray and sprinkle chopped pecans onto bottom of pan. In the bowl of a stand mixer fitted with the paddle attachment, combine sugar and butter. Beat for 3-4 minutes at medium speed until white and fluffy.

Add eggs, one at a time, beating well after each addition.

Combine flour, baking soda, pumpkin spice, and salt. Add to egg mixture alternately with pumpkin puree, beating well after each addition. Transfer to your greased bundt pan and bake 60-65 minutes or until a toothpick inserted in the center comes out clean. Cool 10 minutes before inverting onto a wire rack. In a small saucepan, combine sugar, butter, and cinnamon. Cook and stir over medium heat until butter is melted. Remove from heat and stir in rum. Put back on heat and cook while stirring continuously about 2-3 minutes until sugar is fully dissolved.

Put a baking sheet under the wire rack to catch drips and brush glaze onto warm cake, about 1/4 cup at a time, allowing glaze to soak into cake before adding more.

Let the cake cool completely.

Optional: Combine 1/2 cup confectioners' sugar and 1 tbsp rum and stir until the sugar is completely dissolved. Drizzle over the cooled cake.