This Gingerbread Cake recipe is perfect for the holidays! A spicy and sweet ginger cake with a delicious Baileys cream cheese frosting.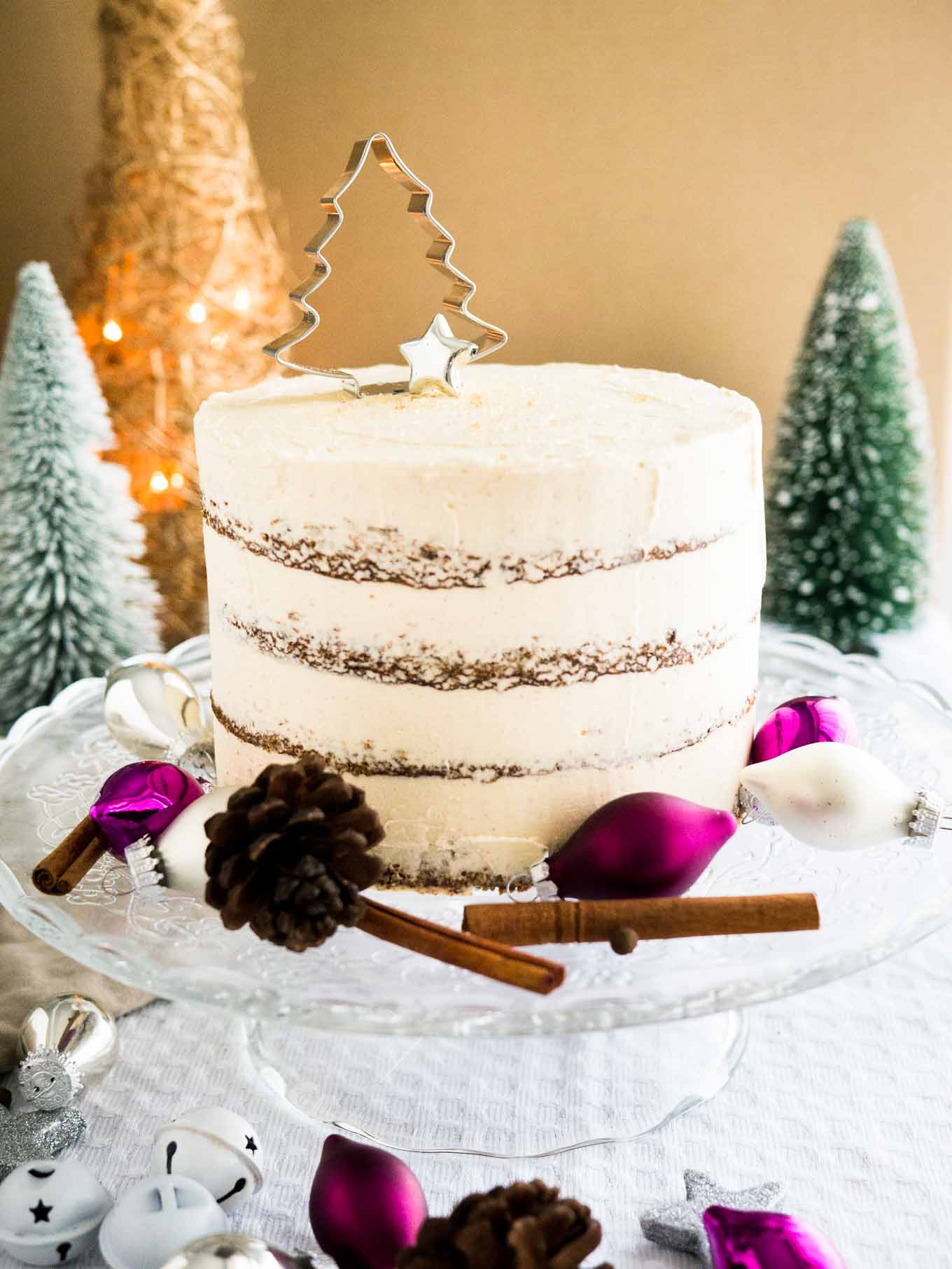 This gingerbread cake is one of the best things I've ever tasted! It is so moist and has a perfect balance of sweetness and spiciness. Made with ground ginger, cinnamon, cloves, and molasses, this cake is a great dessert for the holiday season!
It may look fancy but it's relatively easy to make! I made a Naked Strawberry Layer Cake in the summer which is frosted with meringue buttercream which is not easy to make (especially when you only have one bowl for your KitchenAid) but this gingerbread cake is made with a really easy cream cheese frosting!
And you can even make the cake layers in advance and store them in the fridge or freeze them. The flavor and texture of this ginger spiced cake will only get better!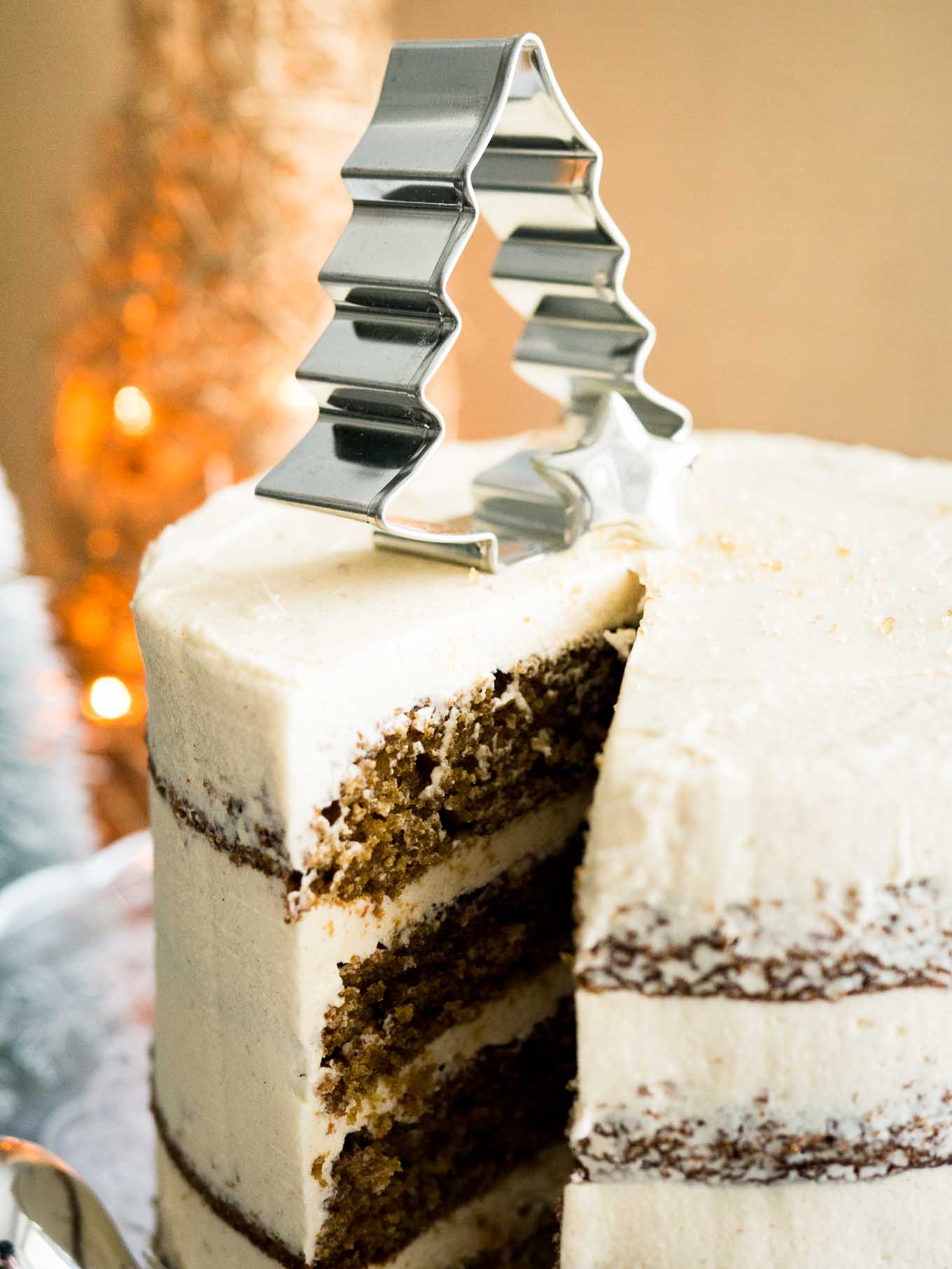 I have to admit I have a love-hate relationship with layer cakes! I really like making them and they're pretty. The assembling takes a bit of work but you are rewarded with a (hopefully) beautiful cake.
Decorating a cake is a bit like stirring a risotto in my opinion. It might sound strange but every time I make my favorite Saffron Shrimp Risotto I feel relaxed. You have to stir it continuously for 20 minutes and you can't do anything else. No Instagram, no multitasking or the risotto won't get as delicious!
Cake decorating is the same, you have to concentrate on one thing and I find this quite relaxing. Ok, it's not as relaxing in the summer when it's so hot that your frosting melts and you have to make the same cake three times in a row but now is the perfect season to make layer cakes :-D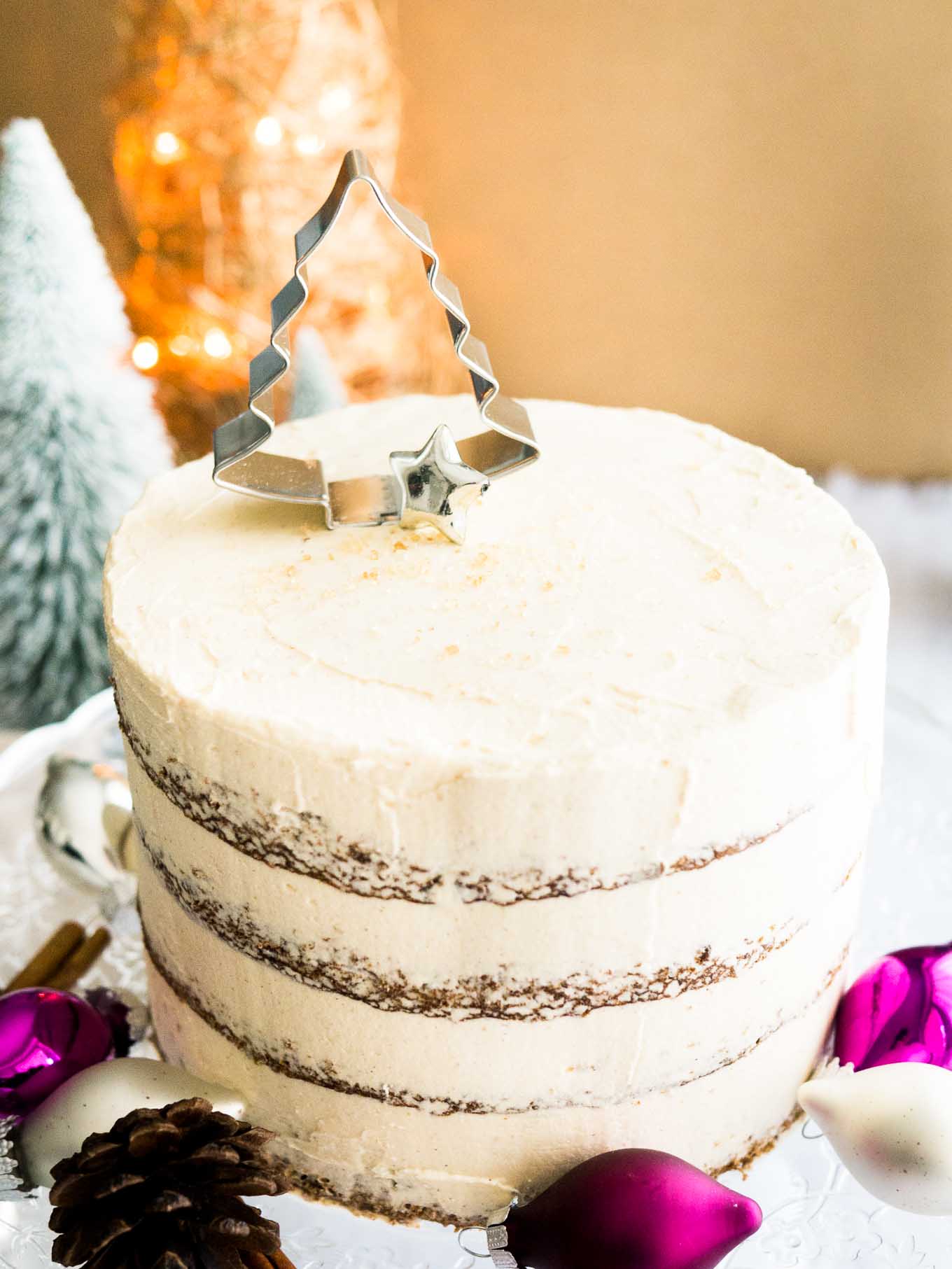 Ok, now comes the part why I hate making layer cakes: My husband doesn't like eating them. He says they're too sweet for him and every time I want him to taste test, he makes funny faces and refuses to try it like a toddler who has to eat his greens.
He likes cookies or normal cakes but he much prefers anything savory!
So what happens is that I end up with a whole cake for myself and neither I nor my favorite skinny jeans are happy about that. Sad times!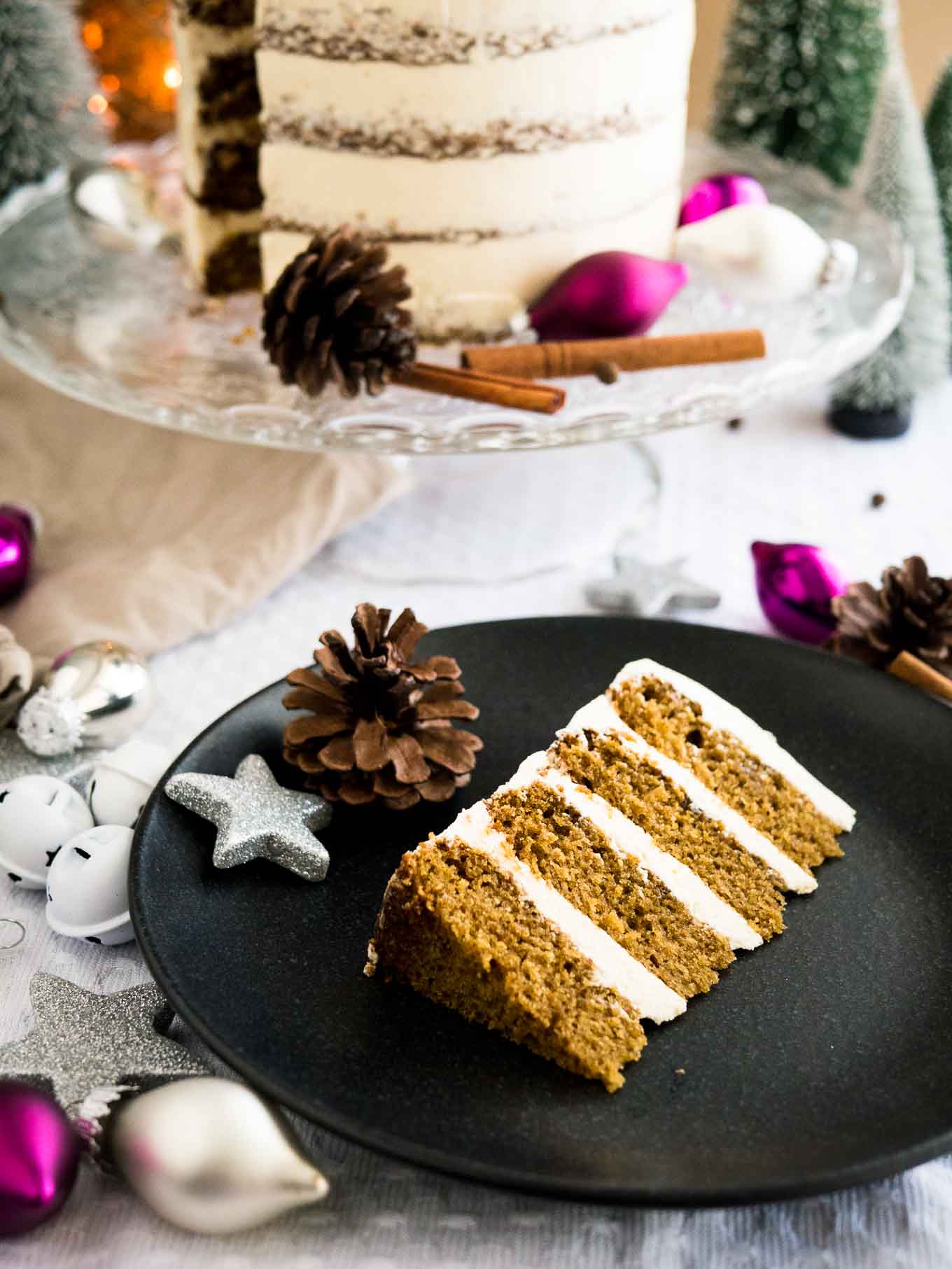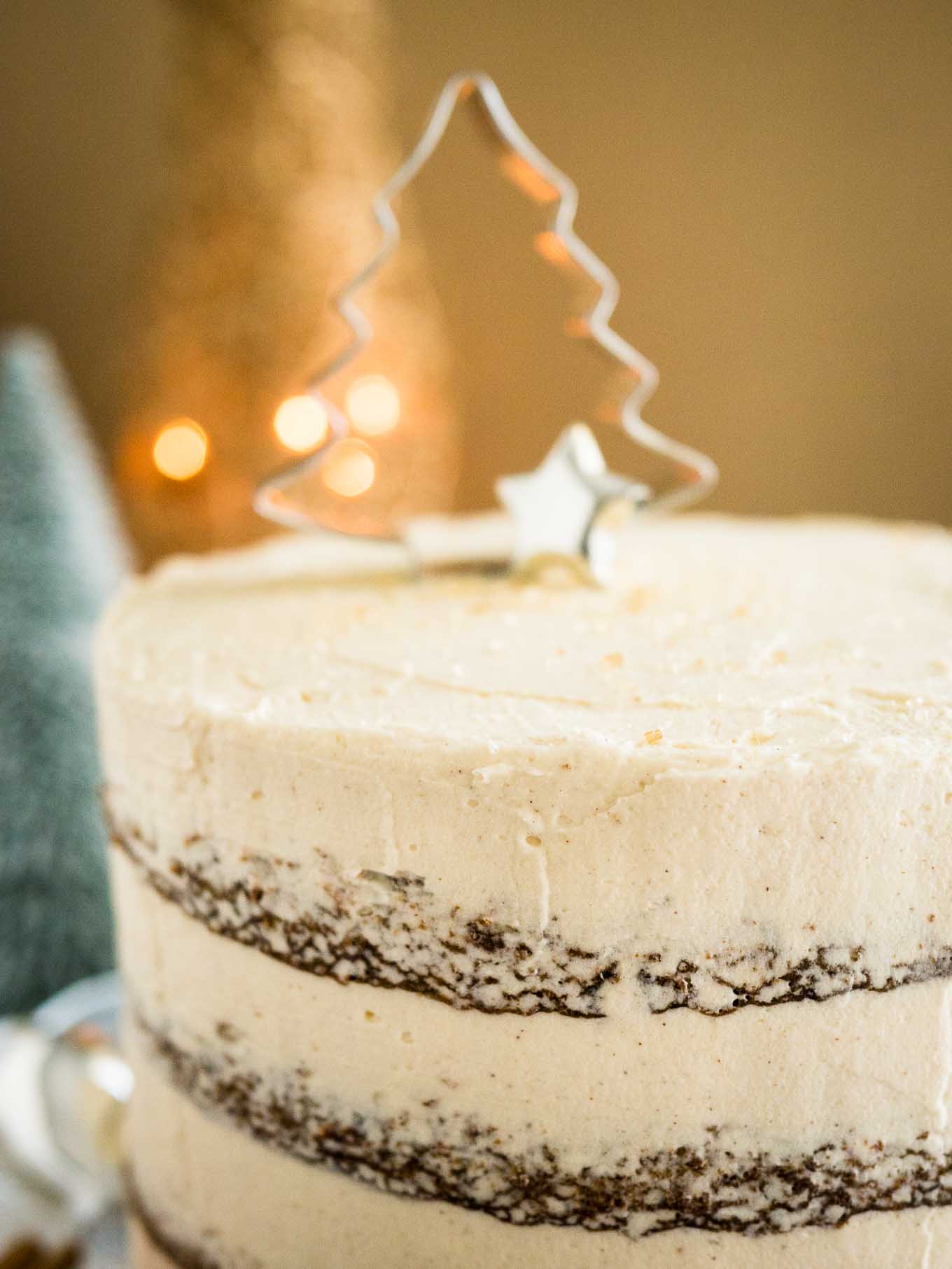 But this cake is great for guests! You can feed 12-15 people with this cake. It makes a great dessert for a Christmas party or a showstopper for a festive brunch.
The Baileys Irish Cream liqueur makes the cinnamon cream cheese frosting even more delicious but if you can't have alcohol just leave it out, it will taste great nevertheless! The molasses and spices add that typical gingerbread flavor and by using oil instead of butter the cake keeps moist longer and doesn't get dry. And like I wrote before making it in advance makes it taste even better!
Just bake the cake layers a few days in advance and assemble it on the day you want to serve it or the night before. I use a piping bag to top the layers with frosting, it's much easier to do it that way in my opinion! I also pipe the frosting around the cake to create an even coat and then use a bench scraper to smooth the sides. Happy Holidays!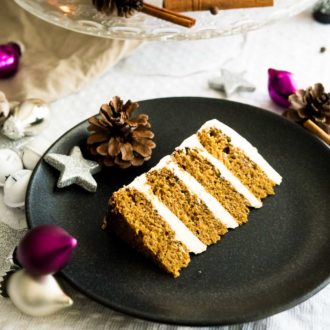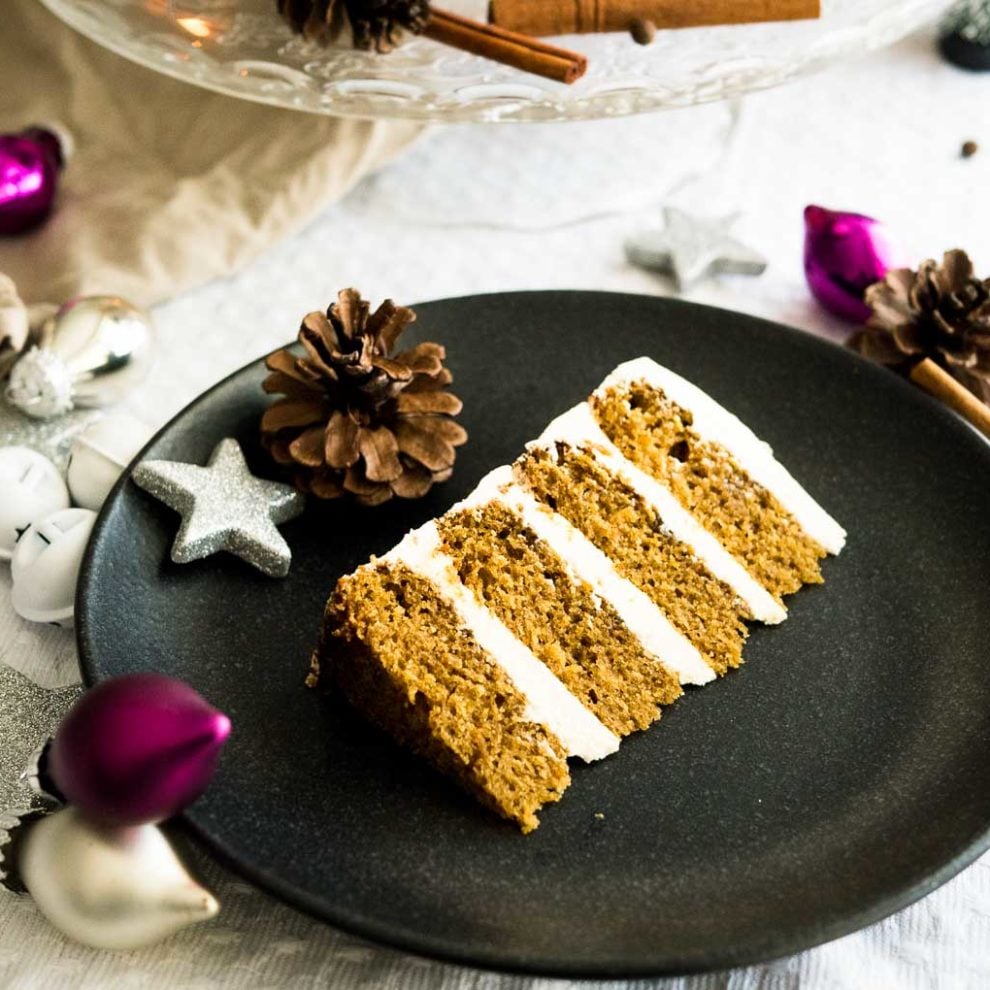 Gingerbread Cake Recipe
This Gingerbread Cake recipe is perfect for the holidays! A spicy and sweet ginger cake with a delicious Baileys cream cheese frosting.
Ingredients
For the Gingerbread Cake:
¼

cup

milk

3

tsp

molasses

1 ½

cups

all-purpose flour

1 ½

tsp

baking powder

1

tsp

baking soda

1

cup

light brown sugar

¼

tsp

salt

1

tsp

ground cinnamon

1

tsp

ground ginger

1

pinch

ground cloves

½

cup

vegetable oil

½

cup

buttermilk

2

eggs

,

large

3

tsp

dark rum

1

tsp

vanilla extract
For the Baileys Cream Cheese Frosting:
2

sticks butter

,

room temperature

6

oz

cream cheese

,

room temperature

3

cups

Confectioners' sugar

½

tsp

ground cinnamon

2

tbsp

baileys
Instructions
Preheat oven to 350°F (177°C) and grease and flour four 6-inch cake pans and line the bases with baking parchment.

Warm up the milk in a small saucepan and add to the bowl of your stand mixer fitted with the paddle attachment. Add molasses and stir until combined. Let sit for a short moment to cool down.

In a medium bowl, combine the flour, baking powder, baking soda, sugar, salt, and spices. Set aside.

Add the vegetable oil, buttermilk, eggs, rum and vanilla to the molasses and milk mixture and mix well at low speed until combined. Add the dry ingredients and whisk into a smooth batter. Do not overmix.

Divide the batter between the prepared baking pans and bake for 25-30 mins until a skewer inserted into the center of the cakes comes out mostly clean.

Place cakes on a wire rack to cool for 10mins, then turn out onto the wire rack, peel off the parchment and leave to cool completely.

To make the Baileys cream cheese frosting: Beat room temperature butter and room temperature cream cheese until fluffy for about 2 minutes. Add confectioners' sugar one cup at a time. Add cinnamon and beat until fluffy for about 3 minutes. Then beat in the baileys.

To assemble the cake: Transfer ⅓ of the frosting to another bowl and set aside. Use the remaining frosting to stack the cake layers. If your layers are uneven, level them with a long bladed knife. Use other ⅓ of frosting to apply a thin coat of frosting all over the cake and use a bench scraper to smooth the sides. Chill the cake in the fridge before serving, cream cheese frosting tends to get soft when not chilled.
Notes
To make the cake in advance: Once cooled completely, you can wrap the cake layers in plastic wrap and store in the fridge for 4 days, or freeze for up to two months.
If you don't like cream cheese frosting you can leave out the cream cheese and make a normal buttercream frosting.
Nutrition Information