These Pumpkin Cupcakes are the perfect fall dessert! Perfectly spiced pumpkin cupcakes topped with an easy brown butter frosting and drizzled with salted caramel sauce. A must-bake this fall!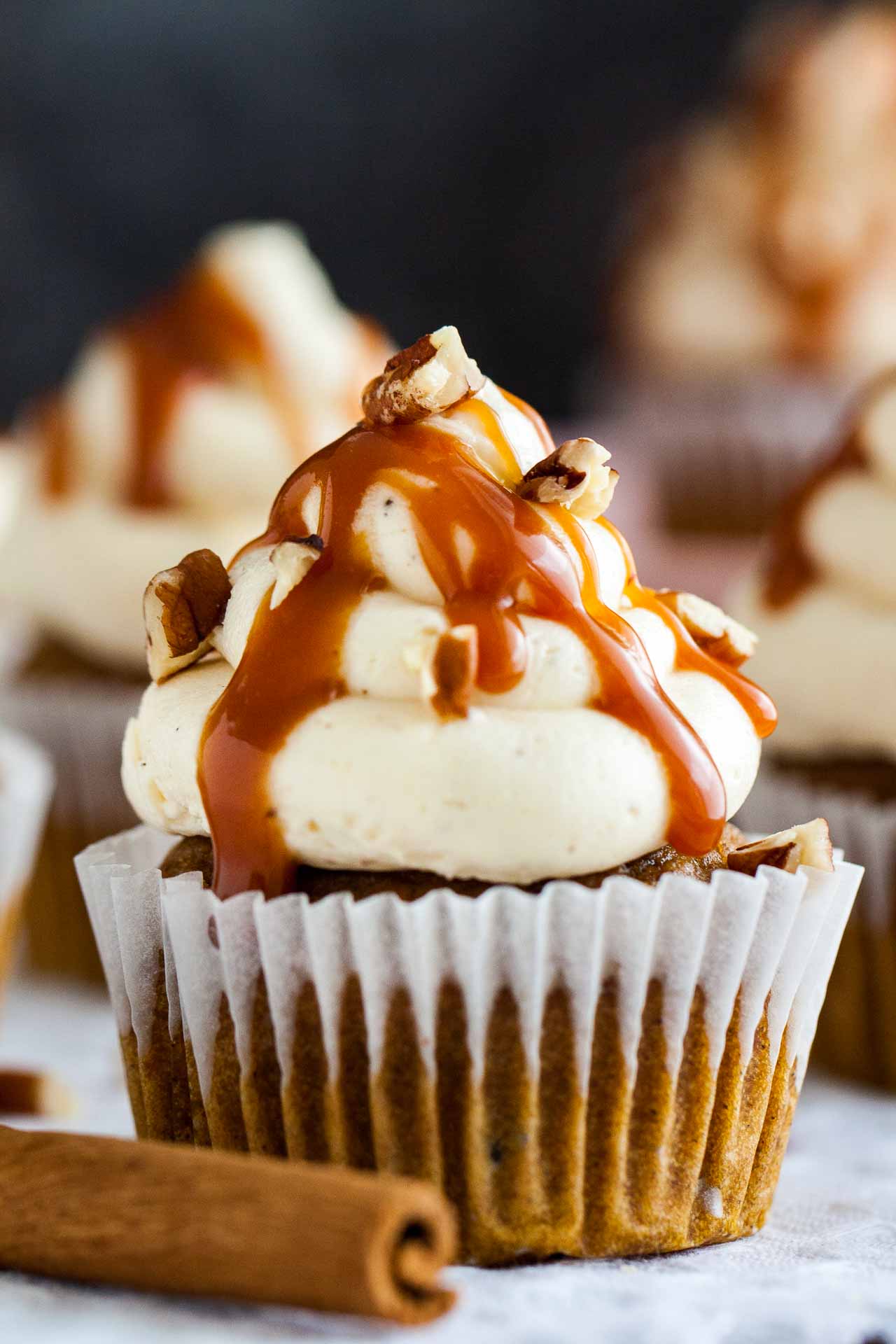 This pumpkin cupcake recipe is my favorite fall cupcake recipe for sure! The cupcakes are made with just the right amount of fall spices and the brown butter frosting is super easy to make but tastes so good. Brown butter makes everything ten times more delicious in my opinion! Have you tried brown butter before? If you haven't you need to make a batch asap!
And look at the caramel drizzle on top! Doesn't that look mouthwatering? I have to admit I almost didn't have enough homemade caramel sauce left for these cupcakes. After making a fresh batch to decorate them I couldn't stop eating it right out of the saucepan with a spoon.
Haha, this sauce is as easy to eat as it is to make! I'm glad I had enough left for the cupcakes, but I think I have to make another batch (or better a double batch to account for my sweet tooth) for my Apple Cheesecake Bars which will come to the blog soon. I'm so happy that fall is (almost) here! Let's bake something delicious together!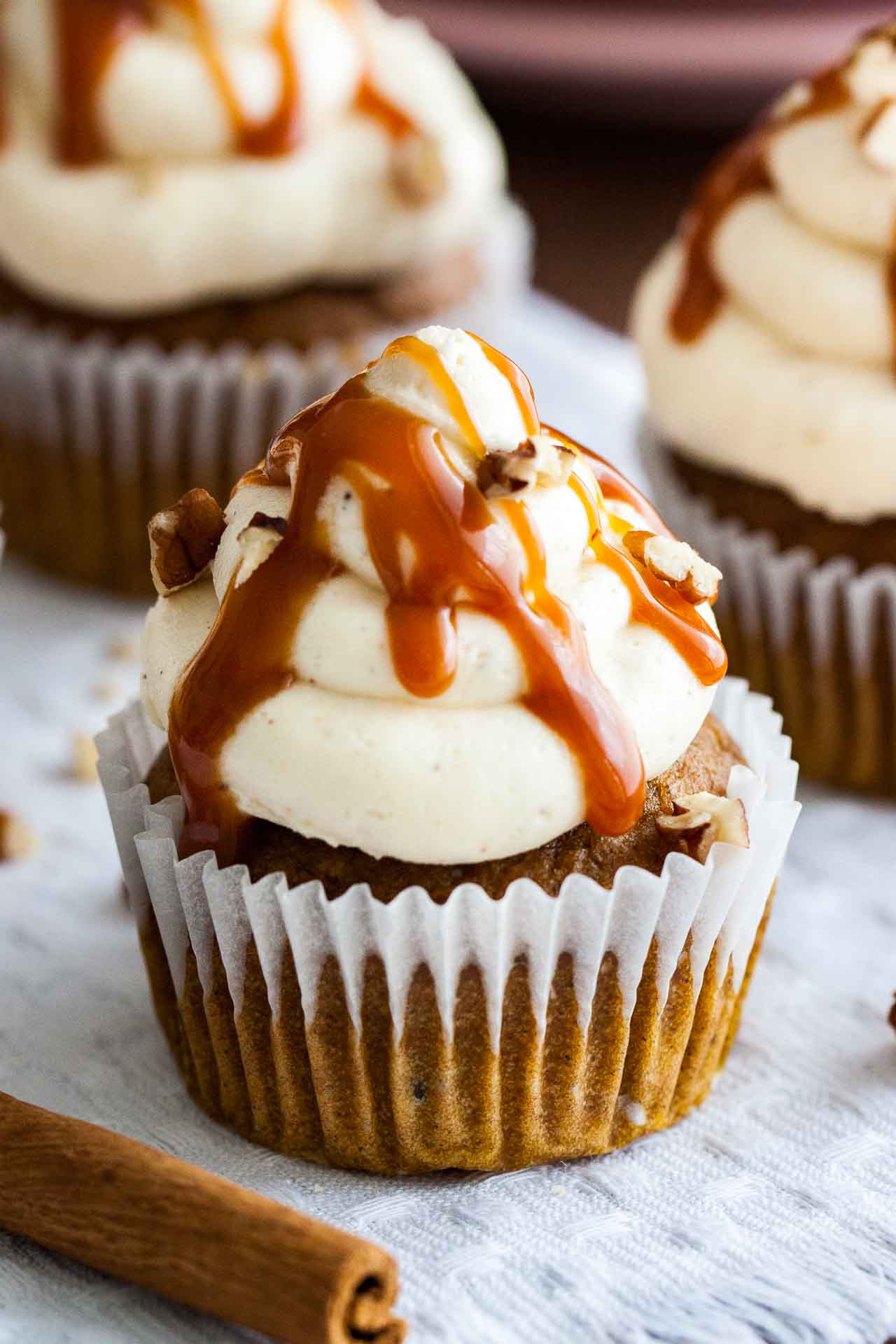 Back to my Pumpkin Cupcakes! Guess what? The cupcake batter recipe doubles as a great pumpkin muffin recipe. There are a few little differences baking wise and I also share my favorite add-ins so click over to the recipe if you're more in the mood for muffins. You could also make half a batch of cupcakes and half a batch of muffins like I often do.
The cupcakes are made with pumpkin puree which makes them so moist and keeps them fresh longer and they are not overly sweet so you can still taste all the delicious spices and not just sugar. The sweet brown butter frosting perfectly balances the flavor and goes so well with the spices and the pumpkin.
These cupcakes would make a great Thanksgiving dessert but are also a perfect treat for any cozy fall day! The great thing is that you can prepare them in advance. The baked cupcakes (without the frosting) freeze great, I just thaw them in the fridge overnight before decorating. You can also make the brown butter a few days in advance, it needs to cool before using so just brown some butter while you're cooking dinner and you're good to go when you need it!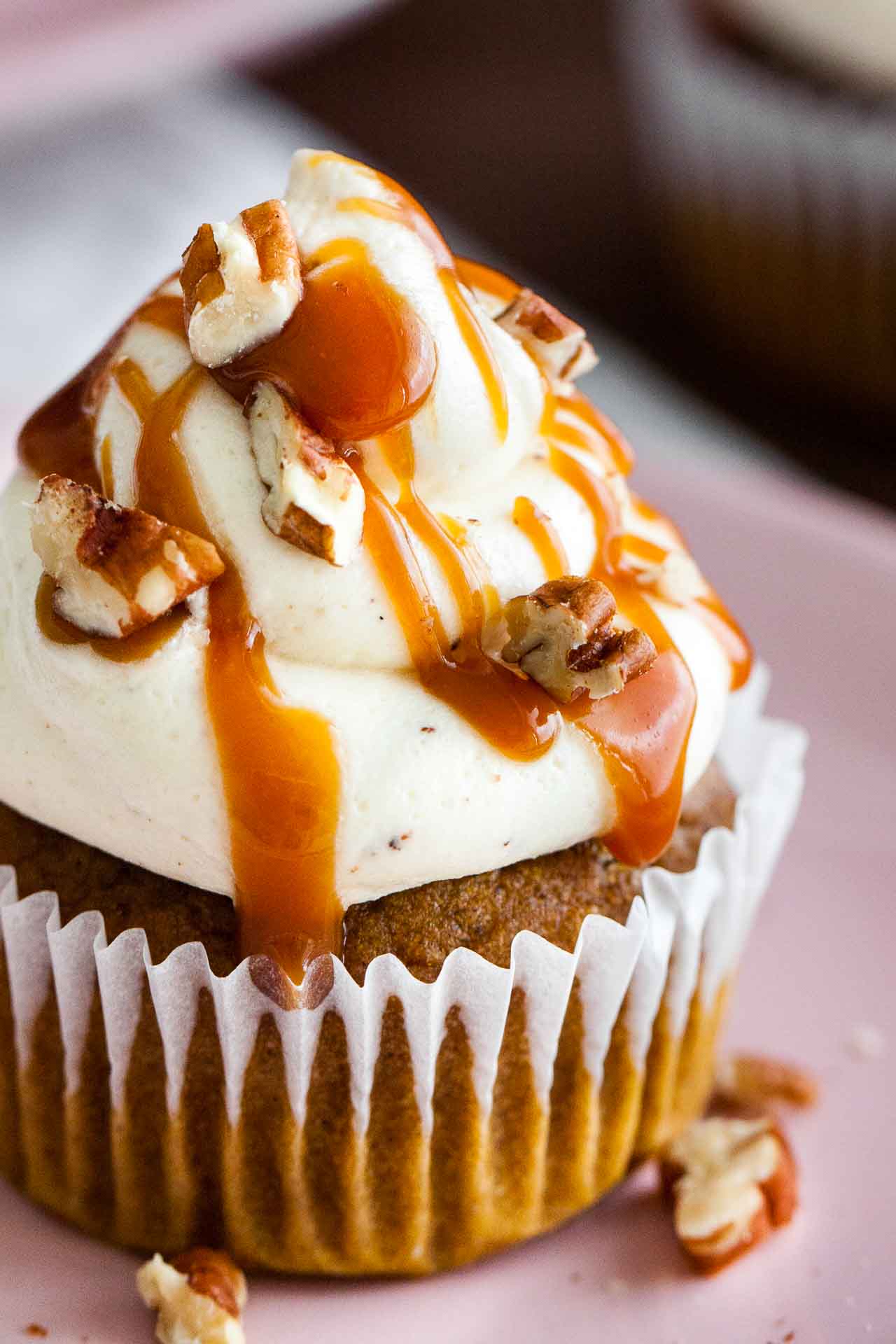 Are you looking for more fall recipes?
You have to try my Pumpkin Dinner Rolls, these are perfect for Thanksgiving dinner and look so pretty. Or try something sweet like my German Apple Streusel Sheet Cake or my Apple Cinnamon Muffins which are topped with apple rings.
I'm so excited that it's finally September and autumn is not too far away. This is my favorite season! There's just something about the crisp air, cozy sweaters, and changing leaves that gets me every year. But the best part is that baking season is finally here! So many opportunities to share something baked with friends and family.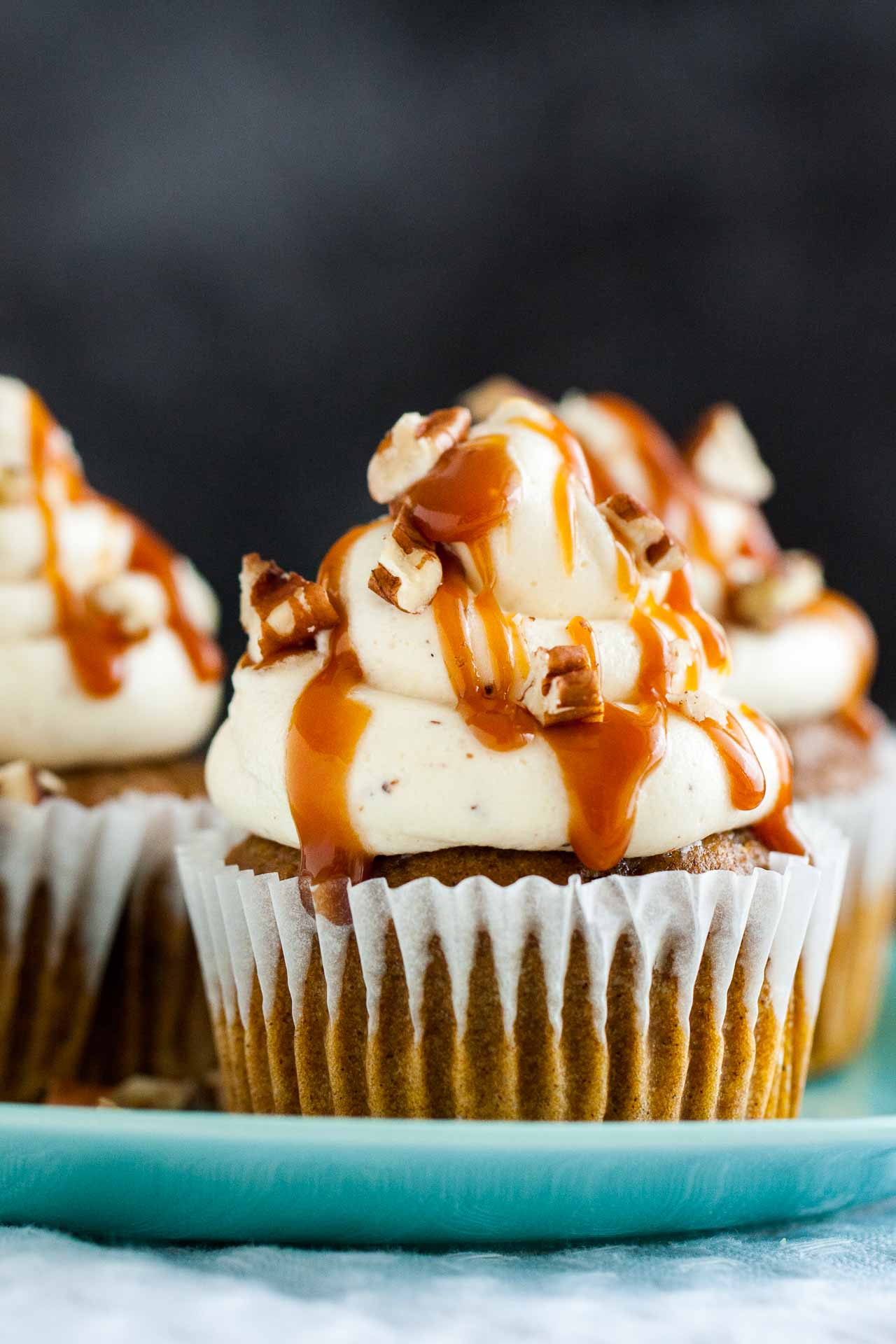 It's time to preheat the oven and make something delicious! Happy baking season!
Tools used for making this Pumpkin Cupcakes recipe:
Muffin Pan: I love this muffin pan! It comes with a lid so it's easy to transport baked muffins or cupcakes and it's super easy to clean, everything slides right off.
Cookie Scoop: This scoop is perfect for portioning the muffins and quickly scooping without mixing the batter too much.
Round Decorating Tip: This tip makes a very classic and professional looking cupcake swirl and is super affordable.
Fry Pan: This type of fry pan works best for making brown butter. It minimizes the risk of burning the butter and you can easily see when the butter is browned.
[social_warfare buttons="Pinterest, Facebook"]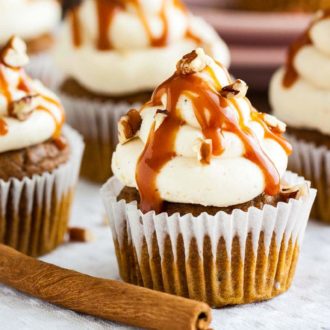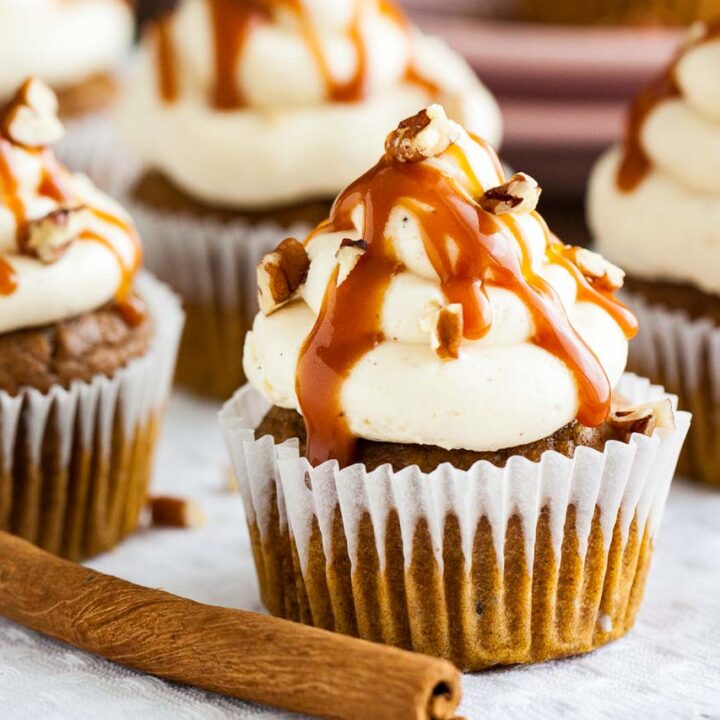 Pumpkin Cupcakes with Brown Butter Frosting
These Pumpkin Cupcakes are the perfect fall dessert! Perfectly spiced pumpkin cupcakes topped with an easy brown butter frosting and drizzled with salted caramel sauce. A must-bake this fall!

Ingredients
½

cup

brown sugar

,

(100g)

¼

cup

white sugar

,

(50g)

⅓

cup

vegetable oil

,

(80ml)

1

tsp

vanilla extract

2

large eggs

,

room temperature

1

cup

canned pumpkin

,

(230g)

¼

cup

milk

,

(60ml)

1 ½

cups

all-purpose flour

,

(190g)

1

teaspoon

baking powder

½

teaspoon

baking soda

¼

teaspoon

ground cloves

1 ½

teaspoon

ground cinnamon

¼

teaspoon

ground ginger

¼

teaspoon

ground nutmeg

Pinch

ground allspice

½

teaspoon

salt
For the frosting:
½

cup

unsalted butter

,

room temperature (115g)

2

cups

powdered sugar

,

(240g)

1

teaspoon

vanilla extract

2

tablespoons

buttermilk

Caramel Sauce

,

optional

chopped pecan nuts

,

optional
Instructions
Preheat oven to 350°F (177°C). Line a 12-cup muffin pan with paper liners.

Tip: Make the brown butter for the frosting now if you want to assemble the cupcakes on the same day.

In a large bowl combine sugars, oil, vanilla extract, eggs, pumpkin puree and milk. Mix until combined.

In a small bowl (or large measuring cup) combine flour, baking powder, baking soda, spices, and salt.

Add dry ingredients to wet ingredients and stir until just combined. Don't overmix!

Spoon the batter into muffin cups - fill only ½ full and bake for 20 to 25 minutes, or until a skewer inserted in the center comes out clean with only a few crumbs attached.

Let the cupcakes cool in the pan for 10 minutes then transfer to a cooling rack to cool completely before frosting.

Brown the butter for the frosting: Slice ¼ cup butter up into pieces and place in a light colored skillet. Melt it over medium-low heat, stirring occasionally, until lightly browned. Lightly browned bits will begin to form at the bottom of the pan and it will have a nutty aroma. This takes about 5-8 minutes. Once browned pour the butter into a heatproof bowl and refrigerate until solid.

Make the frosting: In a large bowl using a handheld or stand mixer fitted with a paddle attachment beat the remaining un-browned butter on medium speed until smooth and creamy, about 30 seconds.

Add the cooled brown butter and beat until combined.

Then add the powdered sugar and vanilla extract, beat on low speed for 30 seconds until combined.

Gradually add the buttermilk, one tablespoon at a time, until spreadable. Beat for 1 more minute at high speed.

Frost the cooled cupcakes however you'd like. I used a Wilton 1A round piping tip for the pictured cupcakes. Top with salted caramel and chopped pecans, if desired.
Notes
Spices: Instead of the individual spices, you can also use 2 and ½ teaspoons pumpkin pie spice.
Homemade Caramel Sauce: I always use this easy recipe from Sally's Baking Addiction.
Make ahead tip:
Cupcakes can be baked 1 day in advance, covered, and stored at room temperature. Or bake and freeze them for up to 2-3 months. Thaw overnight in the refrigerator.
Brown butter can be made in advance. Pour it into a jar with an airtight lid, store it in the refrigerator and use within 1-2 weeks.
Leftover frosted cupcakes keep well covered tightly in the refrigerator for 3 days.
Nutrition Information