Apple Cinnamon Muffins are made with brown butter and topped with caramelized walnuts! They have a secret filling that makes them extra moist and delicious.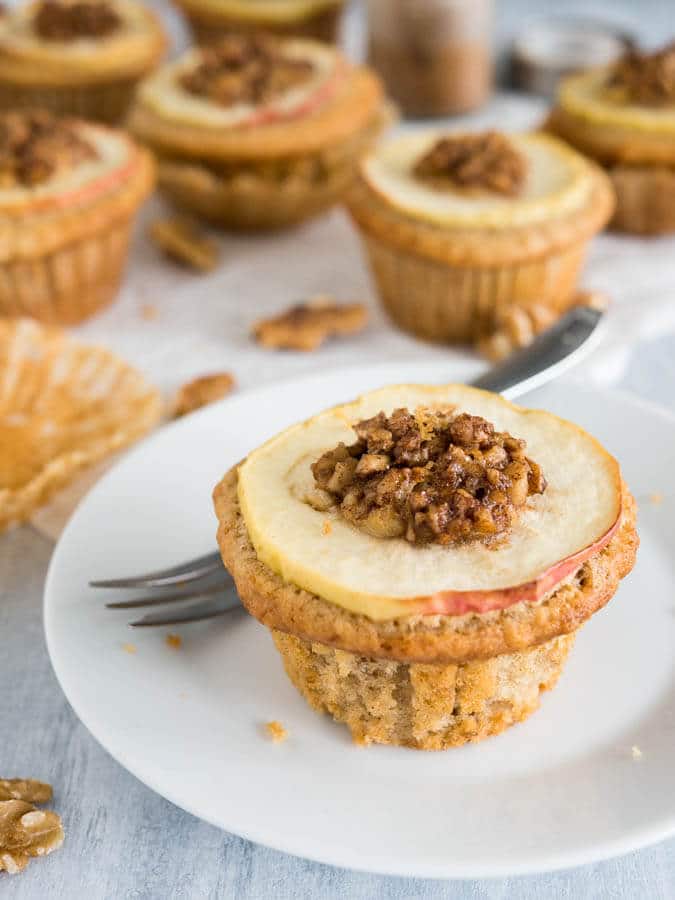 I feel like fall is here. It has been raining since Saturday and it's under 60°F which feels so nice after the heat we had in the last weeks. And what better way to start a chilly fall day than with these delicious Apple Cinnamon Muffins for breakfast!
These are not normal Apple Cinnamon Muffins – they are one of the BEST muffins to come out of my oven! Topped with apple rings which are my favorite healthy snack AND caramelized nuts which already have a special place in my heart because they're the best topping for everything (If you haven't tried my Banana Nut Muffins or my moist Banana Nut Bread you need to make them asap, they're also topped with caramelized nuts).
I have to admit I'm a little bit proud of myself because these muffins are SO delicious and full of all these cozy fall flavors like apple, cinnamon, AND a special ingredient that makes everything 10 times tastier in my opinion: BROWN BUTTER.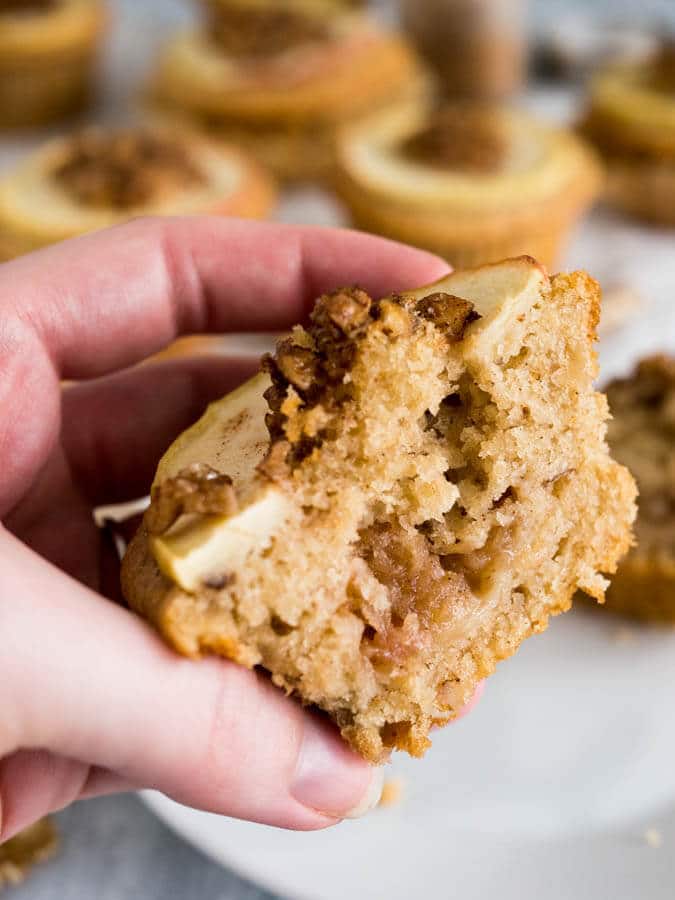 Brown Butter might be one of the most underused ingredients in my opinion. But it's so easy to make! You need under 5 minutes to make a batch of delicious brown butter which will pack extraordinary flavor into everything you make with it.
It's a perfect companion for all those fall delights like pumpkins or apples. Brown butter has a nutty, caramel-like flavor that pairs perfectly with sweet treats but is also great for savory dishes like gnocchi. Last year when we went to the Oktoberfest I had spinach pretzel dumplings tossed in brown butter for lunch. It's so simple but one of the most delicious things I have ever eaten. I need to recreate this dish!
But back to these yummy apple muffins!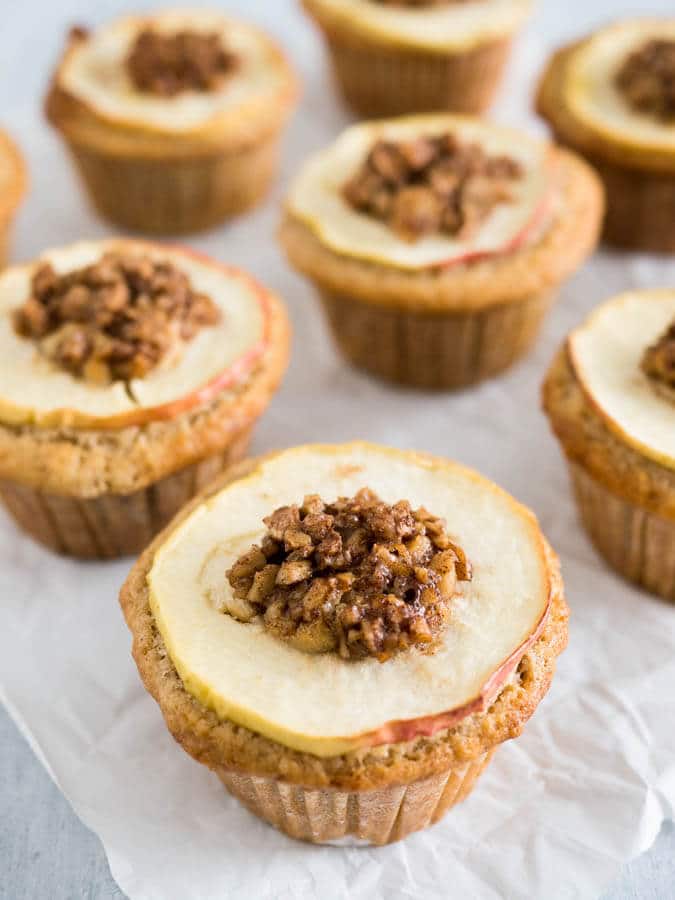 What makes them even more delicious is the filling!
These muffins are extra moist and full of apple flavor because they are filled with a mix of grated apple, cinnamon, and brown sugar. To get the filling in the muffins you divide only half of the batter between the muffins cups, then add a spoon of topping on top, and then fill up the cups with the remaining batter to the brim.
It's easier when you make a little dent in the batter before adding the filling and use cupcake liners. When the muffins cups are filled with batter it's time to add the topping!
Each of these little fall treats is topped with an apple ring and caramelized walnuts. For 12 muffins you need one apple for the filling and two apples for the rings. You don't have to peel the apples, I love the color it adds to the muffins. Use an apple corer (I like this one) and then cut the apples into rings. Eat the smaller rings and use the rings from the middle part of the apples for the muffins.
Top each muffin with a ring. It's okay if the ring is bigger than the muffin cup because the muffins will rise over the brim of the pan. Combine chopped nuts, cinnamon, maple syrup, and brown sugar, and add about ½ tbsp of the nut mix on top of the muffins into the hole of the apple ring. The nuts will caramelize during baking and taste super delicious!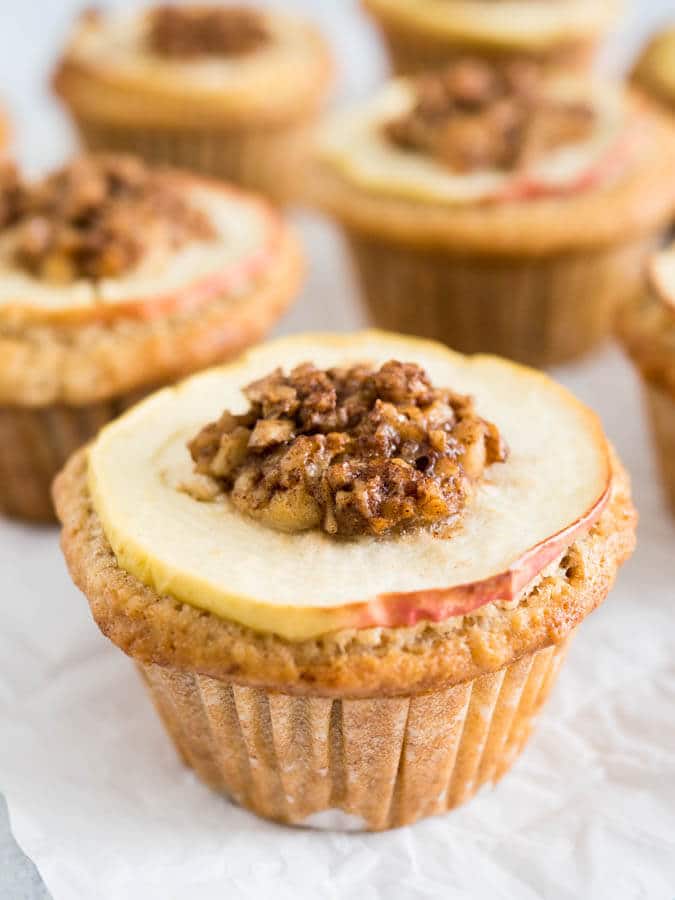 These muffins taste so good fresh out of the oven when the filling inside is still warm but they also freeze great!
They're one of my fall favorites this year! And from now on I want to use brown butter in everything. It's so good! I think I'm addicted to that nutty, toffee-like flavor.
I'm so excited for you to try this recipe!
More fall recipes: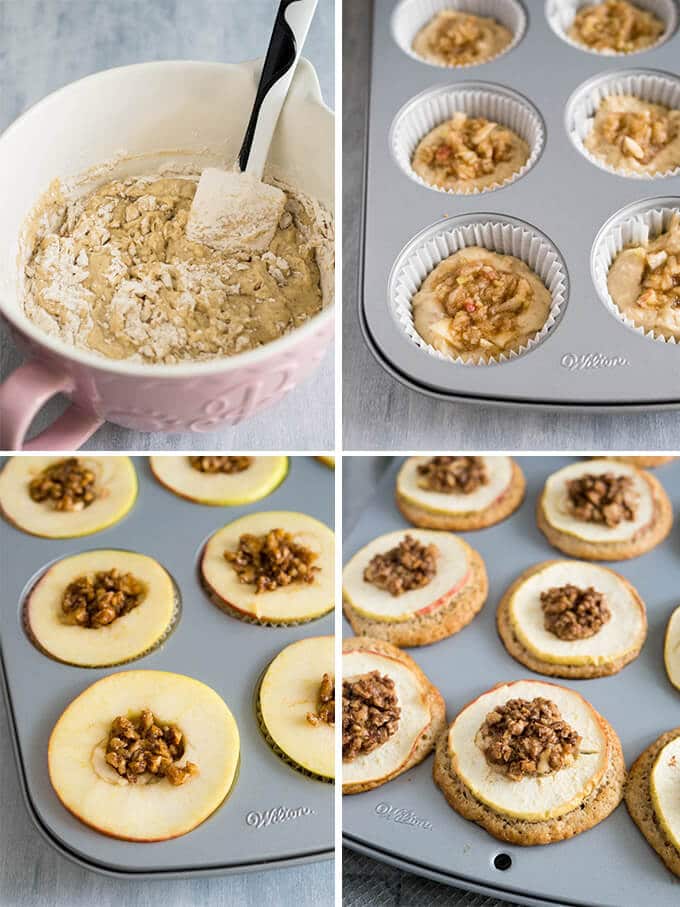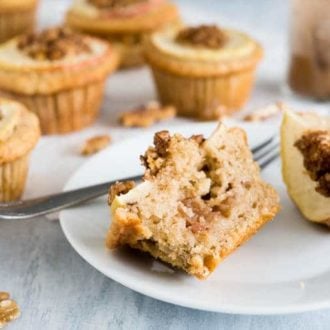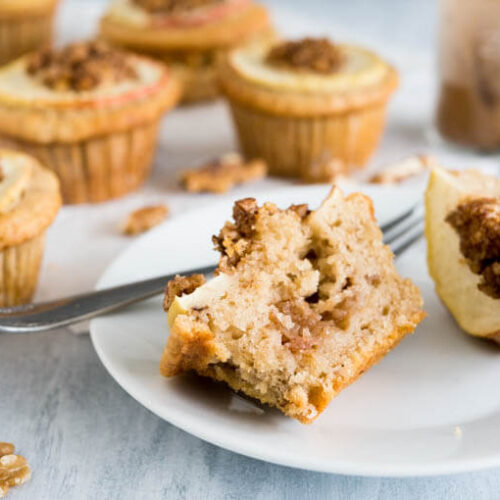 Apple Cinnamon Muffins
Apple Cinnamon Muffins are made with brown butter and topped with caramelized walnuts! They have a secret filling which makes them extra moist and delicious.
Ingredients
For the filling:
2

tbsp

brown sugar

½

tsp

cinnamon
For the muffins:
1

stick

butter

,

115g

¾

cup

brown sugar

,

150g

1

tsp

cinnamon

1 ½

cups

all-purpose flour

,

190g

2 ½

tsp

baking powder

½

tsp

baking soda

⅓

cup

chopped walnuts

,

50g

1

egg

,

large

1

cup

yogurt

,

225g
For the topping:
1

tbsp

brown sugar

½

tsp

cinnamon

3

tbsp

chopped walnuts

2

tsp

maple syrup
Instructions
To brown the butter, cut it into tablespoons and place it in a medium skillet over medium heat. Melt the butter while swirling it in the pan occasionally. Be careful it will foam and pop. Once the butter starts to brown and smells nutty remove the pan from heat. There'll be small brown bits on the bottom of the pan and the butter should be an amber color. Pour the butter in a small bowl and let cool to room temperature.

Preheat the oven to 350°F (177°C) and line a 12-count muffin pan with muffin liners.

Remove the core of all apples. For the filling, grate one apple and mix with 2 tbsp of brown sugar and ½ tsp cinnamon. Set aside. Cut the other 2 apples into 12 rings. (You will get more than 12 rings, use the rings from the middle part of the apples)

In a medium bowl, combine all-purpose flour, baking powder, baking soda, ⅓ cup chopped nuts, 1 tsp cinnamon, and a pinch of salt. Set aside.

In a large bowl add the egg and give it a whisk. Add a ¾ cup brown sugar, brown butter, and yogurt. Mix until well combined.

Add the flour mixture to the egg mixture but only stir until just combined. Don't overmix!

For the topping: In a small bowl combine 3 tbsp walnuts, 1 tbsp brown sugar, 2 tsp maple syrup, and ½ tsp cinnamon.

Fill ½ of the batter into the muffin cups. Divide the grated apple filling between the muffin cups and fill the cups up with the remaining batter.

Place an apple ring on top of each muffin cup and divide the topping between all muffin cups.

Bake for 20-25 minutes. Let the muffins rest in the form for 5 minutes then transfer to a cooling rack.
Nutrition Information
Calories:
272
kcal
|
Carbohydrates:
38
g
|
Protein:
4
g
|
Fat:
13
g
|
Saturated Fat:
6
g
|
Cholesterol:
37
mg
|
Sodium:
141
mg
|
Potassium:
251
mg
|
Fiber:
2
g
|
Sugar:
23
g
|
Vitamin A:
300
IU
|
Vitamin C:
2
mg
|
Calcium:
104
mg
|
Iron:
1
mg