Roasted Asparagus is the perfect side dish to go with your Sunday roast! This pan-roasted asparagus recipe frees up space in the oven and can be made in less than 15 minutes.
We love easy side dishes like our Roasted Brussels Sprouts with Bacon and Roasted Green Beans so this recipe is a winner because it takes even less time!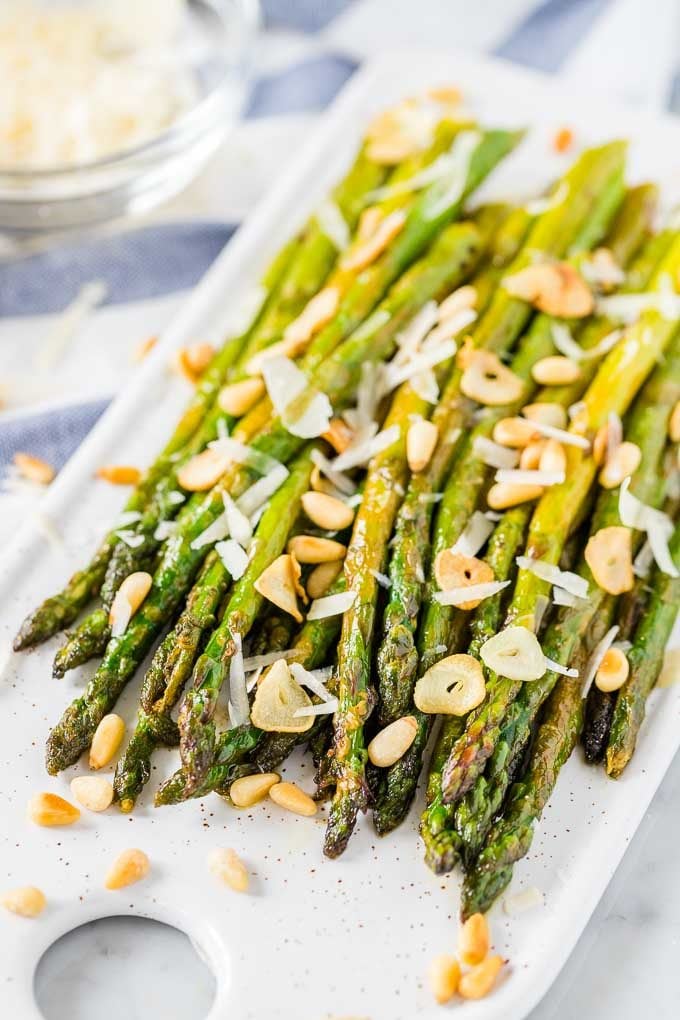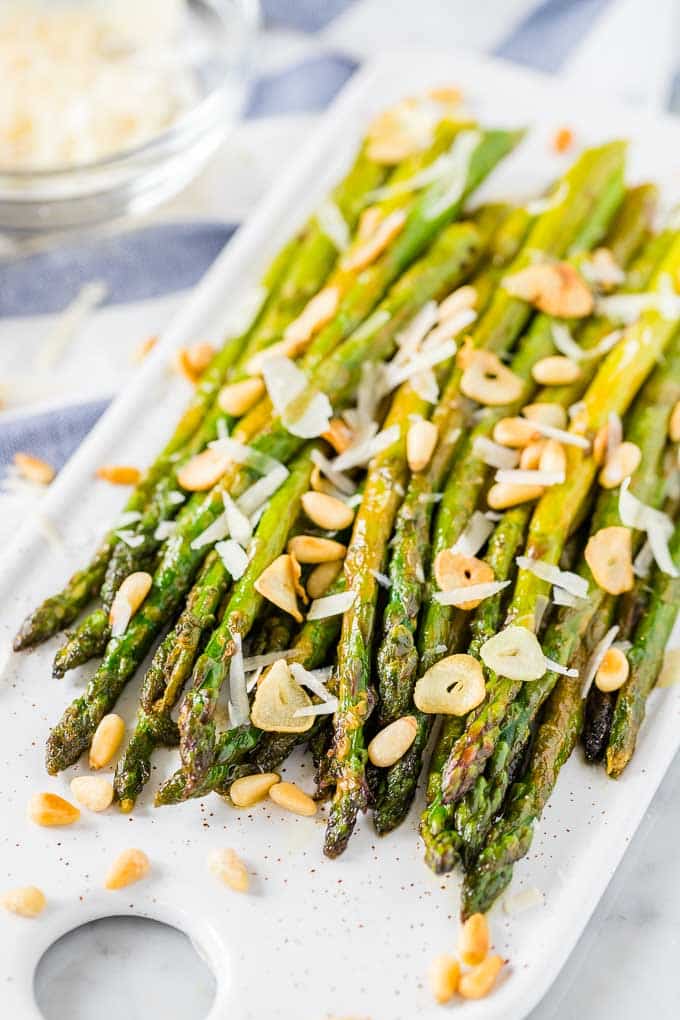 Roasted Asparagus
This quick and easy Roasted Asparagus recipe is a delicious side dish to make for any meal! Made with only a few simple ingredients this vegetable side dish can be prepped in less than 15 minutes. Add some pine nuts, parmesan shavings, or keep it as simple as you like!
Why This Recipe Works
My secret to making Roasted Asparagus is to cook it in a skillet covered for a few minutes and then remove the lid and saute it until it is lightly brown. This really helps to avoid overcooking the asparagus. I also add a little bit of lemon juice to balance out the bitterness.
If you're looking for more side dishes while you're here, try out our Honey Glazed Carrots or our reader favorite Pomegranate Pear Salad.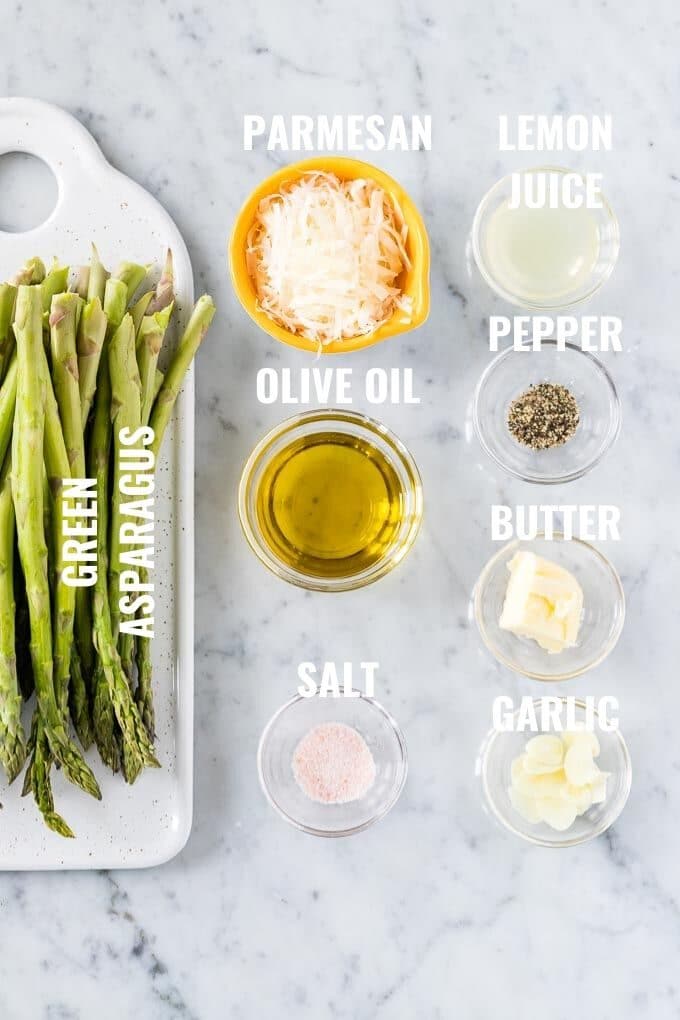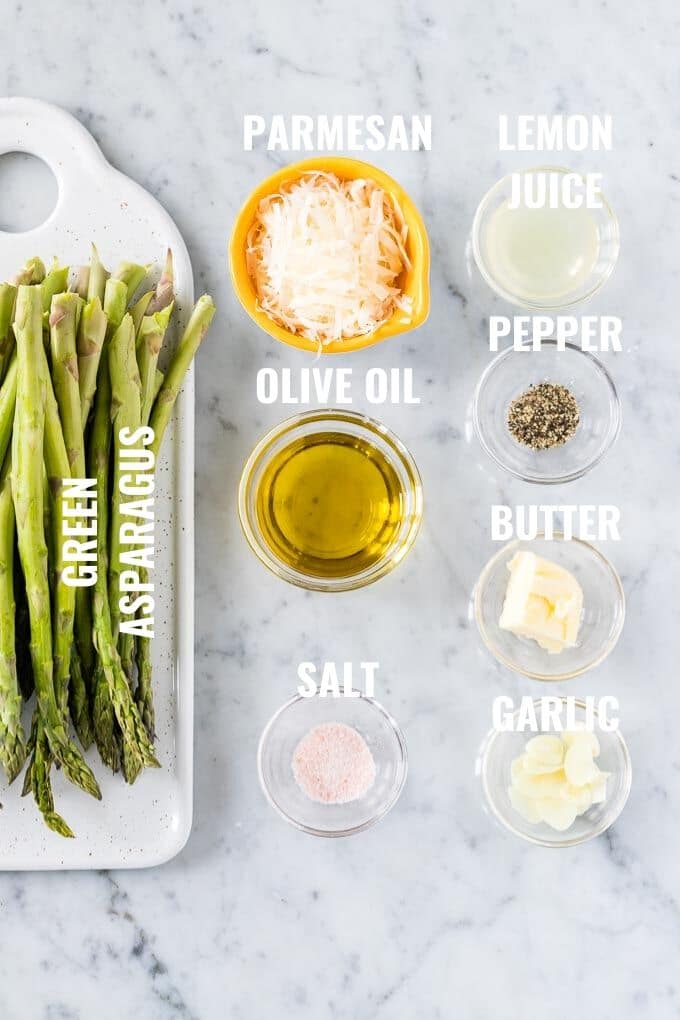 What is Asparagus and what does it taste like?
Asparagus comes in different colors – white, purple, and green. White asparagus is very popular in Germany and France, it is white because it is grown entirely underground so the color-producing chlorophyll never develops and the stalks stay white. The color of the asparagus changes after it grows out of the ground and the flavor gets more earthy and strong, similar to green beans or broccoli. It has some bitterness, which is balanced out by the lemon juice in this recipe.
Is Asparagus healthy?
Asparagus has anti-inflammatory effects, high levels of antioxidants, and lots of Vitamin K. It is also a natural aphrodisiac because of the amount of vitamin B6 and folate it contains. The only negative side effect is that it makes your pee smell thanks to the asparagusic acid and other compounds.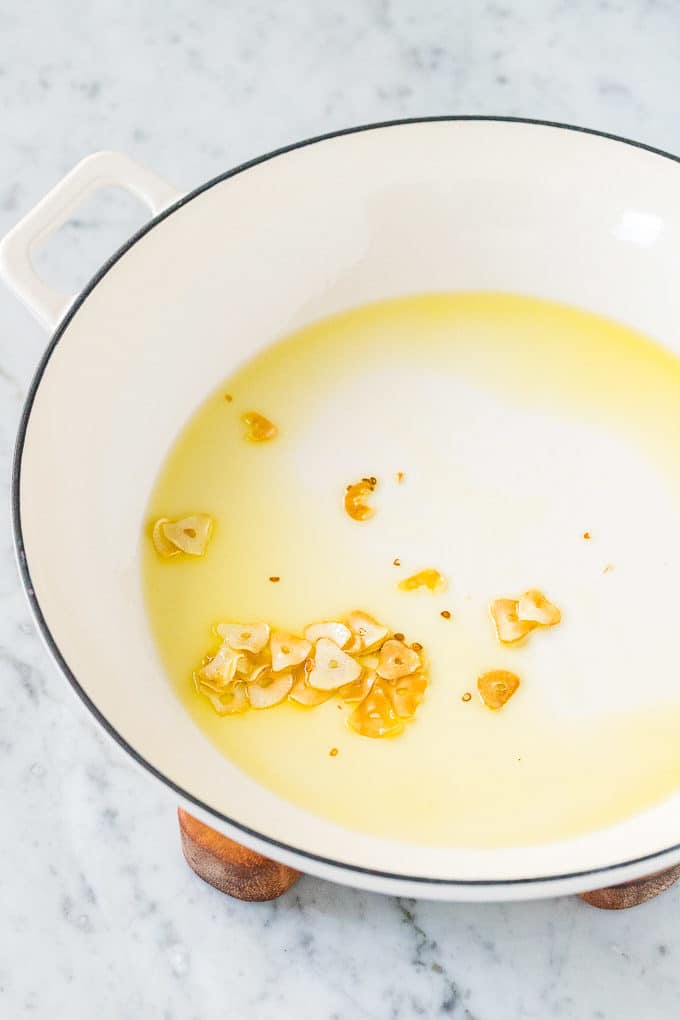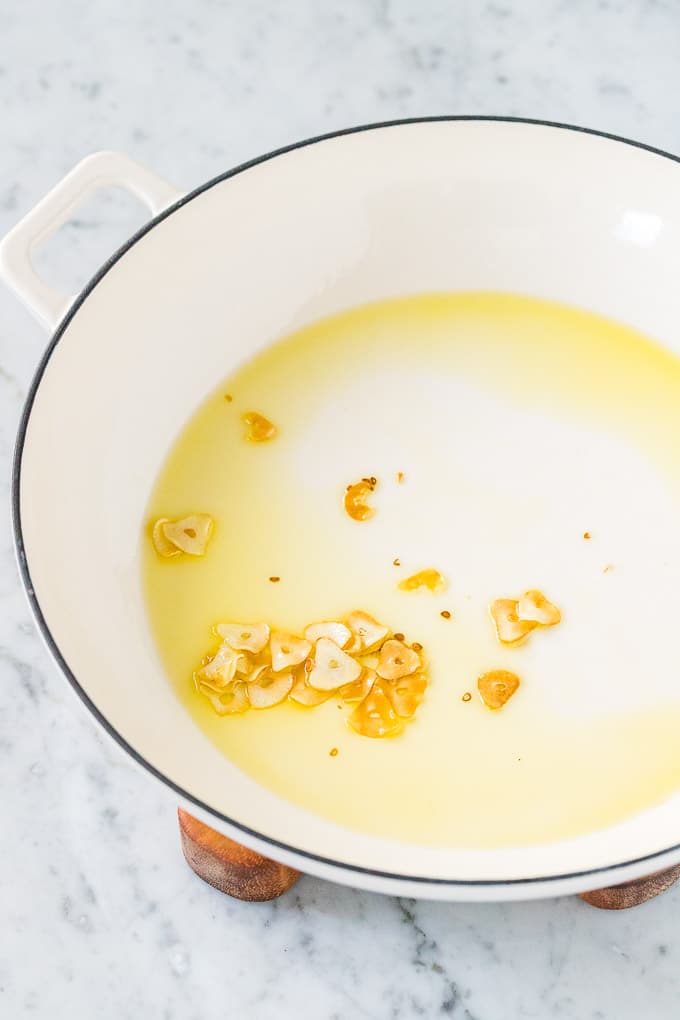 How do you trim Asparagus?
Trim off the woody part about 1-inch from the bottom. Grab a stalk at the middle and bottom end, then bend it until it snaps. The Asparagus will snap where the hard part ends.
How to Roast Asparagus
Saute sliced garlic in olive oil. Remove and set aside.
Add the butter to the pan, add asparagus, cover and cook for about 3-5 minutes.
Remove lid and saute asparagus until lightly browned.
Serve asparagus sprinkled with garlic and seasoned with lime juice, salt, and pepper. Top with parmesan shavings just before serving.
How long to roast asparagus?
This recipe is quick. Cook the asparagus covered for 3 to 5 minutes depending on the thickness, then roast it in the pan for 3 more minutes to give it some color which adds flavor.
How to not undercook/overcook asparagus?
Undercooking is not really possible because asparagus can also be eaten raw. It all depends on how YOU like your asparagus. Thin asparagus, like the shown in the pictures, will take less time to cook, whereas thicker asparagus will need more time. Check the asparagus doneness by piercing the end of a stalk with a fork, it should easily go through.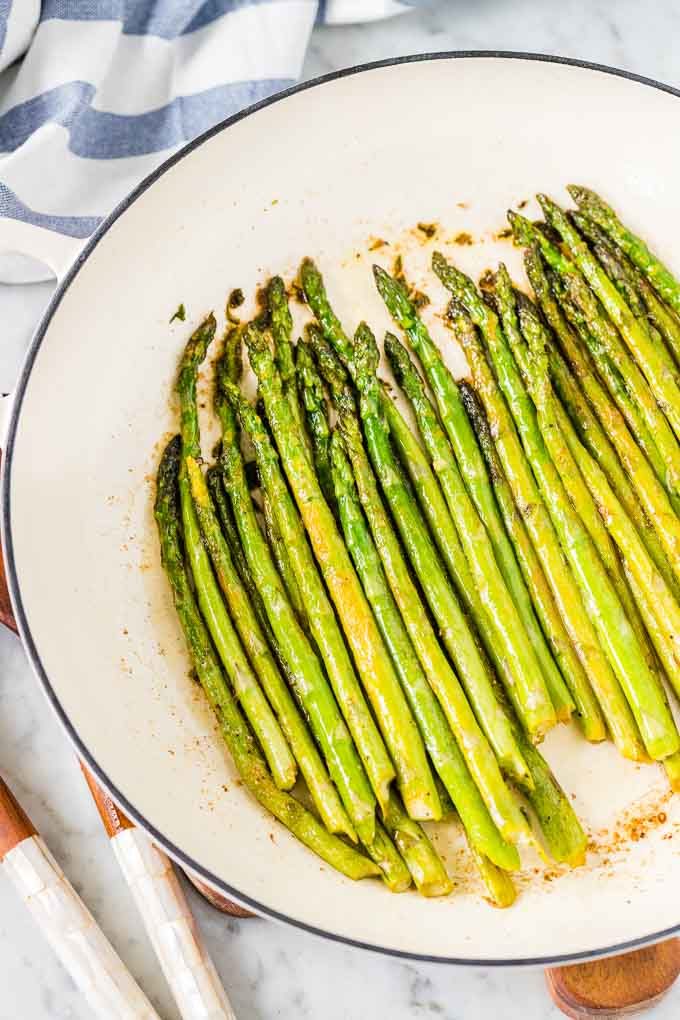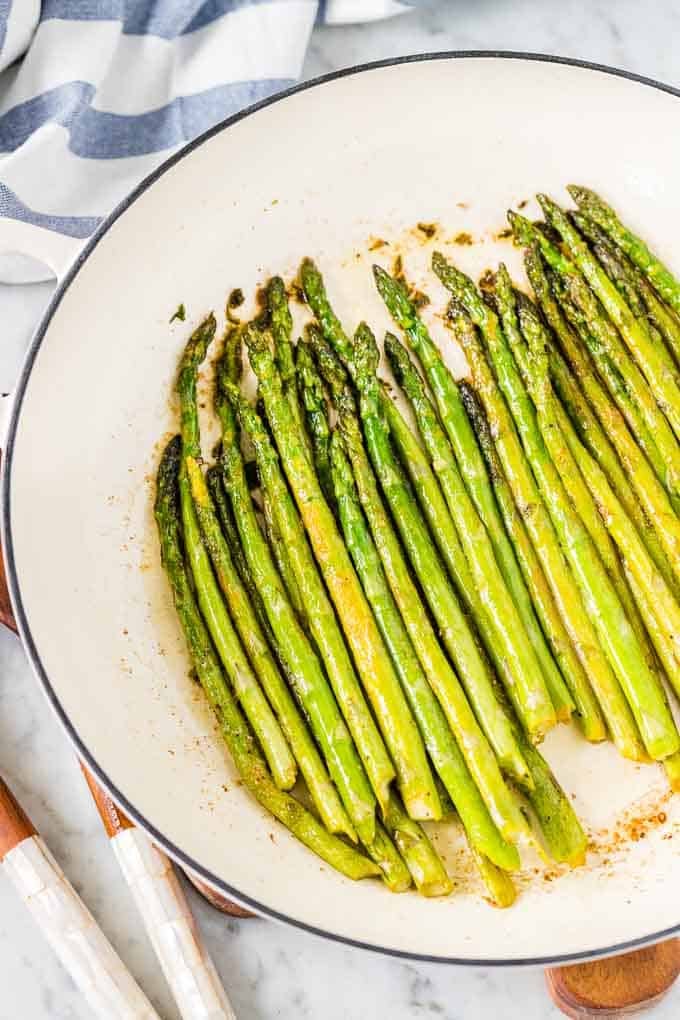 Roasted Asparagus Toppings
Add Some roasted pine nuts to this recipe. The nutty flavor complements the parmesan and roasted aromas from the asparagus
Roasted pecans work well too
Instead of topping with garlic, consider adding a dash of balsamic glaze at the end
What should I serve with Asparagus?
Roasted Asparagus tastes great with your Sunday Roast Dinner. Turkey, Pot roasts and Steak are all great with roasted asparagus. It makes a perfect side dish for Thanksgiving or Christmas but is easy enough to make during the week.
How long is Roasted Asparagus good?
Serving: Roasted Asparagus tastes best served right away
Storing: Leftovers can be stored in the fridge for 2-3 days. The color will go yellow and it will lose its bite a bit. It will still taste good and makes a great addition to a salad.
Freezing: Not recommended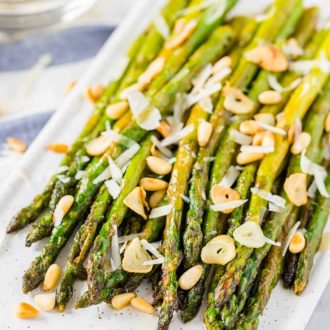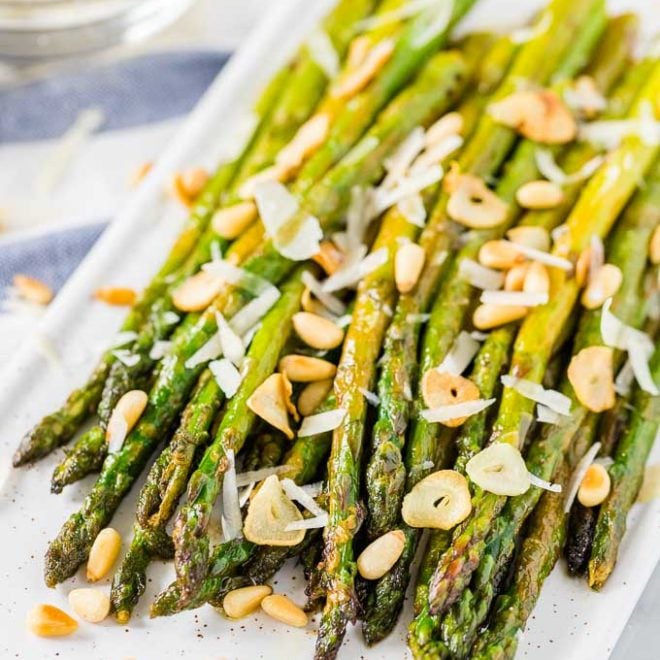 Roasted Asparagus
Roasted Asparagus is the perfect side dish to go with your Sunday roast!
Ingredients
1

garlic clove

,

thinly sliced

⅓

cup

coarsely grated Parmesan

,

or Parmesan shavings

2

Tbsp

Olive Oil

1

Tbsp

Unsalted Butter

1

lbs

Asparagus

1

Tbsp

Lemon Juice

,

Freshly Squeezed

½

tsp

Salt

¼

tsp

Pepper
Instructions
In a medium skillet or frying pan set over medium-low, heat Olive Oil, add sliced garlic and saute until lightly browned. Be careful not to burn it. Transfer garlic to a paper towel-lined plate and set aside.

Add the butter to the pan and increase the temperature to medium. Add asparagus to the pan, cover and cook for about 5 minutes (3 min for thin, 5 minutes for thick asparagus).

Take off the lid, increase temp to medium-high and fry until lightly browned about 3 minutes. Test for the desired doneness by lifting out a stalk and taste it.

Transfer the asparagus to a serving dish, sprinkle over the roasted garlic and season with the lime juice, salt, and pepper. Toss to combine and top with parmesan shavings just before serving.
Nutrition Information
Calories:
148
kcal
|
Carbohydrates:
5
g
|
Protein:
6
g
|
Fat:
12
g
|
Saturated Fat:
4
g
|
Cholesterol:
15
mg
|
Sodium:
421
mg
|
Potassium:
239
mg
|
Fiber:
2
g
|
Sugar:
2
g
|
Vitamin A:
1018
IU
|
Vitamin C:
8
mg
|
Calcium:
120
mg
|
Iron:
3
mg