How to make the perfect Slow Cooker Carnitas! This easy Crock Pot recipe makes the most flavorful Mexican pulled pork with only a few minutes of prep.
This recipe is very similar to our Slow Cooker Pulled Pork Gyros and is just as easy.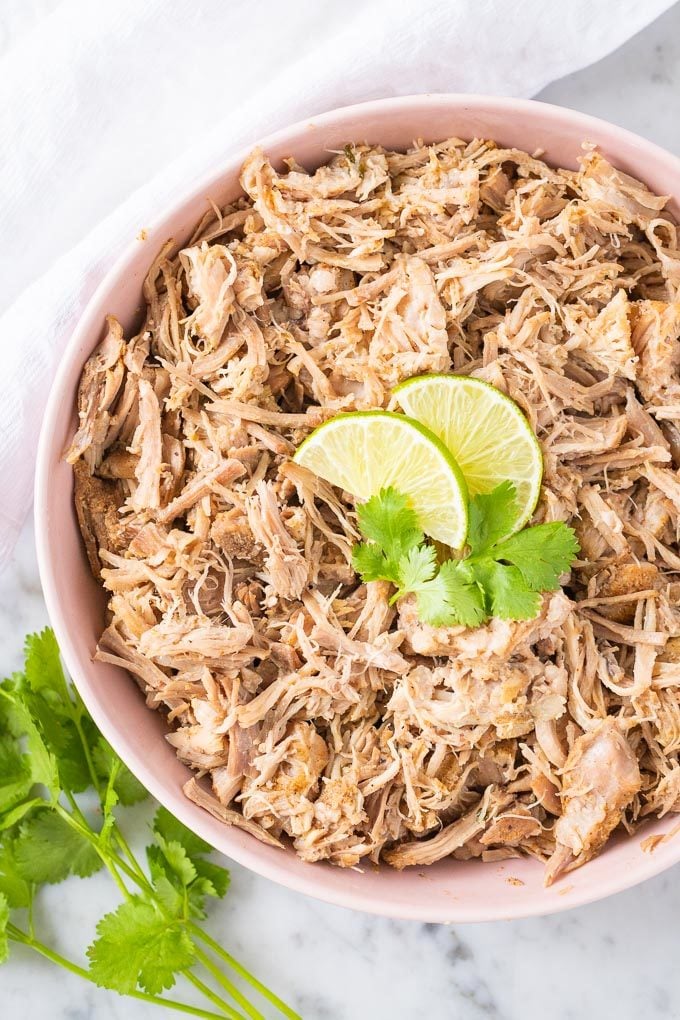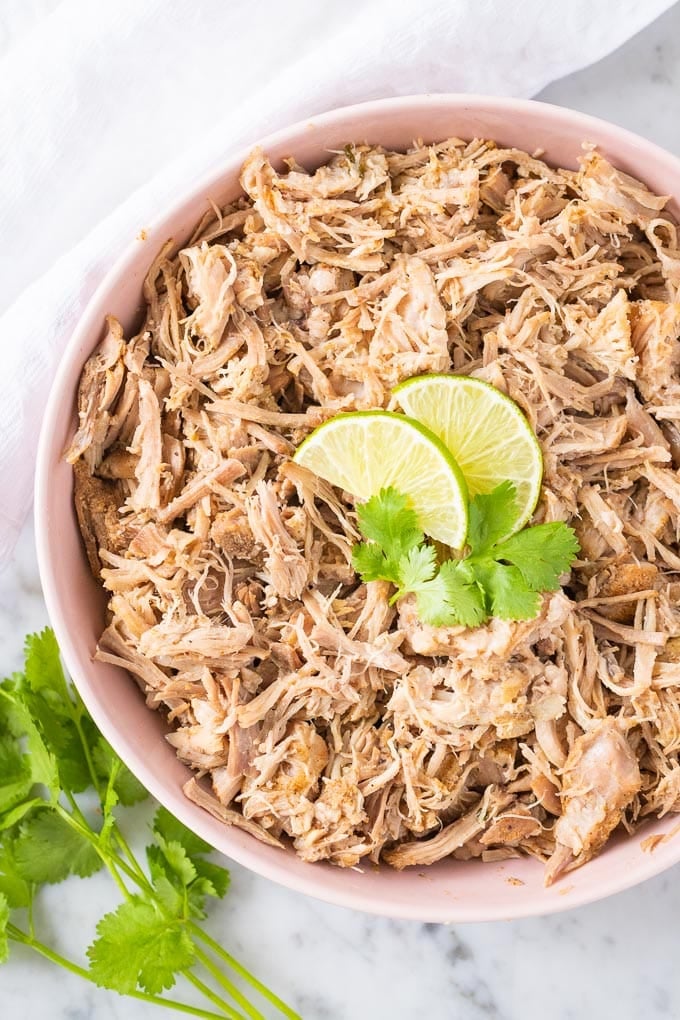 Slow Cooker Carnitas
Making Pork Carnitas in the Slow Cooker is so easy and only takes a few minutes of hands-on work. It makes juicy and tender Mexcian pulled pork that is perfectly seasoned and tastes delicious on tacos, enchiladas, burritos, and sandwiches.
Why This Recipe Works
The Crock-Pot Carnitas recipe that I'm sharing today is by far the best Carnitas recipe because by cutting the meat into chunks you have more surface for the spice mixture which results in more flavor and the meat will cook faster and more evenly. It also uses ingredients that you probably have on hand and has just a hint of spiciness which makes it perfect for the whole family.
What is Carnitas?
Carnitas is the Mexican version of pulled pork. It is traditionally made by simmering pork in oil or lard until tender for three to four hours. Making it in a slow cooker is not authentic but combined with pan-frying gives you similar results without the hassle of a big pot of oil.
More easy Slow Cooker Recipes: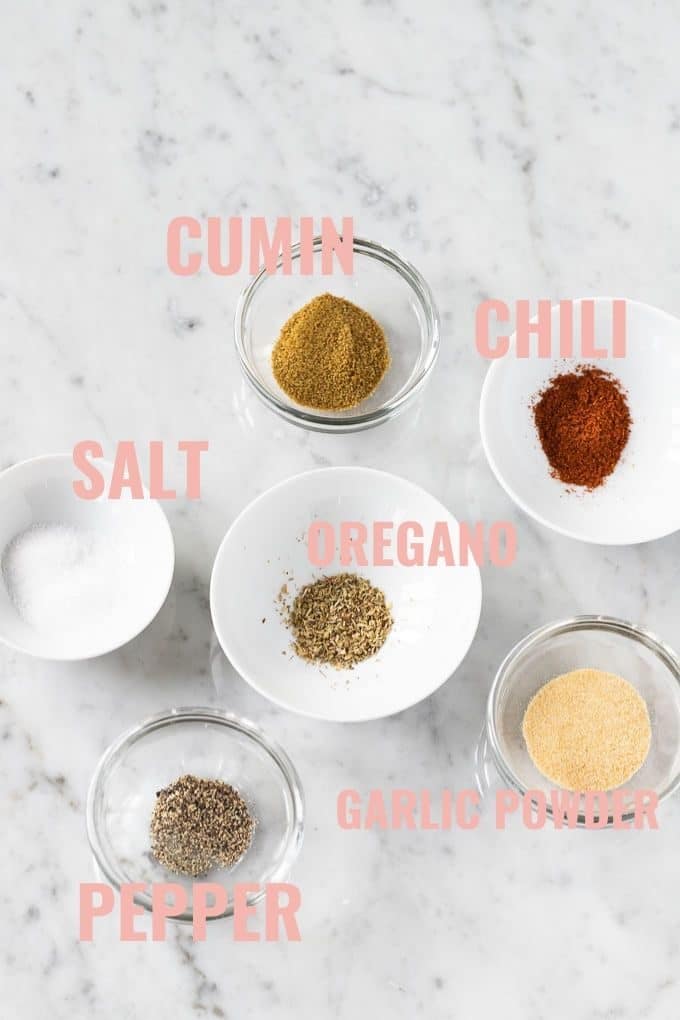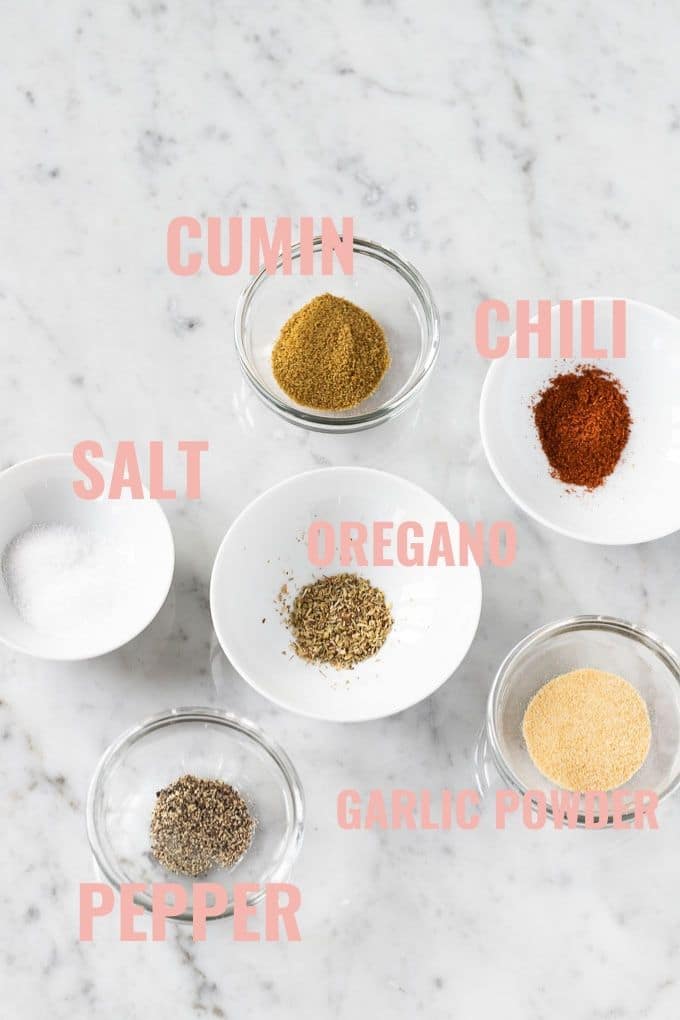 Carnitas Seasoning
Salt
Black pepper
Garlic powder or fresh garlic cloves
Ground cumin
Dried oregano
Chili powder
Cilantro
Bay Leaves
How to make Carnitas in the Slow Cooker
Cut meat into chunks and rub them with the spice mixture
Place bay leaves in the slow cooker and put meat on top, add cilantro
Pour chicken broth into the slow cooker
Cook for 6-8 hours on low or 4-5 hours on high
Shred with two forks
Optional but highly recommended: Pan-Fry until golden before serving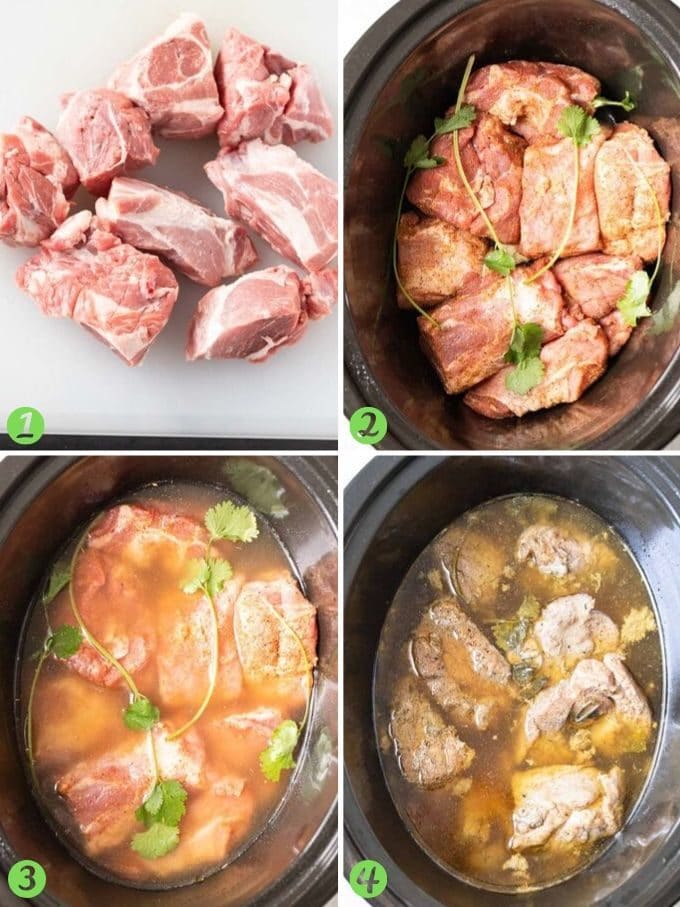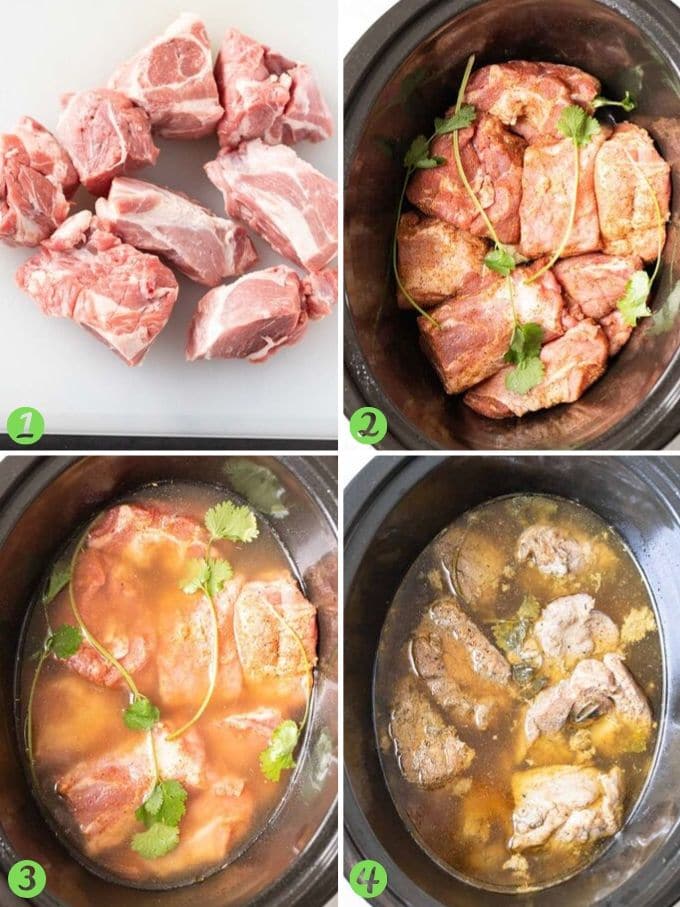 What cut of meat to use for pork carnitas?
A skinless and boneless pork shoulder roast works best in my experience. The pulled pork will be juicy and tender and can easily be shredded with two forks. Trim off excess fat but leave some of the fat on because it adds flavor.
This recipe works for roasts between 3-5 lbs. No need to adjust seasoning or timing.
My Secret for a more authentic flavor
Carnitas are traditionally simmered in oil so you have some crispy bits. To get a similar texture I recommend pan-frying the shredded pork in a skillet with some oil until golden. This method keeps the meat juicy while also adding crispiness.
For a larger crowd crisping it up in the oven is more convenient but dries the meat out a little bit more than pan-frying. After shredding the meat into smaller chunks spread it out in a thin layer on a baking sheet and bake it in a 400 F oven about 20 minutes to crisp up the exterior of the meat or pan fry it in some oil until golden.
What to serve with Carnitas
Pork Carnita Tacos: Carnitas is typically served on a taco garnished with cilantro, diced onion, guacamole, and refried beans.
It also tastes great in Enchiladas, Burritos, Quesadillas, and Sandwichs. Pork Carnitas are very versatile and can be used in so many recipes. Because it can be made ahead, it is perfect for parties and potlucks!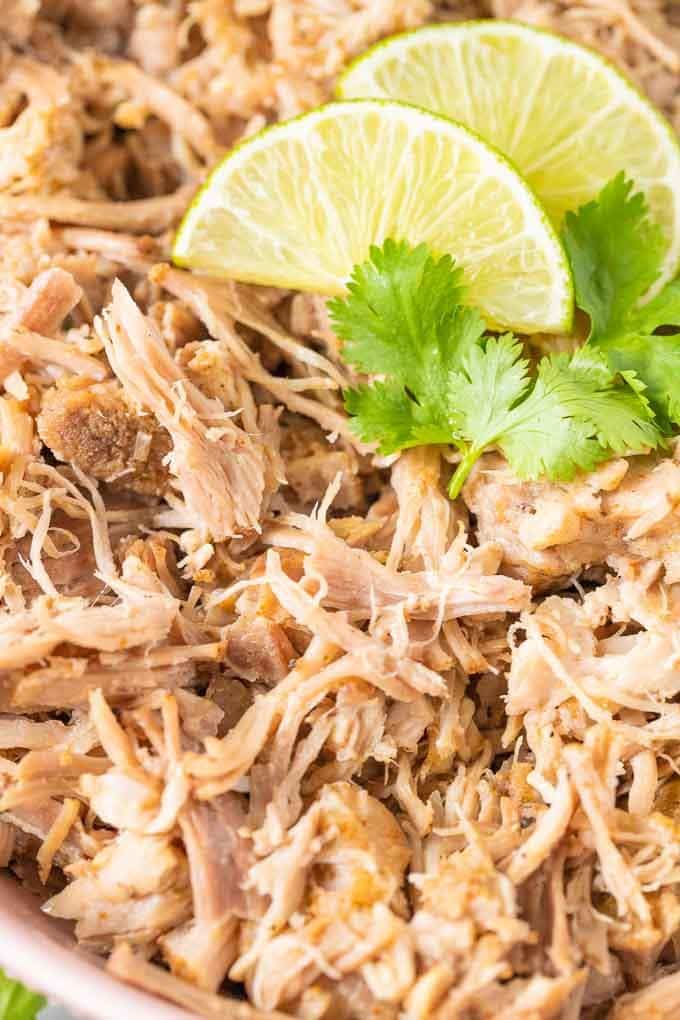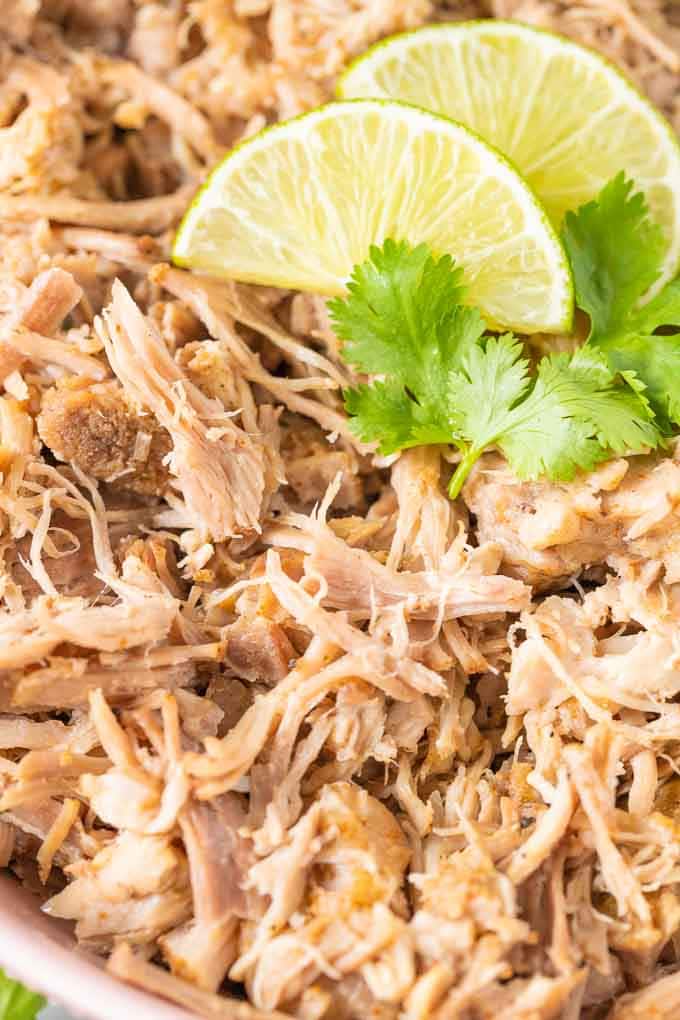 How long is Crock Pot Carnitas good for?
Serving: Serve right after shredding or pan-fry after shredding to crisp up some of the meat.
Storing: Store shredded pork carnitas in a container in the fridge for up to 3 days. Pan-fry to reheat. Save some of the cooking liquid to moisten the meat after pan-frying.
Freezing: This keeps for up to 3 months in an airtight container in the freezer.
Can you make Slow Cooker Carnitas ahead of time?
You can make Slow Cooker Carnitas ahead of time and pan-fry to reheat. You can also pan-fry it or crisp up in the oven, then transfer to a slow cooker on the warm setting and cover with the lid – perfect for potlucks or big crowds!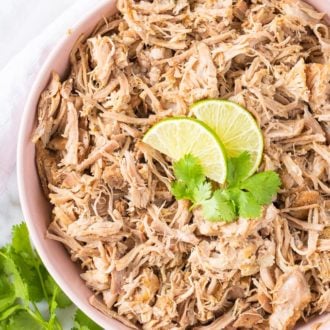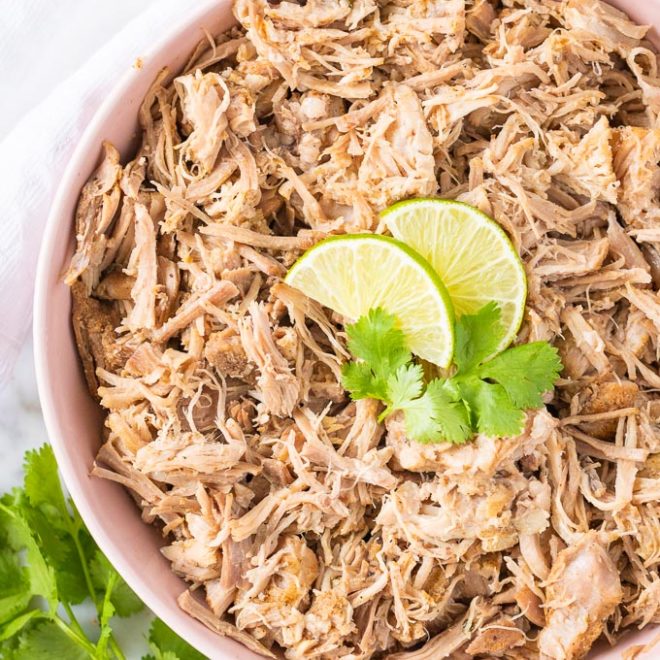 Slow Cooker Carnitas
How to make the perfect Slow Cooker Carnitas! This easy Crock Pot recipe makes the most flavorful Mexican pulled pork with only a few minutes of prep.
Ingredients
For the Spice Mixture
2

tsp

salt

½

tsp

black pepper

1

Tbsp

garlic powder

,

or 4 fresh garlic cloves, minced

1

Tbsp

ground cumin

1 ½

tsp

dried oregano

1 ½

tsp

chili powder
For the Carnitas
4

pound

boneless pork shoulder roast

Oil Spray

2

bay leaves

2

cups

chicken broth

4

stalks fresh cilantro
Instructions
In a bowl combine dry spices. Trim off excess fat and cut the roast into 3-inch chunks and coat the chunks with the spice mixture.

Spray the slow cooker insert with oil spray. Place the bay leaves in the bottom, place the pork chunks on top and add the cilantro stalks. Pour the chicken broth around the sides of the pork.

Put the lid on and cook on low for about 6-8 hours (turning the meat once after 3 hours), until the pork is tender and shreds easily.

Remove meat from slow cooker and shred with two forks. Use the cooking liquid as needed to moisten the meat.

Optional but recommended: Pan-Fry in some oil until golden before serving.
Nutrition Information
Calories:
174
kcal
|
Carbohydrates:
2
g
|
Protein:
22
g
|
Fat:
8
g
|
Saturated Fat:
3
g
|
Cholesterol:
74
mg
|
Sodium:
730
mg
|
Potassium:
449
mg
|
Fiber:
1
g
|
Sugar:
1
g
|
Vitamin A:
188
IU
|
Vitamin C:
4
mg
|
Calcium:
28
mg
|
Iron:
2
mg